Sugar Cookie Lemon Tarts
Published Aug 20, 2013•Updated Apr 19, 2022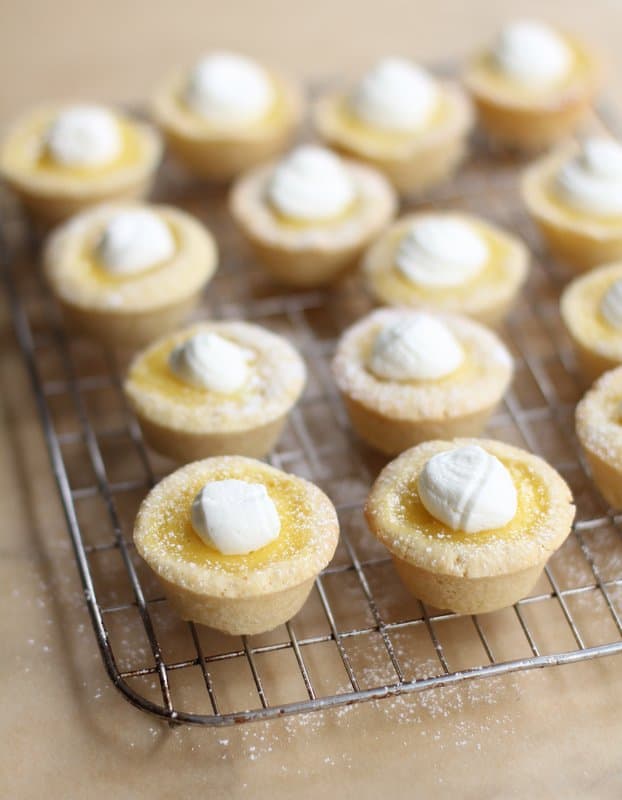 You'll love these simple, fresh lemon tarts with no finicky crusts. Just bite-sized lemony-goodness with a sweet cookie crust.
I've been thinking a lot lately about change. Not big, drastic, life-altering change, but the sort of small nuances that keep us on our toes and make us feel like we are moving towards something bigger. Maybe I've just been eating too many of World's Best Whole Wheat Pancakes and just need to liven up my breakfast routine.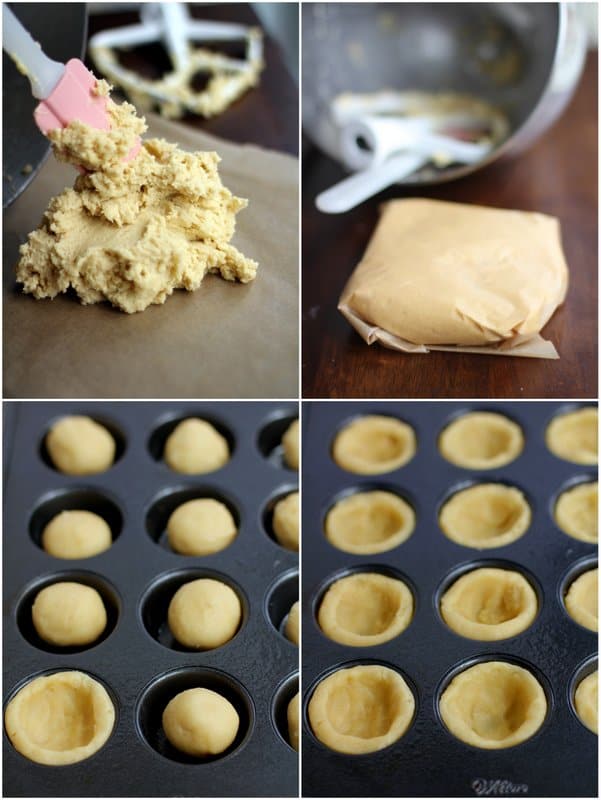 If you buy into the broad strokes used to paint entire generations of people, at 32, I fall into a strange gap between the "millennials" and Gen X. We're a group that, if Buzzfeed is to be considered a reliable source, has a bit of an identity crisis.
Unfortunately, I do relate to the stereotype that many of us in this generation are never quite satisfied. Instead of living in the moment, we're always looking ahead to the next thing.
People sometimes assume that living abroad is, in itself, an ongoing adventure. I thought it too before moving to Thailand. Many things about this life are exciting, but it's not the long, leisurely vacation I pictured it to be. As it turns out, just like anywhere else, we still wake up to alarms, grumble through our morning commutes, get home late with no plan for dinner, curl up on the couch with a mug of tea to watch Top Chef.
And really, it's a good thing. Not every moment can hold an adventure – the ones that do would start to lose their magic.
For all my pondering about the next "big" thing – where we will live when we move home to the U.S., what job I will have, even what car I will drive – I'd do better if I just let it go. (We're not moving home any time soon, after all.)
I try to remember that, if we give them a little space our lives construct themselves in ways that are unexpected, sometimes scary, and often so very wonderful. Never in a million years would I have imagined mine would bring me to Bangkok. That is a change that just happened to come along at exactly the right time.
For all my planning and thinking ahead, I know this moment is worth holding onto. There are Saturday afternoons of baking the world's simplest lemon tarts with a sugar cookie crust and Sunday brunches spent with friends, sipping mimosas and eating pumpkin cheesecake bites.
Despite my inner generation-whateverness that makes me yearn for some new twist, the stuff that's happening right now is pretty good too.
More Bite Sized Desserts
Favorite Tools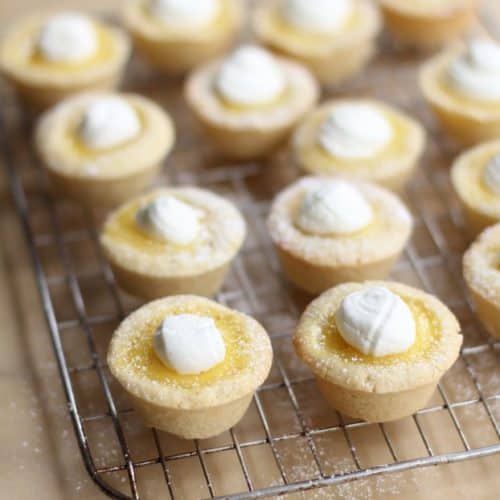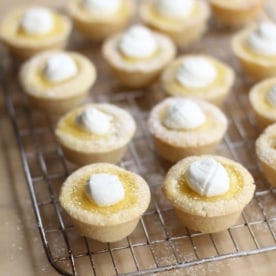 Sugar Cookie Lemon Tarts
You'll love these simple, fresh tarts with no finicky crusts. Just bite-sized lemony-goodness with a sweet cookie crust.
Equipment
Mini Muffin Tin

Stand or Handheld Mixer

Mixing Bowls
Ingredients
For the Crust:
8

Tbsp

Unsalted Butter, softened

(115 g)

1/2

cup

Granulated sugar

(100 g)

1

Egg

1 1/2

cup

All-Purpose Flour

(190 g)

1/4

tsp

Baking Powder

1

pinch

Salt
For the Lemon Filling:
2

Eggs

3

Egg Yolks

1/4

cup

Whipping Cream

juice from 1 large lemon

1/4

cup

Granulated Sugar
For Topping:
4

Tbsp

Powdered Sugar, divided

1/2

cup

Whipping Cream
Instructions
To make the sugar cookie crust, in a standing mixer (or by hand) beat the butter and granulated sugar until light and fluffy, about 3 minutes oh high. Add the egg and mix on medium until fully incorporated. Add the flour, baking powder, and salt all at once and mix on medium just until no spots of flour remain, about 20 seconds (do not overmix). Wrap the dough in parchment paper and refrigerate for 30 minutes.

Preheat the oven to 350 degrees F. Lightly grease a mini muffin tin with butter or cooking spray.

While the oven is preheating, make the lemon filling by whisking together the eggs, egg yolks, whipping cream, lemon juice, and granulated sugar until smooth.

Remove the cookie dough from the refrigerator. Divide the dough into quarters and divide each quarter into six even balls of dough. Press each ball of dough it into a space in the muffin tin. Using your thumbs, press the dough into the tin so that it is evenly distributed along the sides and bottom. (Don't worry if it is a bit thinner in some places than others.) Pour the lemon filling into the center of each sugar cookie cup, stopping just below the top of the crust.

Bake until the filling is set and the crust begins to turn golden, 10-12 minutes. (Do not over bake - pull the tarts out just when you see any golden color on the crusts.) Allow these to cool completely at room temperature. Refrigerate until ready to serve.

Before serving, dust the tops of the tarts with 2 Tablespoons of powdered sugar. Beat the whipping cream with the remaining 2 Tablespoons of sugar until stiff peaks form. Pipe or spoon the whipping cream on top of each tart. Serve chilled.
Nutrition information is automatically calculated, so should only be used as an approximation.
*This post contains affiliate links*