Planning a trip to Bangkok?
We lived in Bangkok, Thailand for nearly 5 years. Our twin daughters, Molly and Clara were born in Bangkok and lived there until shortly after their first birthday. It remains one of our favorite places, and is a wonderful place to travel.
Below are our favorites things to do in Bangkok – it's the Frank and Jess tour!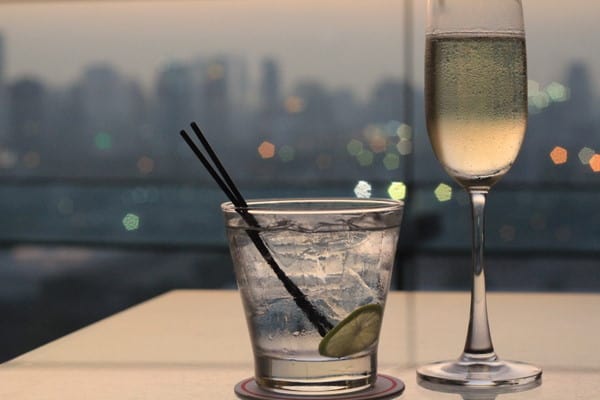 Bangkok Posts – Click here to read posts about our time in Thailand.
Restaurants – Click here for an updated list of my favorites.
Getting to and From Bangkok
International flights arrive at Suvarnabhumi Airport. Although you can take public transportation into the city via the Airport Rail Link, if you are traveling in a group of 2 or more, I absolutely think it is worthwhile to take a taxi into the city. (The local line on the Airport link is about $1.50 US/person and can take 90 minutes to get to downtown; the express line on the Airport link is about $3.00 US/person for 30 minutes to downtown; depending on traffic, a taxi to downtown is about $15.00 US/taxi and also takes about 30 minutes.) Taxi stands are at doors 4 and 7 on the 1st floor of Suvarnabhumi, and are very well-managed. Bring the address of your destination and hand it to the airport employees in the taxi line. When taking a taxi from the airport, you pay a 50 baht service fee and pay for the tolls (ranging 25-40 baht) – give these directly to the driver on top of the metered fare.
Favorite Attractions
You can find these in any guidebook, but if you are in Bangkok for a couple days, I recommend the following:
Jim Thompson House (I love this place – I never tire of visiting)
The Grand Palace – if this is your first time in Bangkok, you shouldn't leave without seeing the grounds of this palace. Go early to avoid the crowds (and heat).
Chinatown at night – Bangkok's Chinatown is busy and fun at night, full of stalls and vendors, and fascinating side streets. Take the Chao Phraya River Express Boat to Ratchawong Pier and follow the crowds to Yaowarat Road.
Lumpini Park – visit this big park in the middle of the city early in the morning or evening to catch a glimpse of groups of city dwellers doing yoga, tai chi, or jogging together. From mid-December to mid-February there are free concerts on the lawn at 5:30pm every Sunday night.
Chatuchak Weekend Market (open Saturday and Sunday) – read more below under "Shopping".
Unconventional Tours
It is perfectly easy to get around Bangkok on your own, with a map and guidebook in hand, but there are a few tours worth considering
1) Follow Me Bike Tour – 1/2 day. Even after living here for over a year, I saw and experienced a completely new side of Bangkok when I took this tour. No need to be a pro on a bike, but I wouldn't recommend all of the tours for younger kids (a small amount of the tour we took was along busy roads).
2) Bangkok Food Tours – 1/2 day or evening. I have yet to try one of these tours, but it is on my list. I've heard great things, and love the concept.
3) Ayutthaya Day Trip – full day. Lots of companies offer trips to Ayutthaya (about 90 minutes north of Bangkok). If you are in town for more than a few days, this would be a great way to see something outside of the city.
4) Flight of the Gibbon Ziplining – full day. I have not been to the location outside of Bangkok, but spent a full day ziplining with this company in Chiang Mai and had a blast.
Note on elephants: Many people come to Thailand and want to ride elephants. However, I have not heard of a good organization (with a high standard of care) that is near Bangkok. If you know of one that you would recommend, please drop me a note.
Thai Cooking Classes
I highly recommend taking a cooking class. Even if you are not particularly interested in cooking, I can almost guarantee you will have fun and will eat some great food that you had a hand in making. The cooking class I would recommend varies depending on your interests, and how much you are willing to spend. My Thai Cooking Classes page has the full scoop on all the classes I've tried.
Shopping
Wow – where to begin. Come to Bangkok prepared to shop. It's an undertaking, but always worthwhile to visit Chatuchak (JJ) Market if you are here on a weekend (open Saturday and Sunday). Go early, and pick up the Nancy Chandler Bangkok map before you go. This map will help you make sense of miles and miles of stalls. (Read about my last trip to Chatuchak.) If you are not here on a weekend (or don't want to spend your morning trekking through Chatuchak), the recently opened Asiatique is a great alternative It opens at 5pm every night and getting there is as simple as grabbing a free water taxi just off the Sapan Taksin BTS stop. This well-designed set of buildings along the water has a handful of restaurants and more shops than you could ever visit in one night. The real draw here are unique Thai crafts, art, pottery, and textiles, but just like Chatuchak, you can find just about anything. Although Bangkok is full of malls, my favorite is at the Asoke BTS stop – Terminal 21. It's still quite new and although the first couple floors have big-name international shops, the upper floors are all one-of-a-kind. You'll find great fashion and fun jewelry, quirky gifts, and even some interesting art at really good prices. Grab good Thai food in the food court on the top floor or stop at one of our favorites – Canton House on floor 4 for dim sum. Like Thai Silk? Jim Thompson's shops are all over town (even at the airport), but for deals, visit the Jim Thompson outlet (it is within walking distance of BTS: On Nut).
Other Fun Things
Yoga Elements – my favorite yoga studio
Mikkeller Bangkok – if you like beer, this is a must-do on a trip to Bangkok – 30 international beers on tap and a good selection of food that is carefully chosen to pair well with them
Bangkok Farmer's Markets – when I travel, I always like to visit a local farmer's market; the markets in Bangkok are at various locations, so check their website first, but it's a great way to check out some local produce and sample locally produced food – there are usually plenty of ready-made things to eat if you go over lunch
Sea Life Ocean World – now that we have kids, I truly appreciate this place – it's a good-sized acquarium with interactive exhibits all in the basement of Siam Paragon (one of Bangkok's central malls and attached to BTS: Siam); there's a great food court with all sorts of Thai food directly above the acquarium, so it's worth a stop for a bite to eat and an escape from the heat
Asia Herb – a good, reliable spot for a massage with several locations – book a reservation at couple days in advance (yes, you can get a cheaper massage on just about any street in Bangkok, but do so at your own risk – some of those places are way sketchy)
Long Table's Outdoor Lounge – my favorite place for a sunset cocktail, especially if you get there early enough to catch the actual sunset, between 6 and 7pm year-round (although I don't recommend the food, so plan to go elsewhere for dinner)
10 Tips for Tourists:
1) Smile and Stay Calm. Travel can be stressful, but in Thailand, someone is always willing to help out if you smile and stay calm. Anger and frustration are quick deterrents in this country.
2) Taxis have meters. Every taxi you should even consider riding in within Bangkok has a meter. It starts at 35 baht and ticks up slowly from there. If the driver doesn't turn the meter on as soon as you sit down, simply tell him to stop and hop out. Don't get angry (see #1). Just get out. This town is crawling with taxis – it won't take long to find one that will follow the rules.
3) Don't fall for the "closed for prayer" scam. At most every tourist attraction, extremely friendly people will approach you and tell you the attraction is closed for something (often they say it's closed for prayer or for a Buddhist holiday). This is almost never the case. Make your way to the official ticket window to be sure.
4) Take public transportation. The above-ground train (BTS) and below-ground metro (MRT) are easy to use, inexpensive, and help you to skip right over the misery that can be Bangkok traffic. Taxis (see #2) are also cheap. Water taxis run all along the river and can be a fun way to see another side of the city. To try one out, ride the BTS to Saphan Taksin and follow signs to the river. From here you can catch a water taxi up the river or take the free boat to Asiatique (which I highly recommend!).
5) Get off the beaten path. As in any city in the world, the moment you step away from the major attractions, you'll se a side of the city that few see. Walk any direction away from the BTS or wander through the side streets of Chinatown. There's so much to see!
6) Respect the King. I cannot over-emphasize the importance of this. The King is beloved by Thai people.
7) Respect the monks. Keep in mind how highly regarded these individuals are in Thai culture. Ladies – keep a good distance – monks cannot come in physical contact with women.
8) Eat, eat, eat! It's Thailand, the food is incredible. Don't only order the things you know – try something new every meal. (Just keep in mind #9, below.)
9) If you have doubts, don't eat it. I write a food blog. I love food. But this is Southeast Asia – don't let your sense of adventure get in the way of your common sense.
10) Smile and Stay Calm. So important, it's worth repeating.