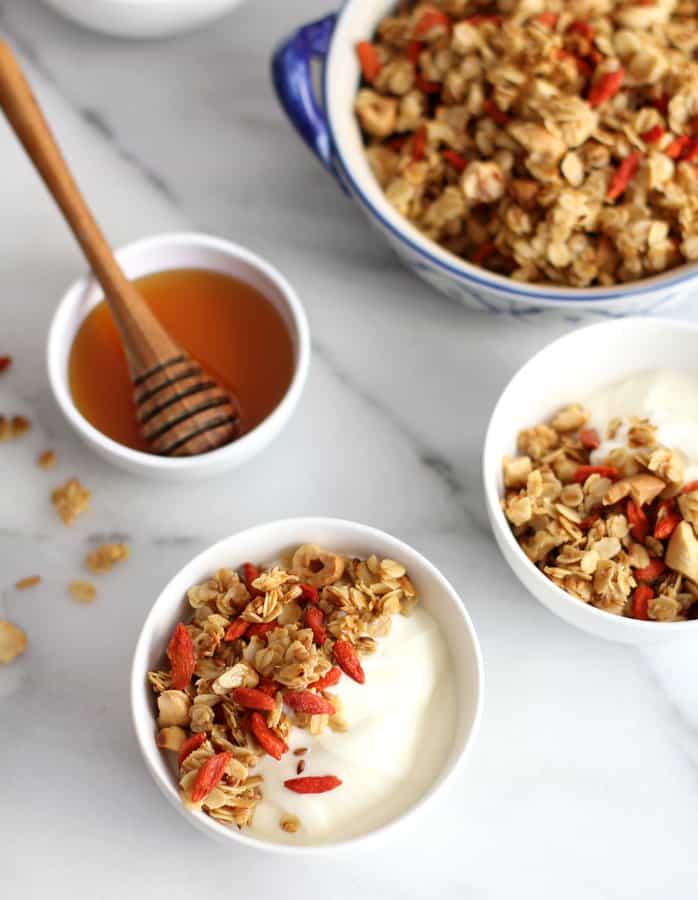 I realize the internet is chock full of granola recipes these days, so it's for purely selfish reasons that I am adding this to the list.  This blog is where I come when I can't decide what to make for a quick weeknight dinner, or for a brunch with friends, or for, in this case, a ready-made breakfast for the week ahead.  And I simply don't want to forget.  Because this granola is made on the stovetop it takes a bit more active time than baking it in the oven, but the rewards are well worth the effort.  As it turns out, stovetop granola is more dependably toasty and has more buttery nutty flavor than any version I've made before.
The recipe came to me through the Secret Recipe Club which always gives me a jolt of new ideas and reminds me just how many enthusiastic, talented bloggers I still have to discover.   This stovetop granola is originally from Baking and Creating with Avril who deemed this to be the Easiest Granola Ever which, of course, caught my eye.  Avril's love of cooking and baking shines through in her sweet blog dedicated to family-friendly dishes and great ideas for treats, including these Chocolate-Dipped Macaroons that came in a close second to the granola in my cooking plans over the weekend.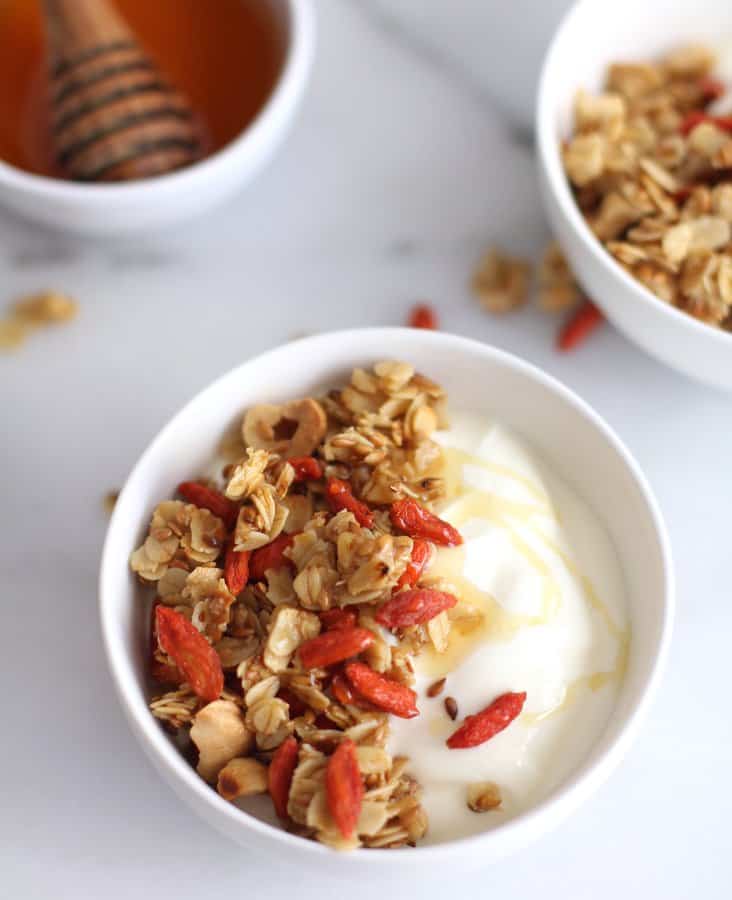 Granola is endlessly adaptable, but the inspiration for this combination is from brunch I had at Rocket Coffeebar a couple weeks ago.  Their version also used tart goji berries and earthy flax seeds – a combination I will definitely return to again.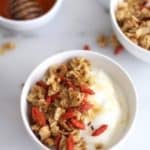 Print Recipe
Stovetop Granola with Goji Berries
A simple, toasted granola made on the stovetop with tart goji berries and cashews.
Ingredients
3

Tablespoons

unsalted butter

1/2

cup

chopped cashews

1

cup

rolled oats

2

Tablespoons

flax seeds

1

Tablespoon

honey

1/4

teaspoon

salt

1/2

cup

goji berries
Instructions
In a large skillet melt butter over medium heat. Add chopped cashews, rolled oats, and flax seeds. Cook, stirring frequently, until oats are lightly toasted, about 10 minutes. Add honey and salt and stir until evenly coated. Continue cooking until golden brown and crisp, 2-4 minutes more. Remove from heat and stir in goji berries. Spread granola on parchment paper and leave at room temperature until cool.

Once cool, granola can be stored in an airtight container at room temperature for a week.
And while the granola was cooking, these two were getting into all sorts of trouble.