Slow Cooker Granola
Published Dec 08, 2019•Updated Apr 26, 2023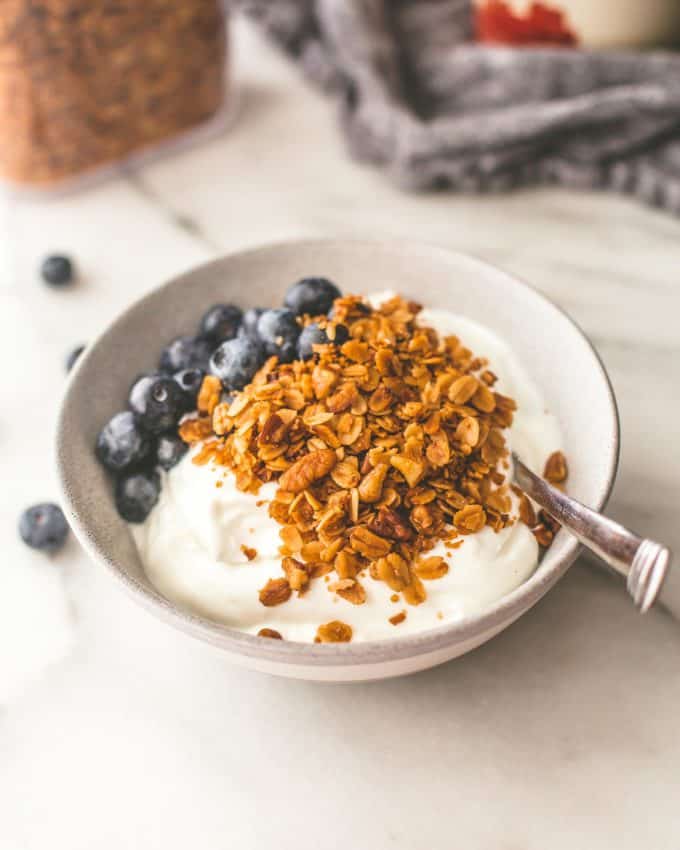 Slow cooker granola is a one pot recipe for a classic granola that is golden brown and super crunchy. Everything is combined right in the slow cooker – just one dish to clean!
We go through a lot of granola. At least a couple days a week, we all have Greek yogurt with some jam or fruit and granola. For all members of our family, it's on rotation with these waffles and these pancakes that we keep in the freezer. For Frank, there's no rotation. Frank eats Greek yogurt and granola for breakfast every day of the week. He's a granola aficionado (thus why you see so many granola recipes on this site, like this pumpkin spice version). And years ago, we realized this was something we were going to have to make ourselves or go through bags and bags of (expensive) store-bought granola every week.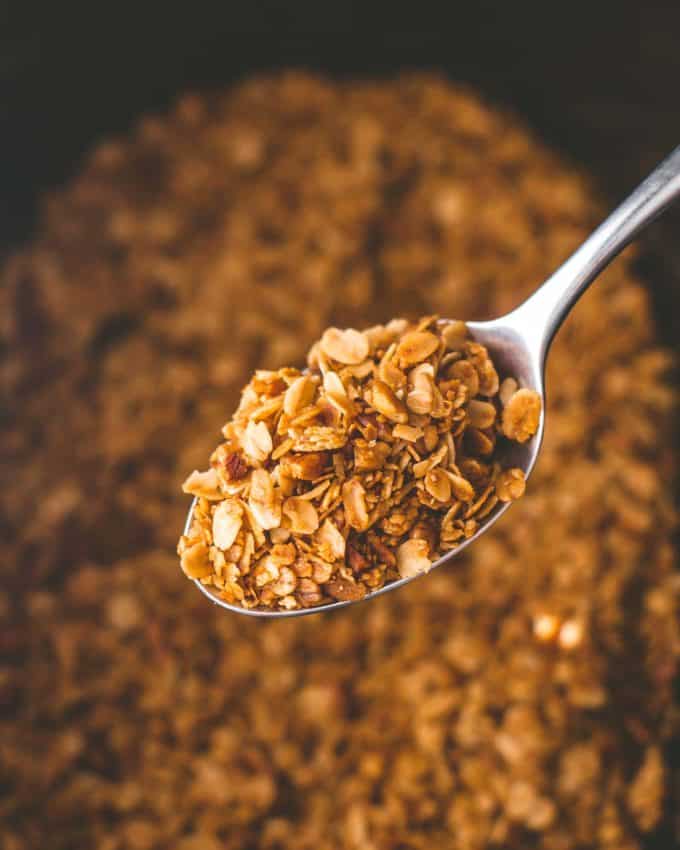 Over time, I've figured out the recipe that works for us – it's not too sweet, has a pinch of salt, and is super crunchy. But as I started making larger and larger batches to feed our growing / hungry family, it started becoming too messy. I'd have to use a HUGE mixing bowl and spread the granola out on 2 or 3 large sheet pans. There's a good chance that I'll spill granola all over the counter. And so many dishes. And so much of a chance that I'll get distracted with the kids, not hear the oven timer, and burn all those sheet pans of granola.
You can see where this is going. The slow cooker to the rescue. Slow cooker granola is totally forgiving. If I forget about it for a few minutes…or 10…or 20, it's okay. And the best thing of all. All I have to wash is the slow cooker bowl itself. The slow cooker wins at granola. Here's how to make it.
Why Make Granola in the Slow Cooker
That's easy – there only one dish to wash! This is the primary reason to make granola in the slow cooker. No mixing bowl + sheet pans + potential mess on your kitchen counters. This is easy and low mess. Bonus that it makes your house smell amazing for a few hours and, thanks to the low cooking temps, won't burn if you forget about it for a bit.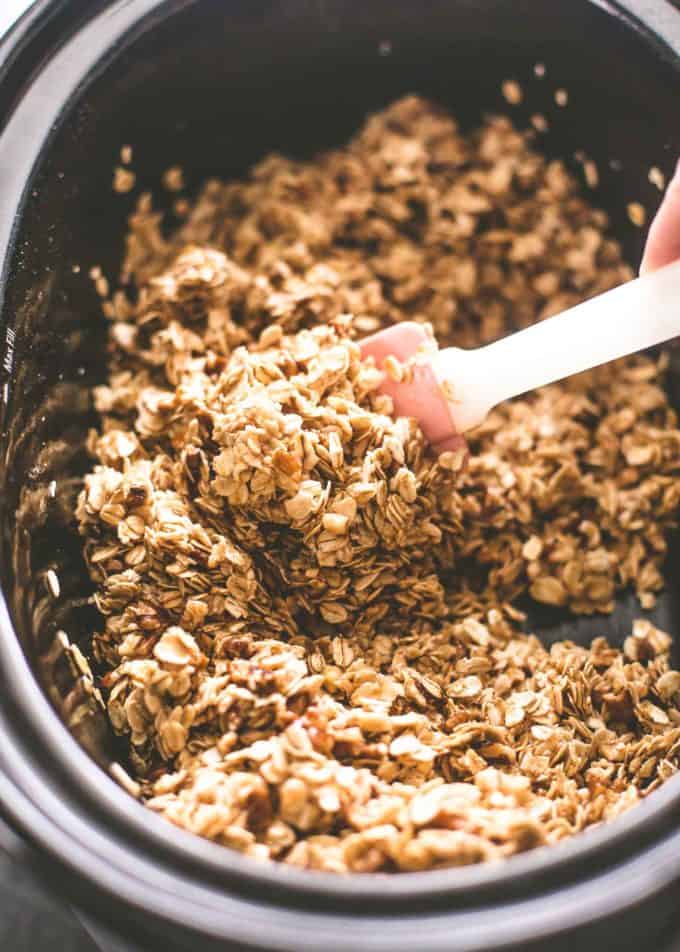 Ingredients
Oil – Virtually any type of oil will work here. I pretty much use avocado or grapeseed in everything at the moment. I like the neutral flavor and healthy fats in avocado oil. Olive oil or vegetable oil work too.
Honey – Just enough honey to add a bit of sweetness. Maple syrup or another sweetener you prefer will work here too.
Oats – Use rolled / old-fashioned oats. Quick cook or Instant Oats won't work here, so be sure you grab the right ones.
Chopped Pecans – Look for pre-chopped pecans (usually in the baking aisle) so that you can skip any chopping. See below for ideas of other nuts to use here.
Pure Vanilla Extract, Kosher Salt, and Ground Cinnamon – Pantry staples that give the granola flavor.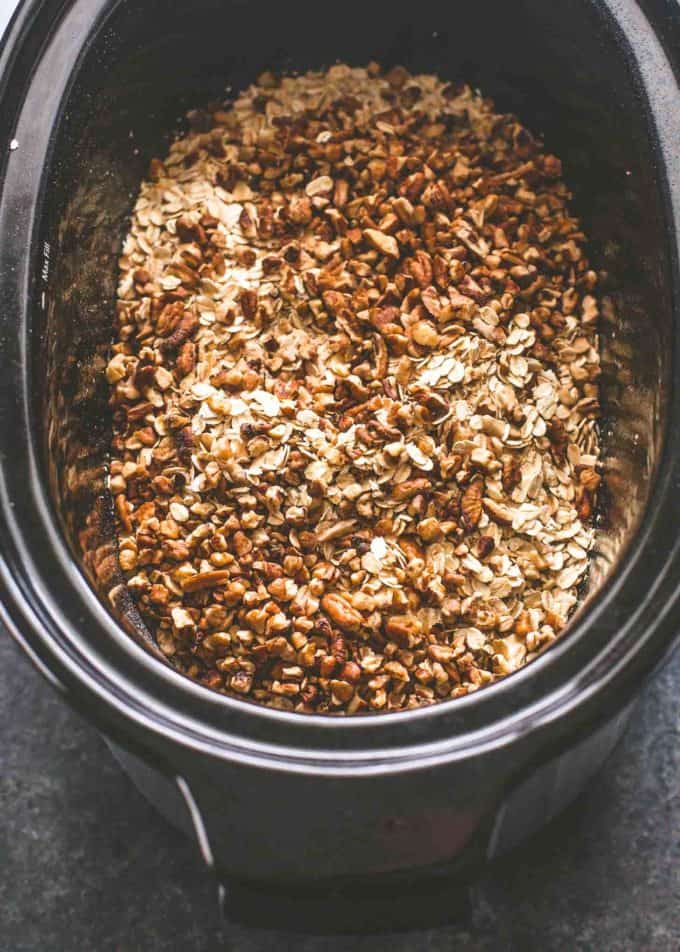 Homemade Granola as a Gift
This granola makes a great gift! Just package the finished product in 8-oz mason jars or plastic bags. Finish with some ribbon and a gift tag. If making a big batch, you can double this recipe, but it will take 2 to 3 hours longer to cook evenly.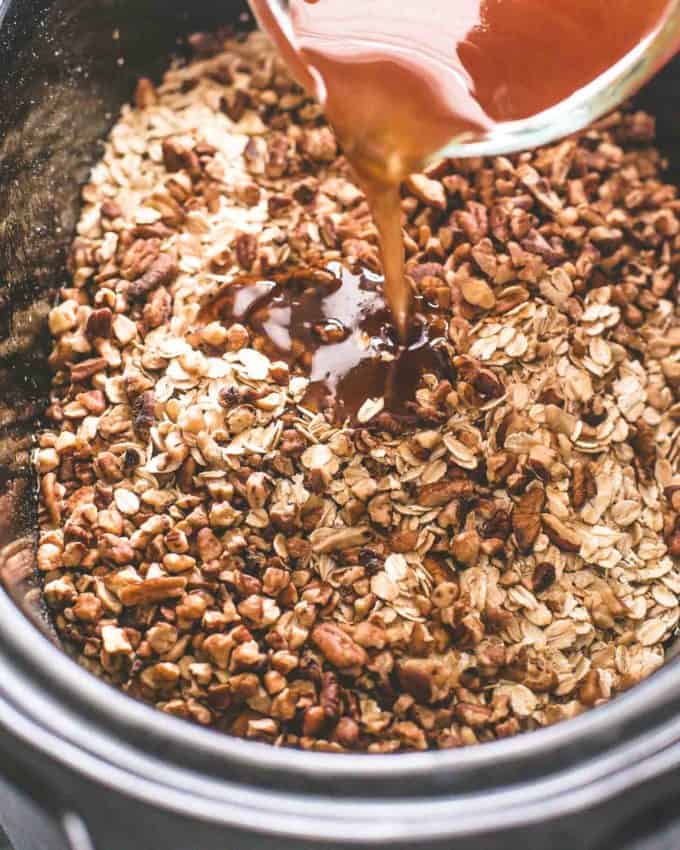 Possible Variations
Other Nuts – Any nuts will work in place of the pecans. Try slivered or sliced almonds, chopped walnuts, shelled pistachios, cashews – any will work.
Add Dried Fruit – Stir any dried fruit in after cooking. I love dried cranberries, dried blueberries, or dried cherries.
Chocolate Chips – Stir in after the granola has complete cooled.
Coconut – Stir shredded or dried coconut into the granola after cooking.
Chocolate – Add 1 Tbsp of unsweetened cocoa powder or 1/4 cup Nutella with the liquid ingredients. (Shout out to my original Nutella Granola.)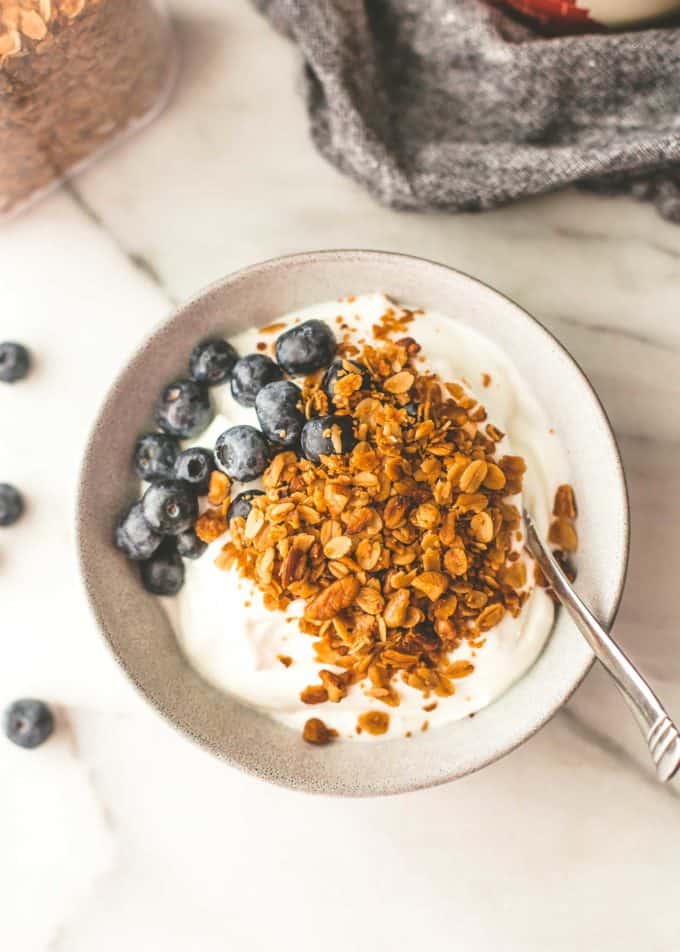 Other Breakfast Favorites
Slow Cooker Breakfast Casserole

– This breakfast casserole with sausage, eggs, and cheese uses bagels as the base which hold up to the low, slow overnight cook time.

Make Ahead Breakfast Burritos –

These freezer-friendly burritos with eggs, ham, cheese, and peppers can be baked straight from the freezer and actually make a great, easy dinner as well as breakfast.

Chai Spice Granola

– This granola is packed with fragrant spices. It smells SO good while cooking and has the same warm, cozy flavor of a chai spice latte.
Favorite Tools
Slow Cooker

– This recipe should be made in a

6-quart Slow Cooker (this is a link to the

KitchenAid version

I have and love).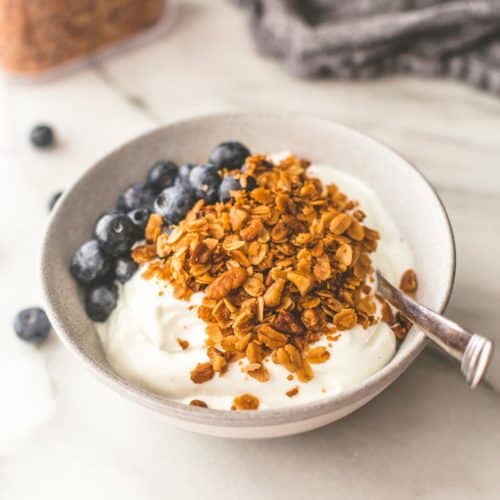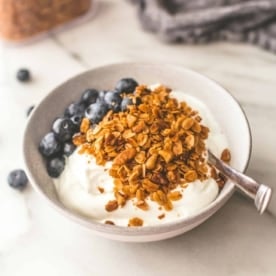 Slow Cooker Granola
Slow cooker granola is a one pot recipe for a classic granola that is golden brown and super crunchy. Everything is combined right in the slow cooker - just one dish to clean!
This recipe should be made in a 6-quart slow cooker.
Ingredients
Nonstick Cooking Spray

(or use 1 Tbsp of oil)

1/2

cup

Oil

(use any type - I like avocado oil or grapeseed for their more neutral flavor; olive oil or vegetable oil will work as well)

1/2

cup

Honey

1

tsp

Pure Vanilla Extract

1/2

tsp

Ground Cinnamon

5

cups

Rolled / Old-Fashioned Oats

1/4

tsp

Kosher Salt

2

cups

Chopped Pecans

(look for a 2 cup / 8 oz bag of pre-chopped pecans)
Instructions
Spray the inside of the bowl of a slow cooker with nonstick cooking spray (or rub with 1 Tbsp oil).

In a small bowl whisk together oil, honey, vanilla, cinnamon, and salt.

In the bowl of a slow cooker, combine oats and chopped pecans.

Pour liquids over dry ingredients and stir everything until evenly combined.

Place two layers of paper towels underneath the slow cooker lid before you close the slow cooker. (The paper towels will absorb moisture that collects on the lid, preventing it from dripping down onto the granola. This will help the granola to crisp up.)

Cook the granola on low until evenly golden brown, 4 to 6 hours. Stir the granola well every hour to insure it cooks evenly. (Tips: Every slow cooker is different, so the granola may take anywhere in this range. It may not be super crisp until it cools, but you'll know it's done when all of the oats are evenly golden brown. My KitchenAid slow cooker is known to run cooler than most others on the market, so it takes almost the full 6 hours. To be sure I don't miss stirring it each hour, I set my kitchen timer after each time I stir.)

When the granola is evenly golden brown, unplug it and remove the lid. Leave it sitting with the lid off until completely cool, 30 to 60 minutes.

Transfer to an airtight container. Granola should be good in an airtight container at temperature for up to 2 weeks.
Notes
Quick tip! I always store my granola in the fridge (with the lid) off the day after I make it. This stint in the cold, dry refrigerator insures that any extra moisture evaporates and pretty much guarantees the granola will stay super crunchy for a full 2 weeks.
Nutrition
Calories:
202
kcal
|
Carbohydrates:
21
g
|
Protein:
4
g
|
Fat:
13
g
|
Saturated Fat:
1
g
|
Sodium:
1
mg
|
Potassium:
114
mg
|
Fiber:
3
g
|
Sugar:
6
g
|
Vitamin A:
5
IU
|
Vitamin C:
1
mg
|
Calcium:
17
mg
|
Iron:
1
mg
Nutrition information is automatically calculated, so should only be used as an approximation.
*This post contains affiliate links*