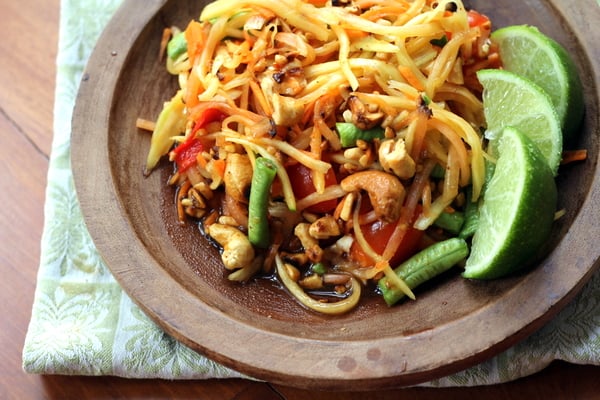 Green Papaya Salad (Som Tum Thai) and its wonderful blend of all Thai flavors has become our obsession as of late around here.
And I have needed some wonderful food to take my mind of all these crazy house tasks going on around here of late. I've mentioned it before but must again report that my washing machine has a mind of its own. This morning it was not happy with me. Understandable I guess, since yesterday I blew its fuse and left it with a load of wet towels until my husband could come home and help to locate the fuse box (which may or may not have been buried behind a shelf heavily weighed down with my KitchenAid, Cuisinart and 15 other cooking tools that I had previously "organized").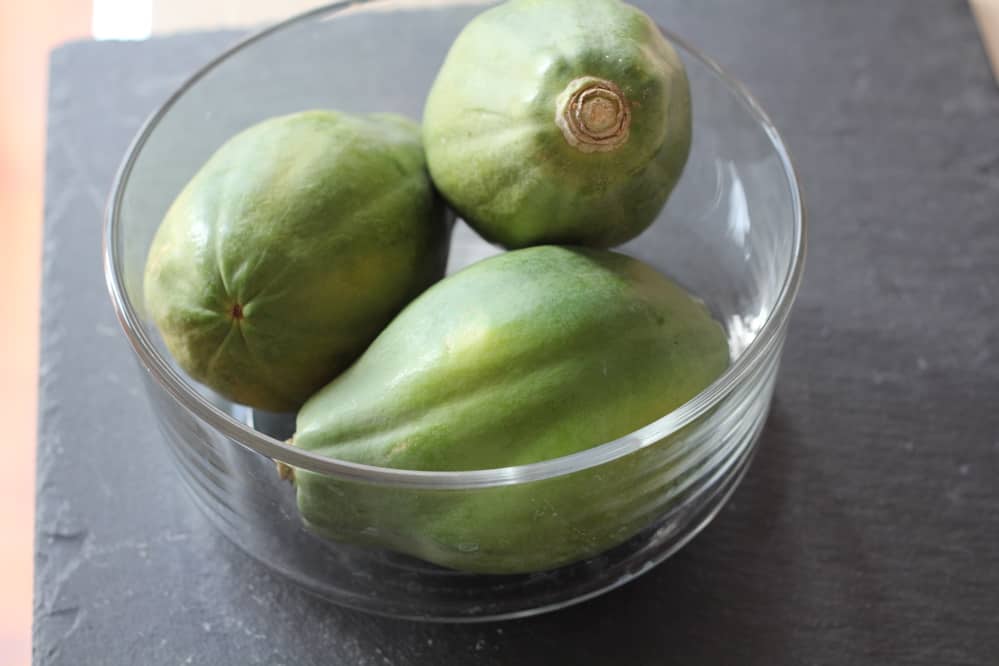 The washing machine noises, which might lead one to believe that Kennedy Space Center has set up a satellite launch site in this very apartment, were enough of a distraction to bring about two unexpected events. The first was that I had a few minutes to slice up a mango and banana for breakfast, leading me to wonder why I have not become more skilled at slicing mango over these past 4 months. They're so slippery – I don't know how people do that evenly. The good news is that they taste delicious even in irregular pieces (particularly with a side of iced coffee).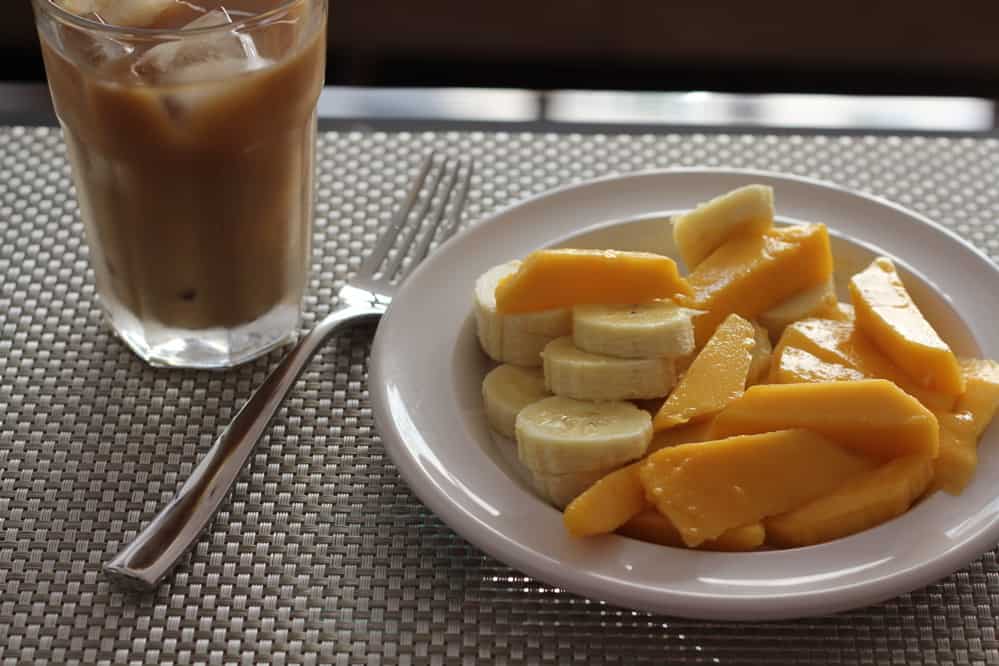 The second is that I had a revelation about the pizza stone and my tiny oven. I was about to turn the oven on to bake a the whole wheat bread dough that is rising on the counter when it occurred to me that the pizza stone (that won't fit on the oven's racks) might fit on the bottom of the oven. Because the oven is rocking some sort of convection style and does not emit heat from the bottom, I'm thinking hoping that the stone will heat evenly even on the bottom and will now allow me to once again make pizzas and bread with the crispy crust that only a pizza stone produces. I shall have the answer in about 60 minutes.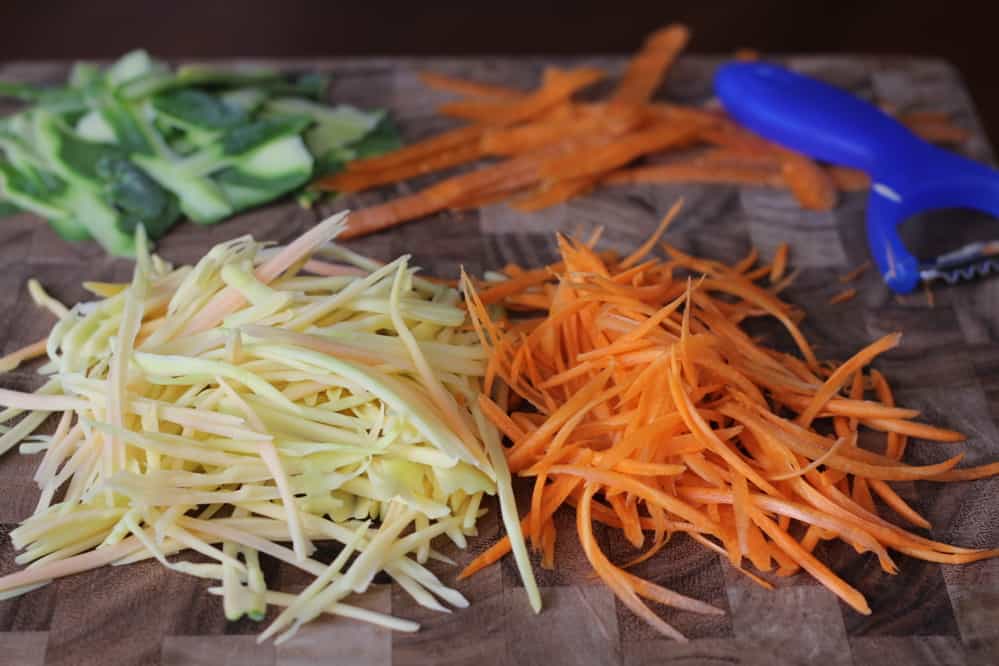 But today, I really wanted to share, not bread, but Green Papaya Salad- Som Tum. Som Tum is quickly becoming an obsession around this house. With all of the menu options that confront my husband and I in Thailand, we can almost always be counted on to order a plate of Som Tum. In fact, my husband reports that he orders Som Tum for lunch at work 9 times out of 10. And this is why I enlisted him to taste test the three varieties I made last night for dinner. He is definitely an expert, so I trust his judgement, which resulted in the following recipe.
Green Papaya Salad – Som Tum is a perfect example of the balance of flavors in Thai food that I find to be so brilliant. This dish is slightly sweet from palm sugar, sour from fresh lime juice, salty from fish sauce and has a fabulous kick of spice that mellows in the sweet shredded carrot and papaya. And that's not even the end of it – you also get the crunch of peanuts and cashews that makes every bite indescribably lovely. Make this – you'll be glad you did.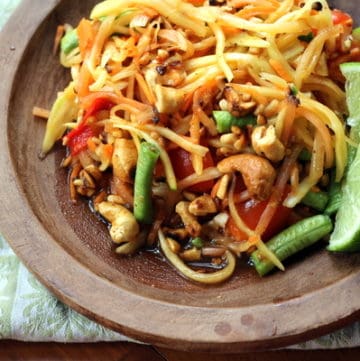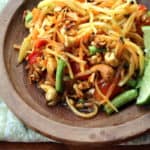 Print Recipe
Som Tum Thai (Green Papaya Salad)
Servings:
2
entree-size servings (will vary based on the size of the papaya)
Ingredients
¼

cup

roughly chopped roasted, unsalted cashews

¼

cup

roughly chopped roasted, unsalted peanuts

2

Tbsp.

fresh squeezed lime juice

1

Tbsp.

thai chili paste (store-bought or using this nam prik pao recipe)

3

Tbsp.

fish sauce

3

tsp.

palm sugar (substitute: 3 tsp. light brown sugar)

1

clove

garlic

1

red or green small bird's eye chili

3

cups

shredded green papaya (about 1 large green papaya)

1

cup

shredded carrot

1

cup

green snake beans, cut into 1-inch lengths

10

cherry tomatoes, sliced in half
Instructions
In a small pan, dry roast cashews and peanuts over medium high heat, tossing frequently. Roast until nuts are nearly blackened in small spots, about 4 minutes. (Although the list of ingredients calls for roasted nuts, the extra roasting in a pan brings out a deeper roasted flavor that is fantastic in som tam. You can also start with raw cashews and peanuts, but will need to dry roast for longer.)

Combine the lime juice, chili paste, fish sauce and sugar in a small bowl. Whisk to combine evenly and set aside.

Using a mortar and pestle, gently pound the garlic and bird's eye chili until both are crushed and broken into small pieces. Add papaya and carrot to the mortar and pound vigorously until liquid begins to form in the bottom of the bowl. Add snake beans and pound until snake beans break apart. Pour liquid, roasted nuts and cherry tomatoes into the bowl and stir the mixture with a spoon to combine.

Serve immediately or refrigerate and serve within a couple hours.
Notes
The real magic of som tam happens when the papaya is pounded to release its juice. In Thailand a large mortar and pestle set is used to pound all of the ingredients together, causing them to become slightly smashed and the shredded papaya and carrot to release moisture. If you don't have a mortar and pestle, you can still get the same result in a variety of ways. The first is to prepare the dish in a plastic mixing bowl and smash the salad with a muddler or meat tenderizer. I also recently read a recipe (which I've since misplaced) in which the author recommended placing the ingredients in a sealed plastic bag and smashing them gently with a rolling pin. Either of these methods would produce the right flavor and texture.