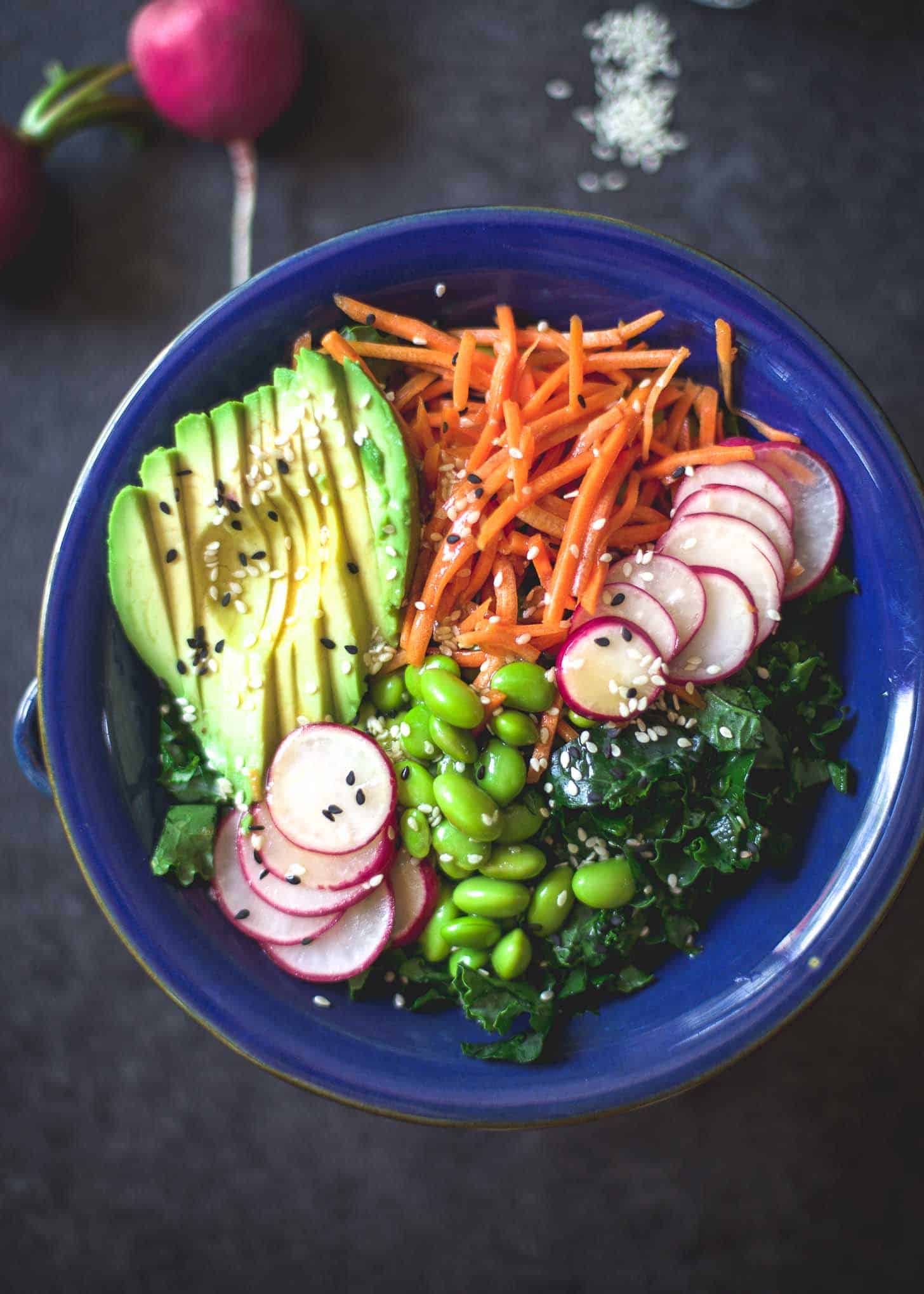 This bright, fresh salad with less than 400 calories is packed with protein, full of color and can be enjoyed year-round. A vinaigrette with sesame oil and fresh ginger adds just the right balance of sweet and savory.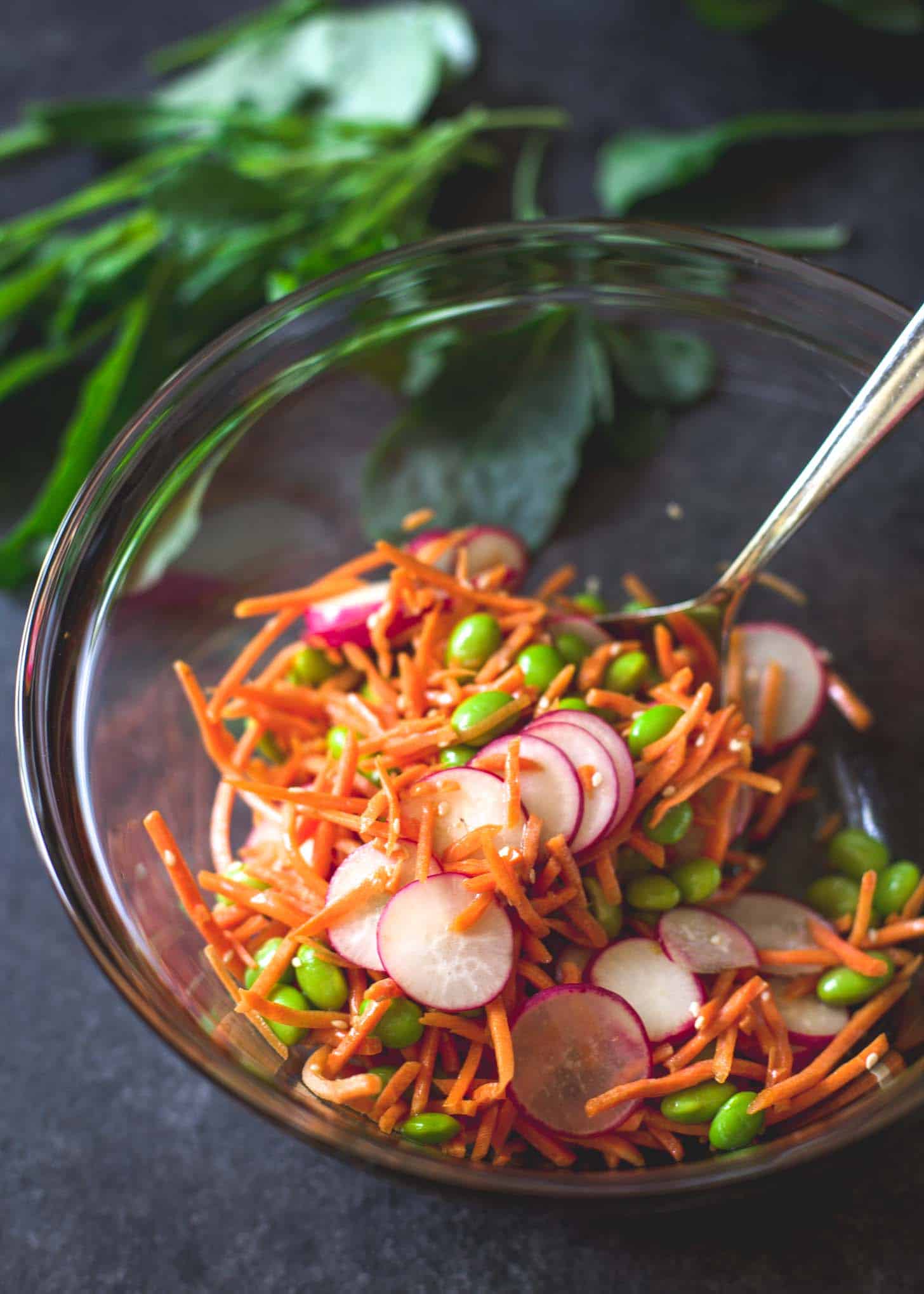 It's that time of year when the holidays start coming in fast succession. As recently as yesterday I was still finding Halloween candy in coat pockets and stepped on a full pack of Sweedish Fish in the frosty grass when I went to grab the newspaper.
And now we're looking ahead for Thanksgiving and Christmas. There is an extra sense of magic that comes with the first holidays that kids can understand and anticipate. My two-year-olds can readily identify that the coming weeks hold celebration, fun, and sweet treats.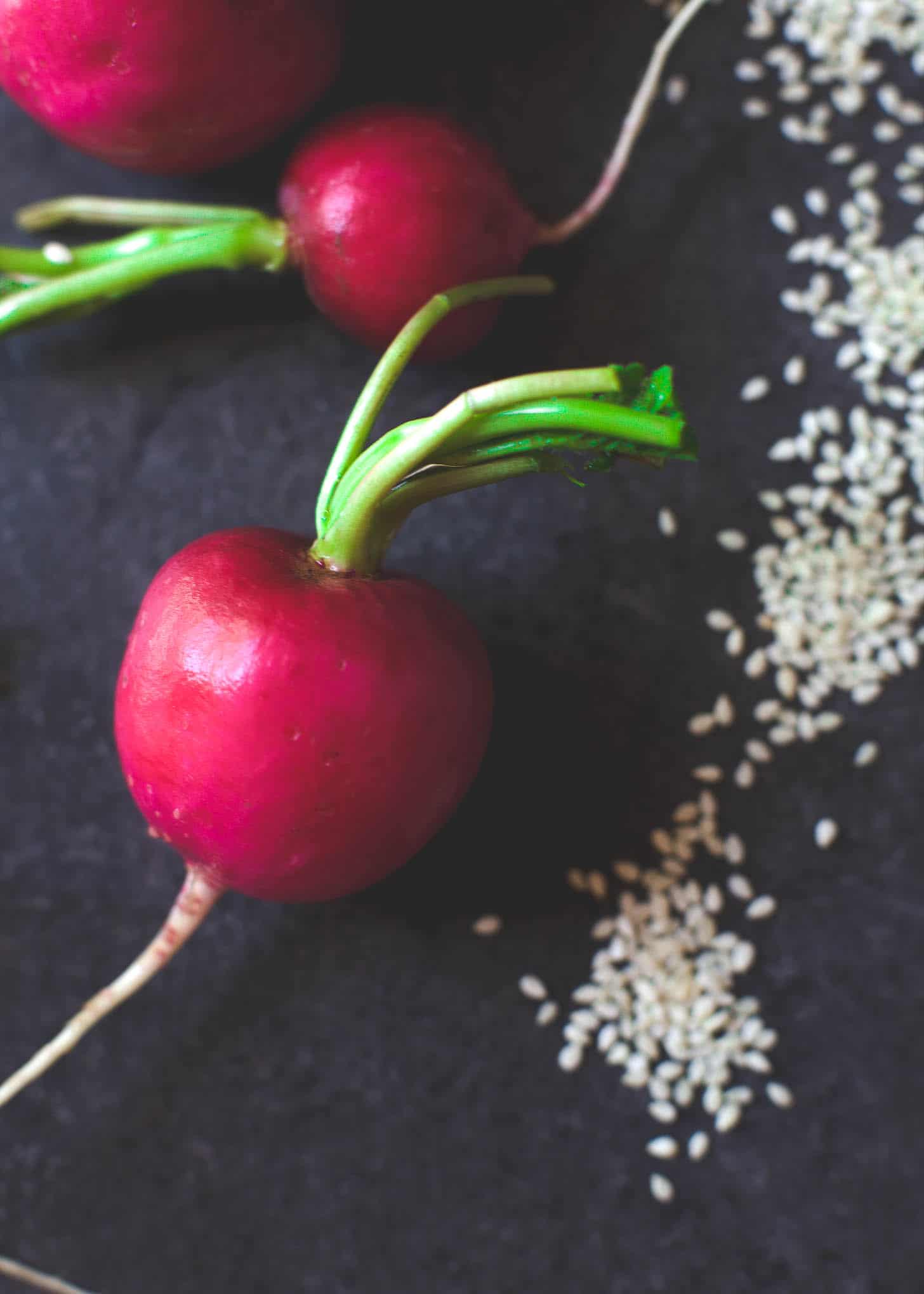 And like my two-year-olds, I too get eager for the holiday food and drink and sense of magic that comes with twinkling lights, frosty air, and warm dishes to share around crowded tables.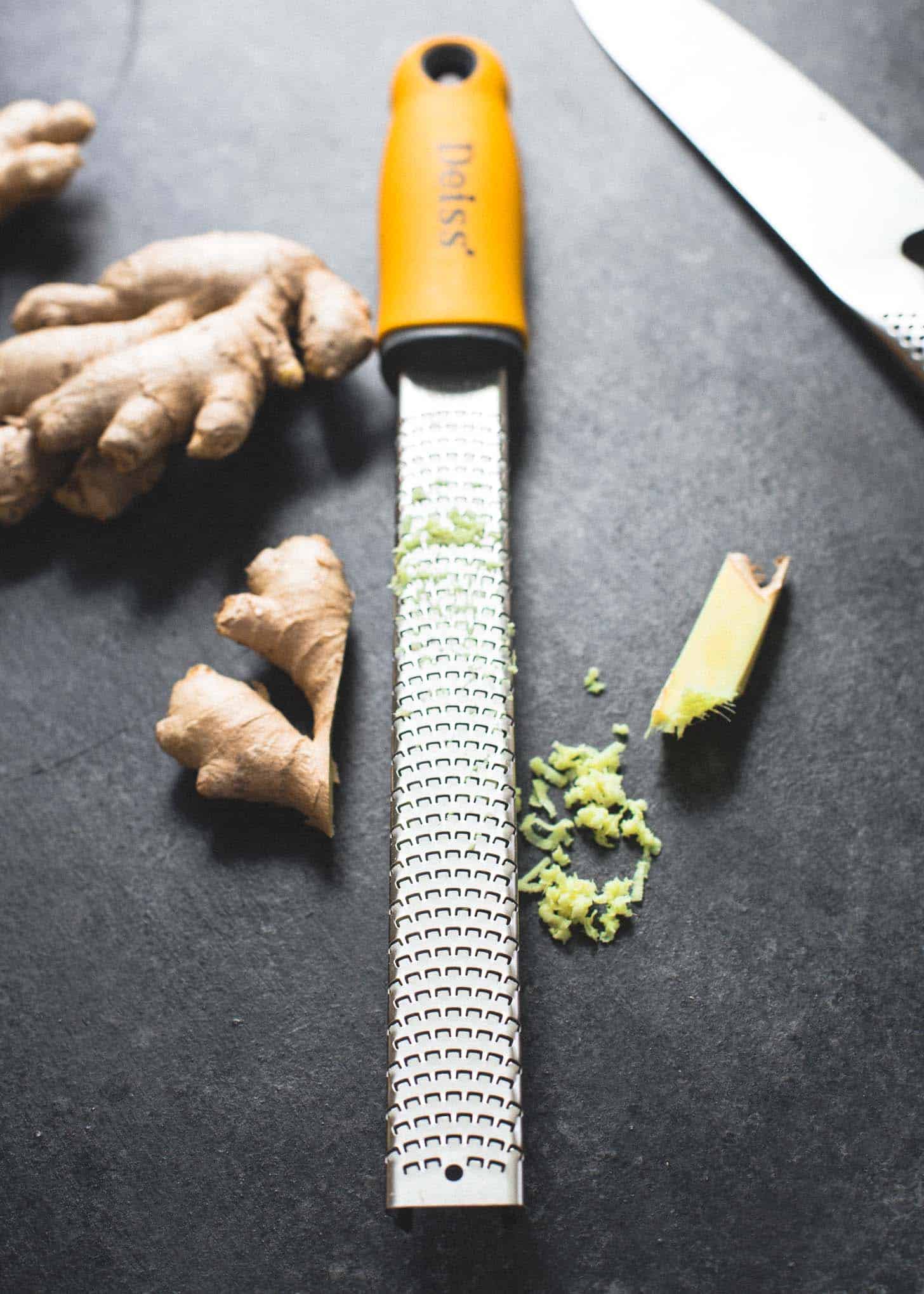 I love the opposite ends of the food spectrum that help bring balance this time of year. Eat a few extra salads at lunch and not feel a moment of hesitation when it comes to a plate of  Sexy Fries or sampling an extra cookie (or four) later. Something about the contrast of a salad bursting with bright, healthy things makes those cookies taste extra awesome.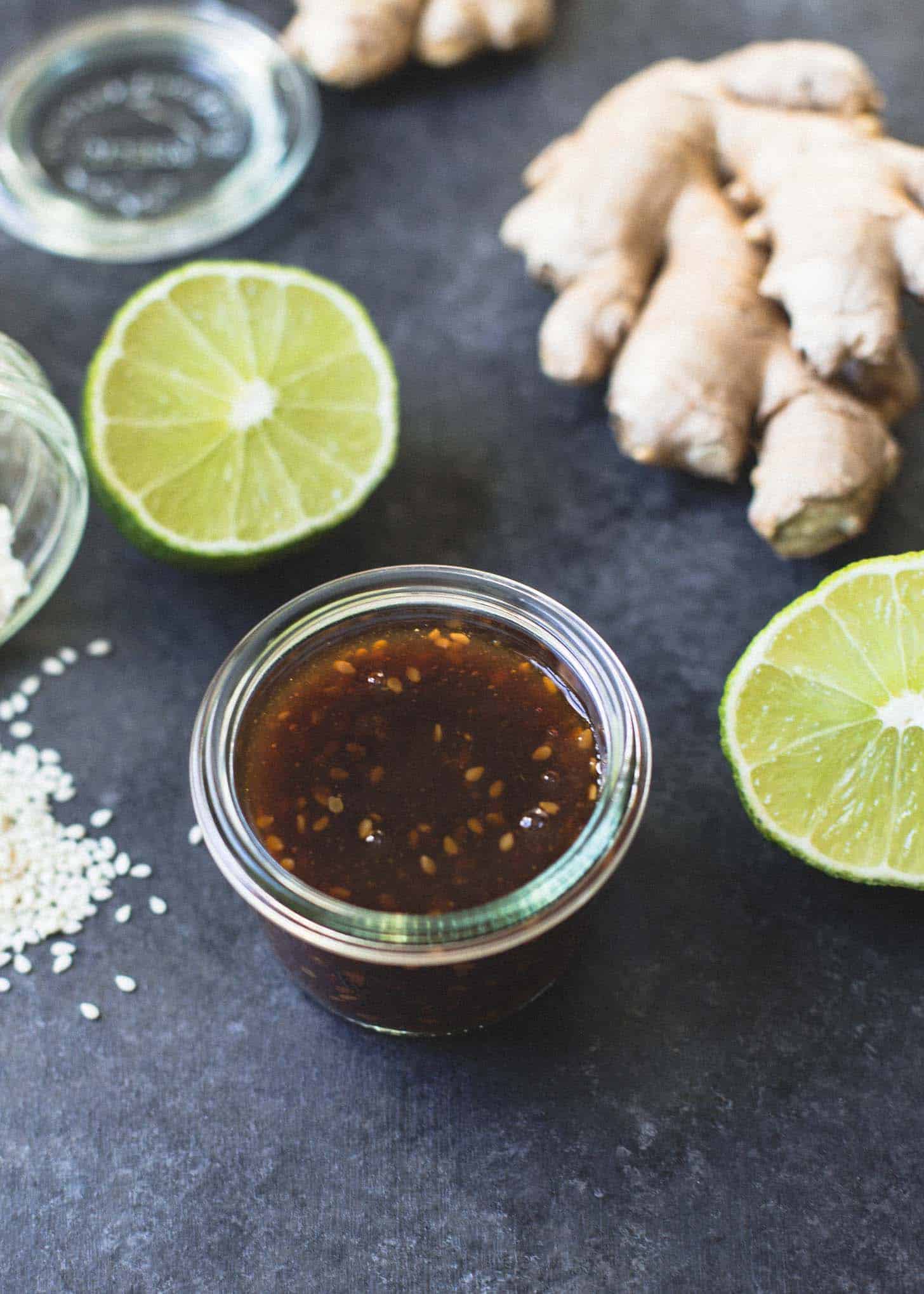 Sesame Ginger Vinaigrette
And while all of this salad is worth making, it's the sweet and savory vinaigrette that is the real star. It's inspired by an Asian Vinaigrette from Trader Joe's that we used extensively on last summer's trip to Breckenridge, Colorado. This home-made version is simple, full of real ingredients, and keeps for weeks in the fridge. It lends itself to all sorts of creative salad combinations beyond the typical greens.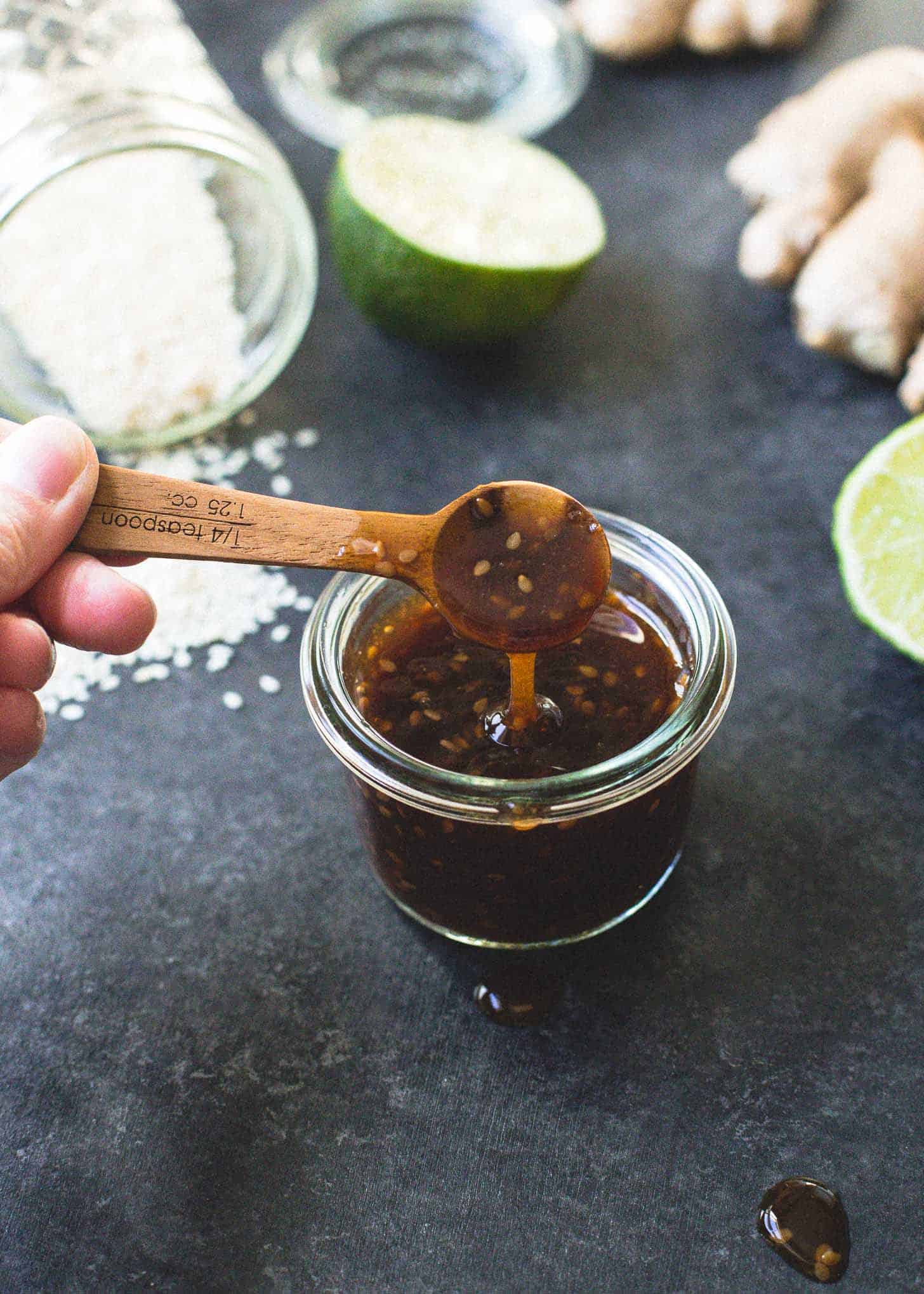 Here's to enjoying salads as much (okay, almost as much) as those cookies.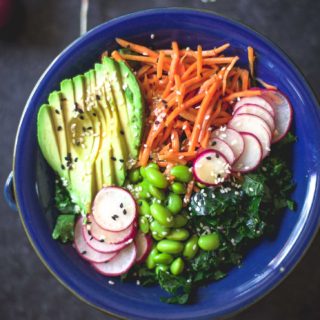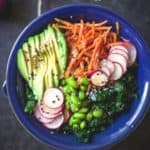 Print Recipe
Sesame Ginger Kale Salad
A bright, fresh salad is packed with protein, full of color. Thick, slightly sweet vinaigrette with sesame oil and fresh ginger makes the perfect topping.
Ingredients
Sesame Ginger Vinaigrette:
1/4

cup

Low Sodium Soy Sauce

2

tsp

Cornstarch

1/4

cup

Cooking Oil (any neutral oil like canola or grapes)

1/4

cup

Rice Vinegar

3

Tbsp

Honey

2

Tbsp

Toasted Sesame Oil

2

cloves

Garlic, chopped

1

Tbsp

grated Fresh Ginger

1

Tbsp

White Sesame Seeds
For the salad:
8

leaves

Curly Kale, roughly chopped

1

cup

shredded Carrots (I buy pre-shredded)

4

Radishes, thinly sliced

1

cup

Edamame, shelled

1

Avocado, sliced

2

tsp

Sesame Seeds, black or white
Instructions
Make the vinaigrette. Whisk together the cornstarch and soy sauce until cornstarch is dissolved. In a small saucepan (or microwave-safe container), combine soy sauce-cornstarch mixture with remaining ingredients for vinaigrette. Heat over medium heat, stirring frequently (or in the microwave in 15 second increments, stirring after each increment) until it begins to simmer. Continue eating until vinaigrette thickens slightly, about 2 minutes.

At least 30 minutes and up to a day before serving, toss kale with 2 Tbsp of vinaigrette and massage dressing into kale leaves.

Toss kale with carrots, radishes, edamame and avocado. Add vinaigrette until it is dressed to your liking (you most likely won't need all of the vinaigrette for this recipe, but can refrigerate it for 2 to 3 weeks). Sprinkle with extra sesame seeds.
Nutrition
Serving:
1
g
|
Calories:
399
kcal
|
Carbohydrates:
29
g
|
Protein:
8
g
|
Fat:
30
g
|
Saturated Fat:
3
g
|
Sodium:
618
mg
|
Fiber:
8
g
|
Sugar:
16.5
g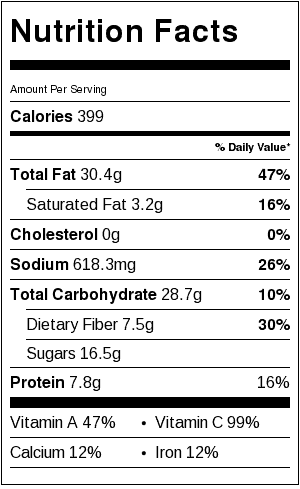 Note: Did you notice that Deiss grater photographed above? As a food writer, I am occasionally offered free kitchen tools, but I rarely share them on the site. I was under no obligation to feature this beauty, but after playing around with it, I absolutely love it and wanted to share. The kind folks at Deiss are offering a 15% discount for Inquiring Chef readers if you'd like to buy one for yourself or as a gift. The grater is very affordable and is the perfect little tool for grating ginger, parmesan, citrus and more. Click here to purchase <= enter code VKWNXVH8 at checkout (expires January 1, 2017).