Slow-Cooker Mango Sriracha Pulled Chicken
Published Sep 20, 2013•Updated Apr 19, 2022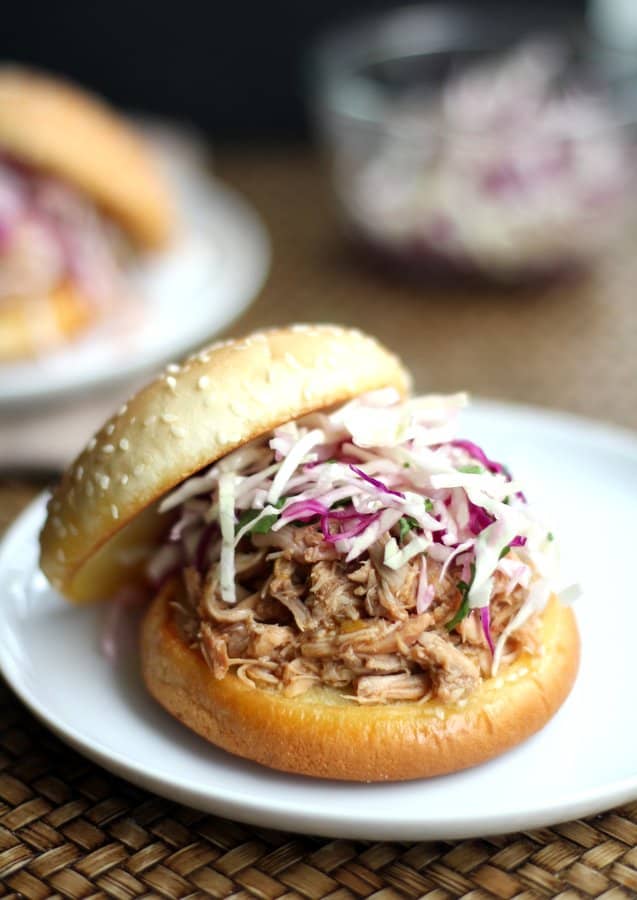 Slow-Cooker Mango Sriracha Pulled Chicken is a simple pulled chicken made with sweet and spicy flavors from mango and sriracha in the slow-cooker.
Thanks to traffic, Bangkok seems to function about 15 minutes late. This is appropriate because my friends and husband will tell you that I run eternally 10 minutes late. Do the math on that one. It means that, on Bangkok time, I'm always 5 minutes early. Trafficky Bangkok for the win!
Last week, I was in a cab on the way to a 7am dentist appointment and, thanks to my cab driver's "better route" through back alleys, it looked like I was going to make it by 7:02. I was feeling so timely until we reached a narrow intersection just as a double-decker bus rounded the bend. Back alleys in Bangkok are barely wide enough for a car and a motorbike, so forget about a double-decker bus loaded with tourists. Thus ensued a round of shouting in various languages, hands slapping out windows, and too many drivers who left their vehicles and stood around debating the best way to get the bus through. Back and forth, back and forth, back and forth, the bus finally inched its way around the corner and was headed off to some temple or another.
The taxi driver got back in the car, we both shrugged and laughed, and I made it to my appointment at 7:15.
15 minutes late – it's unavoidable I tell ya.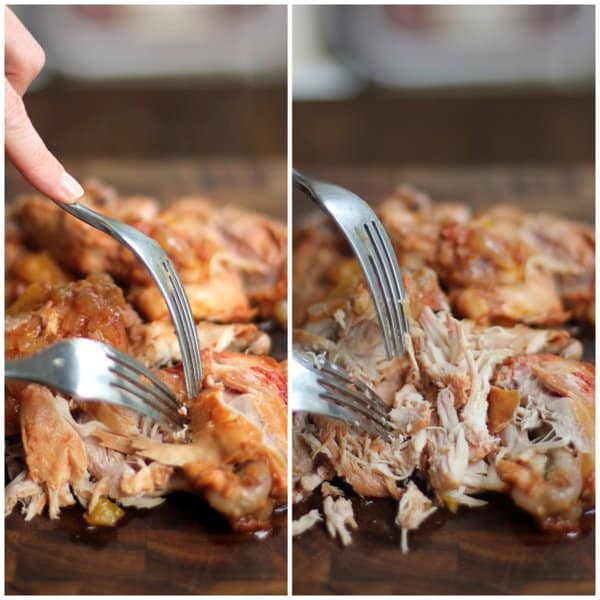 For someone who is always running late, a slow-cooker is a dream come true.
Did I tell you I inherited a slow-cooker? My friend Anne gifted it to me when she moved home to the U.S. (Miss you Anne!!) This was a thrilling development because a) in hot Bangkok, a tiny slow-cooker is far preferable to a full-size noisy oven that heats up the whole house and b) I had big plans in mind for anything of the "pulled" variety – pulled chicken and pork immediately came to mind.
Being still new to the slow-cooking world, I went with two well-loved ingredients here – mango and Sriracha. The sweetness of the mango is so nice paired with the spicy red sauce and a hint of sour from rice vinegar. After the chicken cooked, I blended the remaining sauce and tender mango cubes and poured it over the chicken until it became a juicy, drippy, delightful mess.
Even Bangkok traffic can't get the better of me when there's a crockpot of pulled chicken waiting at home.
More Slow Cooker Chicken Recipes
Favorite Tools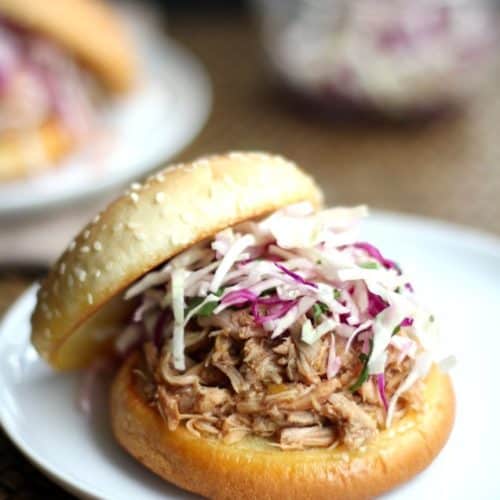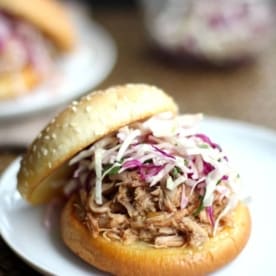 Slow-Cooker Mango Sriracha Pulled Chicken
Simple pulled chicken in the slow-cooker made with sweet and spicy flavors of mango and Sriracha sauce).
Equipment
6-quart Slow Cooker

Cutting Board

Standing Blender or Immersion Blender
Ingredients
For the chicken:
2

pounds

skinless chicken thighs (with the bone in or out)

1

large red onion, diced

1 1/2

cups

roughly chopped mango (fresh or frozen will work)

1/4

cup

low sodium chicken broth

2

Tablespoons

rice vinegar

2

Tablespoons

soy sauce

2

Tablespoons

Sriracha (spicy chili sauce – with the rooster on the front)

1

Tablespoon

tomato paste
For serving and topping:
Sandwich buns

Sliced avocados

Cilantro

Asian Slaw (thinly sliced red and green cabbage tossed in rice vinegar, a bit of honey, and salt)
Instructions
Combine all ingredients for the chicken in a crockpot and cook on high for 4 hours, until the chicken is tender and falls apart easily. Transfer the chicken to a cutting board and shred with two forks (discarding the bones if you used bone-in chicken thighs). Blend the sauce that remains in the crockpot in a blender or with a hand-blender. Taste and add salt, if needed. Toss the shredded chicken in the sauce until well-coated. (You may not need all of the sauce.)

Serve on sandwich buns with any of the desired toppings above.
Nutrition information is automatically calculated, so should only be used as an approximation.
*This post contains affiliate links*