Raspberry Almond Coffee Cake is topped with tart raspberries and a crumb made with toasted almonds, making it perfect for breakfast or a tasty snack.
Before this, I thought that I wasn't really a coffee cake person. It's not that I dislike it - I mean, who doesn't like cake for breakfast? There were just so many things I would like to have for breakfast even more. But Frank and I have fallen into a tea routine - we both drink tea like it's going out of style. It was with all this tea drinking that made me want a cake like this one - with a light, sweet base that hints of cinnamon, tart fruit, and crumbly topping piled high.
It's called a "coffee" cake, but it's perfect with tea. With the sweet/sour flavor of the raspberries and the crunch in the topping, I couldn't get enough of it.
I loved it thinly sliced with fruit on the side for breakfast, but we found ourselves sneaking oddly shaped slivers of this cake for nearly a week. It got better every day.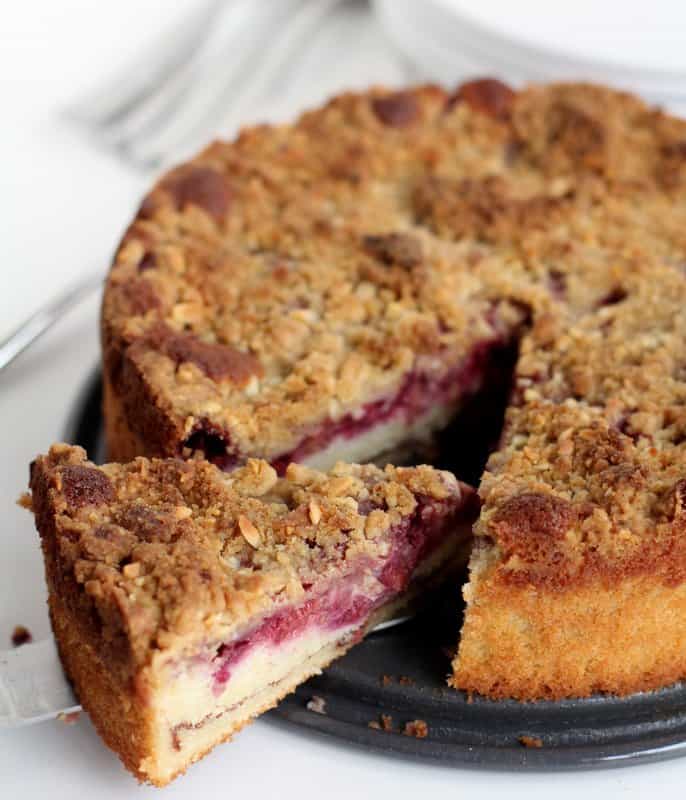 I've been thinking lately about how important it is to surprise ourselves from time to time. I gravitate so much towards routines, but it's when I break out of them that things get interesting.
Having lived in Bangkok for two and a half years now, there's hardly as much surprise on a daily basis as there was in the beginning. Anyone who has traveled knows that unique combination of exhaustion and energy that comes from an environment in which every sight, smell and experience is new. For the first months in Bangkok, every day surprised me.
These days, some things about Bangkok feel very familiar. Much of my life has been surrendered to routine. But from time to time I manage to surprise myself. I have a conversation with a taxi driver or order a bowl of noodles in just exactly the way I like it or I gat caught in a rainstorm while the whole city gets painted streaky shades of green.
This is the part of the expat experience that is most thrilling. Because when you've live in a place that is so very different from "home", you are both satisfied when you get to know it well and continually amazed by its foreignness. Most moments are shinier somehow.
It feels a bit like summer camp - the stories you'll tell for years about snakes in bunkhouses and staying up all night under the stars that only the handful of people who were there can ever really "get".
Maybe that's how I should start to think about life in Bangkok. Extended summer camp. With longer work days and fewer snakes.
Simultaneously a break from real life, and real life personified.
More Baked Breakfast Recipes
Favorite Tools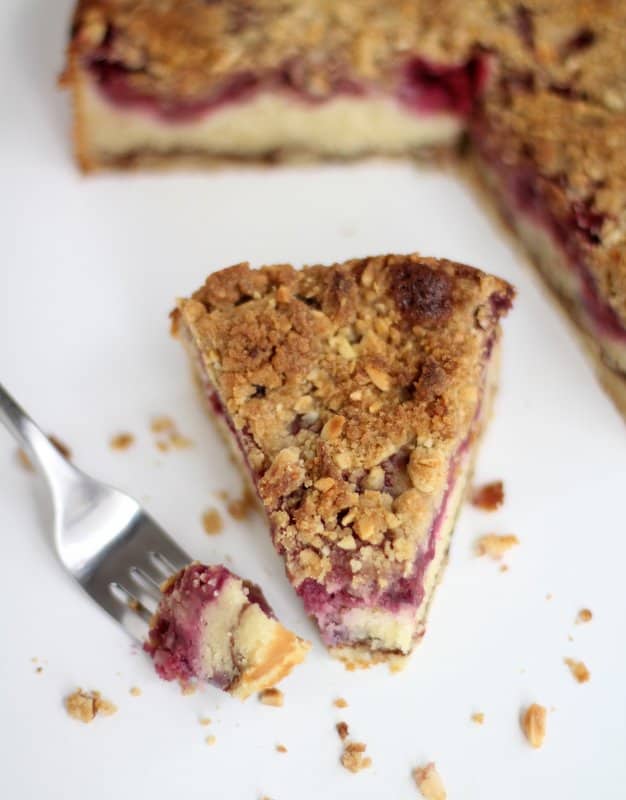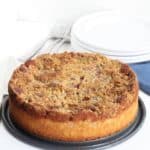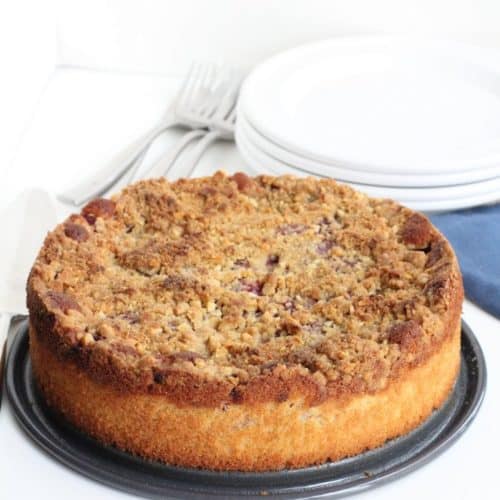 Print Recipe
Raspberry Almond Coffee Cake
This moist coffee cake is topped with tart raspberries and a crumb made with toasted almonds, making it perfect for breakfast or a tasty snack.
Equipment
Mixing Bowls

Stand or Handheld Mixer

9-inch Springform Pan
Ingredients
For the Crumb Topping:
1

cup

All-Purpose Flour

¾

cup

packed Light Brown Sugar

½

teaspoon

Kosher Salt

½

cup

Slivered Almonds, toasted, chopped

6

tablespoon

Unsalted Butter, chilled, and cut into ¼-inch cubes
For the Cake:
Nonstick Spray

1 ½

cups

All-Purpose Flour

1

tablespoon

Cornmeal

½

teaspoon

Baking Powder

½

teaspoon

Baking Soda

¼

teaspoon

Kosher Salt

¾

cup

plus 3 tablespoons Sugar, divided

6

tablespoon

Unsalted Butter, room temperature

(¾ stick)

½

teaspoon

Vanilla Extract

2

large

Eggs

1

cup

Buttermilk

1

tablespoon

Ground Cinnamon

2

cups

Raspberries

(fresh or frozen will work)
Instructions
To make the crumb topping, whisk flour, sugar, and salt in a medium bowl. Stir in nuts. Add butter; using your fingertips, work butter into dry ingredients until large, moist crumbs begin to form. Refrigerate topping until ready to use.

Preheat oven to 350°. Coat a 9-inch springform pan with nonstick spray.

To make the cake, in a medium bowl, whisk flour, cornmeal, baking powder, baking soda, and salt; set aside.

Using an electric mixer on medium speed, beat ¾ cup sugar and butter in a medium bowl until light and fluffy, 3–4 minutes. Beat in vanilla. Add eggs one at a time, beating to blend between additions and occasionally scraping down sides of bowl, until mixture is pale and fluffy, 3–4 minutes longer.

With mixer on low speed, add dry ingredients to bowl in 3 additions, alternating with buttermilk in 2 additions, beginning and ending with dry ingredients. Pour half of batter into prepared pan and smooth top. Whisk remaining 3 Tbsp. sugar and cinnamon in a small bowl; sprinkle evenly over batter in pan. Spoon remaining batter over; smooth top.

Pour raspberries evenly over batter. Sprinkle crumb topping over raspberries.

Bake cake until top is golden brown and a tester inserted into the center comes out clean, 55–60 minutes. Let cool completely in pan.

Store in airtight container at room temperature. (This is a great make-ahead cake. I think it tastes even better the day after being baked.)
*This post contains affiliate links*