I once said I would never use a recipe for a smoothie. Honestly, until this week, I was still convinced of it. I tend to be a free-form smoothie girl. Whatever fruit I have frozen or fresh, frozen spinach (for some of that "green" element that's so in now), a bit of yogurt or juice and voila – a Jess-style smoothie. We drink them all the time, and every one is a bit different.
There hasn't been much going on in my kitchen this week. I've been flying solo around the house all week, which means that very little changes in my routine, except that I do a bit less coking. (Okay, it does mean one change. Confession: when Frank is gone I entertain myself with utterly addictive reality shows I never knew existed. Oh reality TV…how I miss you.)
This week, hanging out at home while Frank is in Bangladesh, the only new recipe I was in the mood for had just five ingredients. And though I'm not giving up my free-form smoothing-making any time soon, this Mango-Coconut Water smoothie recipe is one I will absolutely use again. It is sweet and creamy, and the lime gives it bright tartness. I've been loving this smoothie all week long.
The lovely thing about this smoothie recipe is that it makes use of the ever-growing pile of fresh mangos on my counter. I can't resist them this time of year – perfectly gold and fragrant. It's mango season in Thailand, and they are here in all their glory.
Smoothies aren't the only way I've been using mangos this week. Dinner tonight was Potato Curry with Mango and Basil. It might be my favorite curry of all time. And that's saying something – I do live in Thailand, after all.
___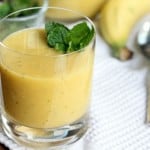 Print Recipe
Mango-Coconut Water Smoothie
Ingredients
2

cups

ripe mango chunks (from 1-2 fresh mangos, or use frozen)

2 to 3

tablespoons

fresh lime juice

2

cups

unsweetened coconut water
Optional:
a few leaf mint

pinch

cayenne pepper
Instructions
Combine all ingredients in a blender; blend until smooth.