Last Word Cocktail
Published Mar 08, 2023•Updated Apr 14, 2023
Tart, sweet, herbaceous, and refreshing, the Last Word cocktail is a delicious drink to start or end an evening. With its delicate green color, cherry-on-top garnish, and easy four-ingredient recipe, this drink deserves a spot in your cocktail rotation.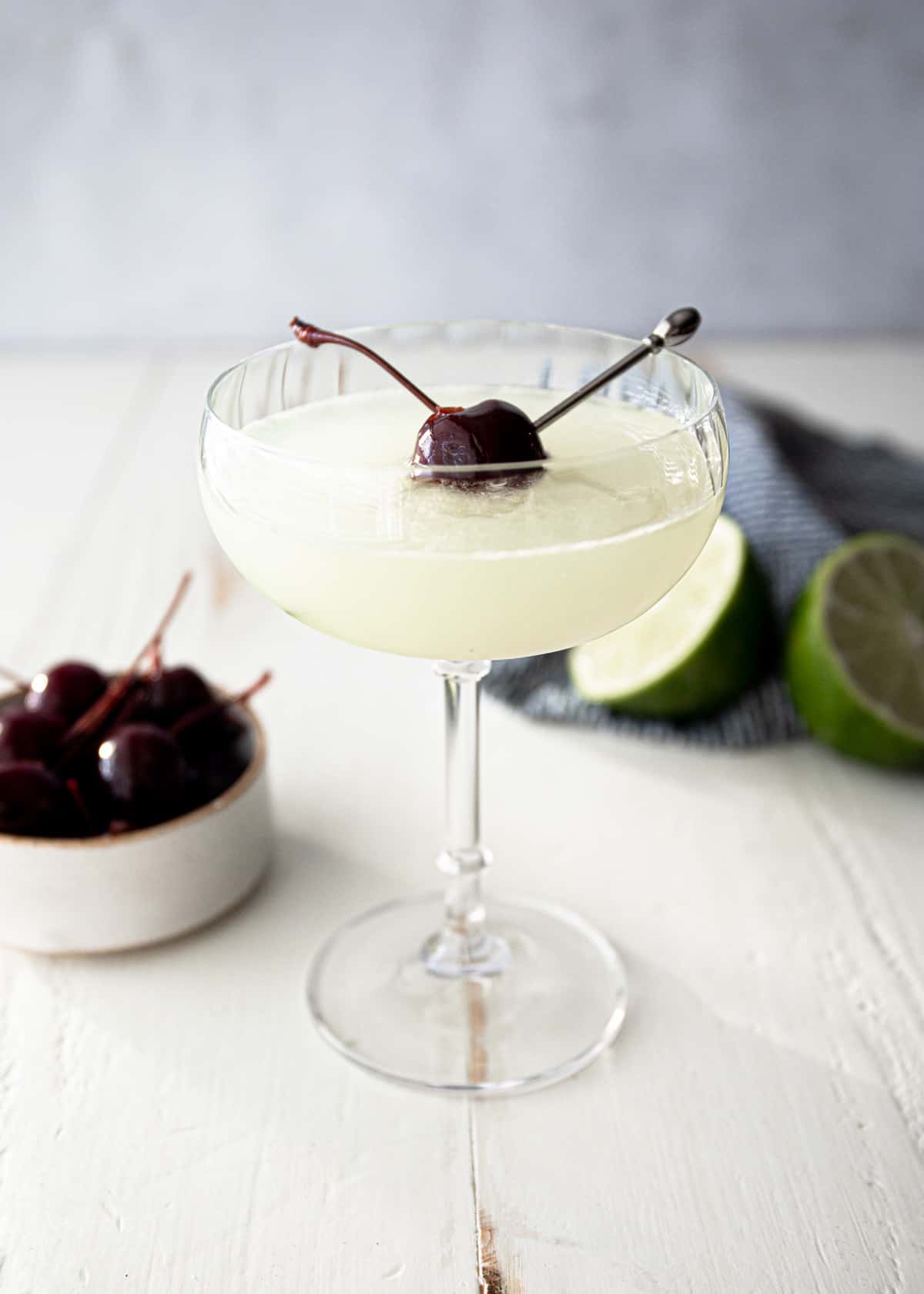 Our house cocktail maker-in-chief, Frank, has a new favorite, and it's the Last Word. The good news (for me) is that you don't even need to have any cocktail knowledge to make this simple and delicious four ingredient cocktail. With its refreshing, but complex, tart-sweetness and striking herbaceousness, one sip is all it takes to understand why this classic has stood the test of time. Also fun to note is that this is actually a twist on the Paper Plane Cocktail, which is another one of my favorites.
And if you're entertaining, you can batch-make this up to two days in advance. All you need to do is refrigerate the mixture, and shake it with ice when you're ready to serve.
What is a last word cocktail?
A Last Word cocktail is a pre-Prohibition cocktail that is made with equal parts gin, green chartreuse, maraschino liqueur (a cherry-infused liqueur), and lime juice. These cocktails are tangy, tart, and have a pleasant botanical quality. The maraschino liqueur adds just a little hint of sweet, while the lime juice adds a wonderful acidity.
The best way to describe the taste of the Last Word is 'balanced'. Crisp dry gin creates a light piney base, while green chartreuse adds herbaceousness, maraschino brings a hint of sweetness, and lime brightens this sipper with its mouth watering acidity. It's simple, sophisticated and the perfect cocktail for starting or ending an evening.
History of the last word cocktail
Many cocktail aficionados believe the Last Word cocktail was invented at the Detroit Athletic Club in 1915, a few years before Prohibition ended all legal alcohol sales. When Prohibition hit, the Last Word sort of just disappeared. The drink didn't make another appearance until it showed up in Bottom's Up, a cocktail book from 1951. Despite the Last Word being included in what's now considered a classic book, the cocktail never really took off.
In 2004, all of that changed when Seattle bartender Murray Stenson happened to find the recipe for the Last Word in an old copy of Bottom's Up. Murray tried making the drink, decided it was a keeper, and added it to the menu at the Zig Zag, the bar where he worked.
The cocktail took off, and soon it was popping up in cosmopolitan cities like New York and San Francisco.
The 'Last Word' gets its name from American vaudeville entertainer Frank Fogarty, a frequent visitor to the Detroit Athletic Club. While socializing at the club, Fogarty would often spontaneously break into song, and then recite a closing monologue. Hence, Frank always got the 'last word' at the bar!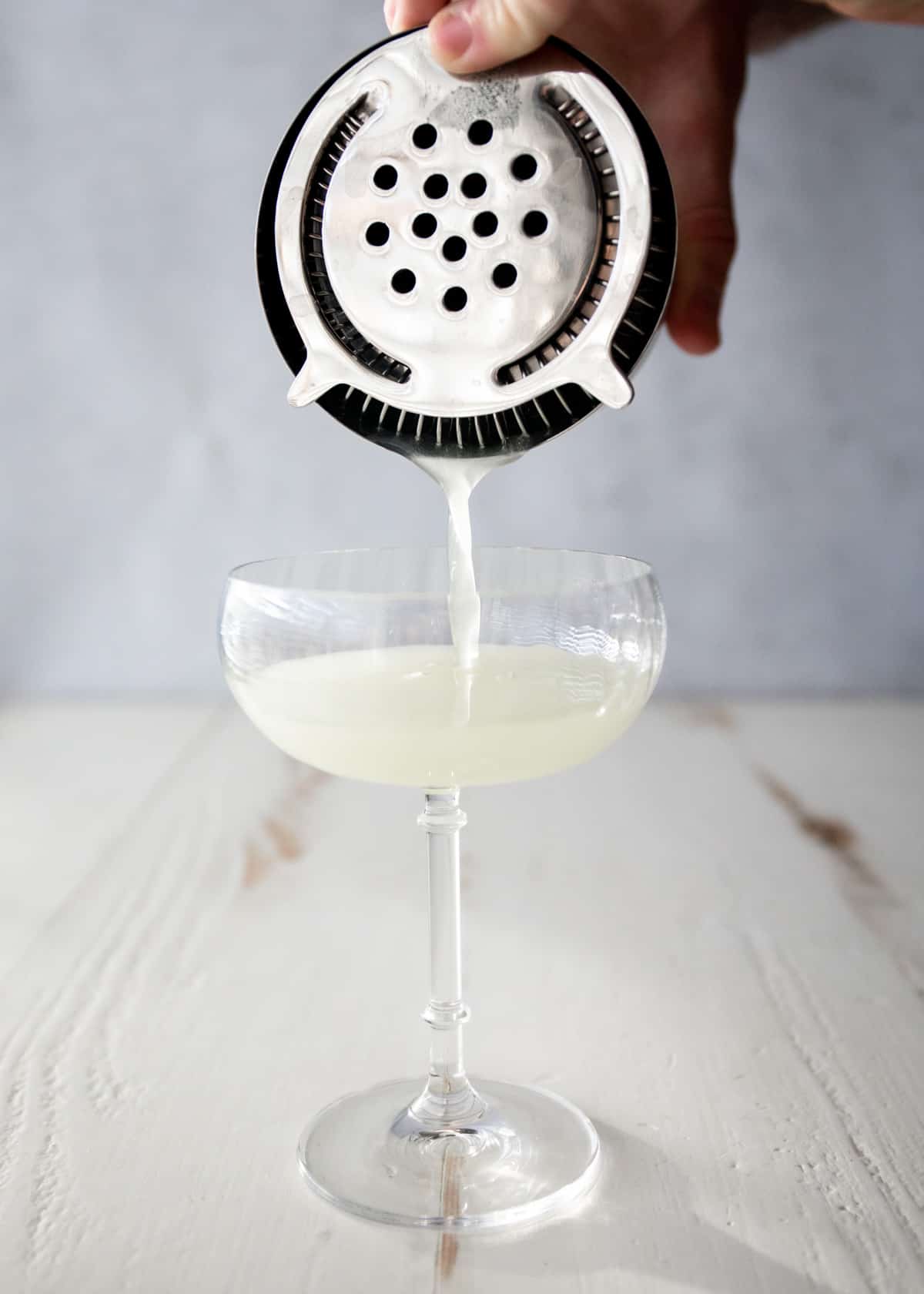 How to make it
Combine all ingredients in a shaker with ice.
Give the shaker a few quick shakes until chilled, but avoid overshaking, which will dilute the cocktail. The perfect Last Word drink is chilled, but not watered down.
Strain into coupe glasses.
Add a cocktail cherry to the glass for a beautiful red contrast to the green cocktail.
Enjoy!
Ingredients
Gin – The base of the cocktail. Dry London gins with prominent juniper work well in the Last Word because they have a clean and crisp taste.
Chartreuse Green – An herbaceous liqueur filled with botanical flavors, and notes of licorice, rosemary, and citrus pith.
Maraschino Liqueur (Luxardo) – A sweet and tart cherry liqueur with notes of dark chocolate and vanilla.
Lime Juice – The acidity in lime juices brings this cocktail together by balancing all of the flavors.
Cocktail Cherry for garnish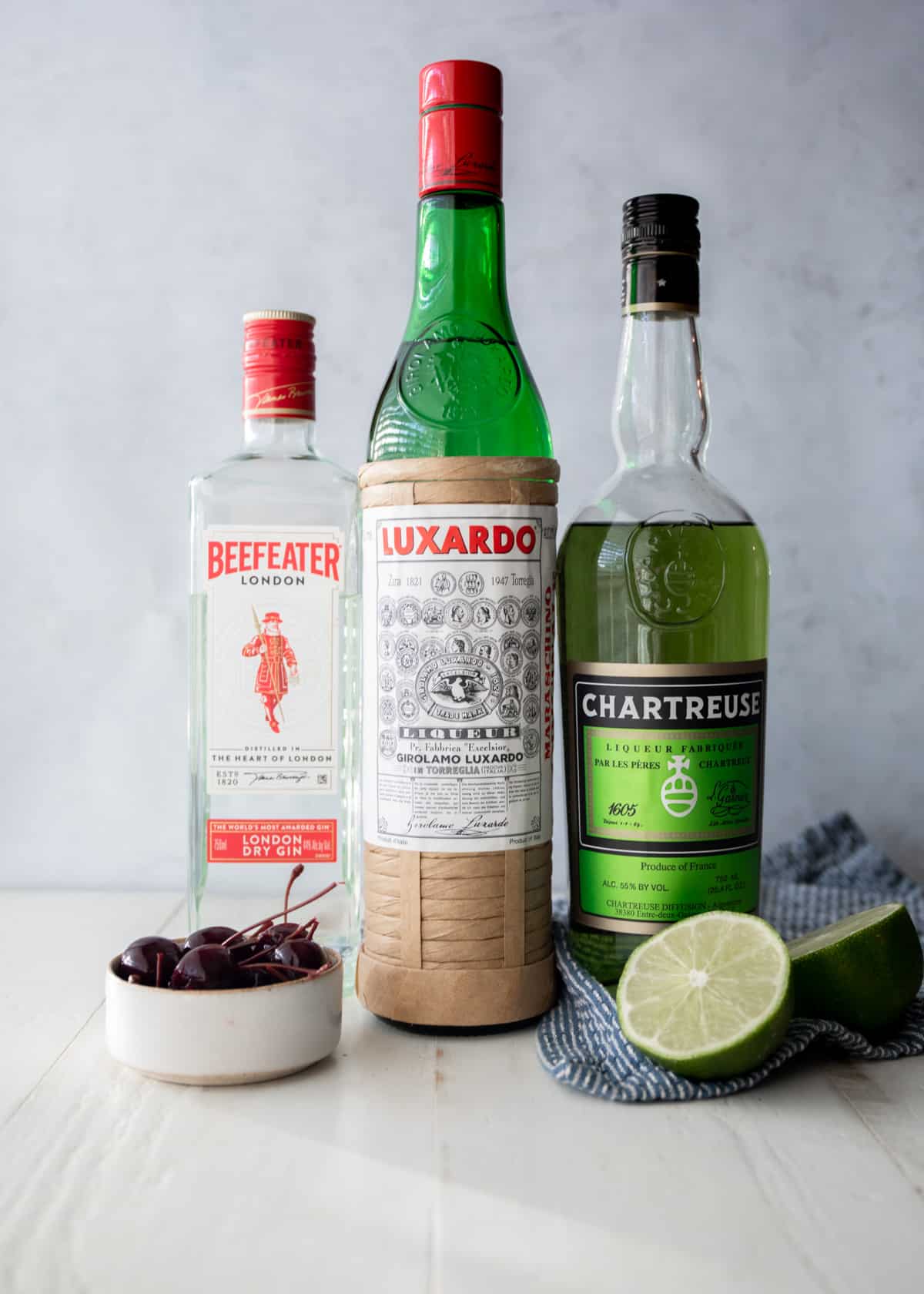 Best gin for Last Word
The best gin for the Last Word is a London Dry gin. These classic gins have robust juniper, pine, and botanical notes that offer a good base to start building the flavors in this cocktail. As far as brands go, Tanqueray No. 10, Sipsmith London Dry Gin, Broker's London Dry Gin, and Bombay Sapphire are popular with bartenders for their heavy juniper notes.
Variations
There are so many variations of this classic gin chartreuse cocktail. Just a few tweaks and substitutions will give you dozens of new cocktails recipes that are perfect for sipping.
Here are a few of the most popular Last Word variations:
Aviation cocktail – Gin, maraschino liqueur (Luxardo), creme de violette, lemon juice, garnished with a brandied cherry
Closing Argument – A mezcal-based Last Word with mezcal, green chartreuse, maraschino liqueur (Luxardo), lime
Final Ward cocktail – Rye whiskey, green chartreuse, maraschino liqueur (Luxardo), lime juice
Naked and Famous – Mezcal, lime, Aperol, yellow chartreuse
Paper Plane – Bourbon, lemon, Aperol, Amaro Nonino
Dirty Word – Tequila, lime, maraschino, green chartreuse
Closing Bell – Mezcal, Aperol, maraschino liqueur (Luxardo), lime juice. Garnish with grapefruit twist.
Next to Last Word – Gin, elderflower liqueur, maraschino liqueur (Luxardo), lemon juice
Last Word vs Paper Plane
There are a few key differences between the Last Word, a classic pre-Prohibition cocktail, and a Paper Plane, which many cocktail lovers call a modern take on this classic. The first major difference is the base alcohol: Last Word cocktails use a dry gin as a base, and Paper Planes use whiskey or bourbon.
The other difference is the kind of liqueur that is used to achieve the sweet bitter flavor both drinks are known for. While the Last Word includes the cherry-based maraschino liqueur, Paper Planes instead use Amaro Nonino, a type of grappa. Amaro and Aperol also taste a little like oranges, so you're going to get a slightly sweeter citrus taste versus the more tart Last Word.
FAQs
Can I use yellow chartreuse?
You can use yellow chartreuse in place of green chartreuse in a pinch, but it will change the flavor profile of the Last Word cocktail. Yellow chartreuse has an ABV of 40, so it's a touch more mild than green chartreuse which has an ABV of 55.

If you're looking for a yellow chartreuse variation of the Last Word, try the Mon Dernier Mot. This cocktail is equal parts Cognac, yellow chartreuse, ginger liqueur, and lemon juice.
How strong is a Last Word?
Three of the four ingredients in a Last Word have a pretty high alcohol content, so this cocktail has a little bite to it. The good news is that all of the flavors are incredibly balanced, so you don't necessarily taste the alcohol like you would in some stronger concoctions.
More Fun Cocktail Recipes
Favorite Tools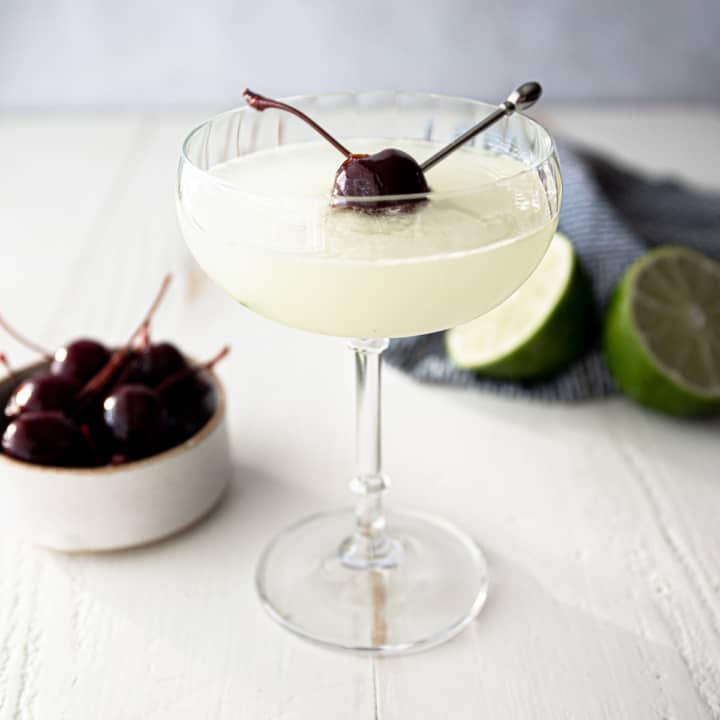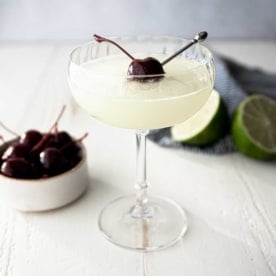 Last Word Cocktail Recipe
Equal parts gin, Chartreuse Green, maraschino liqueur, and lime juice make this refreshing cocktail an easy one to make ahead or serve to a crowd. This Prohibition era classic is reminiscent of a Paper Plane in its formula, but it's delightful sweet, sour and herbal notes check totally different boxes. Check the recipe notes for tips.
Ingredients
3/4

ounce

gin

3/4

ounce

chartreuse green

3/4

ounce

maraschino liqueur

(Luxardo)

3/4

ounce

lime juice

cocktail cherry, for garnish (optional)
Instructions
In a shaker, combine with ice and shake until chilled.Take care to not overshake the cocktail. The longer you shake it, the more water will be added to the end cocktail. You are looking for the perfect balance of chilled but not too watered down. Follow your heart!

Strain into coupe glasses.

Add a cocktail cherry to the glass for a beautiful red contrast to the green cocktail.
Notes
Measurements – If you prefer to use a measuring spoon, ¾ ounce is 1 ½ tablespoons. You can use any measuring cup or tool to measure out this drink and can increase it to make more than one drink at once, just be sure that you use equal amounts of all four ingredients. Make Ahead – This drink can easily be made up to two days ahead (it will start to lose flavor after that point). Store it in the refrigerator and shake individual portions with ice just before serving.
Nutrition information is automatically calculated, so should only be used as an approximation.