One Pot Orzo with Tomatoes, Corn, and Feta
One Pot Orzo with Tomatoes, Corn, and Feta is a creamy pasta dish that makes a great vegetarian main dish or side for your favorite proteins. Best of all, it comes together in just one pan!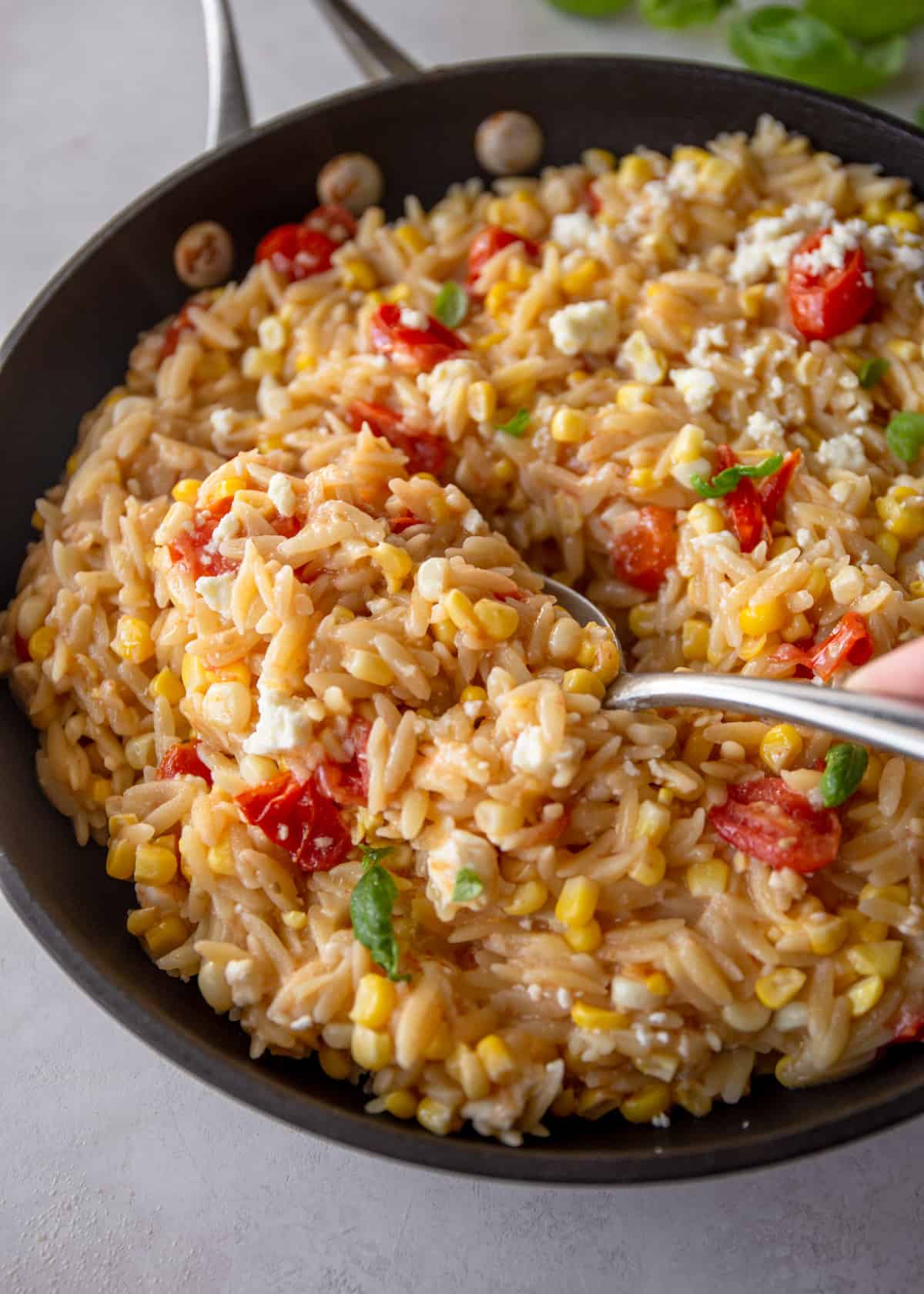 I love any simple way to celebrate the flavors of summer, and this pasta is IT. Tender juicy tomatoes and sweet bursts of corn in every bite make this dish taste like late summer (no matter when you decide to make it). Cooking the orzo in vegetable or chicken stock without draining it is one of my favorite tricks to build flavor and give the orzo pasta a creamy texture. This method also shows up in my One Pan Chicken and Orzo with Spinach. That version does include a bit of cream and goat cheese to form a rich sauce, but this version is lighter and gets all of its flavor from the fresh vegetables, stock, and crumbled feta stirred in at the end.
What is Orzo?
Orzo is a pasta in the shape of rice. Like all pasta shapes, orzo should be simmered in salted water until tender. Its small shape lends itself well to soups but also makes a great side dish and pasta salad. One of the most fun ways to cook orzo is similar to Italian risotto, but instead of rice, the pasta is simmered in flavorful stock and cooked until tender, without draining.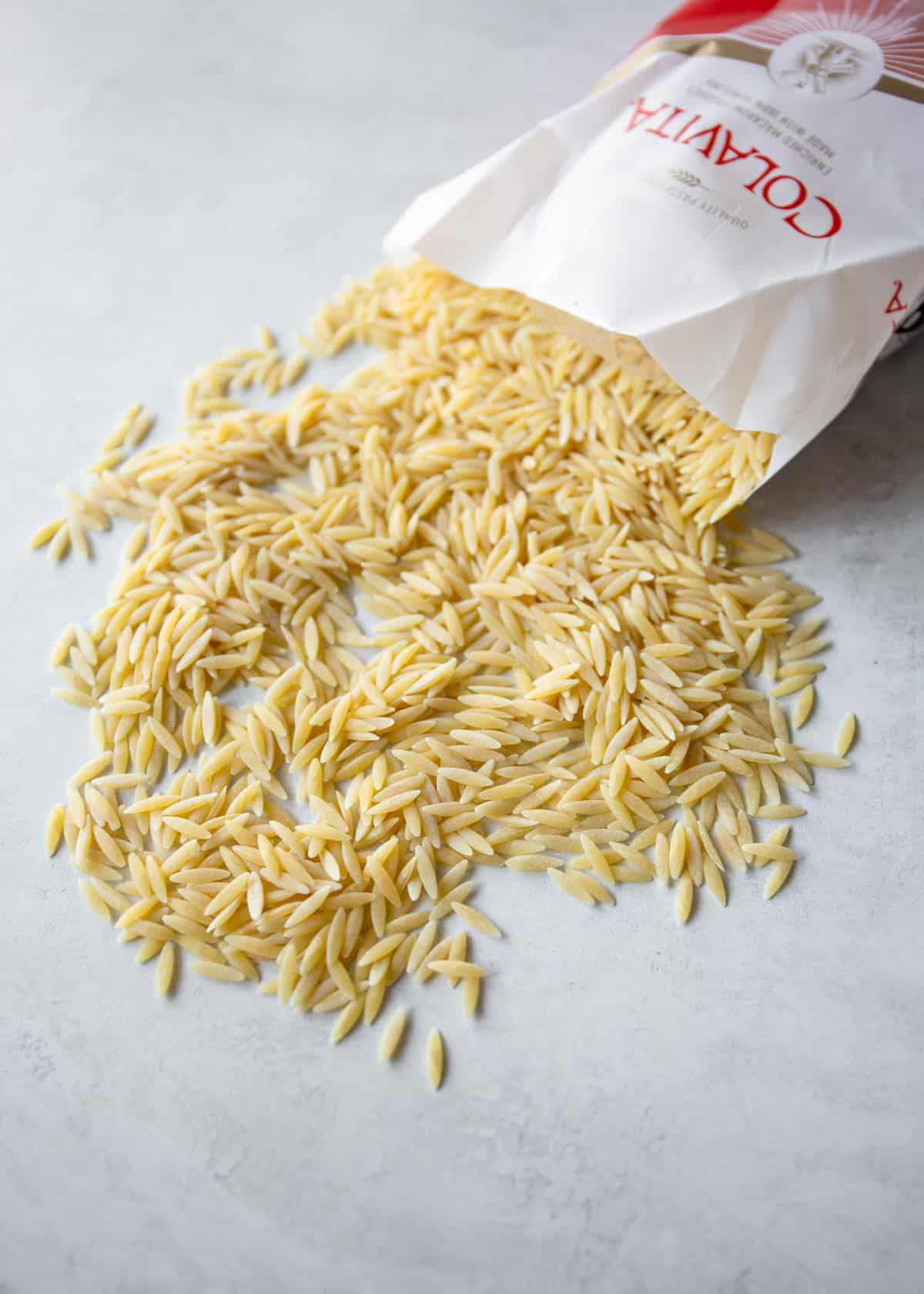 How to Make One Pot Orzo
Saute tomatoes. Cook halved cherry tomatoes in butter until they start to release their juice, 6 to 8 minutes. Season with some salt and garlic.
Add stock. Pour stock over tomatoes and bring to a simmer to form the base of the sauce.
Add orzo and corn. Stir in the orzo and raw corn kernels.
Simmer. Cover the pot and simmer until the orzo is tender, stirring a few times towards the end of cooking.
Stir in cheese. Stir in crumbled feta.
Enjoy! Serve the orzo pasta warm.
Tips
Using vegetable or chicken stock will give this dish the most flavor, but water will work as well.
Season to taste. The dish will get flavor from the salt that is sprinkled over the tomatoes and the stock, but be sure to taste and add more salt to the finished dish. If using water instead of stock, be sure to add some additional salt.
Be sure to stir the orzo occasionally as it cooks so it doesn't stick to the bottom of the pan. If all of the liquid cooks off before the orzo is tender, add in some more water about ¼ cup at a time.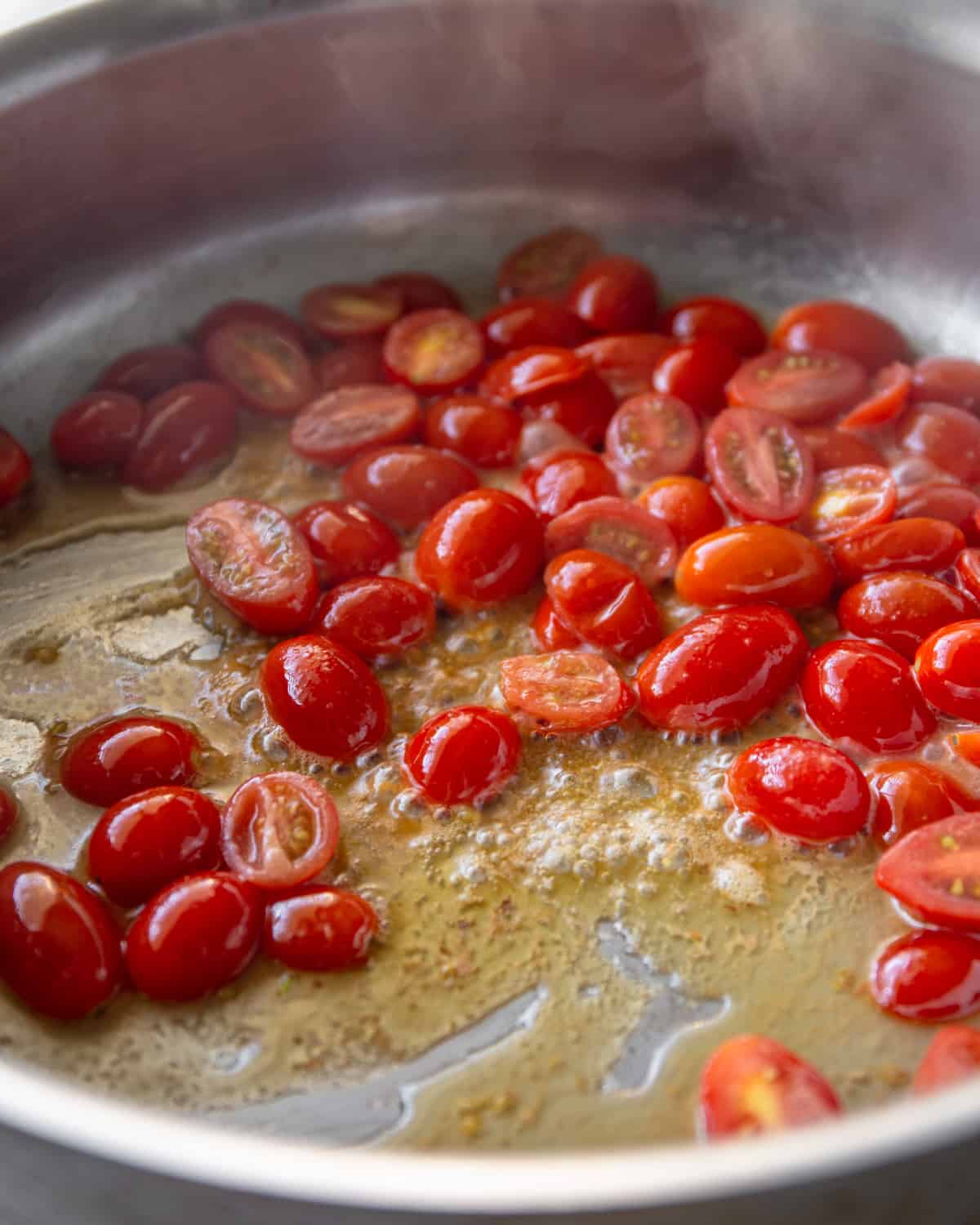 Can I use another pasta shape?
Yes. When I sent this recipe to my recipe testers in July, I imagined it to be made with any pasta shape. Orzo yielded the most consistent, creamy results while other pasta shapes sometimes resulted in a lot of extra liquid. If you use another pasta shape, just be sure to adjust as it simmers, adding more water as needed.
Can One Pot Orzo with Tomatoes, Corn and Feta be made ahead?

Yes, this dish makes great leftovers. They are good at room temperature and can be easily reheated in the microwave. The texture is the most smooth and creamy if served right after cooking.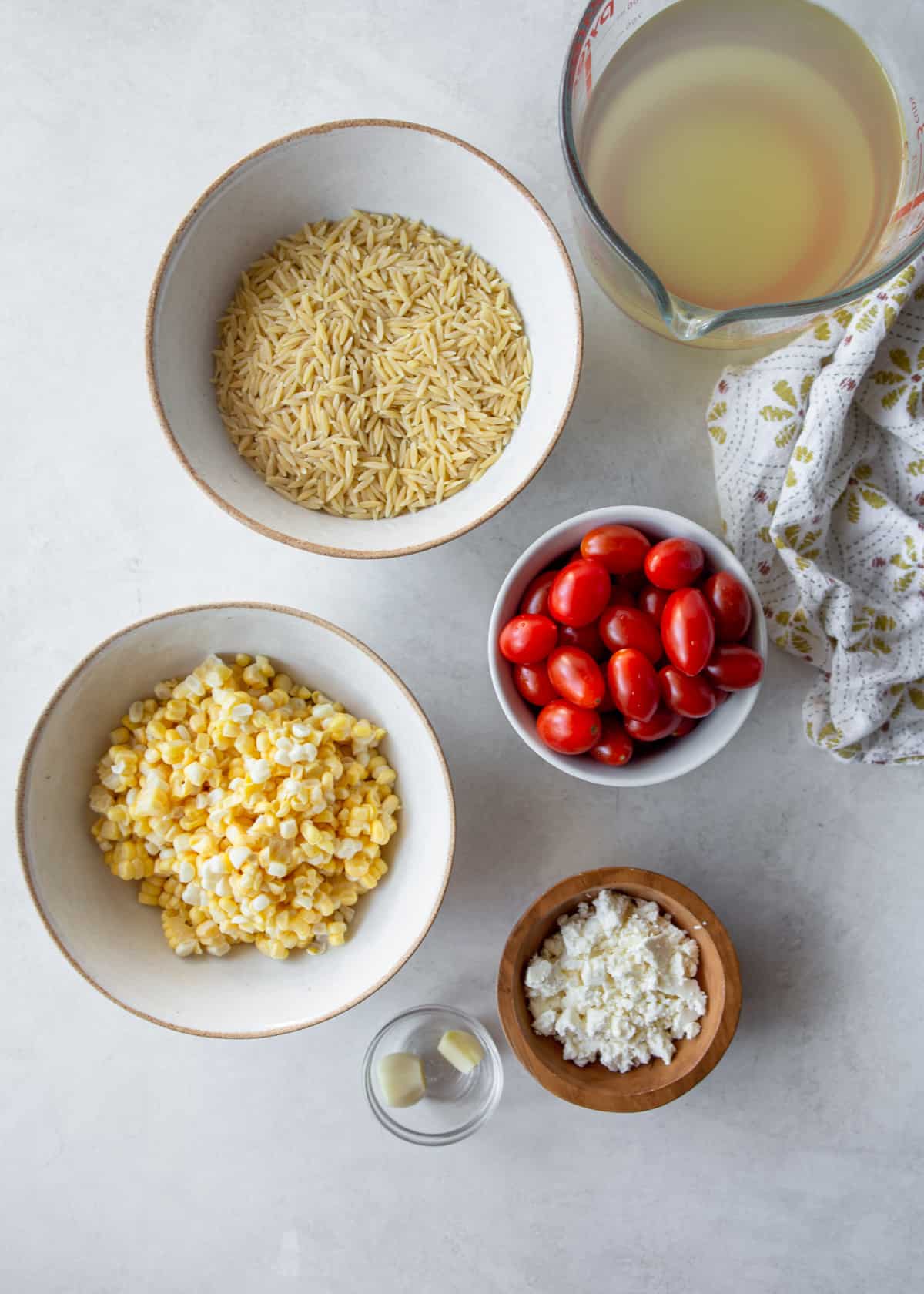 Ingredients
Orzo – This dried rice-shaped pasta should be available in the pasta section of any grocery store.
Cherry or Grape Tomatoes – These bite-sized tomatoes released the most liquid and resulted in the best flavor in the finished dish, but any fresh tomatoes will work in a pinch.
Corn Kernels – Fresh corn will have the most flavor, but frozen and defrosted corn kernels work well too. There's no need to pre-cook the corn before slicing it off the cobs – it will simmer in the cooking liquids and will add flavor to the stock.
Vegetable or Chicken Stock – Store-bought or homemade, when my recipe testers made this recipe, several commented that stock gave the dish much more flavor than just using water.
Feta Cheese – I tested this recipe with both goat cheese and feta cheese and loved the texture and flavor from crumbled bites of feta the best. Goat cheese will melt into the pasta and give you a more creamy result like in my One Pan Chicken and Orzo.
Garlic – Don't skip the garlic – it adds a lot of savory flavor to this simple dish.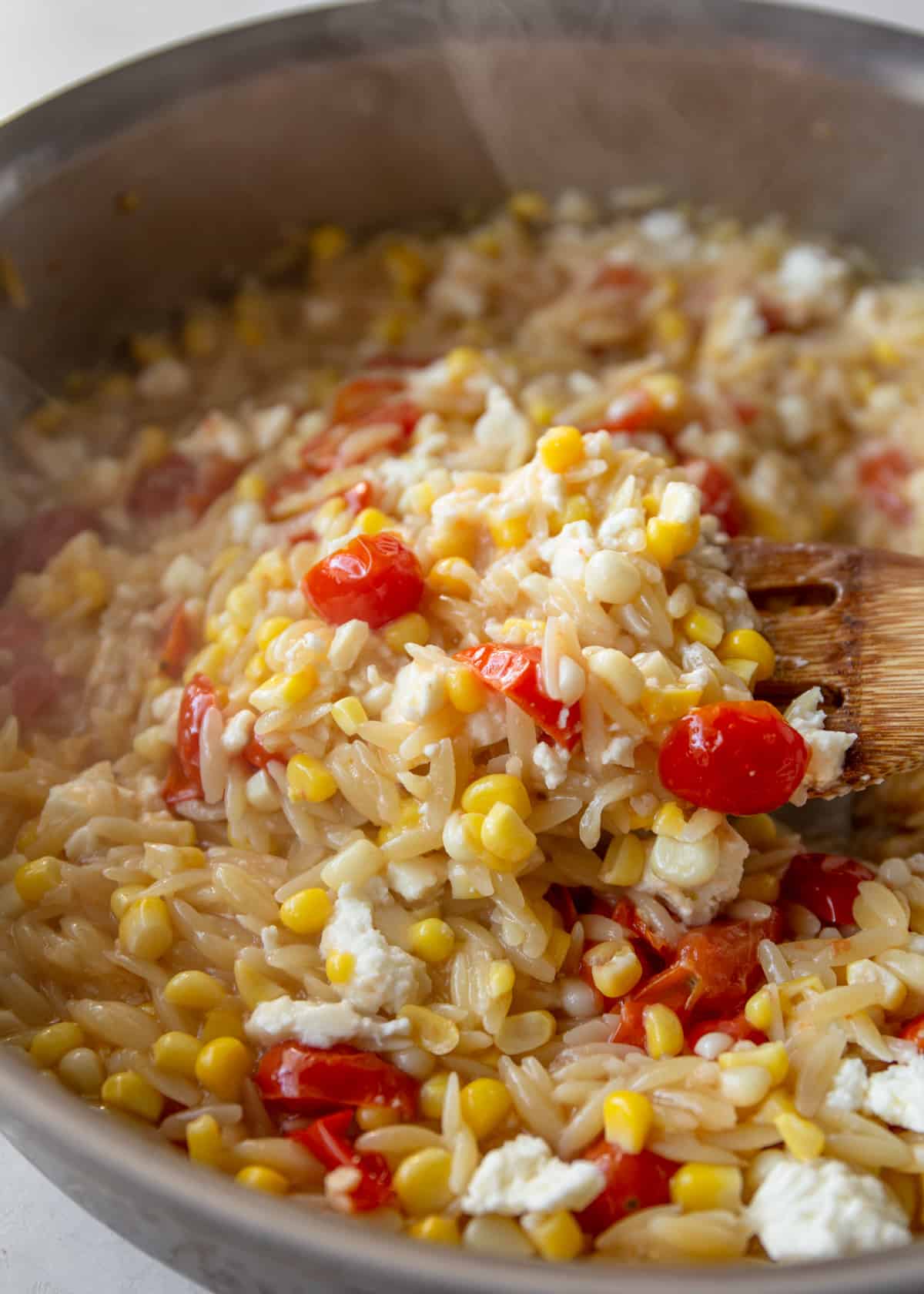 Variations
Use a different pasta – You can absolutely use another pasta shape to make this dish, but keep an eye on the pasta as it cooks and add more water as needed.
Use a different cheese – This is great with goat cheese for a creamy sauce or with grated parmesan cheese for a more mild flavor than feta.
Add protein – Serve this dish with grilled or roasted chicken or pork chops on top. It would also be great with chickpeas or white beans stirred in at the end of cooking (with the feta cheese) for a vegetarian protein.
Make it vegan – Just skip the cheese or use your favorite vegan alternative.
Give it a little spice – I love to add in ¼ teaspoon of red pepper flakes to give this dish a bit of heat.
More Recipes with Orzo
Favorite Tools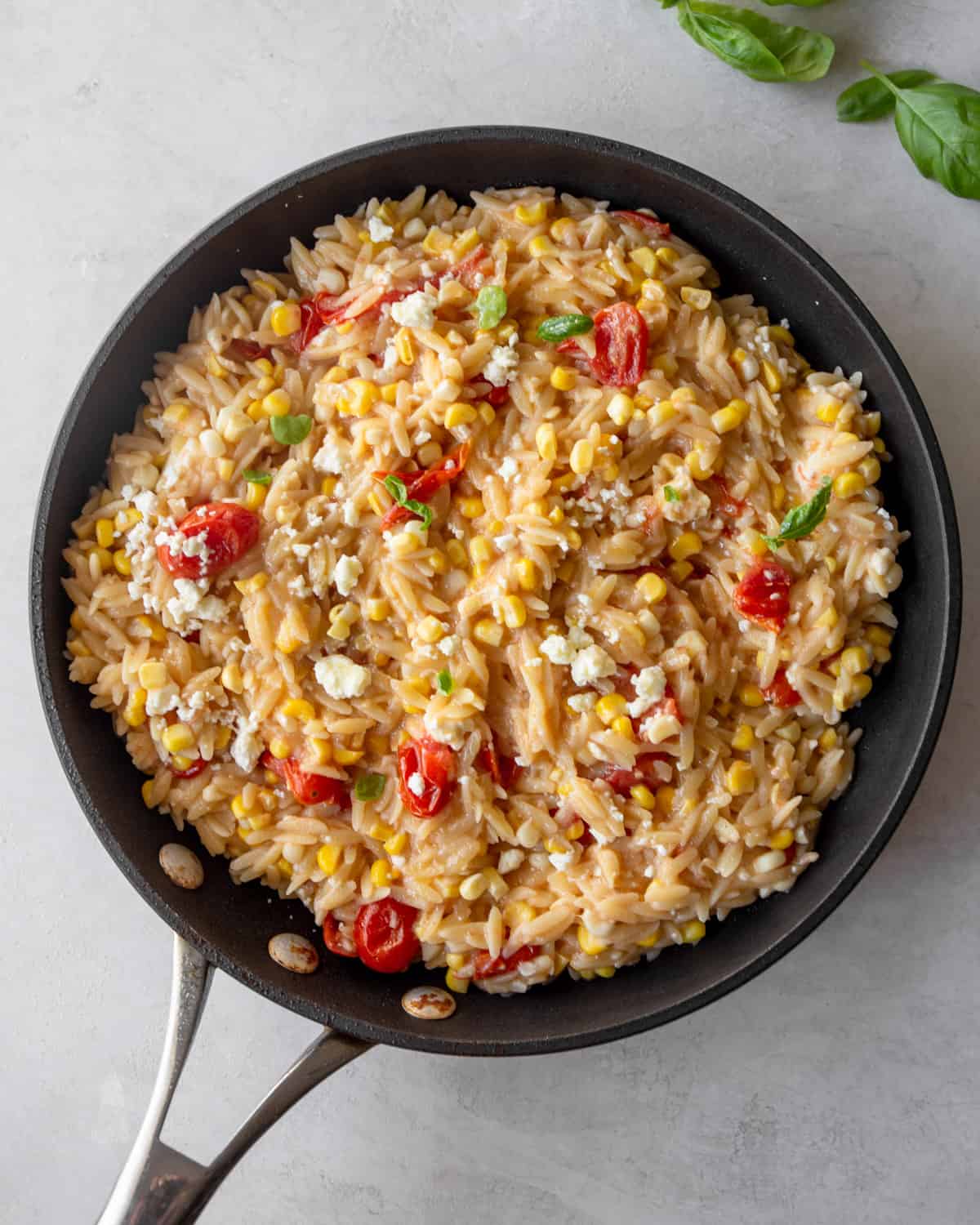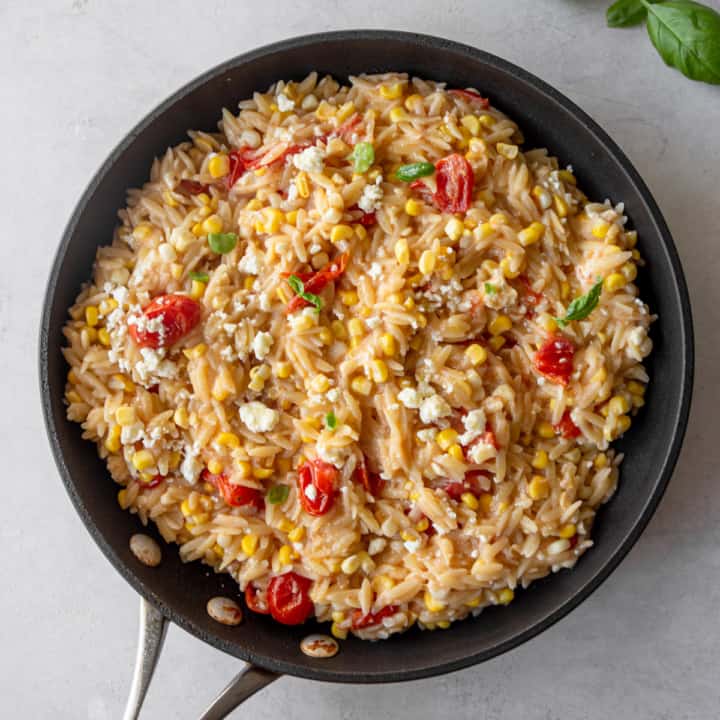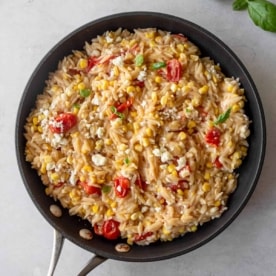 One-Pot Orzo with Tomatoes, Corn, and Feta
Serve this creamy one-pot pasta as a vegetarian main dish or as a flavorful pasta side to your favorite meal.
Equipment
Saucepan or Skillet with Lid
Ingredients
3

Tablespoons

Butter

2 1/2

cups

Cherry or Grape Tomatoes, halved

1/2

teaspoon

Kosher Salt

2

cloves

Garlic, grated or minced

2 1/2

cups

Low-Sodium Vegetable or Chicken Stock

1 1/2

cups

Dried Orzo Pasta

2

cups

Corn Kernels, fresh or frozen

4

ounces

Feta Cheese, crumbled

10

leaves

Fresh Basil, for garnish

(optional)
Instructions
Place a large saucepan or pot (use one that has a tight-fitting lid) over medium heat. Add butter and when it melts, add tomatoes and salt. Cook tomatoes, stirring frequently, until they soften and start to release their juices, 6 to 8 minutes.

Add garlic to tomatoes and cook until fragrant, 1 to 2 minutes more.

Pour stock over the tomatoes and bring to a simmer.

When the stock is simmering, stir in the orzo and corn.

Cover the pot and reduce heat to maintain a low simmer. Simmer the orzo, removing the lid to stir it a couple of times towards the end of cooking, until the orzo is creamy and tender, 10 to 12 minutes. (The sauce will continue to thicken as the orzo sits.)

Move the orzo off the heat and stir in the crumbled feta cheese.

Top with basil (if using). Serve warm.
Nutrition
Calories:
365
kcal
|
Carbohydrates:
61
g
|
Protein:
14
g
|
Fat:
8
g
|
Saturated Fat:
4
g
|
Polyunsaturated Fat:
1
g
|
Monounsaturated Fat:
2
g
|
Cholesterol:
25
mg
|
Sodium:
1378
mg
|
Potassium:
482
mg
|
Fiber:
5
g
|
Sugar:
9
g
|
Vitamin A:
1311
IU
|
Vitamin C:
15
mg
|
Calcium:
168
mg
|
Iron:
1
mg
Nutrition information is automatically calculated, so should only be used as an approximation.