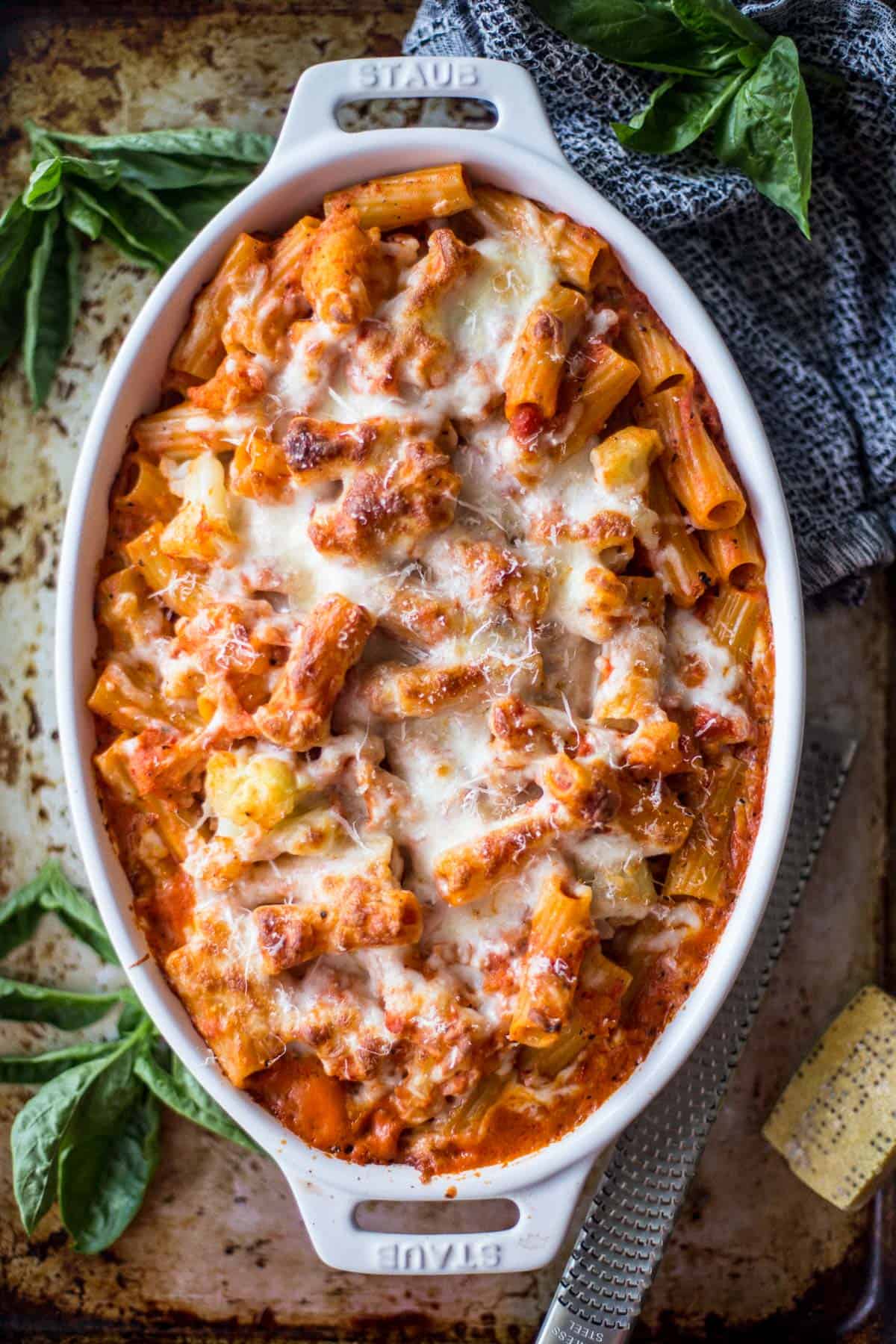 The cauliflower florets in this Creamy Baked Ziti melt into a creamy sauce for a dish with a little hidden vegetable boost. This baked pasta can be assembled in a casserole dish up to a day ahead and baked whenever you're ready.
Something a little shocking has been going on in this house since the beginning of fall. A major clean-out. Our basement held boxes that we literally had not opened since we got married. That was 10 years ago. But somewhere around September both Frank and I reached a tipping point where it would. not. stand.
Maybe it's the Home Edit influence creeping in, or belated Marie Kondo ideas that have been floating around in my brain for a couple of years, but the organizing bug struck…and hard. The kids have started recognizing a certain look in my eyes make themselves scarce before I start "editing' the clothes they're wearing.
It turns out that the equally great and terrifying thing about a big home clean-out is that the more organized one space looks, the more you notice the other spaces that aren't up to snuff. Suddenly the 14 half bags of pasta in the pantry are keeping me up at night.
Creamy Cauliflower Baked Ziti might not be any help with the 47 pairs of too-small shoes my six-year-olds insist on keeping, but it's exactly the type of dish to rescue the pantry full of pasta.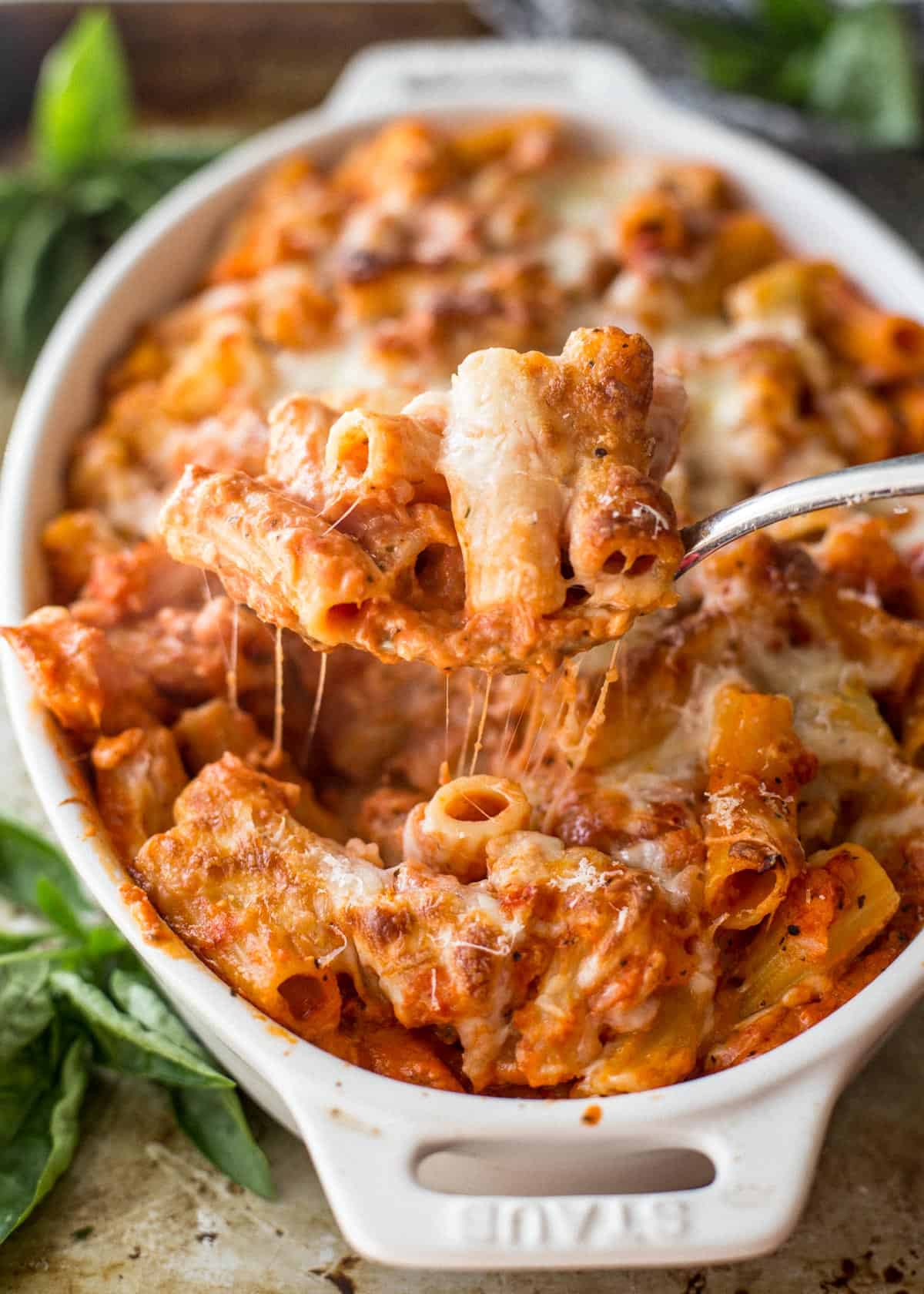 There's really nothing complicated about this ziti. It uses the world's simplest homemade tomato sauce and just happens to hold a few servings of cauliflower which add a savory flavor and a bit of texture to balance the springy noodles.
The thing that makes the sauce here extra rich and creamy is a tip I borrowed from Martha Stewart to fold cream cheese into the sauce. It's an easy addition that adds great depth to the dish.
Cozy, warm, and with sneaky vegetables, let's make this one together. Here's how.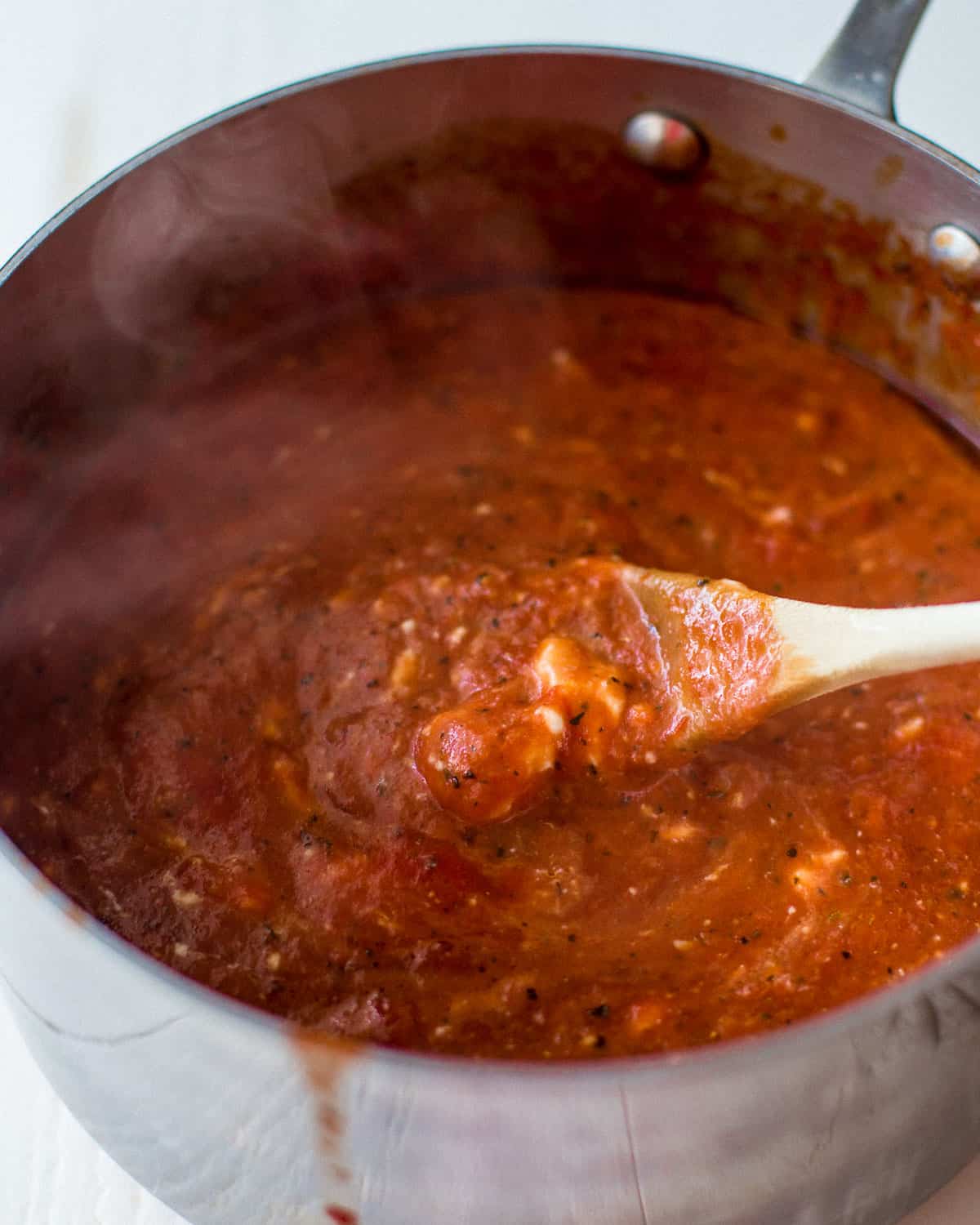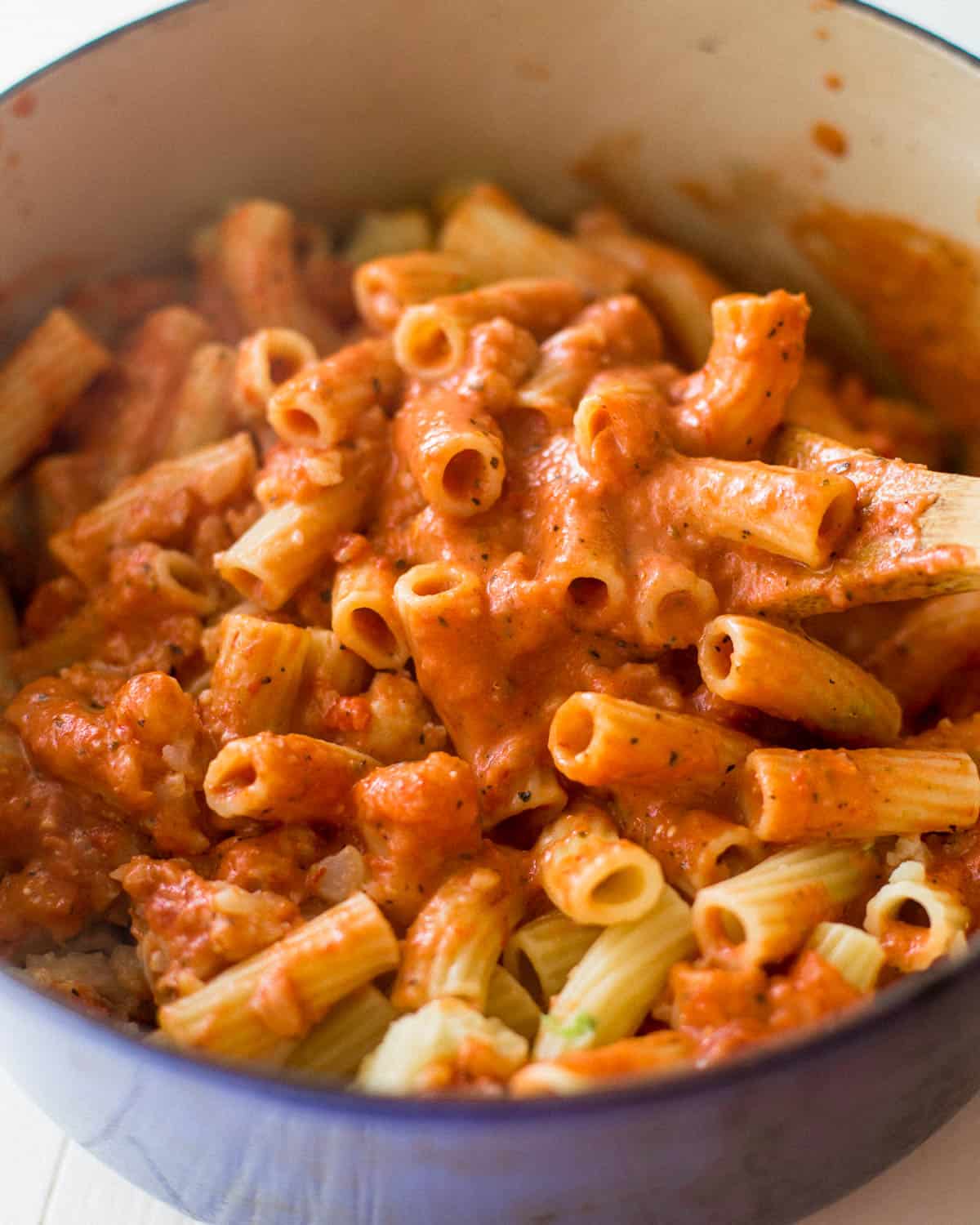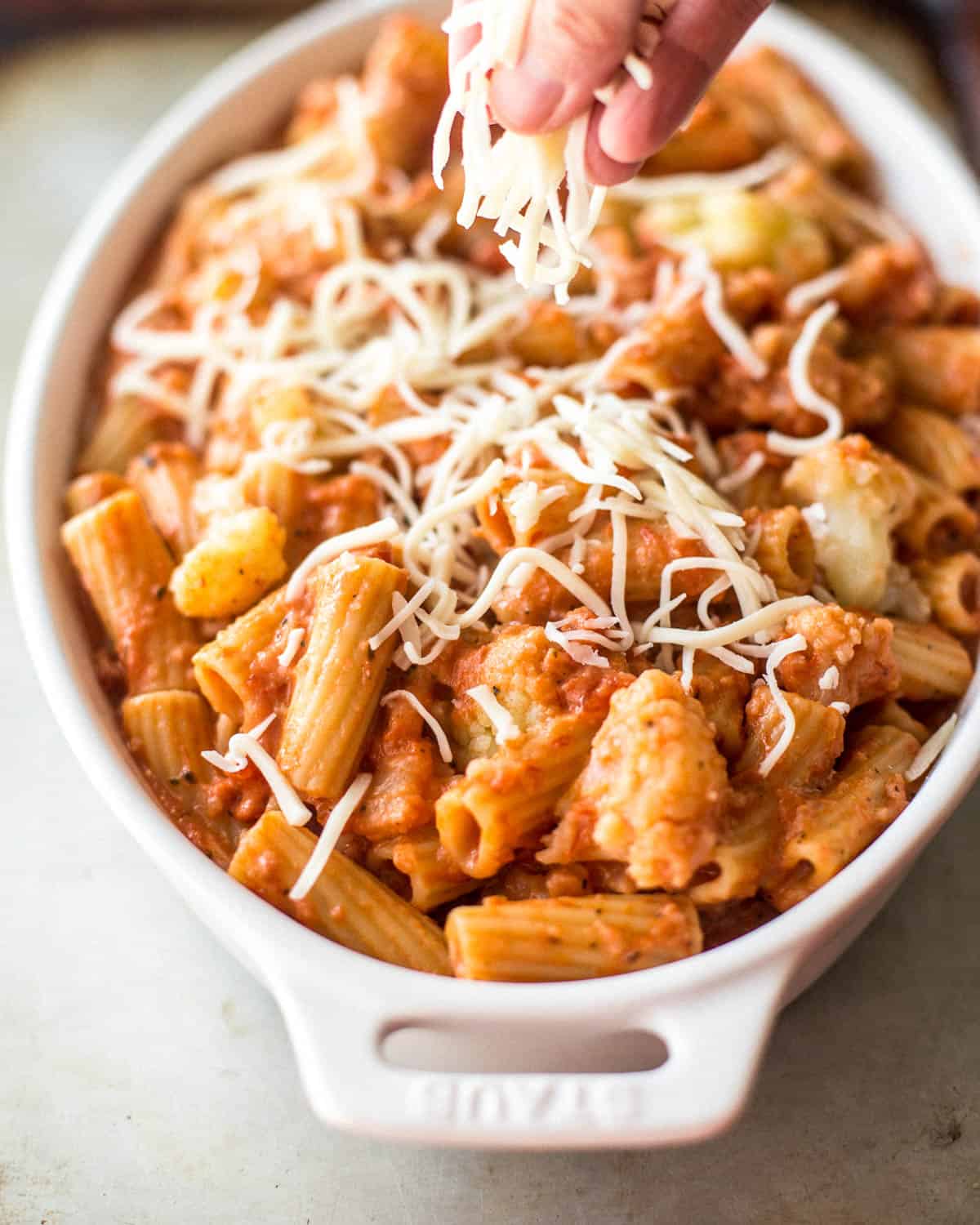 Ingredients
Dried Pasta

– Use a shape that will soak up sauce and stand up to cheese. Ziti is, of course, the classic shape to use in baked ziti, but rigatoni and penne are also great options.

Crushed Tomatoes

– Use crushed canned tomatoes to make the base of the simple homemade sauce. Tomato puree is very similar and can be used in place of crushed tomatoes.

Garlic, Dried Oregano, Dried Basil, Red Pepper Flakes, Sugar

– These ingredients balance the sauce and build a simple Italian-inspired flavor in the dish. Feel free to taste the sauce and increase any of these if you'd like the sauce to be more herby, spicy, or need some sweetness to balance out the tart tomatoes.

Frozen Cauliflower Florets – I love the simplicity of adding frozen cauliflower to the baked ziti, but fresh cauliflower florets will work just fine. See below for tips on how to adjust the cook time if using fresh. Both frozen and fresh florets will cook very fast, so add them to the pasta when it is nearly finished boiling.
Cream Cheese and Shredded Mozzarella

– This combo makes the sauce creamy and cheesy.

Parmesan Cheese

– Rich, nutty, savory parmesan cheese adds a key layer of flavor to the dish. Sprinkle some on top so that it gets golden brown and lightly crisp as the dish bakes.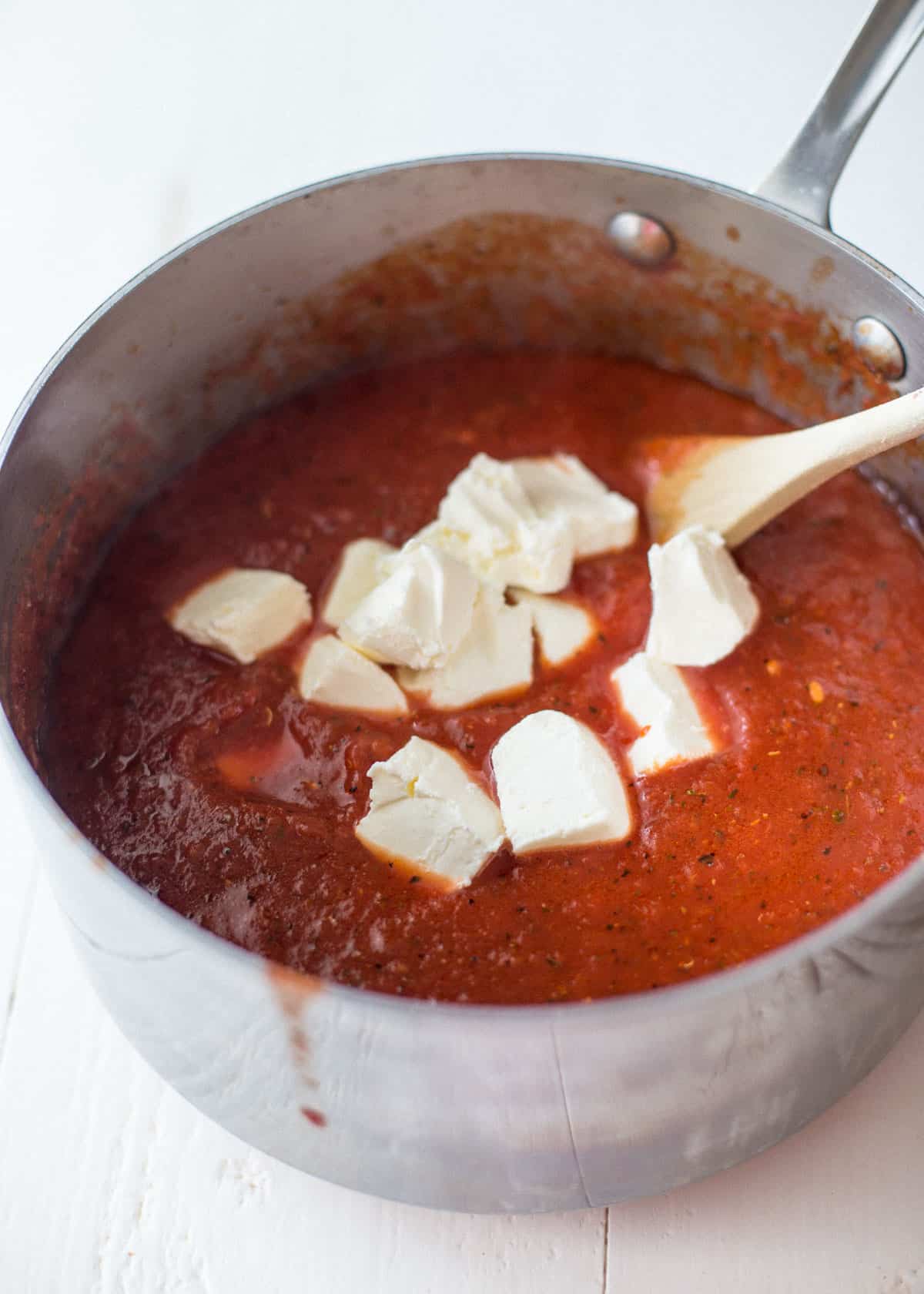 How to Boil Cauliflower with Pasta
You can boil cauliflower florets along with pasta in the same pot. Be sure to season the cooking water generously with salt as this will season both the pasta and the vegetables. Boil pasta according to package directions, adding fresh cauliflower 2 minutes before the end of the recommended cook time and frozen cauliflower 1 minute before the end of the recommended cook time. Drain.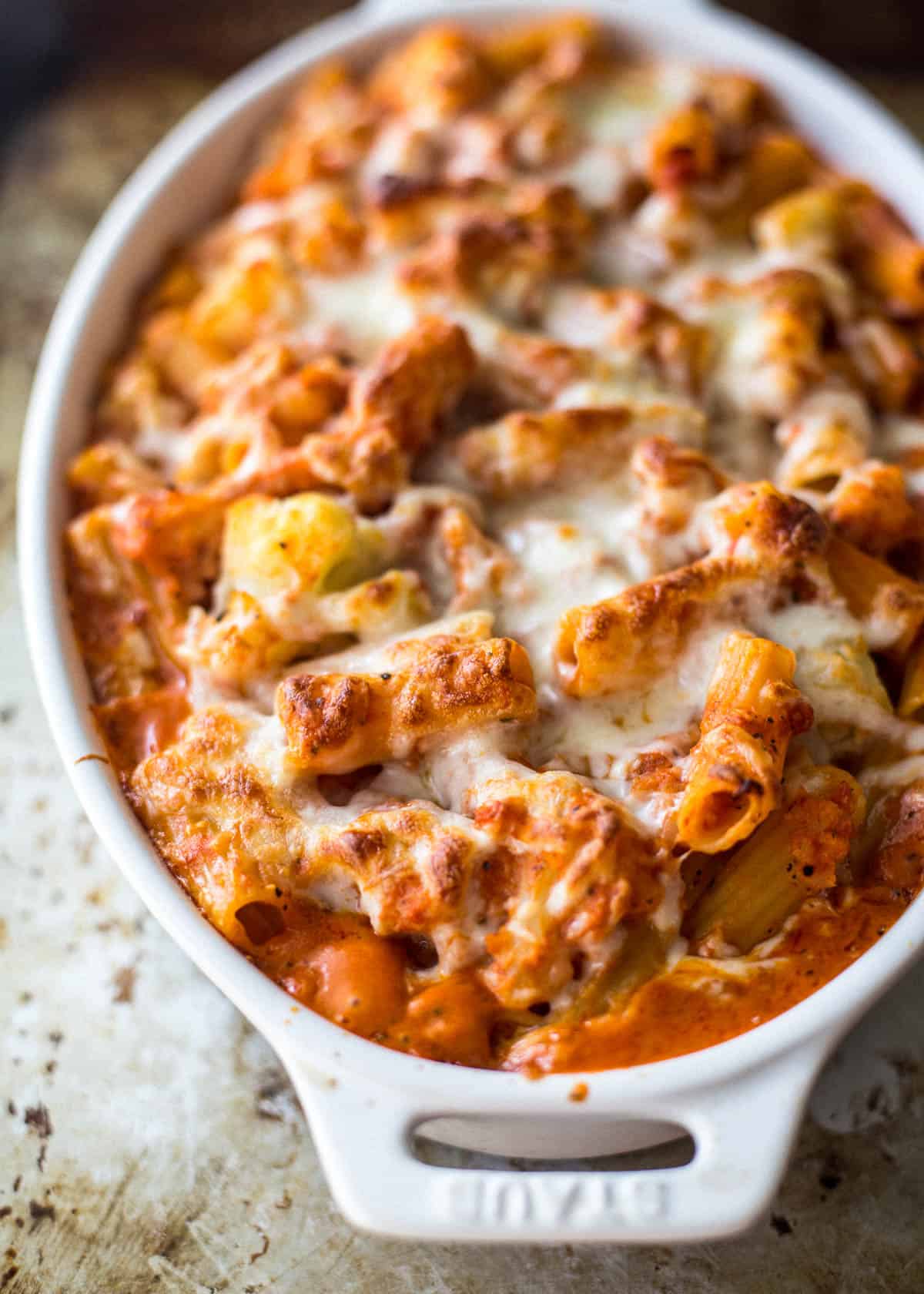 Possible Variations
Make it Gluten-Free

– Just use your favorite gluten-free pasta.

Add Protein

– Try adding cooked chicken or, for a vegetarian protein, fold in some white beans.

Mix up the Cheese

– Provolone, havarti, Swiss, or crumbled goat cheese would all work in place of (or in addition to) the mozzarella. Or try using a combination of several types. A half cup of ricotta cheese folded in right before baking adds a nice flavor and texture too.

Add Fresh Basil

– To keep this recipe simple, I used dried basil, but fresh basil is fantastic here too. Fold it into the sauce and then add some chopped basil leaves sprinkled over the top after baking.
More Great Cauliflower Recipes
Favorite Tools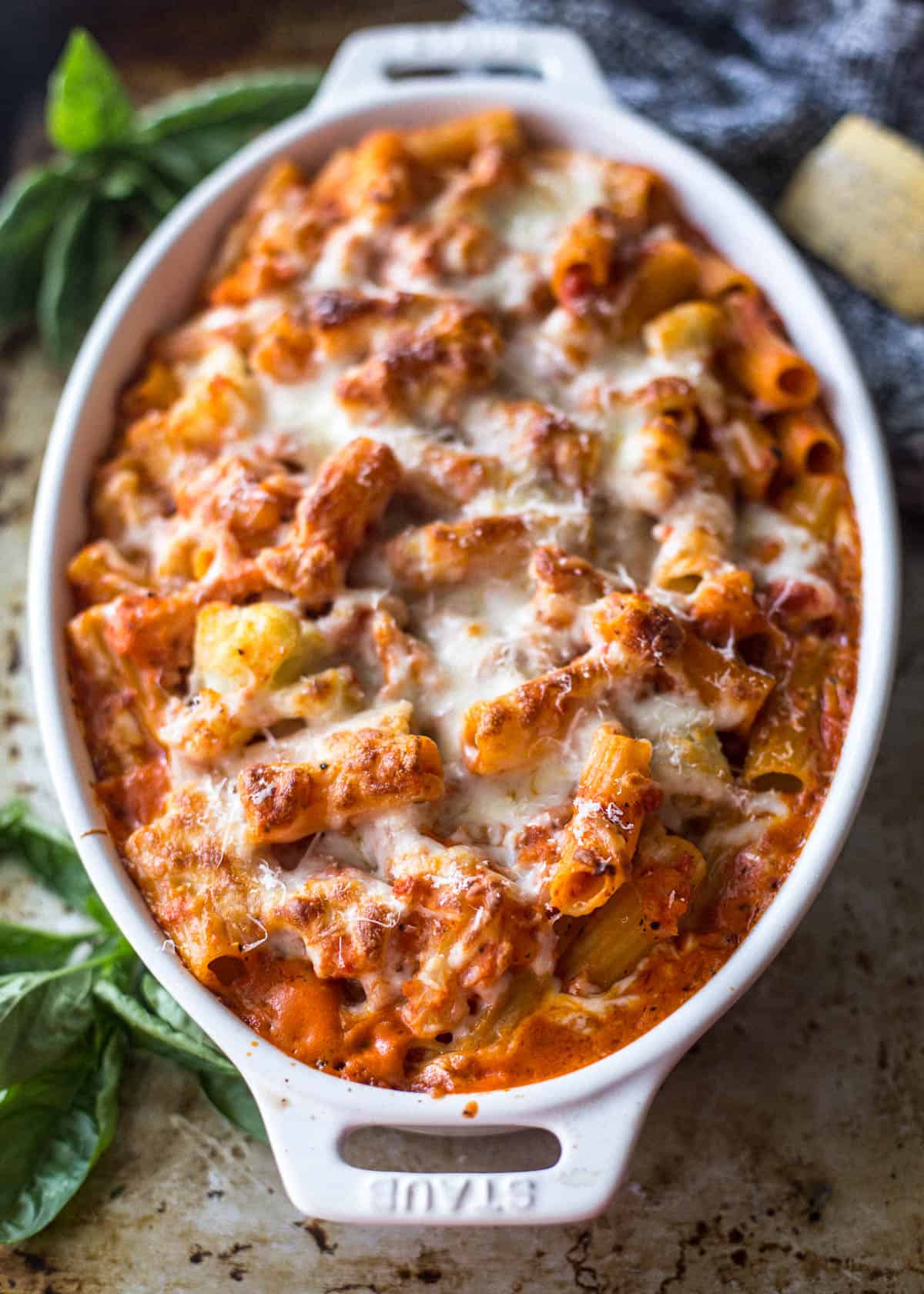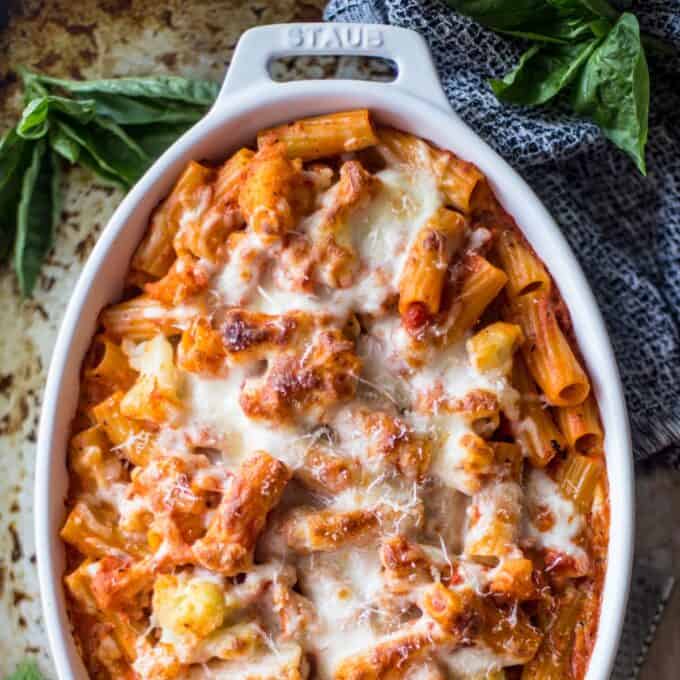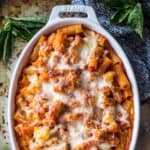 Print Recipe
Creamy Cauliflower Baked Ziti
The cauliflower florets in this Creamy Baked Ziti melt right into the creamy sauce for a dish with a little hidden vegetable boost. This baked pasta can be assembled in a casserole dish up to a day ahead and baked whenever you're ready.
Equipment
9x13 Baking Dish

Stockpot

Saucepan
Ingredients
2

Tbsp

Extra Virgin Olive Oil

4

cloves

Garlic, minced

2

tsp

Dried Oregano

1

tsp

Dried Basil

(or chopped fresh basil)

1/4

tsp

Red Pepper Flakes

(optional)

3

15 oz cans

Crushed Tomatoes

(or tomato puree)

1/2

tsp

Sugar

1

lb

Dried Pasta, like Ziti, Rigatoni, or Penne

16

oz

Frozen Cauliflower Florets

4

oz

Cream Cheese, cubed

8

oz

Mozzarella, shredded

1/2 + 1/4

cup

Grated Parmesan Cheese
Instructions
Preheat oven to 450°F / 232°C. Rub a 9x13 baking dish with oil or spray with nonstick cooking spray.

Place a large saucepan over medium heat. Add olive oil and then garlic, dried oregano, dried basil, and red pepper flakes. Cook, stirring, for 1 minute.

Stir in tomatoes and sugar. Bring to a simmer. Simmer with lid slightly ajar for 15 to 20 minutes.

While sauce simmers, boil pasta according to package directions. In the last minute of cooking, add cauliflower florets. Drain pasta and cauliflower.

Return to sauce and whisk in cream cheese.

Stir 3 cups sauce and 1/2 cup parmesan cheese into pasta and cauliflower.

Pour 3/4 cup sauce into prepared baking dish. Top with half the mozzarella. Add pasta over top.

Top pasta with any remaining sauce, remaining mozzarella, and 1/4 cup parmesan cheese.

Transfer to the oven and bake until bubbly and melted, about 10 minutes.

Turn on the oven's broiler and broil until the top is golden, 3 to 4 minutes more.
Notes
Make ahead -
The pasta can be assembled up to a day ahead of time. Let it come to room temperature before baking according to recipe (it may take a few minutes longer to warm through).
Nutrition
Calories:
565
kcal
|
Carbohydrates:
64
g
|
Protein:
25
g
|
Fat:
24
g
|
Saturated Fat:
11
g
|
Cholesterol:
59
mg
|
Sodium:
472
mg
|
Potassium:
469
mg
|
Fiber:
4
g
|
Sugar:
5
g
|
Vitamin A:
616
IU
|
Vitamin C:
37
mg
|
Calcium:
359
mg
|
Iron:
2
mg
*This post contains affiliate links*