Greek Turkey Meatballs with Orzo and Tzatziki
Published May 10, 2021•Updated Mar 12, 2022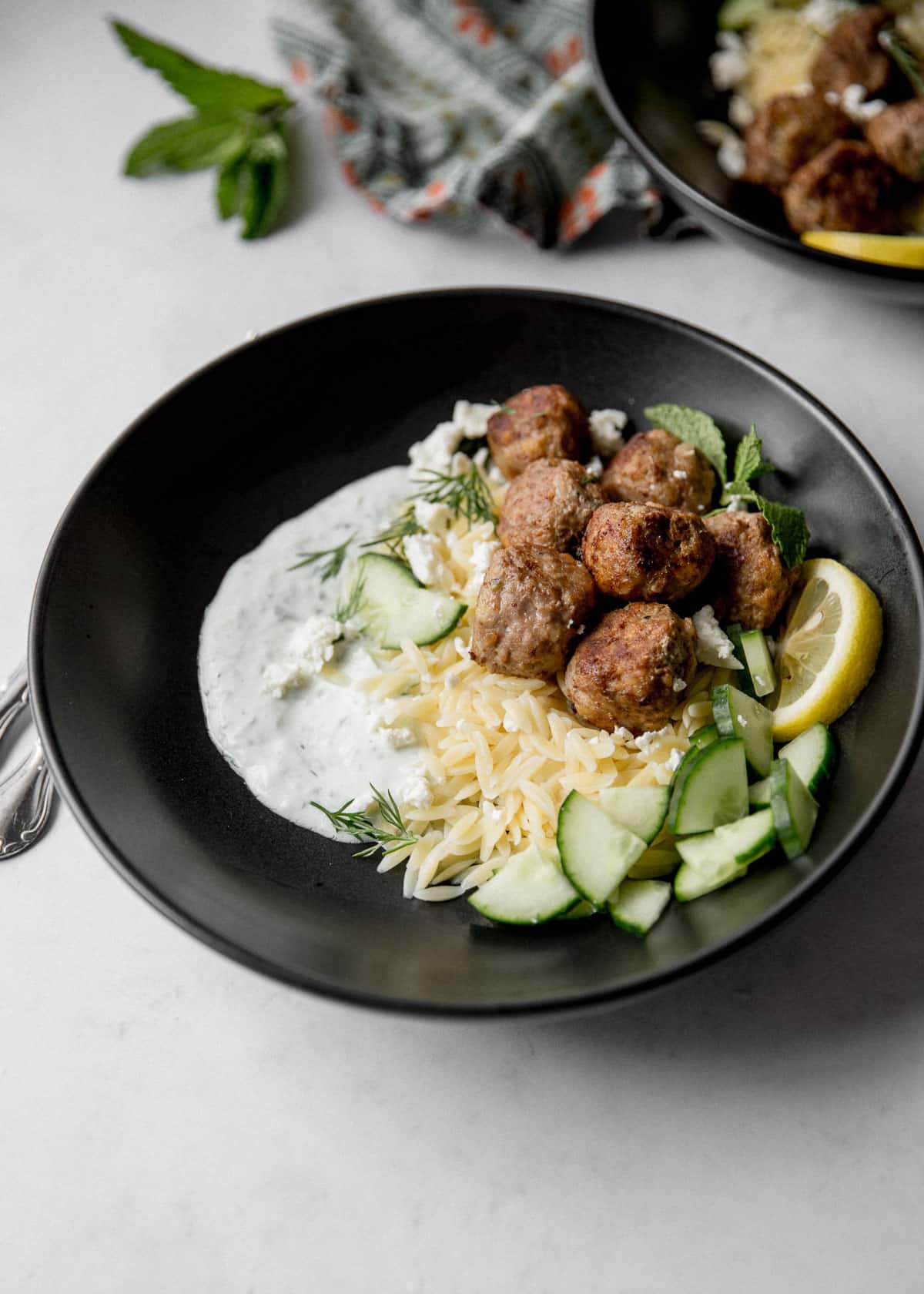 Fresh and flavorful, Greek Turkey Meatballs with Orzo and Tzatziki has layers of flavors with warm meatballs, crisp fresh cucumber and creamy Tzatziki sauce.
My favorite place to go right now is the garden store. And I know I'm not the only one. It's outside in the sunshine, full of color, and projects gardening confidence. No matter how I felt at the end of the summer the year before, by the following May, I'm googling unusual vegetables and buying 8 kinds of tomatoes. This year, I'm plotting a cage to put over my tomatoes (the neighborhood squirrels ate all but two last summer) and an epic cucumber trellis.
I'm already dreaming of those crisp fresh-off-the-vine cucumbers. And if you've ever grown them, you know that once they start coming in, they come in fast. In peak cucumber season, we put them in everything. This Greek-inspired meatball recipe uses cucumbers in two ways. First, they're grated into a rich, creamy, yogurt-based tzatziki sauce. And then again, added to the bowls for fresh crunch.
This meal is perfect for warmer weather. Cool tzatziki, warm meatballs, bites of rice-shaped orzo pasta to round it all out. It can even be made ahead for super quick prep at meal time. (See below for tips.)
Ingredients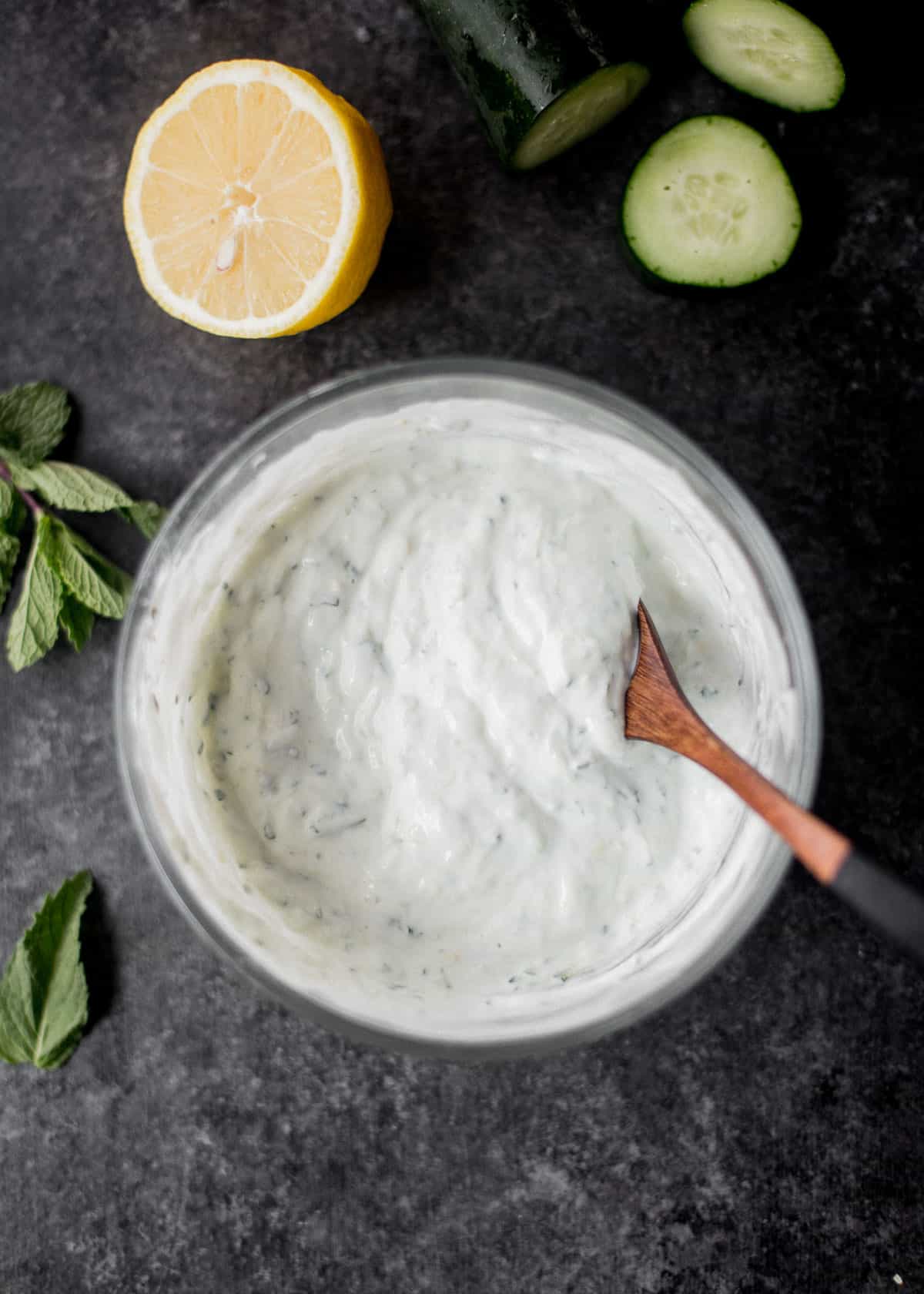 What is Orzo?
Orzo is a small rice-shaped pasta. It cooks quickly and makes a good substitute for rice and is great in soups. Orzo can be cooked ahead according to package directions and refrigerated for up to 3 days. Toss it with some olive oil before refrigerating it to help prevent it from sticking.
What are Panko Bread Crumbs?
Panko bread crumbs are a Japanese-style of bread crumb made from white bread that is larger and more crunchy than many standard varieties. When used as a breading, panko absorbs less oil and stays crunchier than more finely ground bread crumbs. In recipes like meatballs, the large airy texture of panko absorbs liquid well and helps to keep the meatballs more tender.
How to Keep Meatballs Tender
To help keep meatballs tender, start them with bread or bread crumbs soaked in milk. Also add grated or very finely minced onion to the mixture. Both of these ingredients will slowly release moisture into the meatballs as they cook, helping them to stay tender throughout.
Can this meal be made ahead?
This is a great make-ahead meal! I like to make the tzatziki, cook the orzo, and form the meatballs (store them on a sheet pan but don't cook them) up to a day ahead. Then the only thing to do at dinner time is to cook the meatballs and reheat the orzo in the microwave. Easy!
Possible Variations
Love Meatballs?! So do we….
Favorite Tools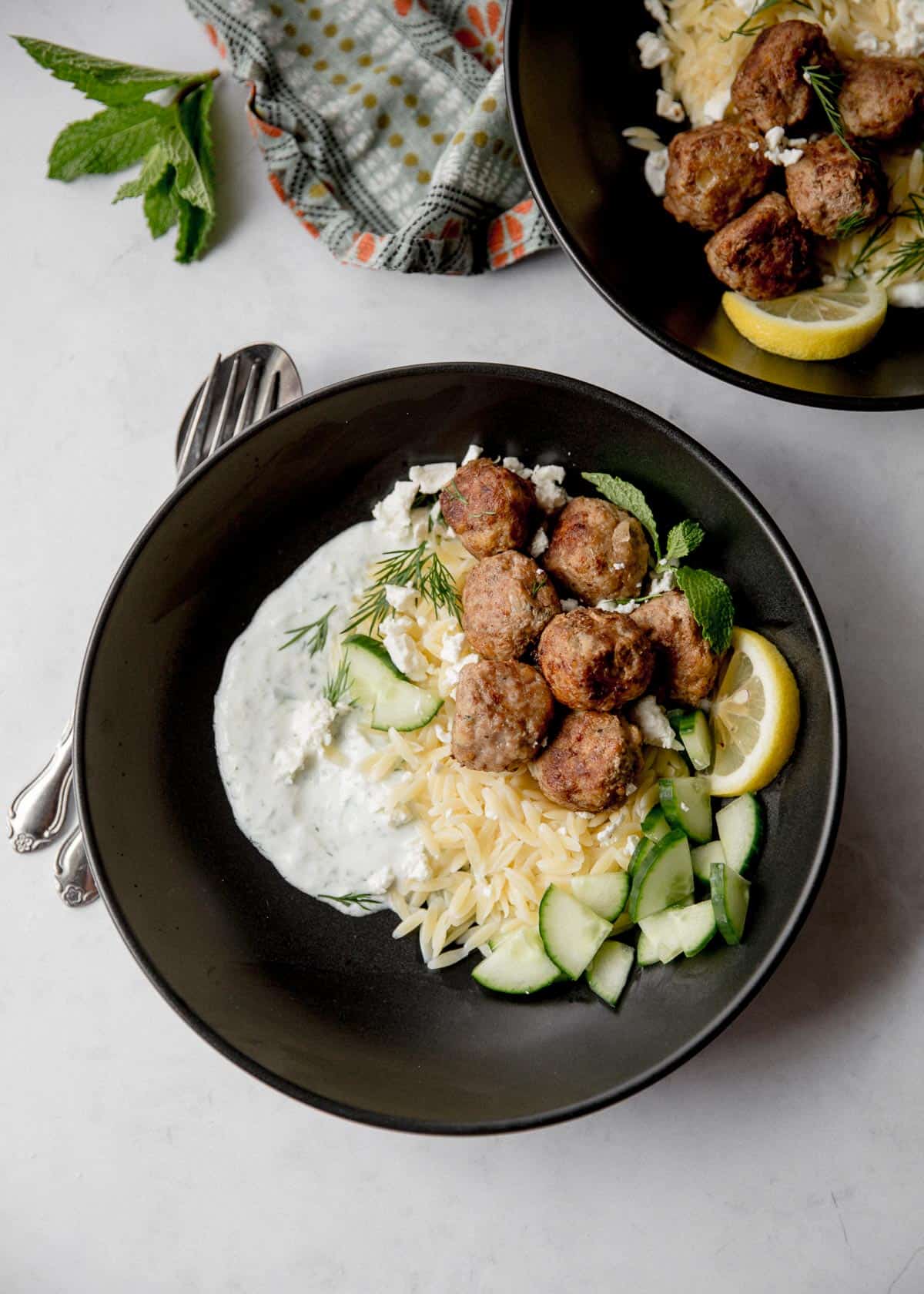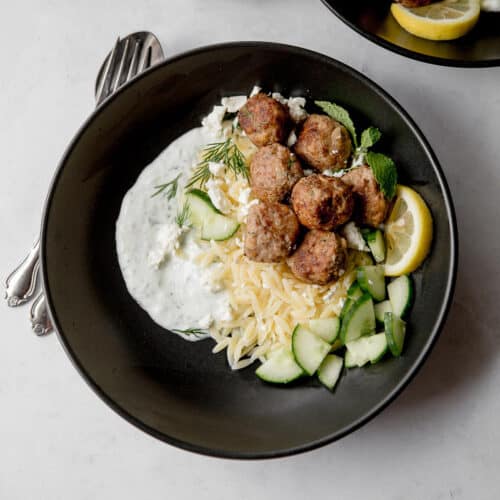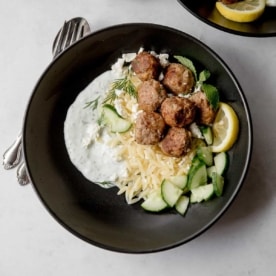 Greek Turkey Meatballs with Orzo and Tzatziki
Fresh and flavorful, Greek Turkey Meatballs with Orzo and Tzatziki has layers of flavors with warm meatballs, crisp fresh cucumber and creamy Tzatziki sauce.
Equipment
Mixing Bowls

Stockpot

Skillet or Dutch Oven
Ingredients
Greek Turkey Meatballs:
1/2

cup

Panko Bread Crumbs

2

Tbsp

Milk, any type

20

oz

Ground Turkey

(see note)

2

Tbsp

grated White Onion

1 1/2

tsp

Dried Oregano

1

tsp

Kosher Salt

Pinch

Ground Cinnamon

1

Egg

3

Tbsp

Olive Oil

1/4

tsp

Chicken Stock or Water
For the Tzatziki:
1/2

cup

finely grated Cucumber

1

clove

Garlic, minced

1

cup

Plain Greek Yogurt

(for the creamiest result, use 2% or higher)

1

Tbsp

Lemon Juice

2

tsp

chopped Fresh Dill

2

tsp

chopped Fresh Mint

1/2

tsp

Kosher Salt
For the Orzo and Garnish:
2

cups

Orzo Pasta

(about 12 oz)

2

tsp

Lemon Juice

1

Cucumber, sliced or chopped

(preferably a seedless variety like Persian cucumber)

Dill, for garnish
Instructions
Make meatballs: Combine bread crumbs and milk in a large mixing bowl. Let sit for 5 minutes to allow bread crumbs to soak up the liquid. Add turkey, onion, dried oregano, salt, pinch of cinnamon, and egg. Use your hands to gently combine all of the ingredients. (Note: If the mixture sticks to your hands, try wetting your hands with some water or a bit of oil which should make them easier to shape.) Form into meatballs that are about 1.5 inches in diameter. Line the formed meatballs up on a sheet pan or plate. Refrigerate for 10 to 15 minutes while preparing other ingredients (this will help them to hold their shape).

Make Tzatziki: Place grated cucumber on a clean dish towel or paper towel and squeeze gently to remove excess moisture. Combine cucumber, garlic, yogurt, 1 Tbsp lemon juice, dill, mint, and 1/2 tsp salt. Set aside.

Cook orzo: Bring a large pot of salted water to a boil. Add orzo and cook according to package directions. Drain and toss with 2 tsp lemon juice.

Cook meatballs: Heat a skillet or Dutch Oven (use any pan that has a lid) over medium-high heat. Add olive oil and when it begins to shimmer, carefully add meatballs. Let meatballs cook on one side until golden brown, then gently turn meatballs until evenly golden brown on all sides, 6 to 8 minutes. Pour stock down the side of the pan and cover with a lid. Steam meatballs until cooked through, 5 to 6 minutes more.

Serve meatballs over orzo with Tzatziki, cucumbers, and dill.
Notes
Ground Turkey
- We tested this recipe with lean ground turkey (white meat). It will also work dark meat ground turkey, but the higher fat content may make the meatballs more difficult to form. If using dark meat ground turkey, you may need to add extra panko bread crumbs (about 2-3 Tablespoons) if the mixture is difficult to roll into balls.
Nutrition
Calories:
627
kcal
|
Carbohydrates:
67
g
|
Protein:
52
g
|
Fat:
16
g
|
Saturated Fat:
3
g
|
Trans Fat:
1
g
|
Cholesterol:
122
mg
|
Sodium:
1044
mg
|
Potassium:
848
mg
|
Fiber:
4
g
|
Sugar:
6
g
|
Vitamin A:
194
IU
|
Vitamin C:
6
mg
|
Calcium:
132
mg
|
Iron:
3
mg
Nutrition information is automatically calculated, so should only be used as an approximation.
*This post contains affiliate links*