How to Make Light and Fluffy Cauliflower Rice
Published Mar 12, 2016•Updated Apr 04, 2022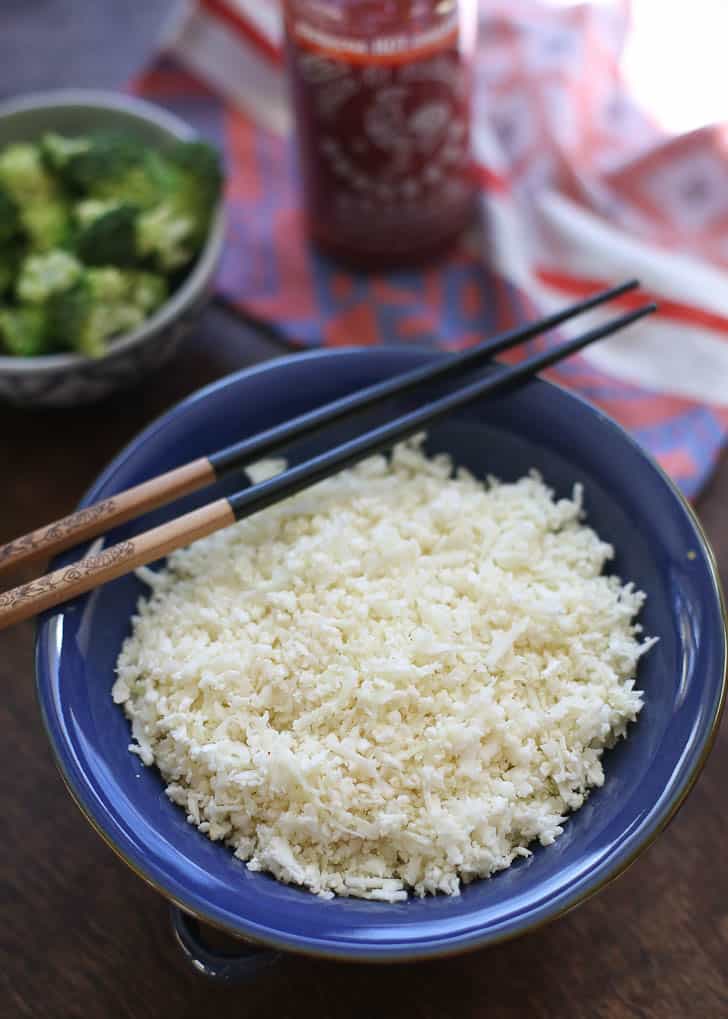 I spend a lot of time reading about and making food. But I'm not one to jump on the latest food trend. Which is why I'm late to the party when it comes to the super trendy cauliflower rice.
Late….but now thoroughly hooked.
What makes this dish so great? It's:
Easy and Fast. It takes less than half the time to make than white rice and a fourth the time of brown rice.
Healthy. As you probably already know, it's much healthier than its starchy alternative. 65 calories in a cup of cauliflower rice vs. over 200 calories in a cup of white rice.
Light. The flavor and texture is so light that you can load your cauliflower with even more of all the delicious saucy things.
Versatile. Cooking with this "rice" is super easy. I find that it's even easier to use in things like fried "rice" because the texture holds up to heat without turning sticky like overcooked rice can. You can freeze it easily and reheat it quickly without loosing that great fluffy texture.
And if you need further proof that this is a trend that is sticking around, ask the folks at your local Trader Joe's. Frank and I have asked about the company's frozen version every time we've shopped there in the past couple months. They are always sold out. At our Trader Joe's they tell us that customers will stock up on 10+ bags at a time within hours of them replenishing the stock.
Fortunately, there's no need to buy it.
Here's a step-by-step recipe for how you make cauliflower rice it at home:
1. Chop Cauliflower
Slice the cauliflower into small pieces, discarding the leaves. If you will be using the food processor
, the pieces will need to be small enough to fit in the processor.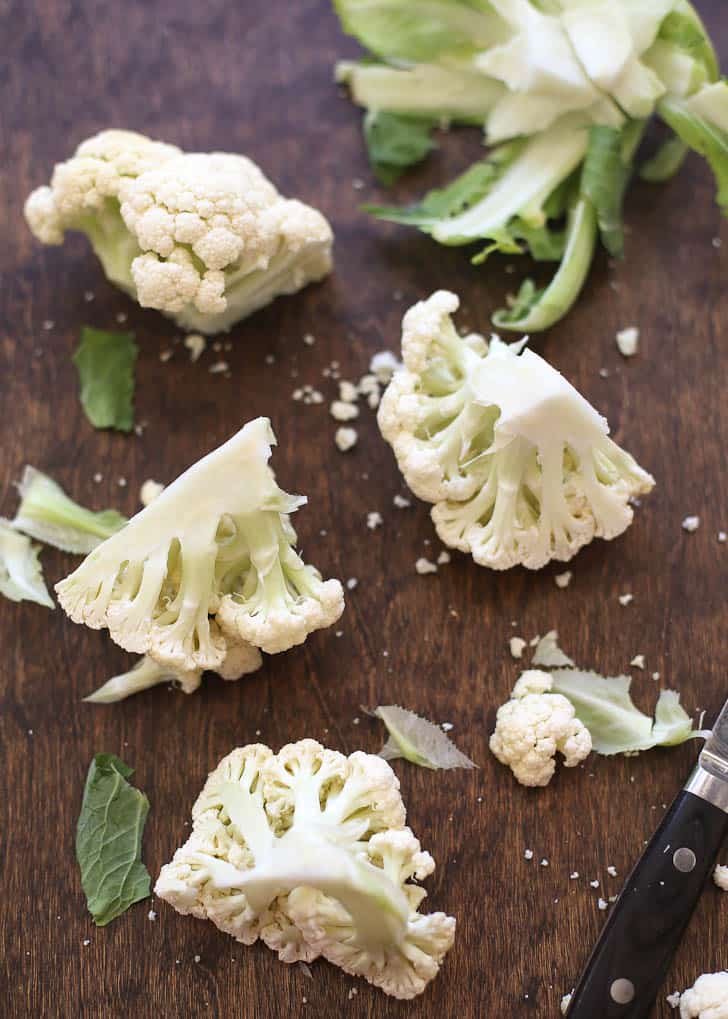 2. Shred Cauliflower in Food Processor (or Grate)
The way to make the lightest, fluffiest "rice" is to use the shredding disk attachment for the food processor
.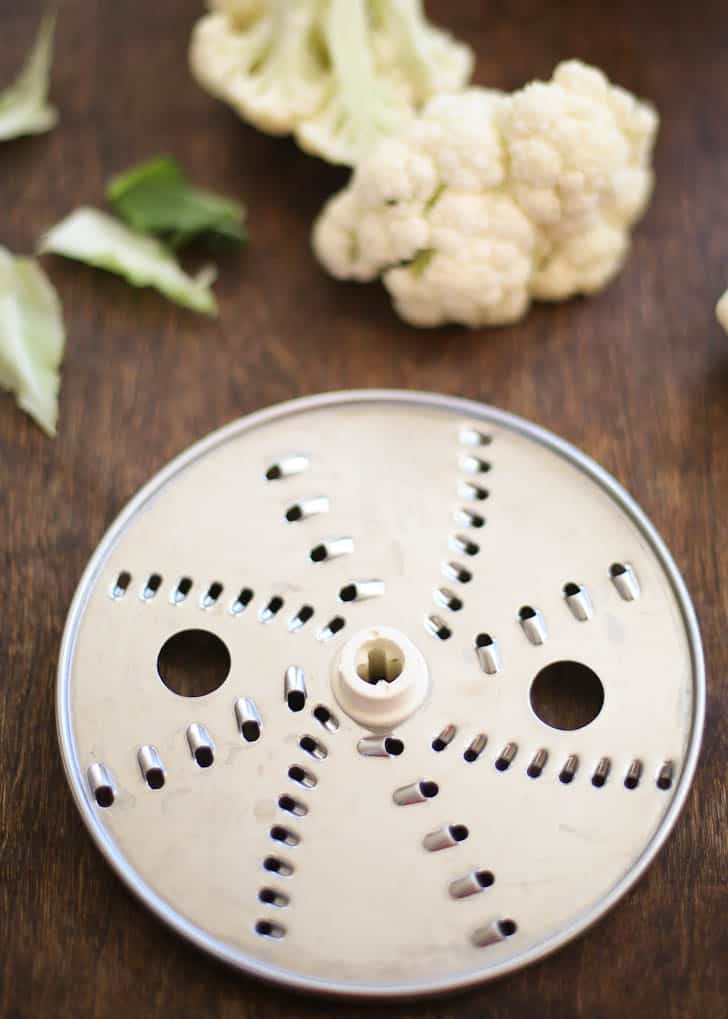 You can also use the classic blade attachment and just pulse the cauliflower pieces until they form even rice-shaped kernels.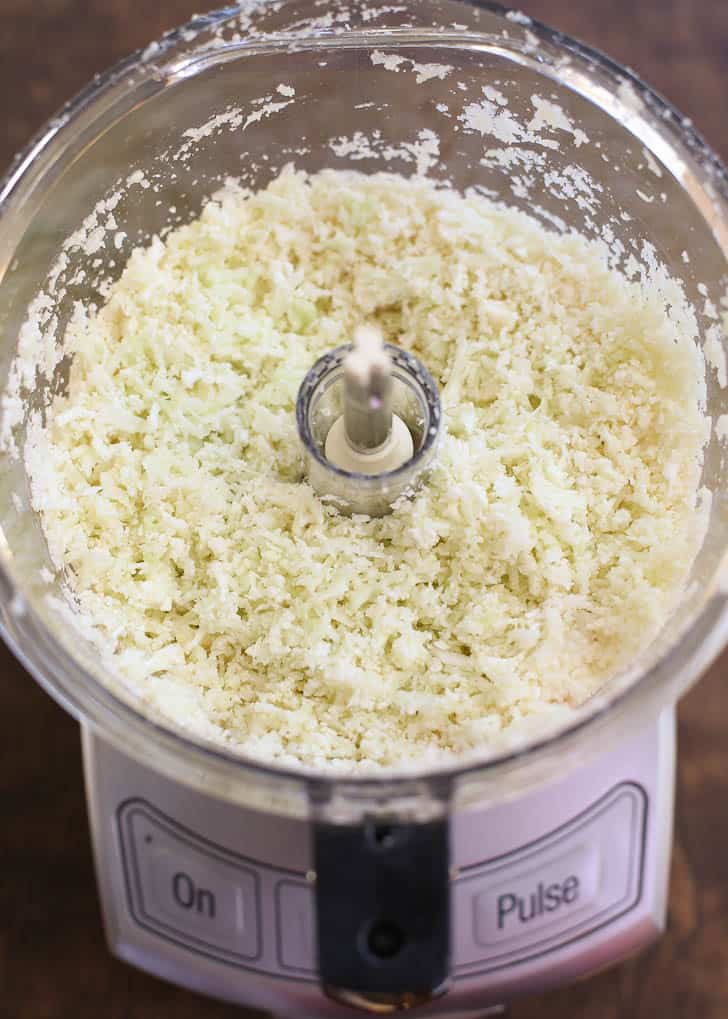 And if you don't have a food processor, you can grate the cauliflower by hand with a box grater, which will take a little longer, but leaves you with far less dishes to clean up. 😉
3. Lightly Cook or Steam Cauliflower (in Skillet or Microwave)
Finally, heat a skillet over medium-high heat. Add a tablespoon of butter or oil and saute the rice until tender, about 4 minutes. If you'd prefer not to use the extra fat to cook the cauliflower, you can also place it in a microwave-safe bowl with a slightly damp paper towel over top. Microwave until tender, about 3 minutes on high.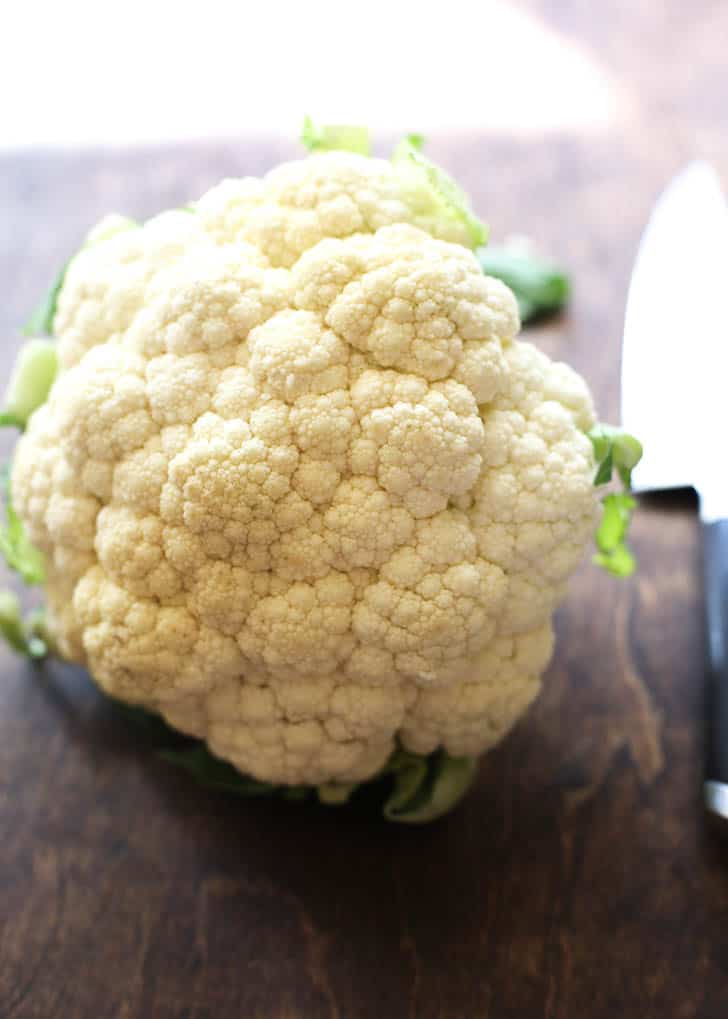 How to Freeze
If you want to freeze this dish, do it before cooking it. Spread the shredded cauliflower on a baking sheet topped with parchment paper. Place in the freezer until frozen solid (about 30 minutes), and then transfer to plastic freezer bags. Freezing flat will help the cauliflower rice to retain its shape and will make it super easy to re-heat. When you're ready to cook with it, just cook or steam according to the directions above (no need to defrost), adding an extra 1 to 2 minutes to cook time.
Enjoy!
More Cauliflower Recipes
Favorite Tools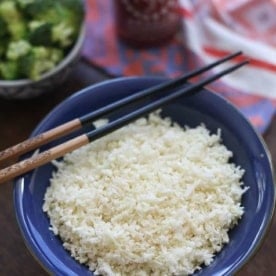 Cauliflower Rice
Cauliflower rice is super versatile - a low-carb, gluten-free, paleo and vegan-friendly substitute for rice that is also totally delicious. We serve it with stir-frys, turn it into fried rice, and keep it in the freezer as a quick, healthy side dish.
Ingredients
1

head

Cauliflower

(about 1.5 lbs)

1

Tbsp

Butter or Oil

Salt and Pepper, to taste
Instructions
Slice cauliflower into small pieces, discarding leaves.

Optional: At this point you can freeze the cauliflower rice to use later.

Heat butter or oil in a skillet or non-stick pan over medium-high heat. Saute until tender, about 4 minutes. (Alternatively, you can steam the cauliflower rice in a microwave-safe bowl, covered with a damp paper towel until tender, about 3 minutes on high.)
Nutrition
Serving:
1
g
|
Calories:
61
kcal
|
Carbohydrates:
7
g
|
Protein:
3
g
|
Fat:
3
g
|
Saturated Fat:
2
g
|
Trans Fat:
1
g
|
Cholesterol:
8
mg
|
Sodium:
68
mg
|
Potassium:
431
mg
|
Fiber:
3
g
|
Sugar:
3
g
|
Vitamin A:
87
IU
|
Vitamin C:
69
mg
|
Calcium:
32
mg
|
Iron:
1
mg
Nutrition information is automatically calculated, so should only be used as an approximation.
Hope you're having a great weekend! Molly and Clara are spending their Saturday morning lounging on the outdoor couch at our local Starbucks. Independent ladies, these two.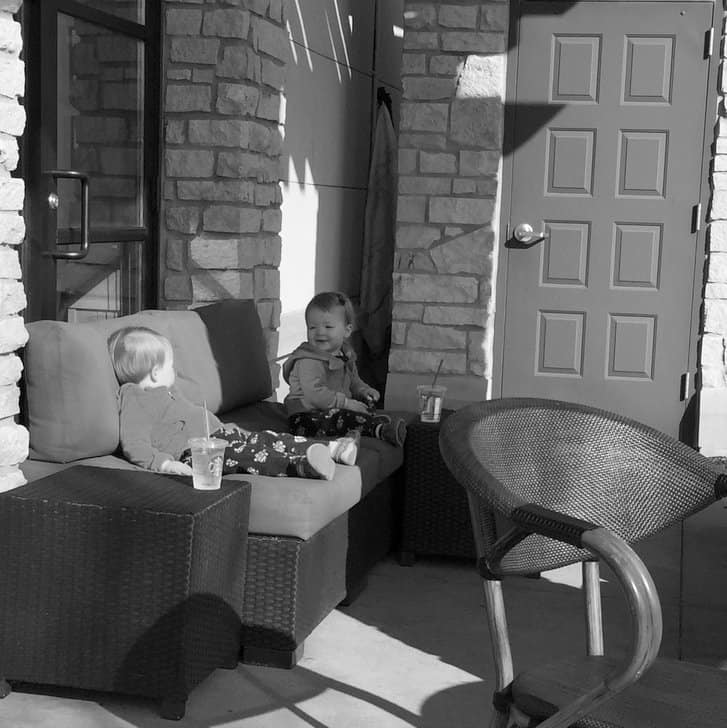 *This post contains affiliate links*