Crispy roasted cauliflower is a simple dish that is healthy and amazingly delicious. Something really wonderful happens to vegetables when they get a dash of olive oil and salt and just the right amount of heat in the oven. Their flavors become rich and mellow; their edges get golden and crisp. Cauliflower is no different. In fact, it is an oven-roasting star.
Years ago, I stopped by a friends' house for lunch just as she was pulling roasted cauliflower out of the oven. The golden bits of roasted cauliflower were still sizzling in the glass baking dish as she spooned them over a bed of spinach and drizzled the entire thing with an apple-cider viniagrette. It is no exageration to tell you that it was one of the most memorable lunches I've had, but it is all because of the magic of roasted cauliflower.
Try this tonight. In 30 minutes you can have crispy roasted cauliflower that is likely to outshine anything you serve it with. And if it is not enough to simply devour this stuff on its own, there's always David Chang's fantastic cauliflower dish to add a little more pizazz.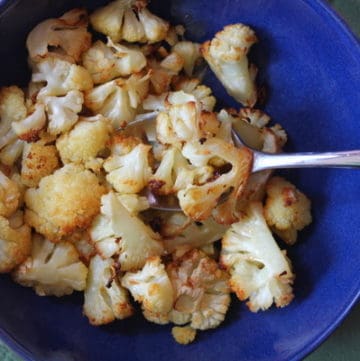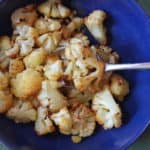 Print Recipe
Crispy Roasted Cauliflower with Parmesan
Ingredients
2

large heads of cauliflower, rinsed and cut into small florets

2

Tbsp.

olive oil

2

tsp.

salt (more to taste)

3

Tbsp.

finely shredded parmesan cheese, optional
Instructions
Before beginning, dry the cauliflower very well. If the florets are damp, place them in a clean, dry dishtowel. Hold the ends together tightly around the cauliflower and shake it to release all the extra moisture. Dry cauliflower is key to getting the cauliflower nice and golden.

Preheat the oven to 350 degrees. Toss the cauliflower in the olive oil and salt. Place the cauliflower in a large enough baking dish to prevent any overlap in the florets.

Bake, stirring every 10 minutes, until golden and slightly crisp around the edges, about 30-35 minutes total. Remove from the oven and sprinkle with parmesan cheese (optional). Serve immediately.
And if you have officially caught the cauliflower bug (like me!) check out my Warm Cauliflower and Herbed Barley Salad; Crispy Cauliflower with Capers, Raisins & Breadcrumbs; or perhaps the perfect Cauliflower Fried Rice!