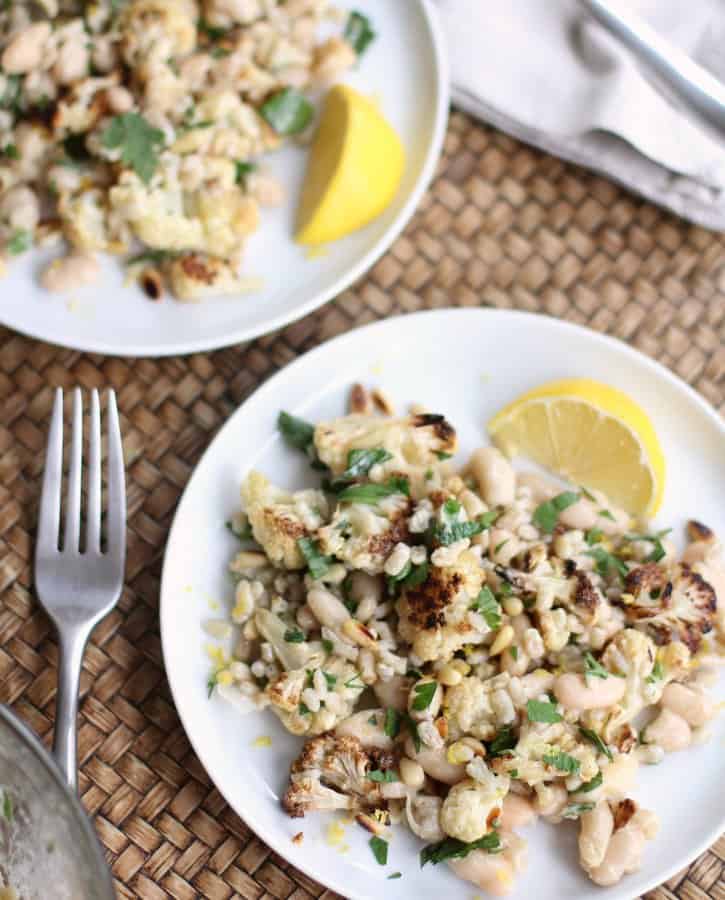 Lunches in Bangkok are always an adventure. There are easily 100 places within a five minute walk of my office to buy noodles in spicy sauce or wok-fried vegetables with rice or a steamy bowl of rich herby soup. Every vendor has a specialty, and it's hard to walk anywhere in this town without being tempted. One of my colleagues told me that when he went on vacation to the U.S. he was shocked by how expensive and hidden away the food is. In Bangkok, it's in your face, it's cheap, and it's amazing.
Nevertheless, even after four years in Bangkok, I'm still most often a brown-bag lunch kind of girl. I like to cook (ahem, food blog), and I like knowing exactly what I'm eating. But to compete with all that Thai food glory, it better be easy and it better be really good.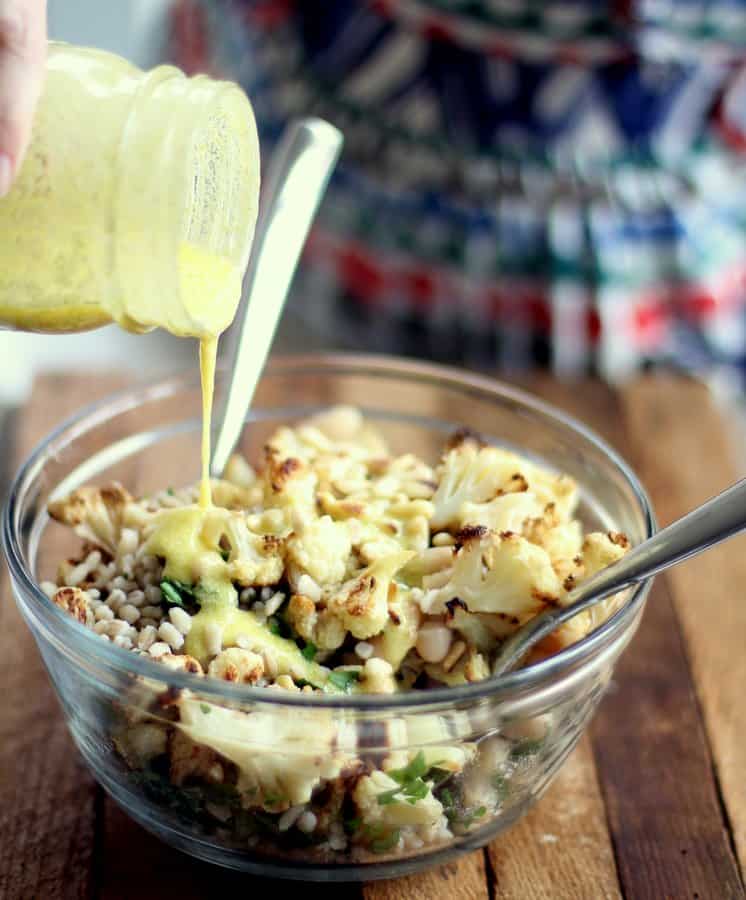 This Warm Cauliflower and Herbed Barley Salad is one of those perfect lunch salads that can take a week in the fridge and only gets better for it. We've had it twice in the past couple weeks and it made a perfectly satisfying dinner on its own, over greens, or with a poached egg on top. I tweaked the original from Bon Appétit mostly to add some crunch from toasted pine nuts and to roast the cauliflower rather than sauté and steam it. I'm a sucker for roast cauliflower with its nutty flavor and crisp caramelized edges.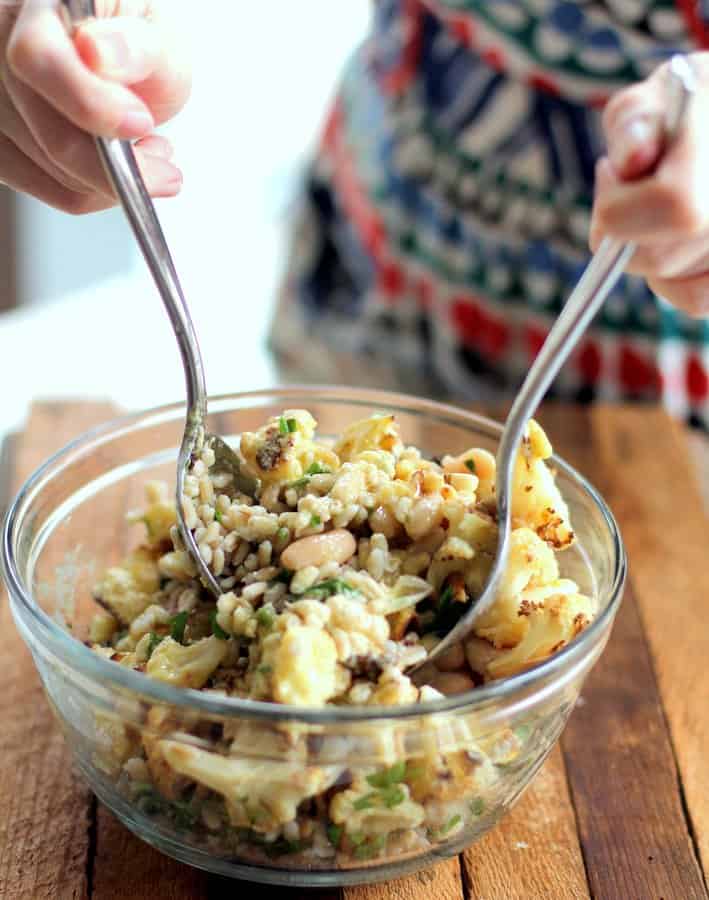 As the weather gets cooler (slightly cooler here, but much cooler for many others out there), this is a perfect salad for the transition. Healthy, but warm and hearty in a deeply satisfying way.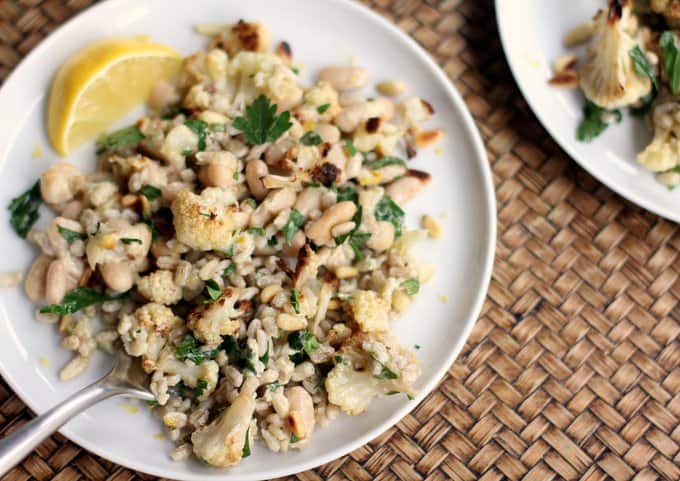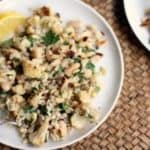 Print Recipe
Warm Cauliflower and Herbed Barley Salad
A satisfying lunch or dinner salad with roasted cauliflower and bright lemon-herb barley. Delicious topped with an egg or over greens. Even better after a day or two in the fridge!
Ingredients
1

head cauliflower, cut into florets

6

tablespoons

olive oil, divided

1/4

cup

pine nuts

1/2

cup

pearled barley

Kosher salt

1

tablespoon

finely grated lemon zest

3

tablespoons

fresh lemon juice

1

teaspoon

Dijon mustard

Freshly ground black pepper

1 15-

ounce

can cannellini beans rinsed and drained

1/2

cup

flat-leaf parsley leaves, divided

2

tablespoons

fresh tarragon leaves, divided
Instructions
Preheat oven to 350 degrees F. Toss cauliflower in 1 tablespoon oil and spread in a single layer in a large baking dish. Season with salt and pepper. Roast, turning with a spatula halfway through, until the florets are golden brown and slightly crisp on the outside, about 30 minutes.

In a large saucepan over medium heat, toast the pine nuts, stirring frequently, until fragrant and golden - about 5 minutes. Set toasted pine nuts aside and return the saucepan to the heat. Add barley and enough water to cover by two inches.

Place barley in a large saucepan; add water to cover by 2 inches. Season with salt. Bring to a boil and cook until tender, 25-30 minutes. Drain; run under cold water. Set aside.

Meanwhile, whisk lemon juice, Dijon mustard, and 5 tablespoons oil in a medium bowl until emulsified. Season dressing with salt and pepper; set aside.

In a large bowl combine cauliflower, barley, beans, pine nuts, 1/4 cup parsley, 1 tablespoon tarragon, and half of reserved dressing. Toss to coat; season with salt and pepper.

Divide salad among bowls; drizzle remaining dressing over. Garnish with lemon zest, 1/4 cup parsley, and 1 tablespoon tarragon.
Notes
Adapted from Bon Appetit's March 2013 Warm Cauliflower and Herbed Barley Salad.
The original recipe calls for 1 tablespoon of mayo to be added to the dressing. I found it to be unnecessary, but I liked the vinaigrette both with and without the mayo addition (a bit creamier with the mayo, of course).
And I'll end here with a little shout-out to Clara…world's littlest kitchen assistant.  (And no disrespect to The Essential New York Times Cookbook – it's great for cooking and also for giving a boost to short babies  in their jumparoos.)