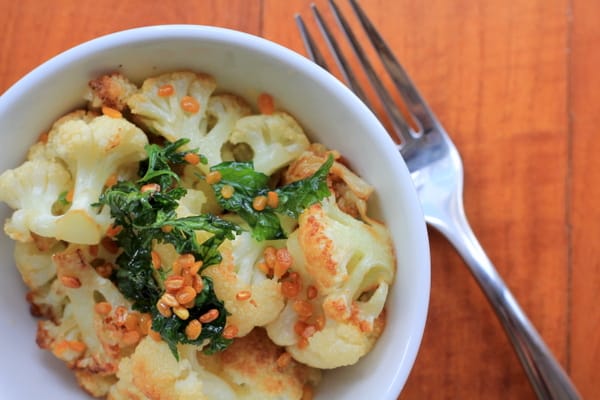 I've decided that fish sauce is totally undeserving of its somewhat questionable reputation. I expected to be turned off by the smell and taste, but don't find that to be the case at all. In fact, I find it to be incredibly tasty. In addition, most fish sauce is produced in Thailand and Vietnam, so good fish sauce is inexpensive and easy to find here in its many iterations. The top quality is easy to find in the US as well, and is the equivalent to "first press" olive oil. This "first press" fish sauce is rich, salty and has consistent, deep caramel color. It is the type that is used here in Thailand for sauces and dips, while the later presses (producing a lighter color liquid) is used for cooking.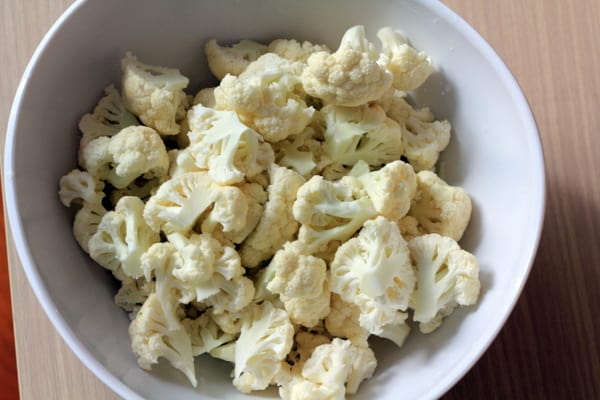 Okay – onto the recipe! I was listening to an old podcast of NPR's The Splendid Table earlier this week. The featured interview was with David Chang of the Momofuku restaurants in New York. Having always wanted to visit one of his restaurants, but never able to make it happen (one of my few regrets about the months I spent living in NYC), I was interested to hear what he had to say. I was even more interested when his response to a question about the most popular dish on his menu was a surprising discussion about his fried cauliflower with fish sauce vinaigrette.
He spoke about the fact that when he was first starting out in the restaurant business he underestimated the adventurousness of the average restaurant-goer, opting for more recognizable flavors in his cooking. At some point in his career, he started taking more chances and discovered that some of the dishes that he thought would be too unusual for patrons, became the most popular. This recipe is the one that he highlighted as one of the most popular in Momofuku's Ssam Bar, and I can confirm that this cauliflower is one not to miss (whether you can hop on over to Ssam Bar or make it at home).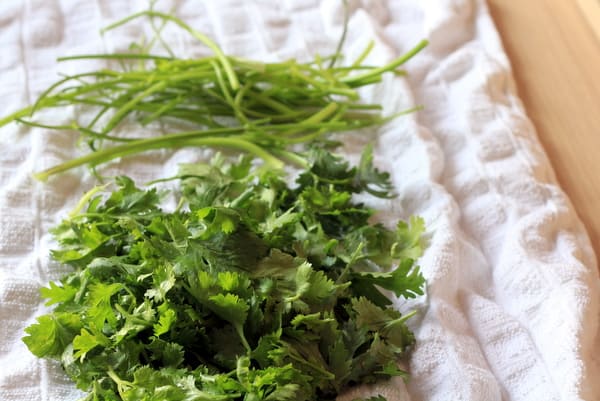 The final dish is topped with fried cilantro leaves. Amazing for both texture and taste. However, the original recipe called for the cilantro stems to be thinly sliced and added into the vinaigrette – that's right, the STEMS. This seemed strange, but I obediently separated the stems and leaves, as you can see in the picture above. When I reached the point where the recipe called for the stems to be thinly sliced and added to the vinaigrette, I decided that there was no way those little guys would add enough to the dish be worth the time it takes to separate AND slice them. I left them out altogether, and recommend that you do the same and use that 20 minutes for something more rewarding (like decorating Christmas cookies, which is in my plan for the weekend).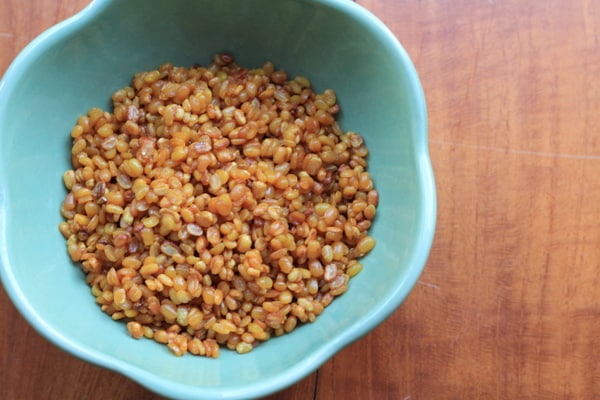 Finally, the recipe called for puffed rice tossed in a mixture of grapeseed oil and Japanese 7 spice powder. Both were difficult to find, and sounded like items that would sit in my pantry for months before getting used, so I skipped them altogether. I used fried mung beans (common in Thai dishes) rather than the puffed rice, but my mung beans (above) came out tooth-breakingly crunchy, so go for the puffed rice. You can, literally, just use Rice Krispies. Plus, then you'll have no excuse not to use some of the Krispies and whip up these Salted Brown Butter Crispy Treats. Enjoy!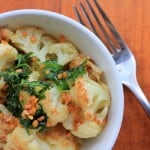 Print Recipe
Roasted Cauliflower with Fish Sauce Vinaigrette
Ingredients
Vinaigrette
¼

cup

fish sauce

2

tablespoons

water

1

tablespoons

rice wine vinegar

Juice of 1 small lime (about 1 and a half tablespoons of juice)

2

tablespoons

sugar

½

garlic clove, minced

1

red birdís-eye chile, thinly sliced, seeds removed (optional)
Cauliflower
½

cup

cilantro leaves (rinsed and dry)

2

tablespoons

chopped mint

1

tablespoon

olive oil

4

heaping cups cauliflower florets (about 2 medium heads)

approximately 1 cup canola oil (for frying cilantro leaves)

½

cup

puffed rice

1

teaspoon

salt
Instructions
Preheat the oven to 400 degrees.

Prepare the vinaigrette by mixing the fish sauce, water, rice wine vinegar, lime juice, sugar, garlic and chiles in a small bowl. Add the mint to the vinaigrette, stirring a few times to combine. Set aside.

Toss cauliflower florets in a mixing bowl with olive oil until evenly coated. Pour florets out onto large baking sheet. Bake at 400 degrees for 25-35 minutes (depending on the size of the florets), stirring occasionally, until florets are beginning to brown in spots and are tender.

While the cauliflower is roasting, heat canola oil to 375 degrees in a medium pan, deep enough for frying. Making sure that the leaves are very dry before adding them to the oil, drop cilantro leaves into the oil a small handful at a time. Fry until they become crisp (about 20 seconds), remove from oil and allow to drain on paper towels.

For the puffed rice, heat a small skillet over high heat. Add puffed rice, stirring gently until toasted (3-4 minutes). Remove from heat. Sprinkle with 1 teaspoons salt and toss to coat.

Pour cauliflower into a large serving bowl. Add vinaigrette a little at a time, tossing after each addition, until evenly coated (you will likely not need all of the vinaigrette). Pour fried cilantro and puffed rice over the top and serve warm.
Notes
This recipe produces about a half cup of the vinaigrette, but use only as much as you need in order to sufficiently coat the cauliflower. Chang's recipe recommends making extra and using it for other dishes – he says the vinaigrette will keep up to a week in the fridge.
Recipe adapted from Momofuku by David Chang and Peter Meehan and shared by NPR's The Splendid Table.