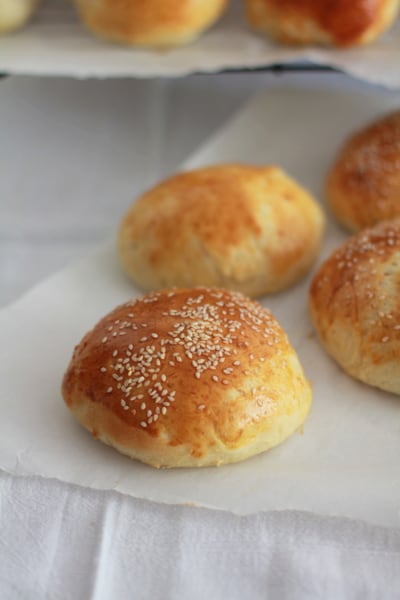 It's been a bit quiet this week on Inquiring Chef. And I have a very good reason for that. A cold. Something about loosing your sense of taste makes it feel sort of ridiculous to write about food. Dinners this week could basically summed up as this - Soup. Sandwich. Repeat.
Frank makes a darn good sandwich. For the record.
We're particular about the bread used for our sandwiches in this house, and we have a clear favorite. These light brioche buns from the New York Times a few years back are good with everything. We made them for burgers once, and have been stockpiling them in the freezer ever since. They're great for sandwiches, but you may recognize them from a variety of appearances on Inquiring Chef.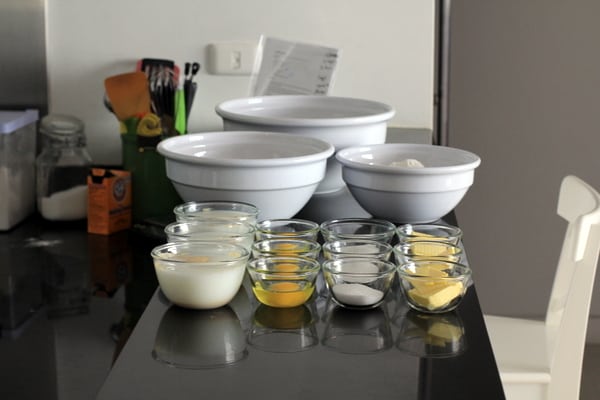 Take for example, Salmon Burgers for Two...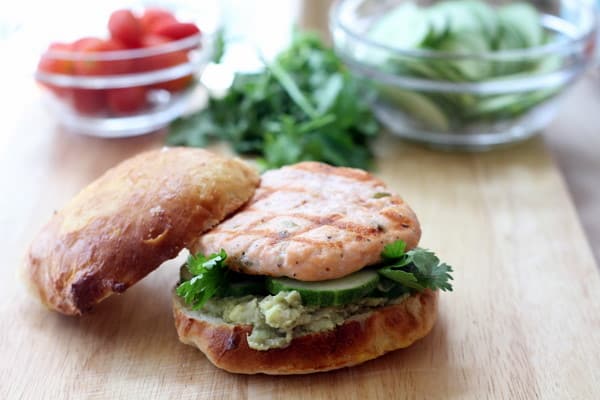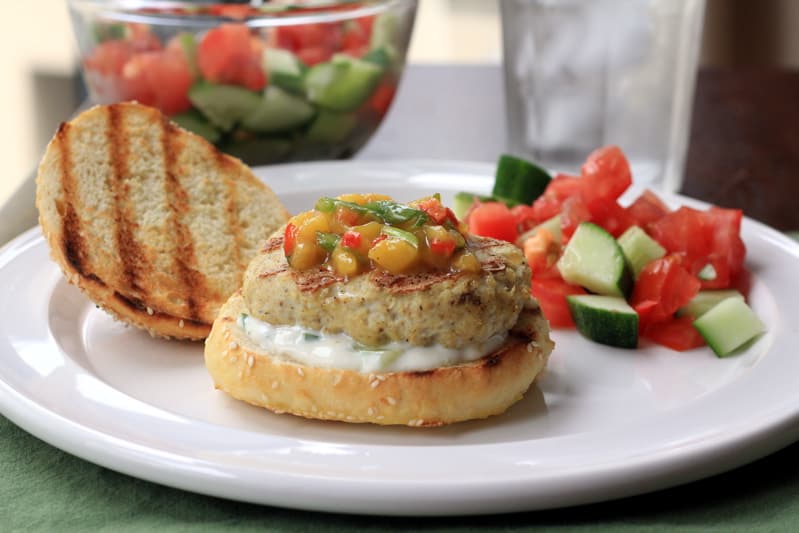 or 24 mini slider buns for Frank's annual birthday slider and onion straws dinner.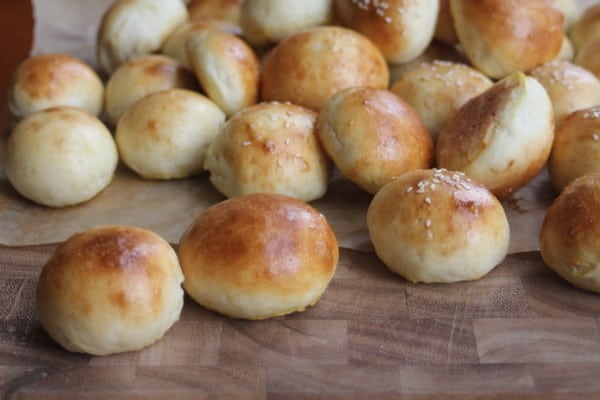 But mostly we just have them around for sandwiches. Thanks to all the sandwich-making lately, we ran out.
And so I made more. 3 batches worth.
When your tastebuds are muted by a Bangkok cold, making a mountain of Light Brioche Buns is surprisingly satisfying.
It necessitated that I use every single inch of weird black counter space in our kitchen. I line up parchment paper under the buns as they rise, brush them with egg, and rotate them in and out of our miniature oven.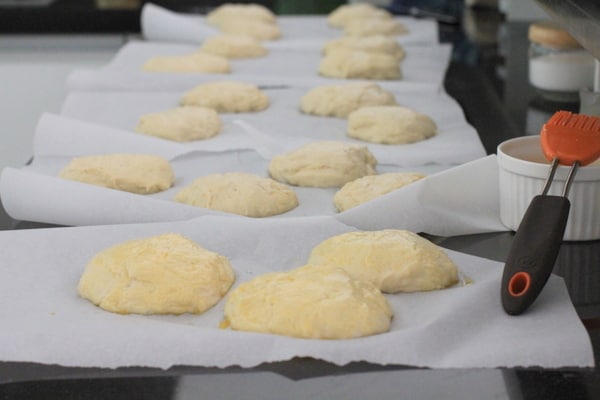 And, without fail, we end up munching on one or two while they are still warm.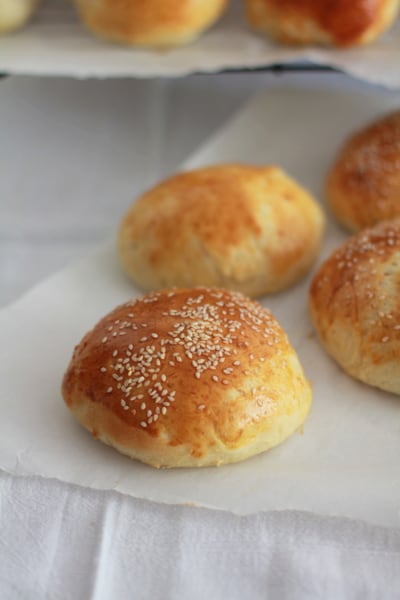 Before I pack them in bags. Sesame seeds for Frank, plain for me.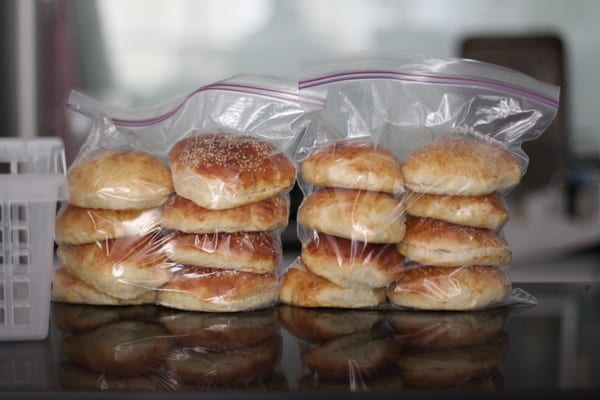 And into the freezer they go.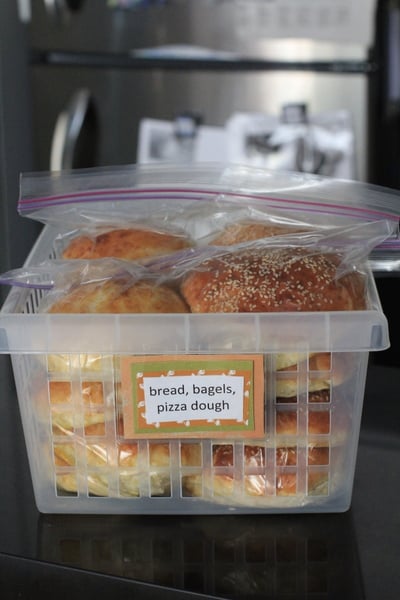 Added bonus of packing these rolls up in the freezer? I found a batch of frozen gougères in there. Guess what we're having as a Sunday night snack? I can't taste much, but fluffy pillows of cheesy pastry might still fit the bill.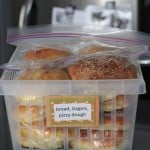 Print Recipe
Light Brioche Buns
Ingredients
1

cup

Warm Water

3

tablespoon

Warm Milk

2

teaspoon

Active Dry Yeast

2 ½

Tbsp

Sugar

2

Large Eggs

3

cups

(380 g) Bread Flour

⅓

cup

(40 g) All-Purpose Flour

1 ½

teaspoon

Salt

2 ½

tablespoon

(35 g) Unsalted Butter, soft

white sesame seeds, for topping (optional)
Instructions
In a glass measuring cup, combine 1 cup warm water, the milk, yeast and sugar. Let stand until foamy, about 5 minutes. Meanwhile, beat 1 egg.

In a large bowl, whisk flours with salt. Add butter and rub into flour between your fingers, making crumbs. Stir in yeast mixture and beaten egg until a shaggy dough forms. Turn dough out onto clean, unfloured counter and knead, scooping dough up, slapping it on counter and turning it, until smooth and elastic, 8 to 10 minutes. (The dough is very sticky, which makes the rolls so light. I use my palm to push the dough into the counter and use a dough scraper to scrape it up and turn it.)

Shape dough into a ball and return it to the bowl. Cover bowl with plastic wrap and let rise in a warm place until doubled in bulk, about 1 hour.

Line a baking sheet with parchment paper. Using dough scraper, divide dough into 8 equal parts. Gently roll each into a ball and arrange 2 to 3 inches apart on baking sheet. (If the surfaces of the buns are not smooth, dampen your fingers with a bit of water and smooth them out.) Leave them out to rise until doubled in size, about 1 hour.

Preheat oven to 400 degrees with rack in center. Beat remaining egg and brush some on top of buns. Sprinkle the surface of the buns with sesame seeds, if using. Bake, turning sheet halfway through baking, until tops are golden brown, about 15 minutes. Transfer to a rack to cool completely.

(To freeze, once they have cooled completely, slice the buns in half and store in plastic bags in the freezer.)