Recreate a delicious fast food-inspired smash burger in your home kitchen with fresh ingredients and a tangy, creamy sauce. Smash burgers are thin, so they cook fast.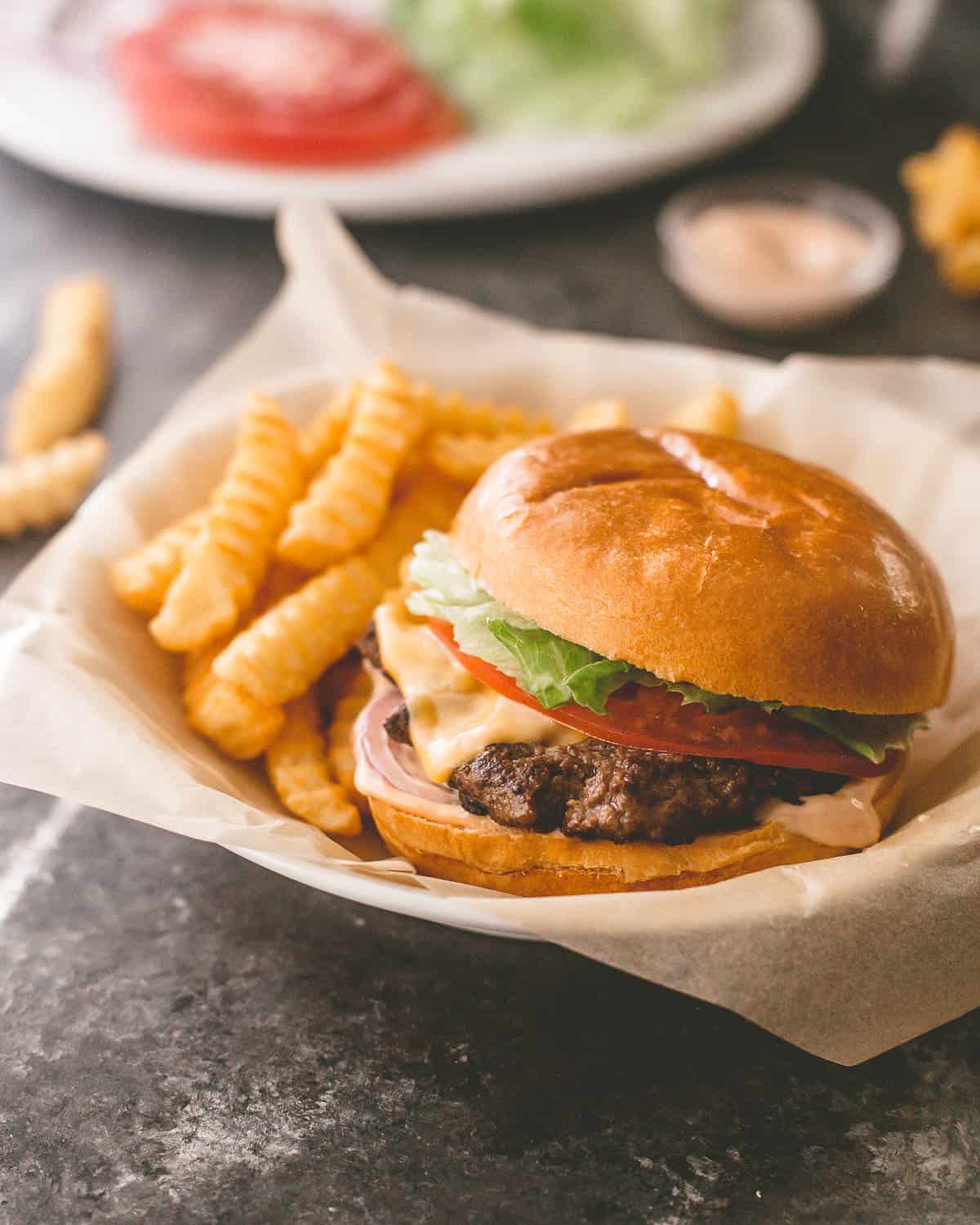 Smash burgers are made with very thin burger patties that have crisp lacy edges and perfectly melty cheese. And the best thing about these burgers? They're such a fun meal. They use less meat than your standard burger, and you get much more by way of texture. Thin burger patties that are pressed down against the pan or griddle as they cook to get maximum browning against the pan. They are so satisfying to eat!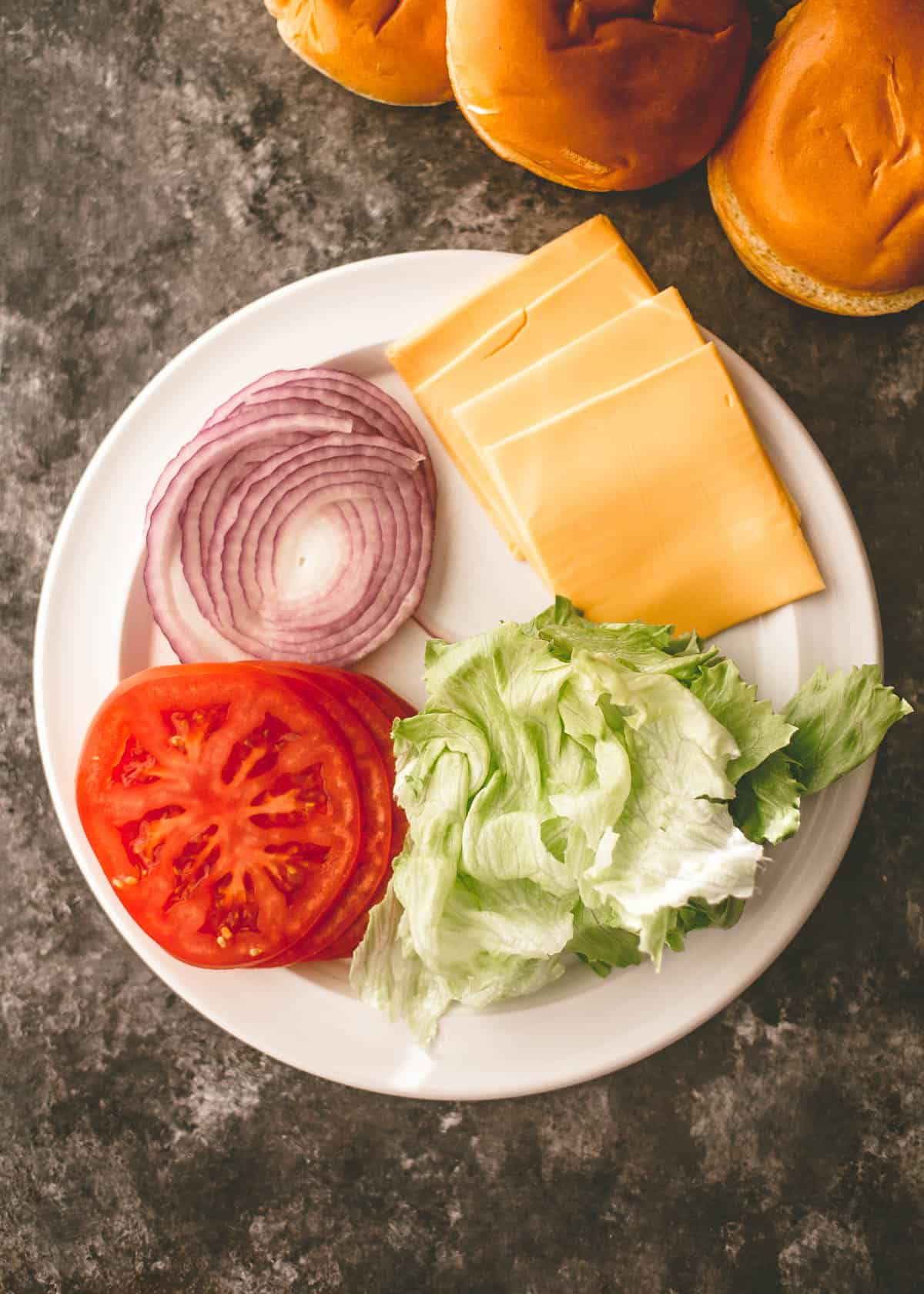 While many recipes we found online say that you should just drop the meat right onto the hot pan and press down to flatten them, I've found it much easier to follow a more traditional burger method of lightly shaping the burgers first. This method makes it easy to season the burger patties before cooking them (seasoning is one of the secrets to a great burger!) and also eliminates the need to handle raw meat over a very hot skillet.
What is a Smash Burger?
A smash burger is a thin all beef burger served on a soft bun. The burger patties are pressed down during cooking and are often cooked in butter to maximize browning and result in crispy edges.
Here's how to make them at home!
1. Make Sauce
Totally optional, but trust me, take 5 minutes to make this sauce. Just a mix of mayonnaise, ketchup, garlic powder, and a bit of Worcestershire sauce which gives it some great umami flavor.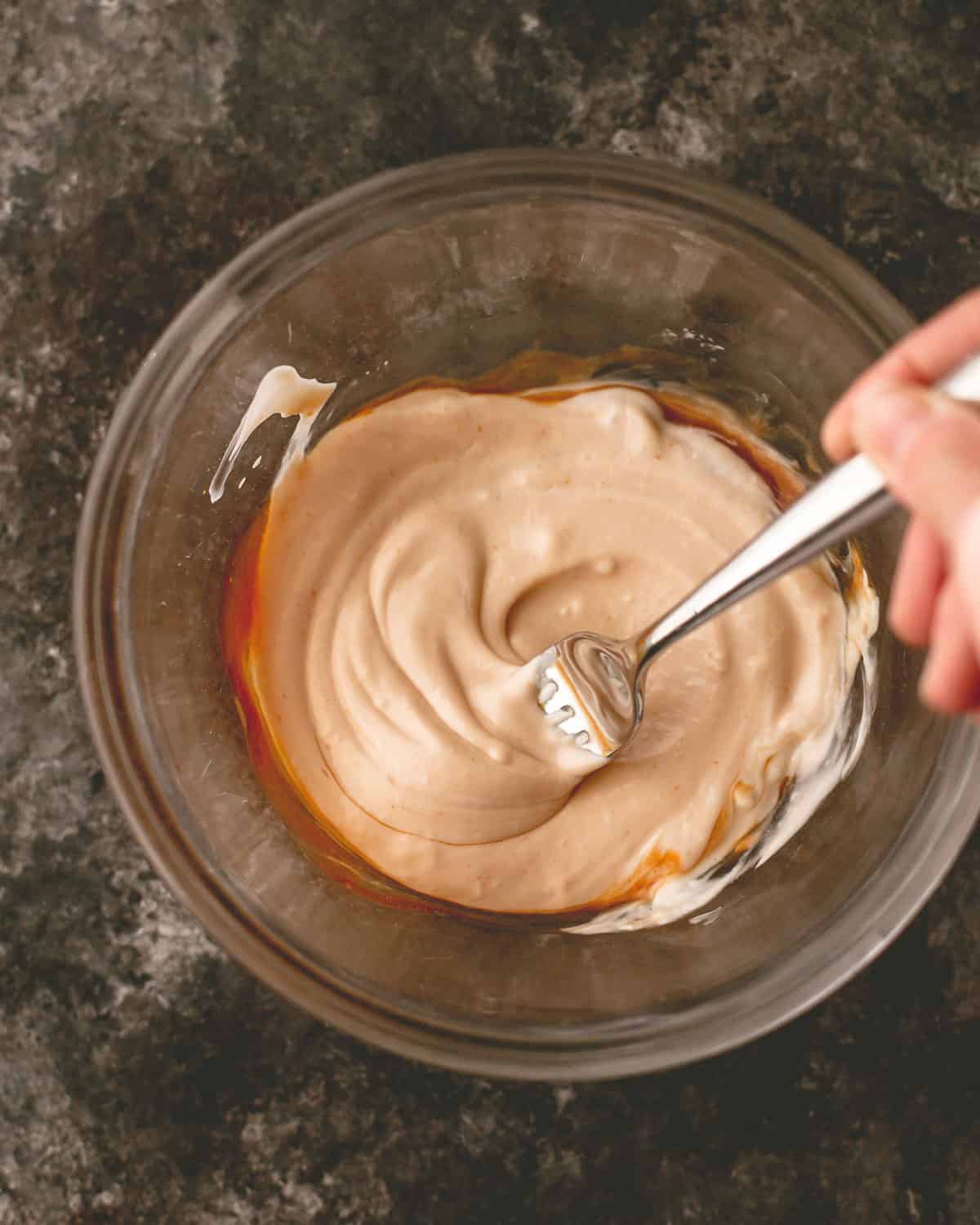 2. Prep Burger Patties
Apologies for the raw meat photos, but I wanted you to see how I set everything up for cooking. One pound of beef will make either four or five smash burgers. If using 80% lean ground beef, I recommend making 5 burgers because the fat will cook out and the burgers will shrink as they cook. If using 90% lean ground beef, you can probably stretch it to 6 burgers. Divide the meat up and gently form it into patties that are about ½-inch thick. Don't worry if the edges aren't rounded or if the patties still seem thick – they just need to be in the general shape. Place the patties on a platter or sheet pan.
Tip: Before you get started, prep a small container with salt and black pepper and put it on a tray with the meat. Use this to season the burgers before and during cooking so you won't be scrounging around for salt and pepper with messy raw meat hands.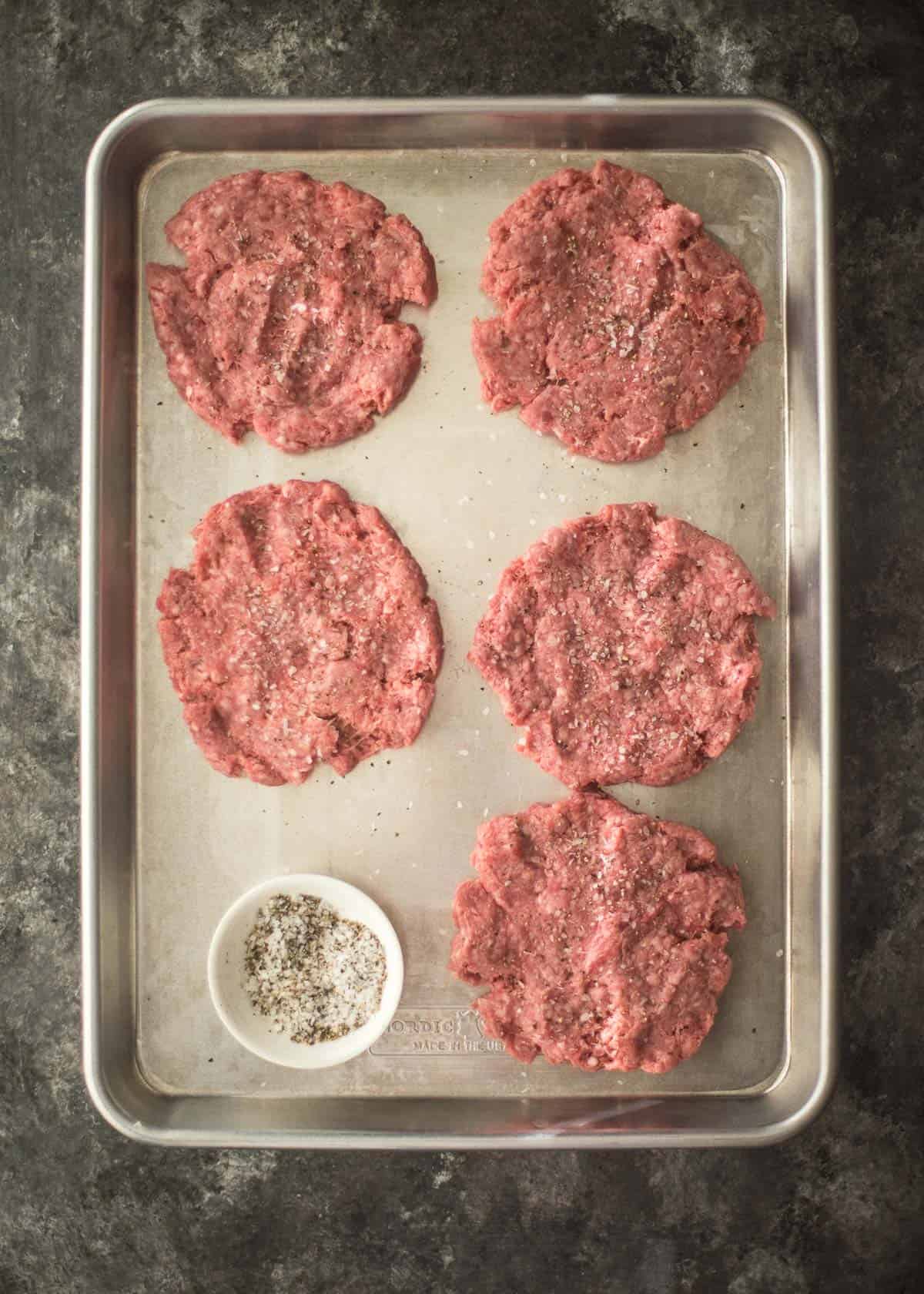 3. Cook
These burgers take up a lot of space, so it's best to use a griddle for these or a very large skillet. Melt some butter and then sear those patties, pressing down very firmly with a sturdy spatula as they cook. When you flip the burgers, place a slice of cheese on top. Finish cooking.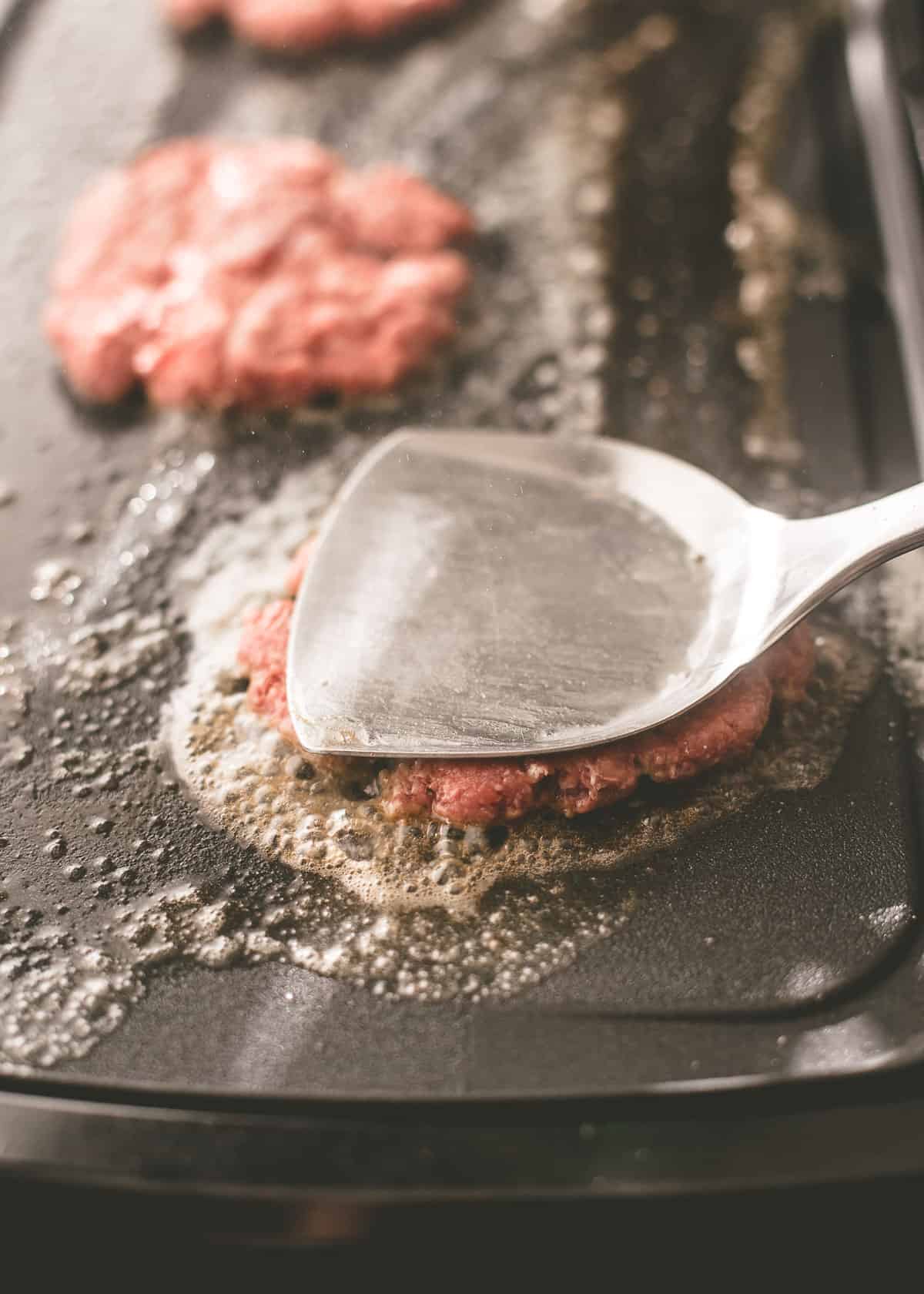 Finish with your favorite toppings!
American Cheese on Burgers
Maybe this is a controversial statement, but when we were testing these burgers, Frank and I found that this is one place where processed American cheese just works. It gets incredibly melty in the short cook time and doesn't have so much intense cheese flavor that it overwhelms the thin burgers.
Other Fun Takeout Fake-Out Meals
Favorite Tools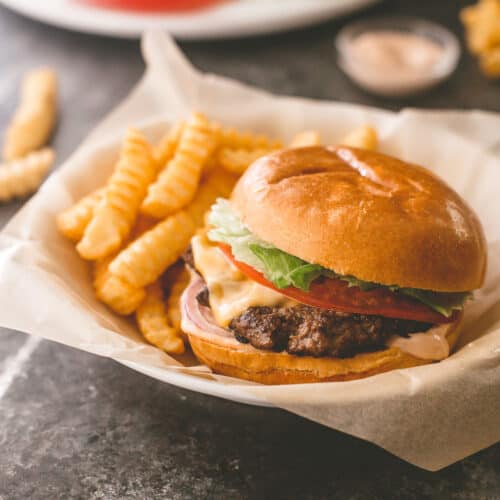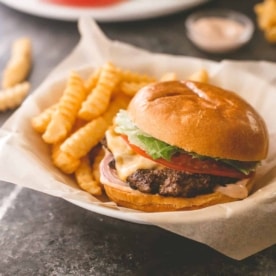 Smash Burgers Recipe
Recreate a delicious fast food-inspired smash burger in your home kitchen with fresh ingredients and a tangy, creamy sauce. Smash burgers are thin, so they cook fast.
Equipment
Mixing Bowls

Half Sheet Pan

Grill Pan or Griddle

Flat Spatula
Ingredients
Smash Burgers
1

pound

ground beef

(preferably 80% lean chuck)

1

teaspoon

kosher salt

1/4

teaspoon

black pepper

2

tablespoons

unsalted butter

5

slices

American cheese

(see note)

5

soft hamburger buns

(we like potato rolls or brioche-style rolls)

Optional toppings – Shredded Iceberg lettuce, sliced tomatoes, sliced white onions, pickles, ketchup, mustard, mayo
'Special Sauce'
1/4

cup

mayonnaise

1

tablespoon

ketchup

1/4

teaspoon

garlic powder

1/4

teaspoon

Worcestershire sauce

(substitute soy sauce)
Instructions
If you want to make 'special sauce', whisk together mayonnaise, ketchup, garlic powder, and Worcestershire sauce. Set aside.

Divide beef into 5 even portions (these will be 3.3 ounces each; no need to weight them, but just in case you wanted to) on a large sheet pan. Use your palm to gently press down on each portion so it is about 1/2 -inch thick. Season the beef on both sides with salt and pepper.

Heat a large griddle to medium heat. Add butter, moving it all around on the griddle as it melts.

Add burger patties and use a sturdy flat spatula to press very firmly down on the burgers until the patties are slightly larger than your burger buns. The edges should be uneven (craggy edges will get nicely browned and crisp).

Cook the burgers, without moving them, until light brown, 2 to 3 minutes. Flip burgers and top with cheese. Cook until cheese is melted, 1 to 2 minutes more.

Toast buns, if you'd like. (Note: I find that with really soft burger buns, they are sometimes better untoasted because it really highlights the golden crispness of the burger patties.)

Spread sauce over inside of buns. Fill with burger patties and any toppings you'd like. Enjoy with fries!
Notes
Special Sauce
– Totally optional, but this is a fun creamy, tangy sauce that takes the burgers up a notch.
Ground Beef
– Be sure to use 80% because these contain more fat that will cook out and result in nice thin, but still juicy burgers. A leaner beef won't result in patties that are quite as thin and smash burger-worthy. Keep in mind that because these burgers are "smashed" they are quite thin and use less ground beef than other thicker burgers. If you'd like more meat in your burgers, you can use two of the thin patties per burger (note that you'll need to double the ground beef and seasoning to make 5 servings with double patties).
American Cheese
– There aren't many places where you need processed American cheese, but a homemade smash burger happens to be one of them. Those cheese slices are the right thickness and melt perfectly. Other types of cheese will also work.
Nutrition
Calories:
442
kcal
|
Carbohydrates:
23
g
|
Protein:
28
g
|
Fat:
26
g
|
Saturated Fat:
10
g
|
Polyunsaturated Fat:
6
g
|
Monounsaturated Fat:
7
g
|
Trans Fat:
1
g
|
Cholesterol:
94
mg
|
Sodium:
1191
mg
|
Potassium:
412
mg
|
Fiber:
1
g
|
Sugar:
4
g
|
Vitamin A:
362
IU
|
Vitamin C:
1
mg
|
Calcium:
293
mg
|
Iron:
4
mg
Nutrition information is automatically calculated, so should only be used as an approximation.