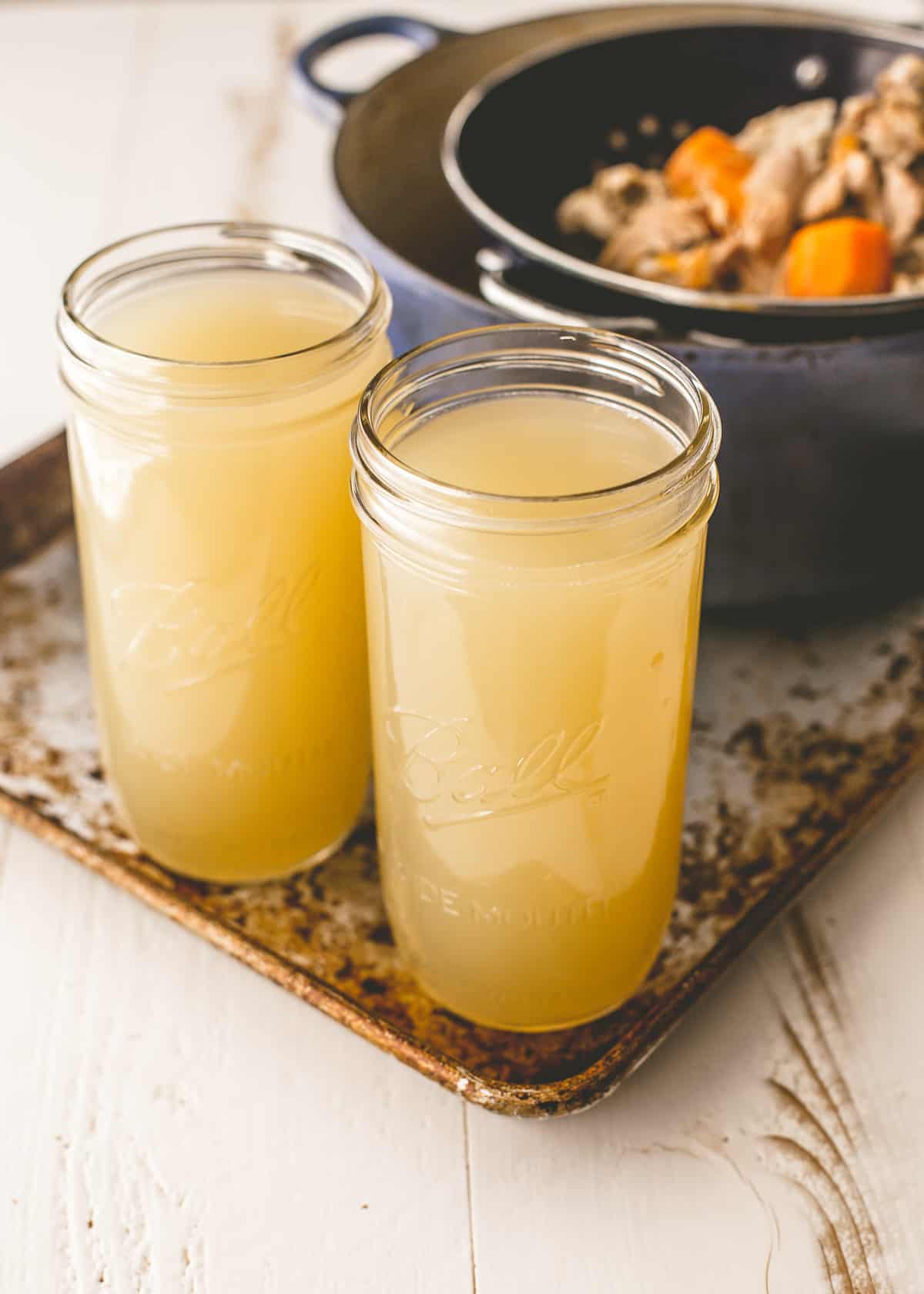 Save the turkey bones after the holiday meal and make your own turkey stock. It's super simple, and you'll love using the stock to make cozy soups all winter long.
Homemade stock is more flavorful than anything you can buy at the store and is packed with all the concentrated nutrition of all the ingredients you put into it. It makes the best base for Chicken, Butternut Squash, and Orzo Soup or the classic Chicken Noodle you'll want to ward off those winter colds. Consider this your Thanksgiving / Christmas PSA. Don't forget to save the turkey turkey carcass after you carve that bird and turn it into stock. Your soup-craving future self will thank you.
Let's make some turkey stock together!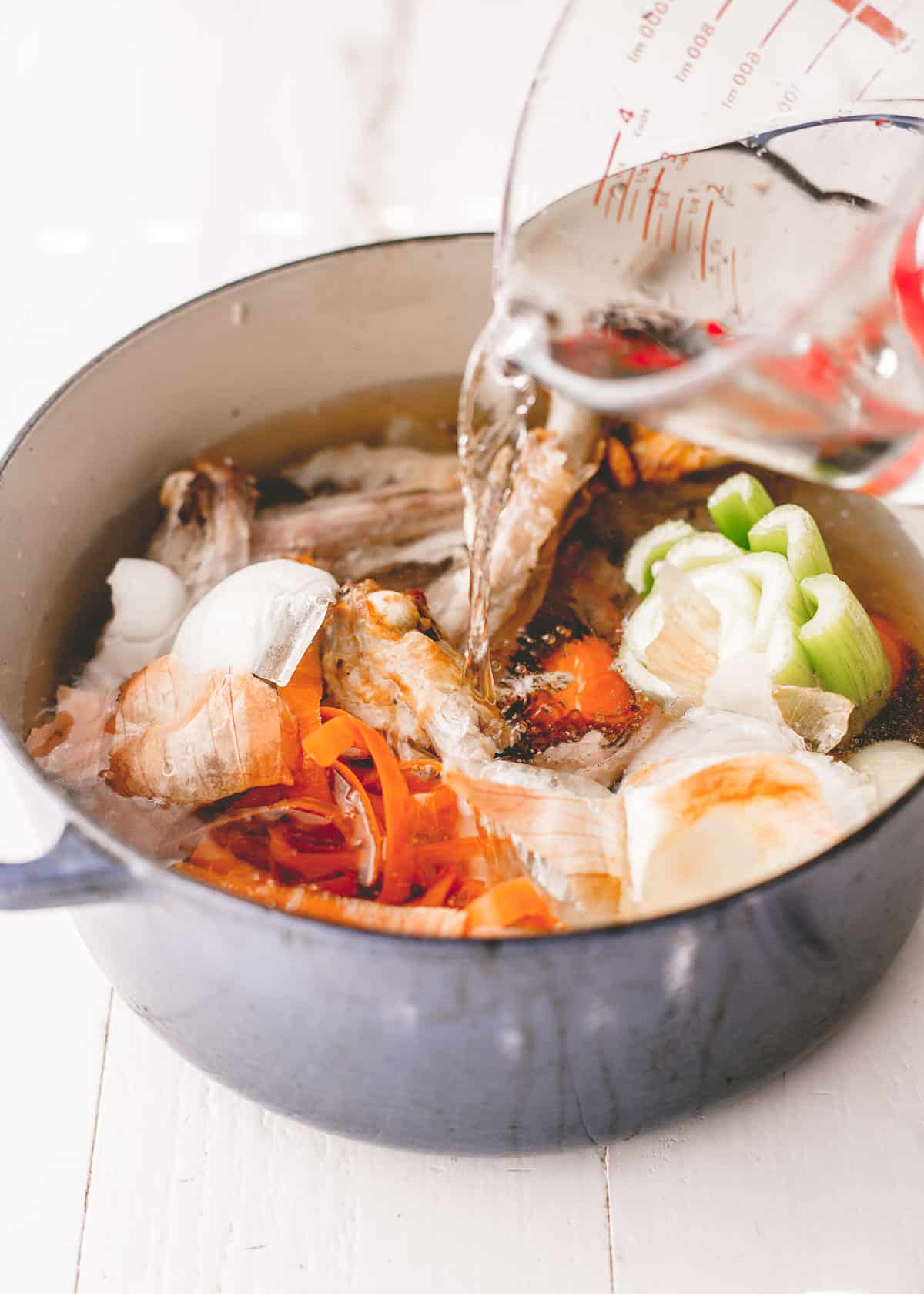 How to Make Turkey Stock
Get out your largest stockpot and fill it with the carcass from a roasted turkey. You can also add chopped onion, celery, carrots, bay leaves, or other herbs for flavor. (See below for tips on using vegetable scraps instead of chopped vegetables.) If your pot isn't large enough to easily hold the whole carcass, break it apart into smaller pieces and bones.

Cover with water.

Bring to a boil and then reduce heat to a low simmer.

Simmer for 2 hours, adding more water as needed to keep the ingredients fully covered.

Taste and season with some salt.

Strain solids out of stock.

Cool and store in the refrigerator or freezer.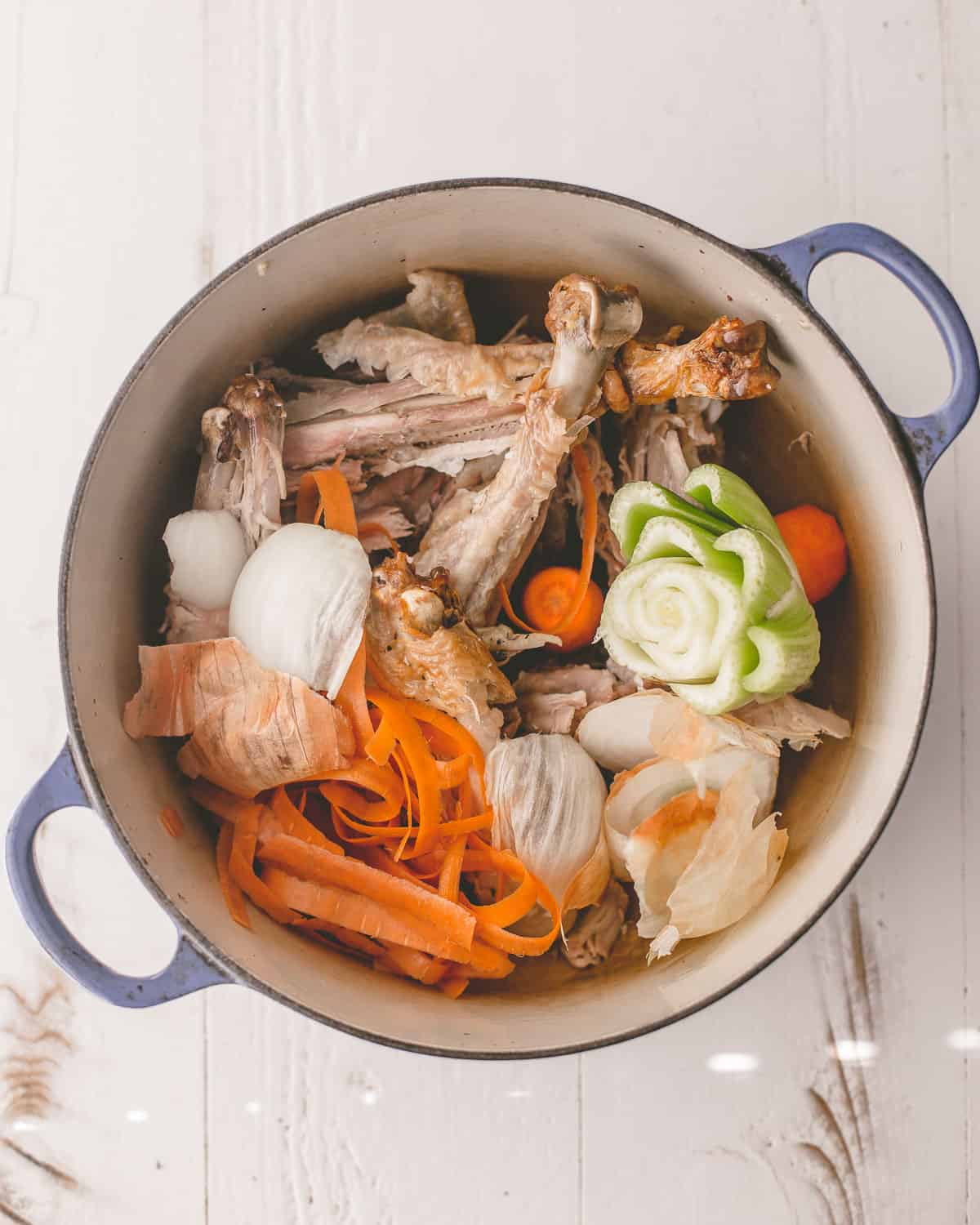 Vegetable Scraps in Stock
Stock is not only a great way to use the leftover bones from a roasted turkey or chicken, but it's a great way to use vegetable scraps that you otherwise might have tossed out. Try saving vegetable scraps like carrot peels, the base of celery, and even the peels of onions. Just combine them with the bones and simmer everything together. It will not only give the stock more flavor, but will add some nutrition too!
Is it Stock or Broth?
Both stock and broth refer to flavorful liquid that is made from simmering bones, vegetables, and (in some cases) spices. With many exceptions and variations, the difference in terms usually comes from how they are used. Stock typically refers to a liquid that is an ingredient in other dishes. Broth usually refers to something you would sip or drink on its own. For the most part, the terms can be used interchangeably.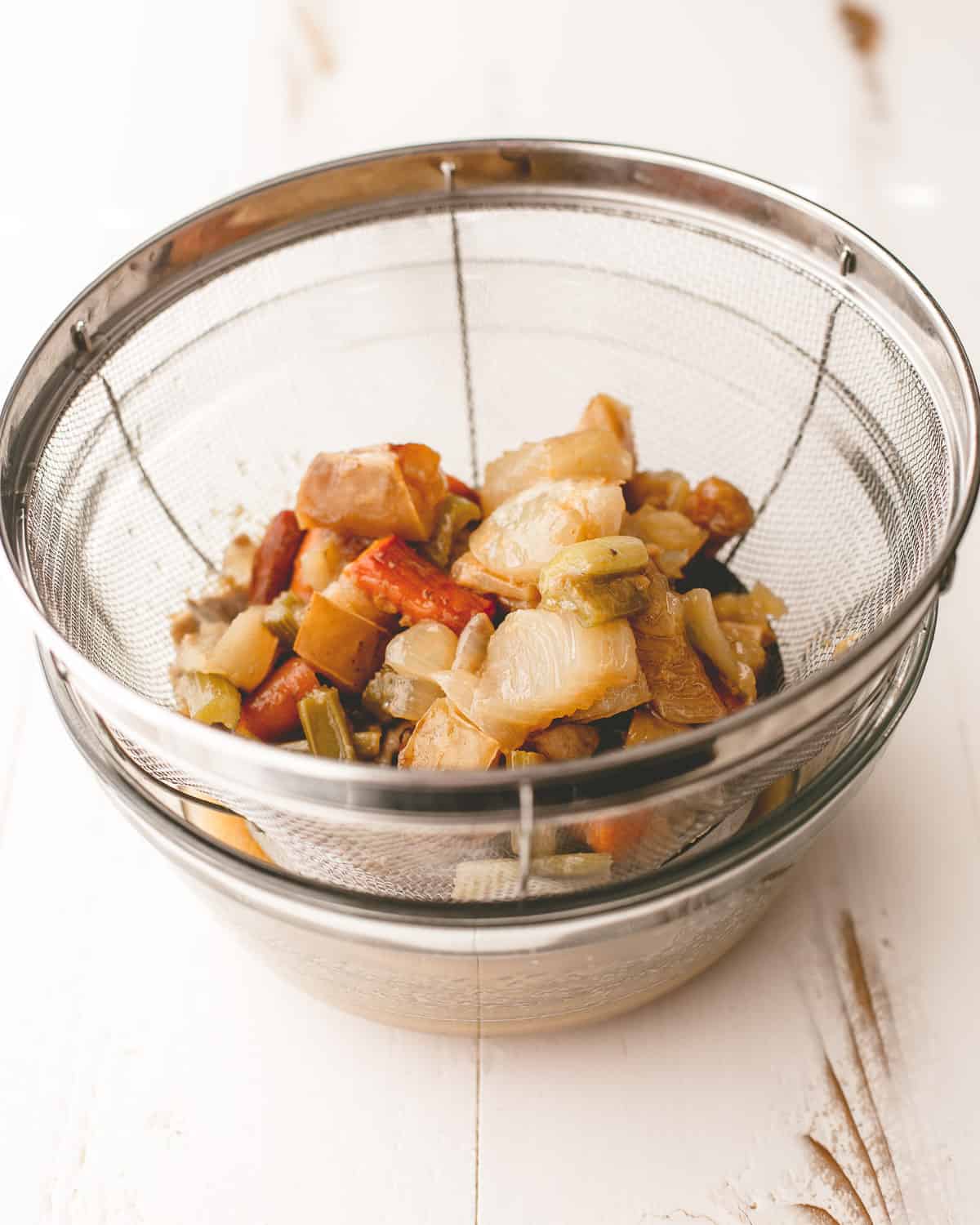 Turkey Bone Broth
If you're looking to get maximum flavor and nutrition benefits and turn your turkey bones into a more rich bone broth try first roasting the bones and then simmering for 24 to 48 hours. A slow cooker is great for this long simmer time. For more details on making bone broth check out this article from TheKitchn (though the article references chicken, the process is exactly the same).
If you just want a good quality turkey stock to use in soups, there's no need to take these extra steps or spend the extra time - a couple hours as outlined in the recipe below will still yield a delicious, nutritious stock.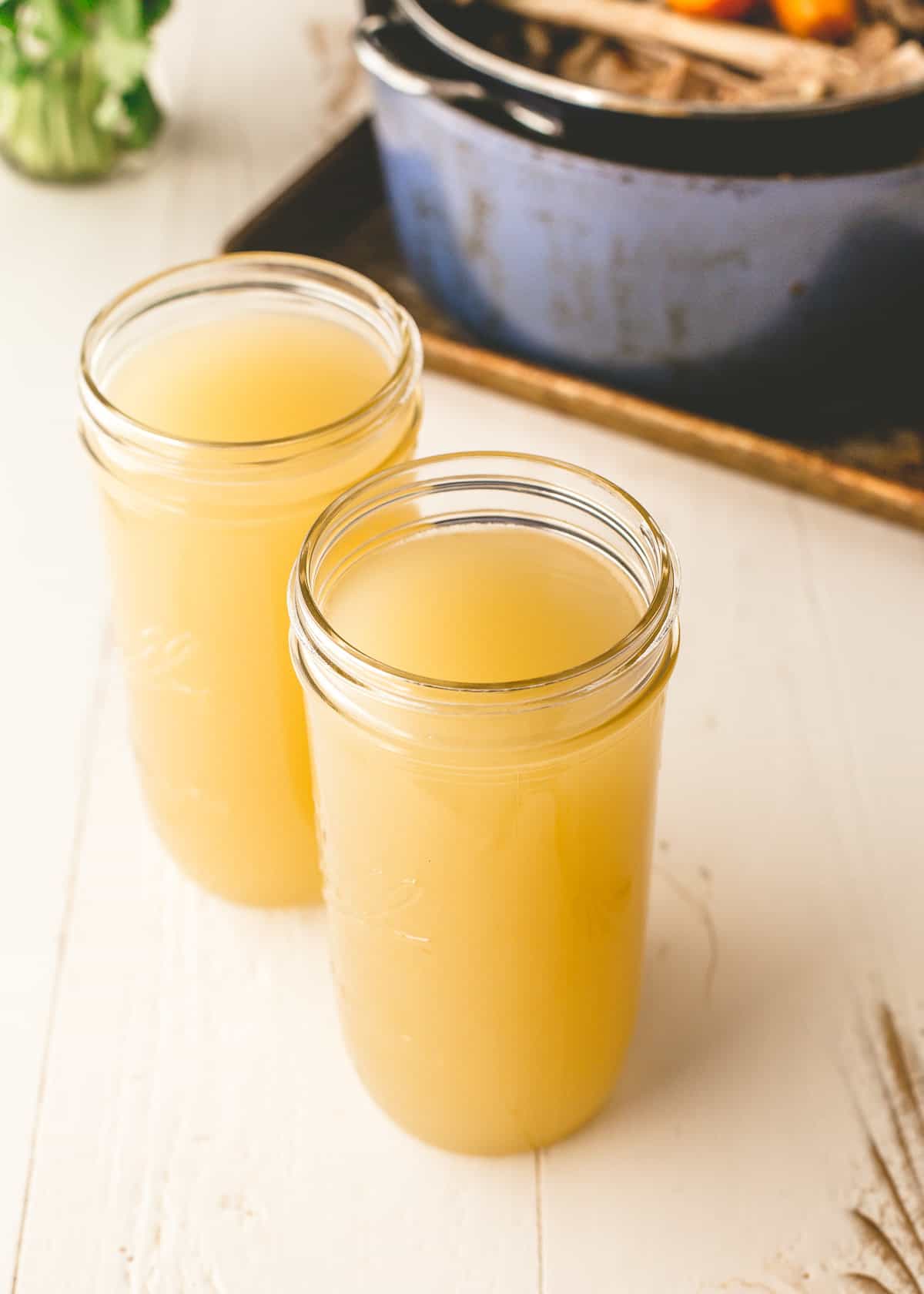 Making Turkey Stock Without Roasted Turkey
If you don't have a whole roasted turkey but still want to make turkey stock, there are two easy ways to do it. Check out my post on Make-Ahead Turkey Gravy for tips and photos on making a rich and flavorful turkey stock before the holidays or any time of year.
My Complete Thanksgiving Menu
Get more details and a complete Thanksgiving timeline here.
Favorite Tools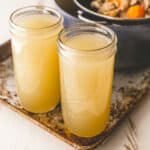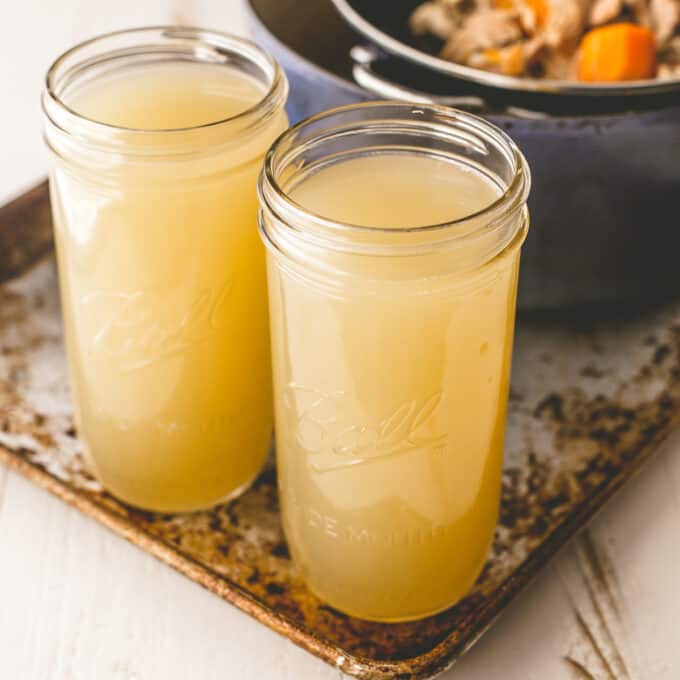 Print Recipe
How to Make Turkey Stock
Save those turkey bones / carcass after the holiday meal and make your own turkey stock. You'll love using the stock to make cozy soups all winter long.
This recipe can be made using whole chopped carrots, celery, or onions or save the vegetable scraps from preparing the rest of the holiday meal.
This makes between 10 and 14 cups of stock, depending on the size of the pot you use.
Ingredients
Carcass from 1 Roasted Turkey, broken into smaller pieces to fit in the pot

1

large

Onion, chopped into large pieces

3

stalks

Celery, chopped

2

Carrots, chopped

2

Bay Leaves

(optional; you can also use a few sprigs of fresh parsley or thyme)
Instructions
Combine turkey carcass, onion, celery, carrots, and bay leaves.

Pour water over ingredients to cover. Bring to a boil over high heat.

Once the stock is boiling, reduce heat to a low simmer. Simmer, uncovered, for 2 hours. (Be sure to keep the stock at a low simmer to prevent too much liquid from evaporating and add more water as needed to keep the ingredients covered.)

Taste stock and add some salt, if needed. (It's a good idea to keep the seasoning to a minimum at this stage. You can always add more salt when you use the stock in a recipe later.)

Pour stock through a fine mesh strainer (or any strainer, lined with cheesecloth).

Cool and store in the refrigerator for up to 1 week or the freezer for up to 6 months.
Notes
Vegetable scraps
- Instead of using chopped onion, celery, or carrots, you can just save the vegetable scraps of onions, celery, and carrots when you're making other dishes (like the stuffing). Don't worry too much about measurements for the vegetables - if you use scraps, just use all the scraps you have.
Salt
- Wait to season your turkey stock until the end of cooking. If your turkey was fairly salty, it may provide the stock with enough seasoning without adding extra salt.
Nutrition
Calories:
16
kcal
|
Carbohydrates:
4
g
|
Protein:
1
g
|
Fat:
1
g
|
Saturated Fat:
1
g
|
Sodium:
23
mg
|
Potassium:
115
mg
|
Fiber:
1
g
|
Sugar:
2
g
|
Vitamin A:
2615
IU
|
Vitamin C:
3
mg
|
Calcium:
15
mg
|
Iron:
1
mg
*This post contains affiliate links*