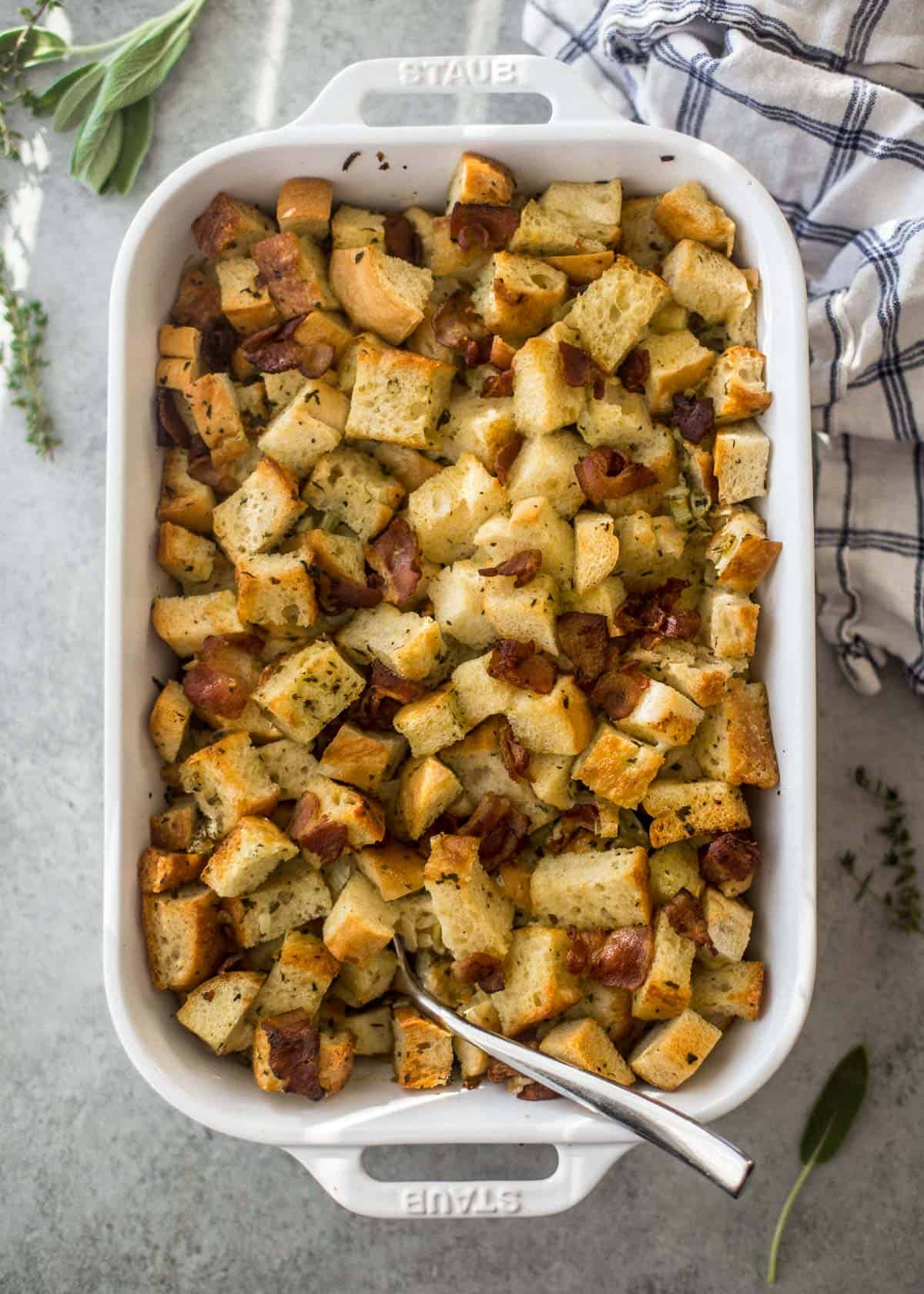 Focaccia and Bacon Stuffing is a unique twist on a classic. The olive oil in Italian focaccia bread makes a stuffing / dressing with rich flavor while crispy bacon adds richness.
I stumbled across the idea of putting focaccia in my stuffing (technically this is "dressing" since it's not going inside the turkey) in the way that I often come up with new recipe ideas - by digging through my freezer. Back when I was testing No-Knead Focaccia, I had more of this rich, savory Italian bread than we could possibly eat. I cubed the baked bread and tucked it into the freezer, assuming I'd use it to make croutons or some sort of breakfast casserole.
But I came across it one day when I was in a Thanksgiving mood and had a feeling that it might be a flavorful base for holiday stuffing. After testing this recipe several times, I realized that the flavor of the focaccia really shines when it's balanced with a more traditional French or sourdough bread. The focaccia is rich and slightly dense, giving the stuffing substance. The French or sourdough is light and more tender. The combination makes a unique stuffing that doesn't feel too far off tradition.
Here's how to do it!
Ingredients
Bread

- This recipe uses a 50/50 mix of focaccia and white bread (like French or sourdough). I'm seeing store-bought focaccia more frequently at grocery store bakeries, but you can also

make it yourself

. If the focaccia you purchase is topped with rosemary or olives or even tomatoes, those will all be good in your stuffing but keep in mind that they will change the flavor slightly. Feel free to mix it up and use any type of bread you'd like (wheat bread, cornbread, or rye are some breads I like in stuffing).

Bacon

- Use regular, not thick-sliced bacon. Low-sodium bacon won't give you as much flavor, but it will work just fine.

Unsalted Butter

- As with most of my recipes, I recommend unsalted butter. This gives you the ability to control the saltiness of the dish. (The bacon and stock both also contain salt, so using salted butter might cause the dish to be overly salty.)

Celery, Onion, and Garlic

- Classic aromatic / vegetable combo for stuffing. Chop these fairly small and they'll melt right into the finished dish.

Fresh Herbs

- I like the combination of fresh sage, thyme, and parsley, but any combination of fresh herbs you like will work.

Turkey or Chicken Stock

- As with the butter, starting with low-sodium stock will help you to control the level of salt in the dish. Homemade turkey stock is GREAT in any stuffing you serve at Thanksgiving or Christmas. Be sure to take into account the saltiness of your homemade broth. If it's light on seasoning, add a bit of extra salt to the stuffing and do the reverse if it's a well-salted stock.

Eggs

- Eggs help to bind the stuffing and give it that great soft-crunchy balance.

Kosher Salt - You'll need a little extra salt to bring out the flavors of the stuffing. I test all of my recipes with coarse Kosher salt. Use about half as much if using table salt.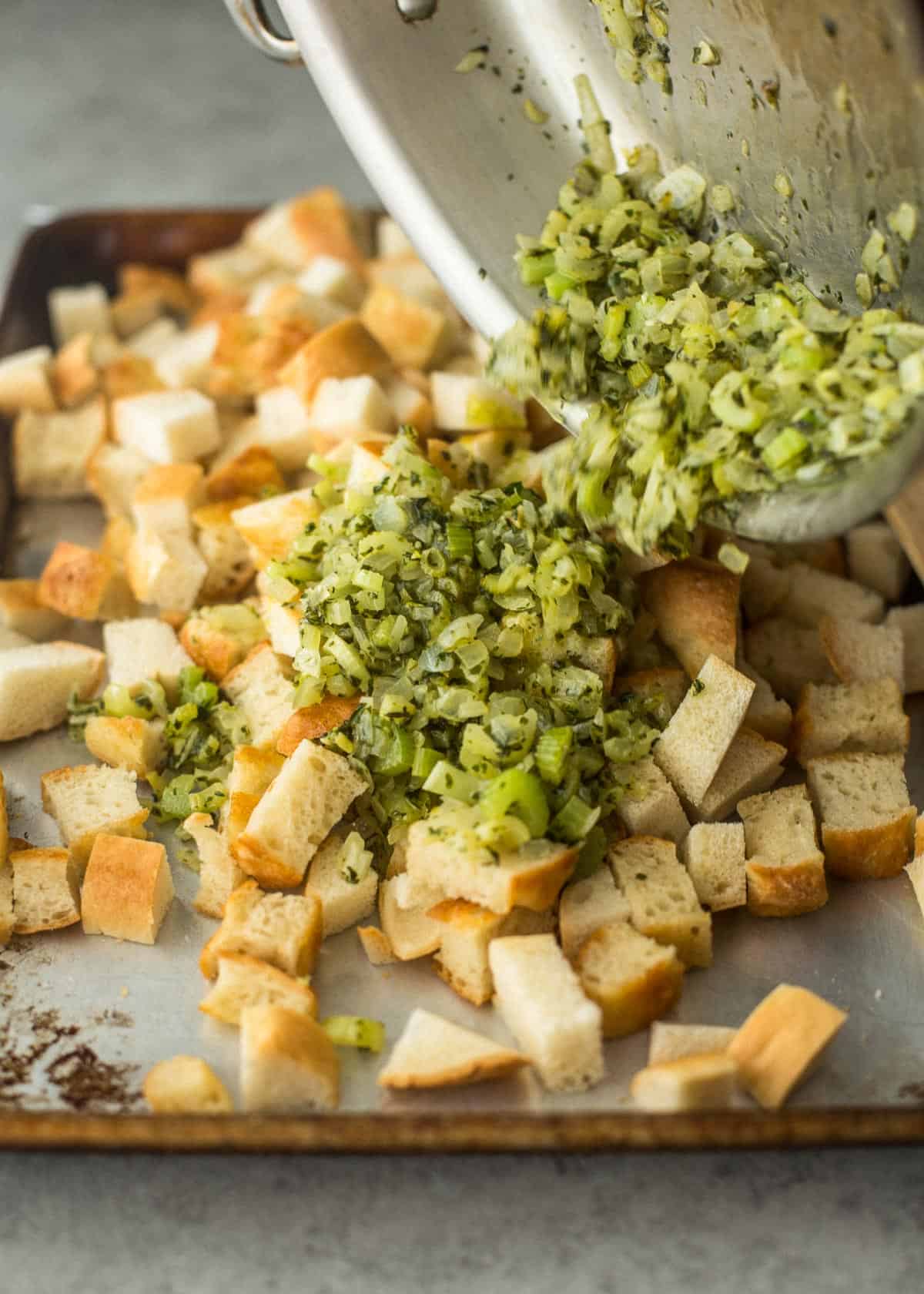 Stuffing vs. Dressing
Technically speaking, stuffing refers to anything that is cooked inside another food (often inside turkey or chicken). Dressing refers to a similar dish that is cooked separately, like in a casserole dish. However, in practice, people often use the terms interchangeably.
At our house, this dish is always called stuffing even if it's cooked in a casserole dish. Just personal preference!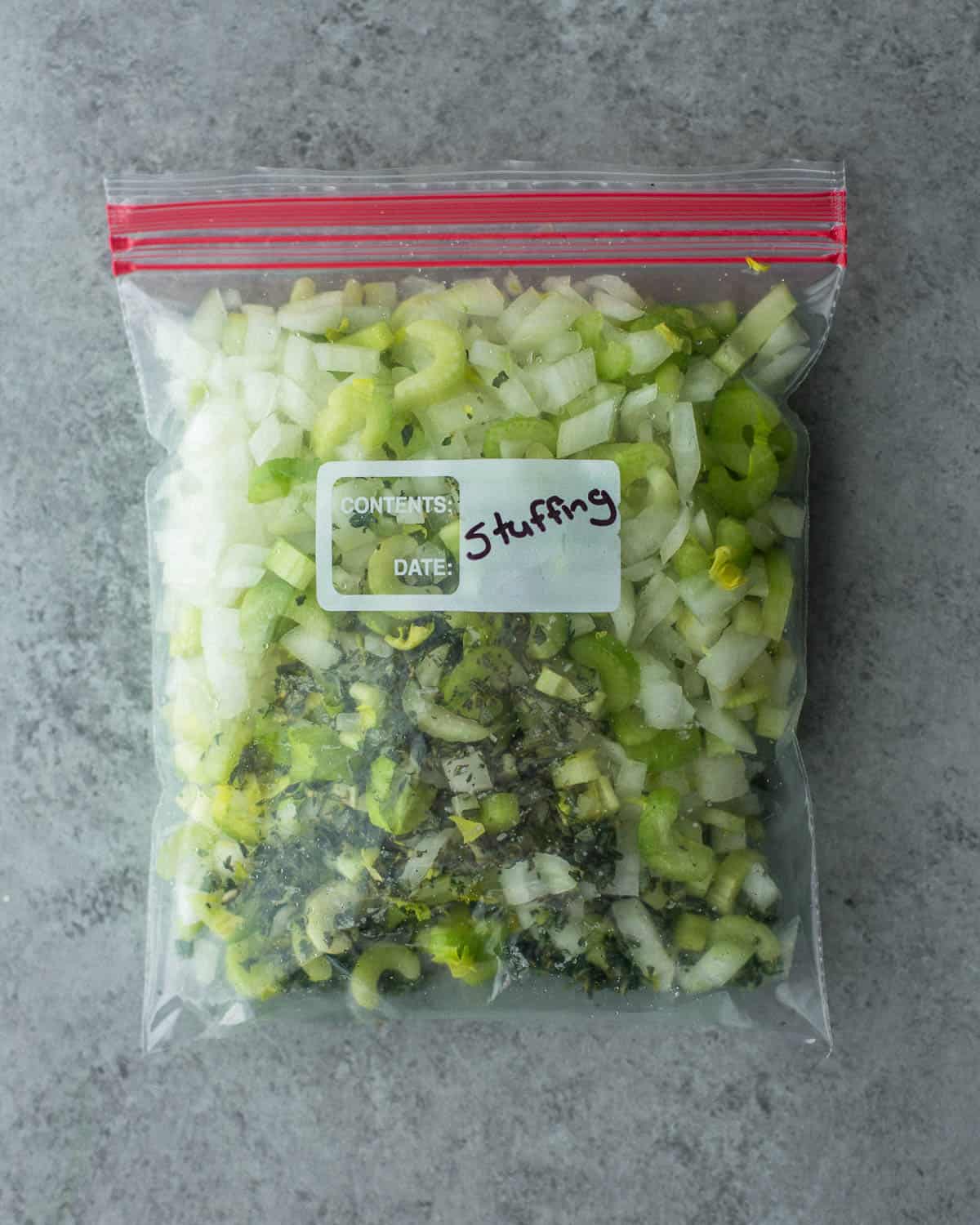 How to Make Stuffing / Dressing Ahead
Stuffing is one of the easiest dishes to prep ahead of the holiday meal. Cube bread and freeze it in one bag. Chop aromatics and fresh herbs and store them in another bag. These can be frozen for up to 3 months. You can also cook and prepare the stuffing up to 2 days ahead. Wait to pour the stock-egg mixture over top until 30 minutes before baking.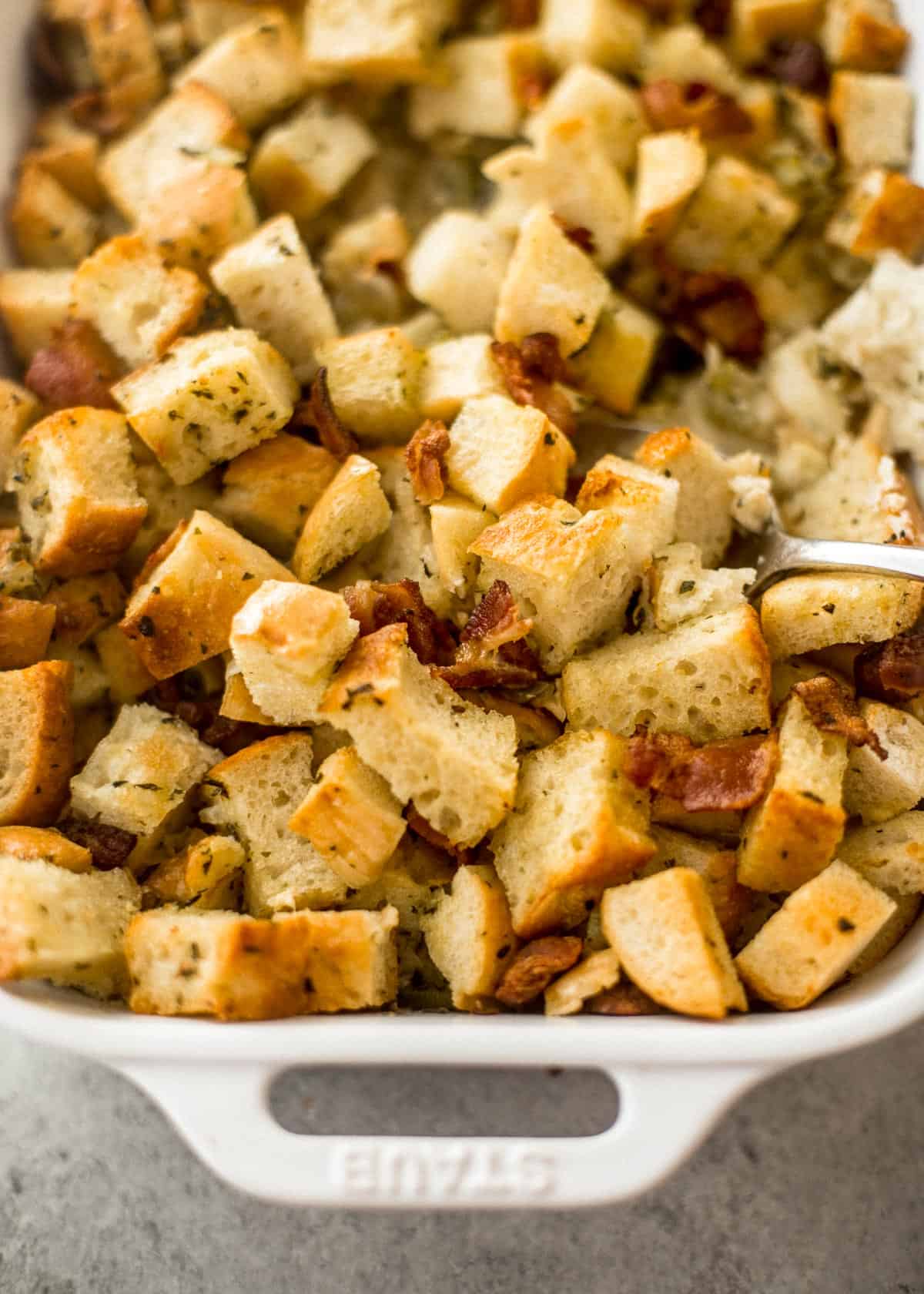 Possible Variations
Make it gluten-free

- Use gluten-free bread. As noted above, it's fine to use any type of bread in this stuffing, even gluten-free will work. (I'd recommend a 50/50 split of a white bread and a whole wheat or whole grain bread - you'll get more flavor this way.)

Make it vegetarian

- Just skip the bacon. No need to make any other changes, but increase the salt to 1 teaspoon Kosher salt to account for the saltiness that would otherwise come from bacon. If you want to add some savory flavor, try adding chopped button mushrooms to the celery and onion mix.

Add fruit - Some people like a touch of sweetness in their stuffing and a little dried fruit adds nice balance. Try dried cranberries (about ⅓ cup) mixed in with the bread before baking.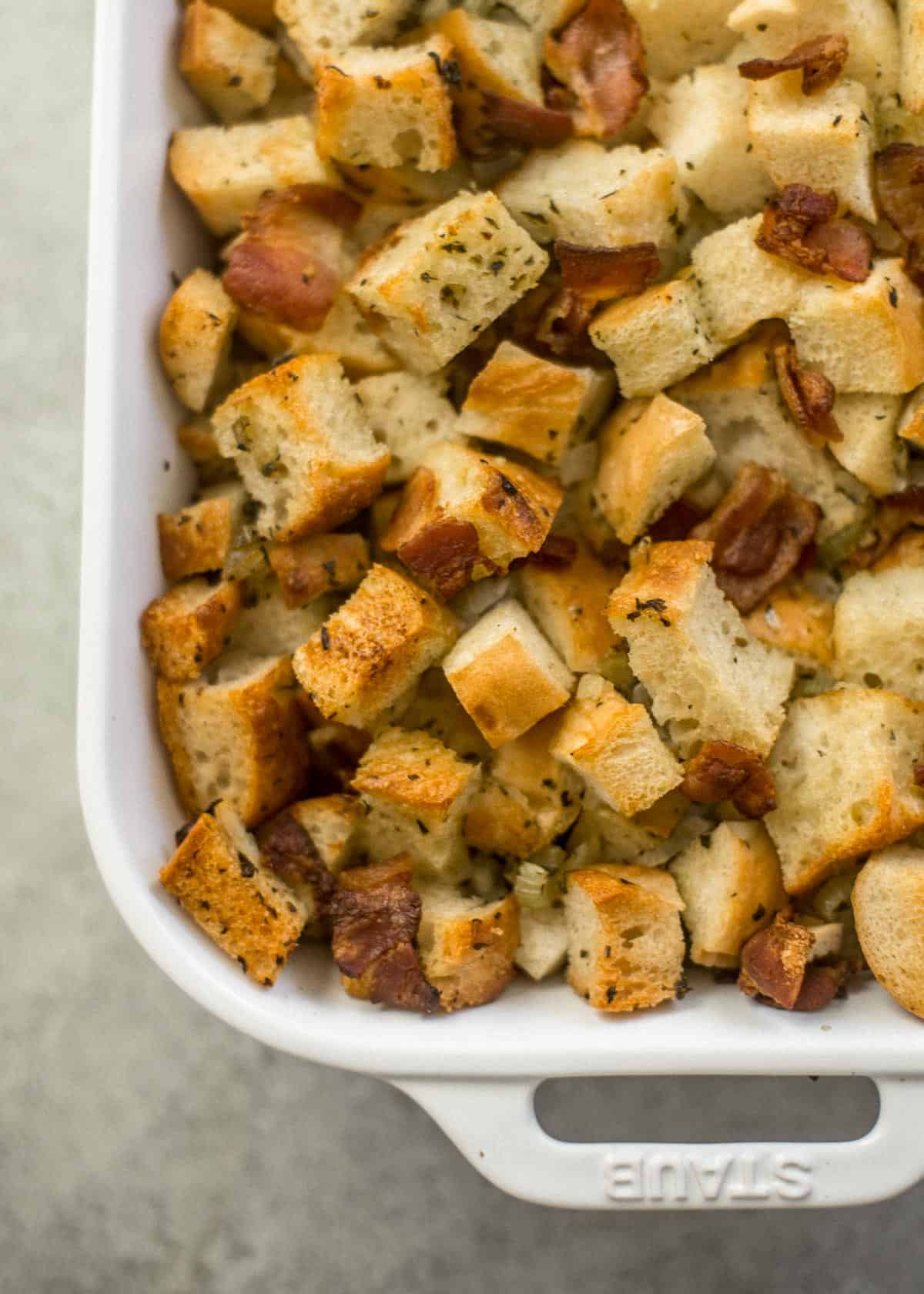 My Complete Thanksgiving Menu
Get more details and a complete Thanksgiving timeline here.
Favorite Tools
📖 Recipe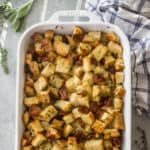 Print Recipe
Focaccia and Bacon Stuffing
The richness of the olive oil in focaccia makes a stuffing (or "dressing") that is layered with flavors. Bacon adds richness to this stuffing that is classic with a unique twist.
Equipment
Half Sheet Pan

Saute Pan or Skillet

3 Quart Casserole Dish
Ingredients
5

cups

cubed Focaccia

(see note)

5

cups

cubed French or Sourdough Bread

16

oz

Bacon, chopped

8

tablespoon

Unsalted Butter

1

cup

chopped Celery

1

cup

diced yellow Onion

2

cloves

Garlic, minced

3

tablespoon

chopped Fresh Sage

3

tablespoon

Fresh Thyme Leaves

¼

cup

chopped Fresh Flat-Leaf Parsley

2

Eggs

3

cups

Low-Sodium Turkey or Chicken Stock

½

teaspoon

Kosher Salt
Instructions
Dry or toast bread: Dry out the bread cubes by either leaving them out on a sheet pan overnight or baking them in a 350°F / 177°C oven, shaking the pan halfway through cooking, until golden and toasted, about 15 minutes.

Spray a 9x13 baking dish (or any 3 quart casserole dish) with nonstick cooking spray.

Meanwhile, heat a large skillet over medium heat. Add bacon and saute until browned and nearly crisp, 6 to 8 minutes. Transfer bacon to a paper-towel lined plate and return skillet to heat. Drain off all but a thin layer of baking grease from the pan.

Add butter to heated pan and gently stir it around until melted. Add celery, onion, garlic, sage, thyme, and parsley with a generous pinch of salt. Cook, stirring frequently and scraping up any browned bits on the bottom of the pan, until celery and onion are very soft, 10 to 12 minutes.

Pour butter and aromatics out over bread cubes (you can do this right on the sheet pan or transfer everything to a large bowl. Toss together until everything is evenly combined. Stir in half the bacon (reserve the rest as topping).

Transfer stuffing to baking dish.

Whisk eggs until even. Whisk in chicken stock and salt. Pour over stuffing.

Top stuffing with remaining bacon.

Cover stuffing tightly with foil. Refrigerate for 30 minutes. (This will allow the bread to soak up the liquids for a moist center and crisp top.)

Preheat oven to 350°F / 177°C.

Bake stuffing, covered, for 45 minutes.

Remove foil and continue baking until stuffing is golden brown on top, about 20 to 30 minutes more (depending on how crisp you like the topping).
Notes
Bread -
The bread cubes can be dried out overnight or toasted in the oven up to 2 days ahead.
Butter
- It's important to use unsalted butter and low-sodium broth in this recipe. Bacon can be quite salty, so using low-salt versions of the other ingredients will help to balance things out.
Focaccia
- This is an olive-oil rich Italian bread with a golden color and a light crumb. Store-bought or homemade focaccia will work well here. If you can't find focaccia, use any good-quality loaf of bread.
Make Ahead
- Assemble the stuffing up to 2 days ahead, but wait to pour the stock-egg mixture over top until 30 minutes before baking.
Nutrition
Calories:
228
kcal
|
Carbohydrates:
15
g
|
Protein:
7
g
|
Fat:
16
g
|
Saturated Fat:
8
g
|
Cholesterol:
60
mg
|
Sodium:
360
mg
|
Potassium:
119
mg
|
Fiber:
1
g
|
Sugar:
1
g
|
Vitamin A:
321
IU
|
Vitamin C:
1
mg
|
Calcium:
24
mg
|
Iron:
1
mg
*This post contains affiliate links*