Make-Ahead Mashed Potatoes
Published Nov 09, 2020•Updated Mar 29, 2023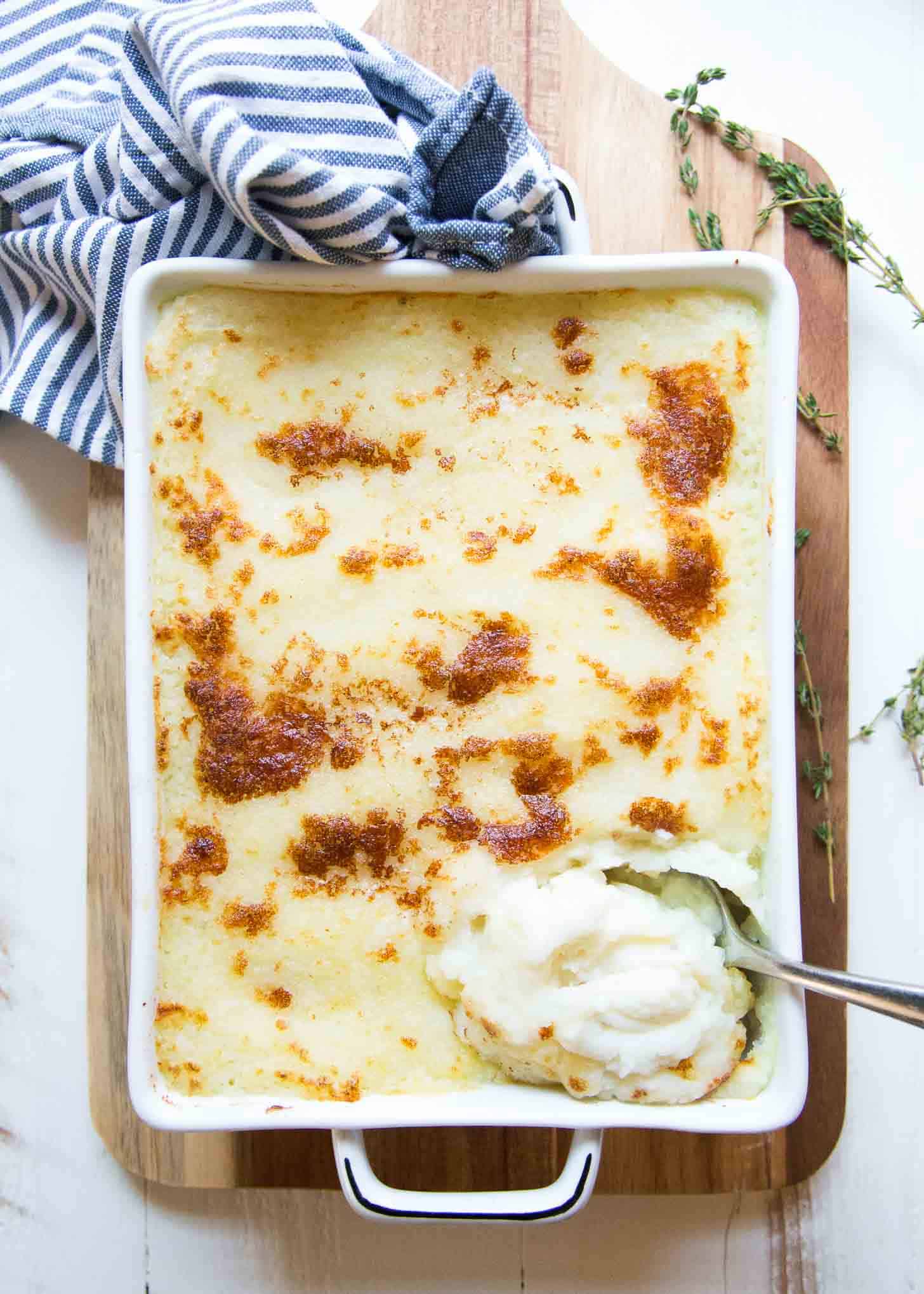 Make-ahead mashed potatoes are super smooth and creamy with a golden crisp parmesan crust on top. The dish can prepped up to three days ahead to save time (and dishes!) on the day of serving.
There are so many great things about hosting a meal for a crowd. Running around trying to pull everything together at the last minute is not one of them. Throughout the year, but especially at the holidays, make ahead dishes are key. And perfectly light, creamy mashed potatoes are one of the best make-ahead secrets. If you want a little bit of a different potato dish on your holiday table that can also be made ahead, check out my creamy potato and cheese casserole (also known as Gratin Dauphinois).
Why make your mashed potatoes in advance you might ask? Because they use. so. many. dishes. Pot to boil, bowl to mash, serving dish to…well….serve.
If you make your mashed potatoes ahead, the dishes are done before the meal. And just look at these creamy potatoes with a golden crisp top.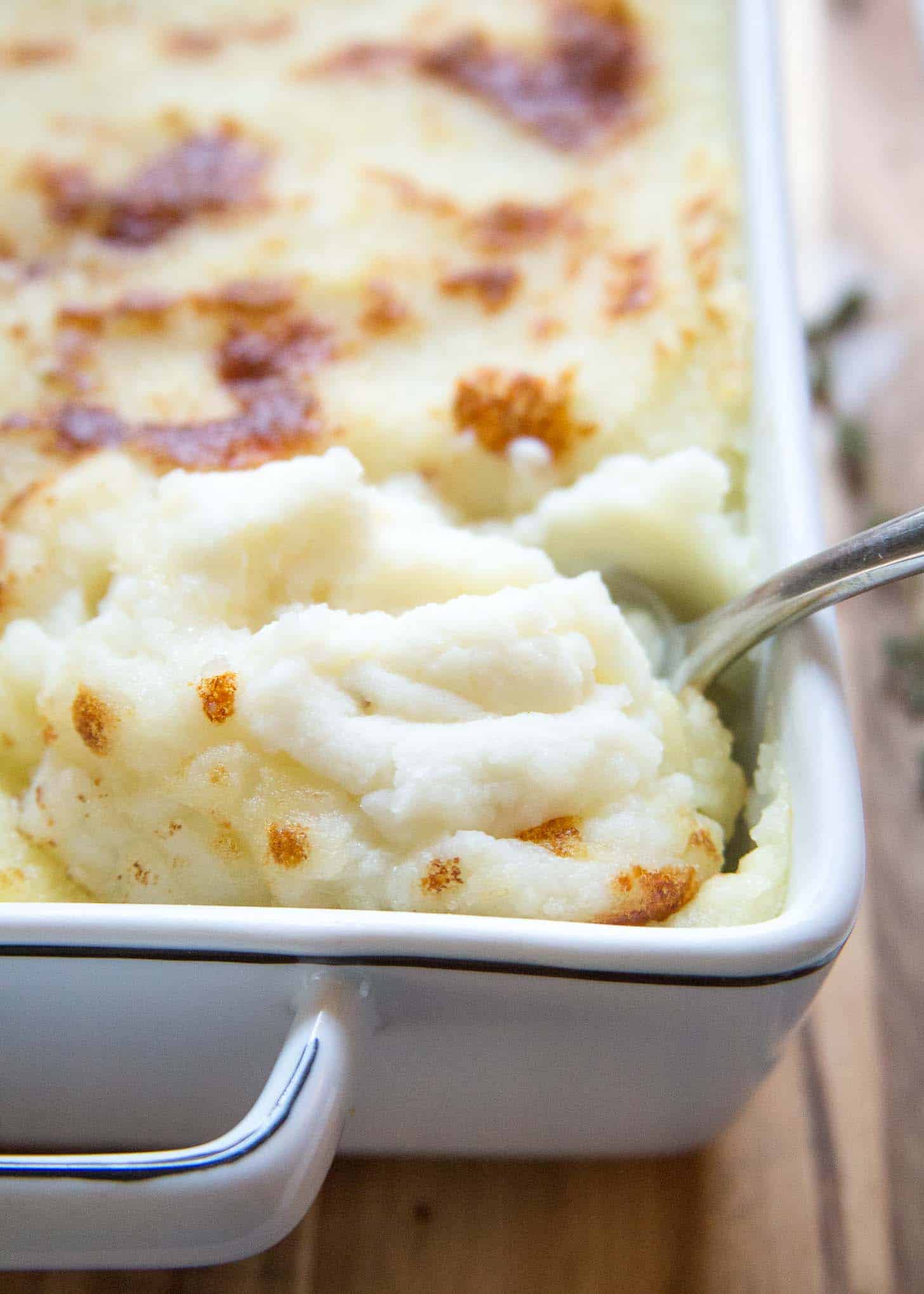 These make-ahead mashed potatoes are even more creamy than most mashed potatoes. They also use slightly less butter than some versions because the butter hardens in the fridge and makes the potatoes more stiff. Instead, half and half is added at two different points to make sure these stay super creamy even after a few days in a cold, dry fridge.
Here's how this is done:
Peel, Dice, Boil
These start like most any other mashed potato recipe. Peel and dice the potatoes into even chunks. Simmer them in salted water until tender.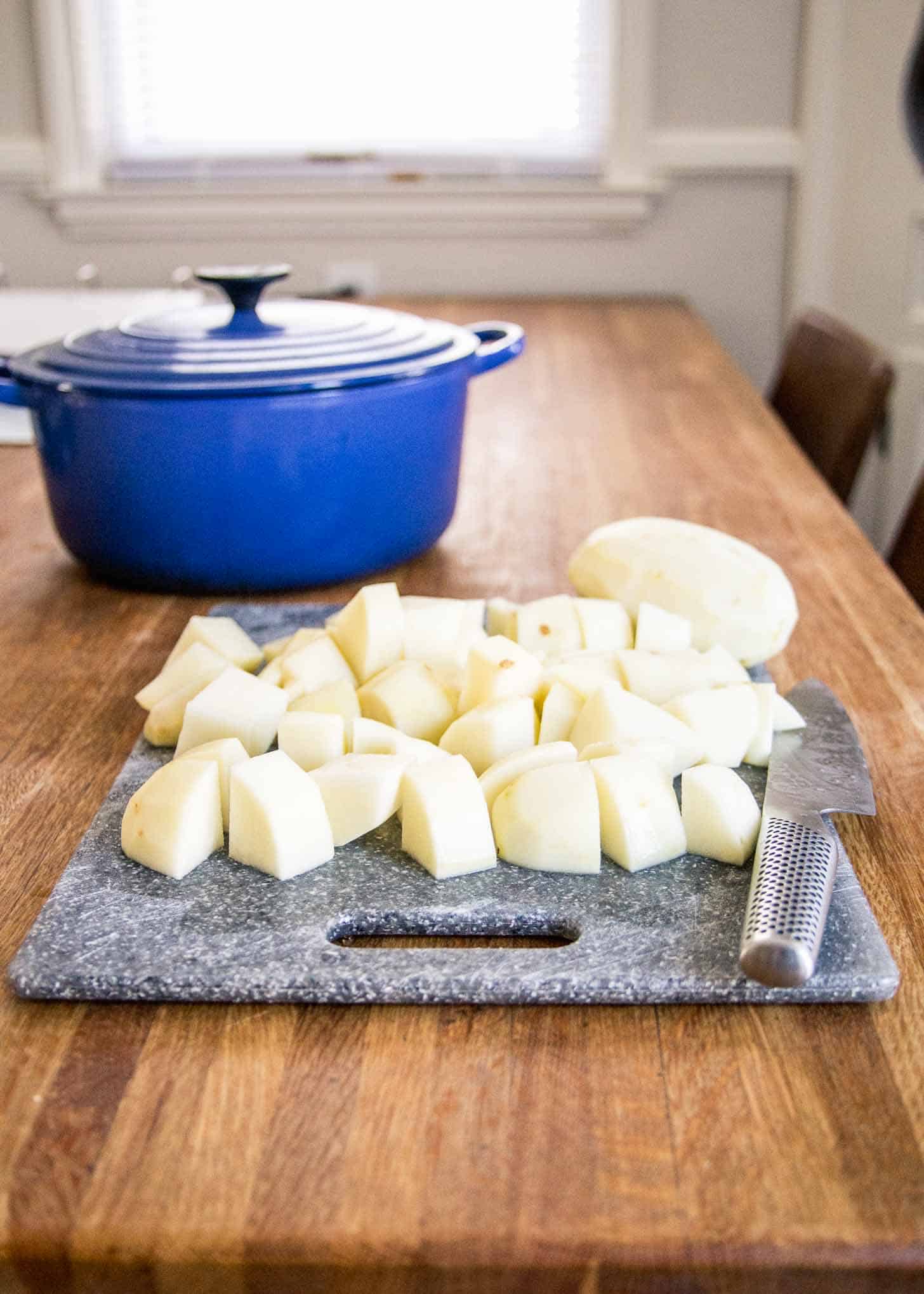 Steam and "Rice"
When the potatoes are tender, drain them through a colander and then cover the colander with a lid. This step steams the potatoes, drawing out water. It will prevent the potatoes from being watery when mashed. You'll add the moisture back in with butter and half and half!
The other key to these super creamy potatoes is a potato ricer. Frank and I have been making our mashed potatoes this way for years, and swear by it. We only use our ricer a couple times a year, but it's worth keeping it around just for the potatoes. (You can also use a potato masher if you prefer, though I don't find the result to be quite as light and fluffy.)
Stir in Melted Butter / Half and Half
To those riced potatoes, add butter and half and half. The most important thing here is to melt the butter and warm the half and half before combining them with potatoes. Warm liquids will more easily blend with the potatoes. Seasoned with some salt, these potatoes could be eaten just like this. And I'm not going to lie….I usually eat a spoonful or two.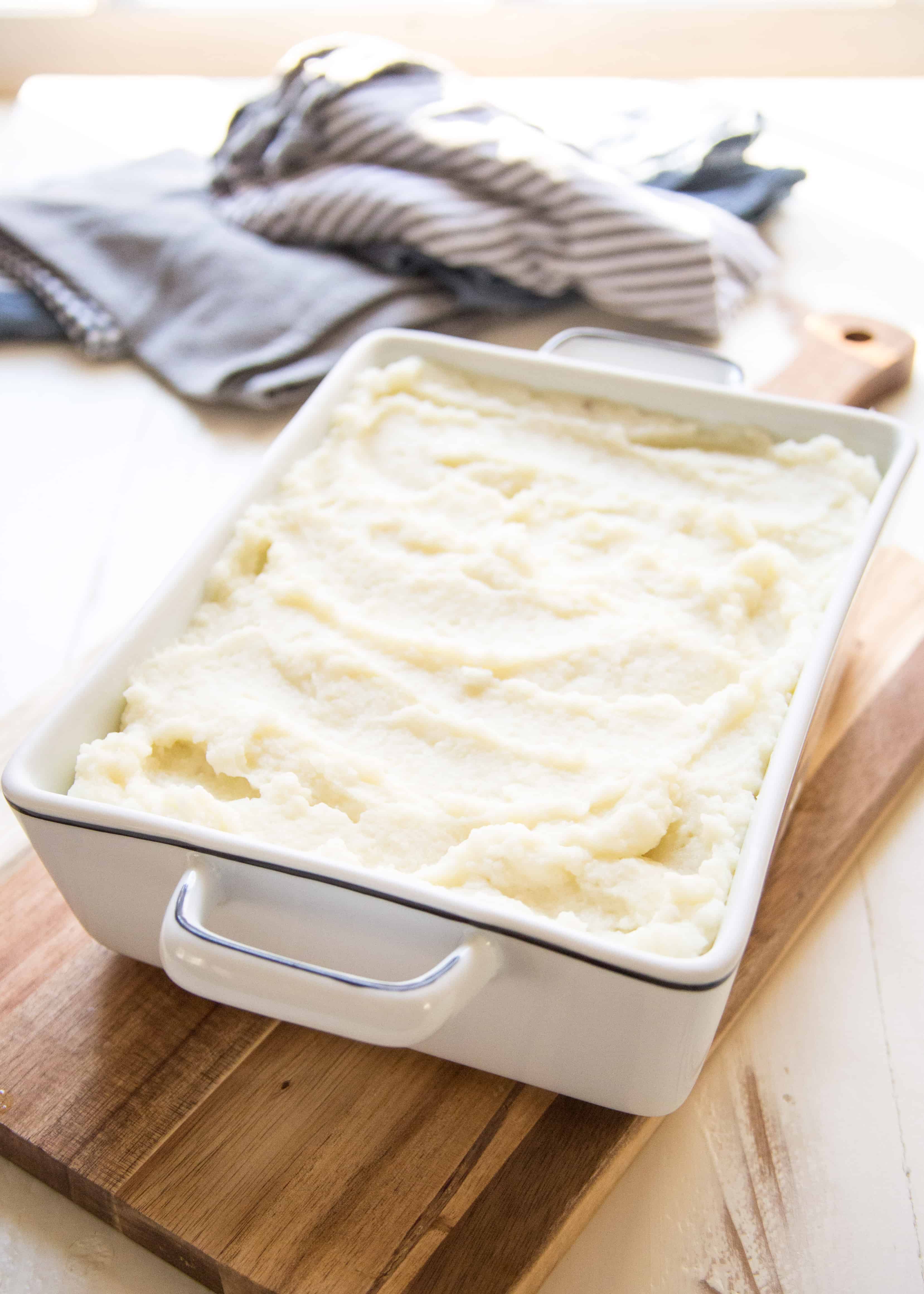 But we're making these ahead right? So cover them tightly and refrigerate.
Warm Up and Top with Crust
On the day of serving, warm the potatoes back up and stir in more warm half and half until the potatoes are again smooth and very creamy. The amount of liquid they need will vary a bit, but the half and half will make up for any moisture lost in the cold, dry refrigerator.
Then comes what I believe might be the best part. Melt some butter and add some parmesan. Spread it over top.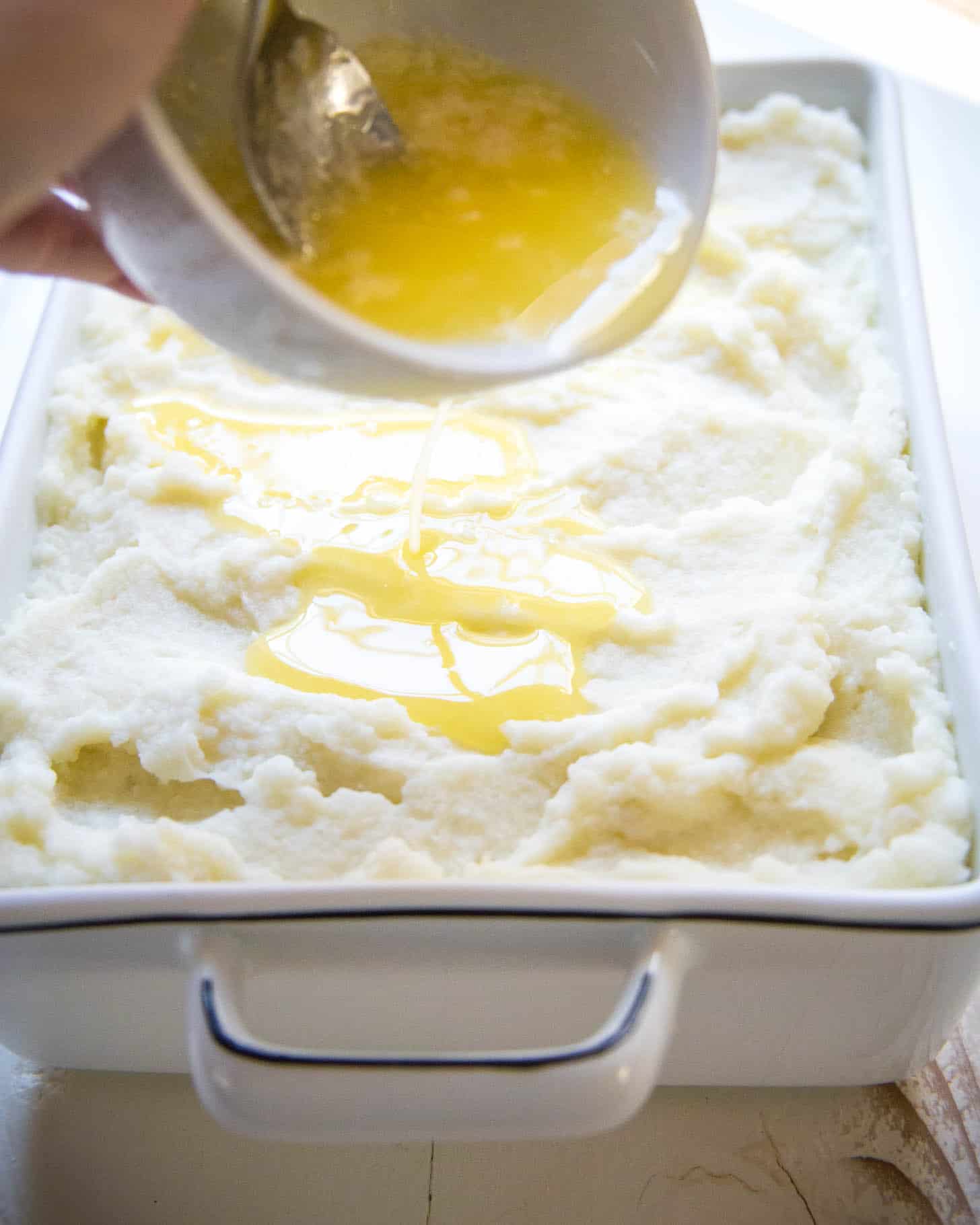 Then bake the potatoes uncovered until warmed through and run them under the broiler to get the top extra crisp.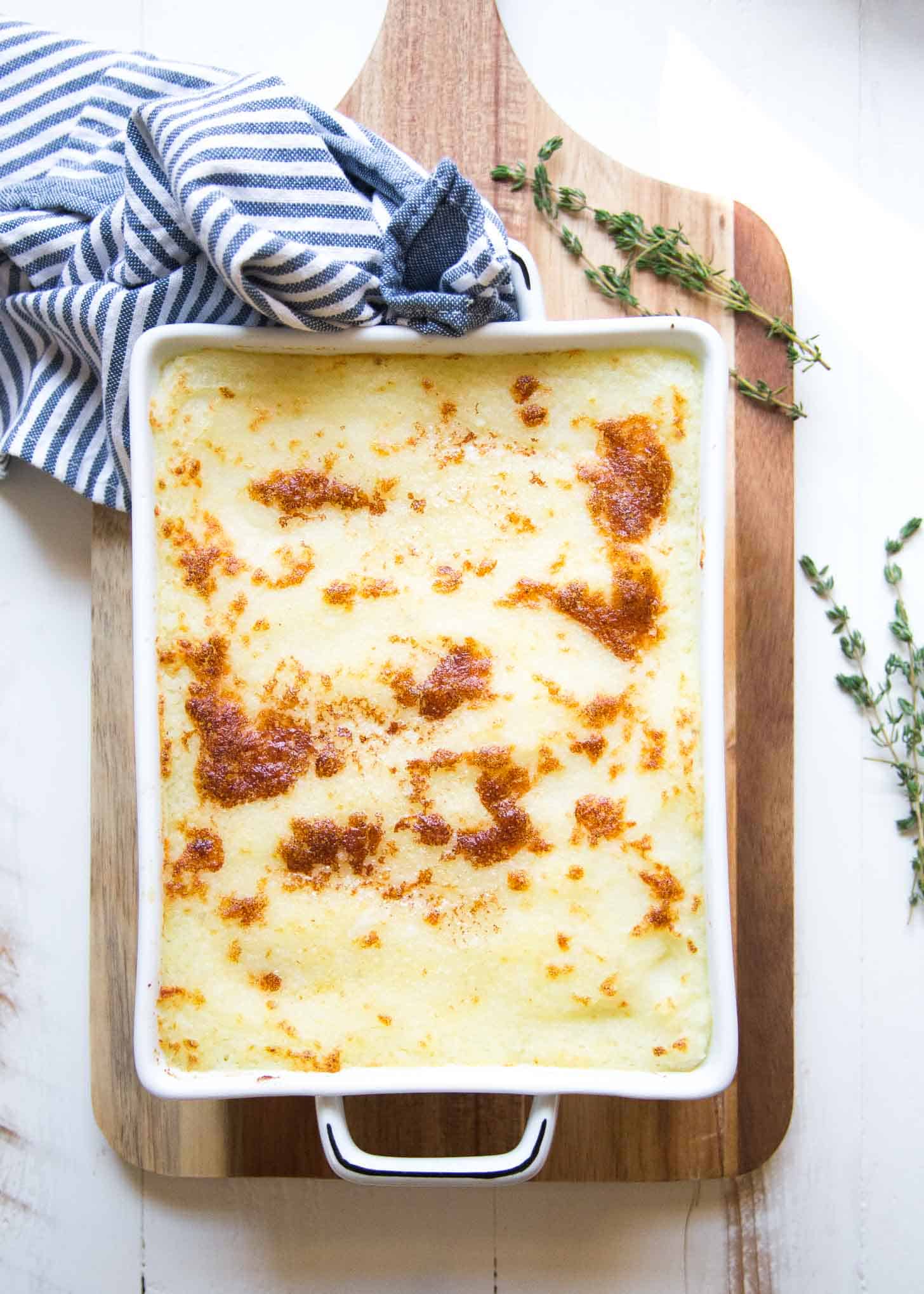 The result is golden and crisp on top. Super creamy inside.
Possible Variations
Make it dairy-free – Use your favorite alternative milk in place of the half and half. You can use a dairy-free butter alternative or skip the butter altogether (plan to add a bit more alternative milk to make up for the butter). Just skip the butter-cheese topping altogether.
My Complete Thanksgiving Menu
Get more details and a complete Thanksgiving timeline here.
Favorite Tools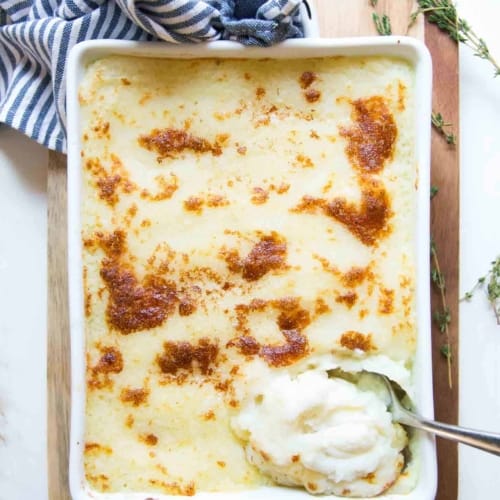 Make-Ahead Mashed Potatoes
Make these creamy potatoes up to three days ahead. Top them with a butter and parmesan crust just before serving for a golden-crisp top and creamy center.
Equipment
3 Quart Casserole Dish

Potato Masher / Potato Ricer

Stockpot

Colander
Ingredients
4

lbs

Russet Potatoes (see note)

4

Tbsp

Unsalted Butter

1

tsp

Kosher Salt, plus more to taste

3

cups

Half and Half, divided
For Topping:
4

Tbsp

Unsalted Butter

1/4

cup

Parmesan Cheese, finely grated
Instructions
Up to three days before serving: Fill a large pot about 3/4 full with water. Stir in about 1 Tbsp of salt (not on ingredients list). Peel the potatoes and slice into even pieces. Add to pot of water. Cover and bring to a boil over medium-high heat. Remove cover and reduce heat to a low simmer. Simmer until potatoes are easily pierced with a fork, 15 to 25 minutes (depending on size of potatoes).

Drain potatoes. Cover the colander with a distowel or lid. Let the potatoes sit in the colander, covered, for 10 minutes (the potatoes will lightly steam; this will draw out the moisture and prevent watery mashed potatoes).

While potatoes are steaming, combine 4 Tbsp butter, salt, and 2 cups half and half. Heat in the microwave or on the stovetop until butter is melted.

Mash the potatoes with a masher or by running them through a ricer. (I prefer the ricer for the most light and fluffy potatoes.)

Slowly add the half and half mixture to the potatoes until very smooth and creamy. (You may not need all of the liquid, but if the potatoes are naturally very starchy they will need all of it.) Taste and season with more salt, as needed.

Transfer potatoes to a microwave and broiler-safe casserole dish (make sure there is enough room to stir the potatoes with some extra half and half before cooking).

Cover tightly and refrigerate for up to 3 days.

The day of serving: Heat oven to 350°F / 177°C.

Reheat the potatoes in the microwave just until warm, stirring every 30 seconds. Heat 1 cup of half and half in the microwave until warm to the touch.

Gradually stir the warm half and half into the warm potatoes until creamy. (The amount you need to add will depend on how much the potatoes dried out in the fridge.)

Make the topping: Melt 4 Tbsp of butter. Stir in the parmesan cheese. Pour over the top of the potatoes, using a spoon to spread it out evenly.

Bake potatoes, uncovered, until hot, ~30 minutes. For an extra golden crust on top, broil for 2 to 3 minutes at the end of cooking.
Notes
Potatoes -
This recipe works best with Russet potatoes. They have a high starch content and make light fluffy mashed potatoes that blend well with liquids after refrigeration. You can also use Yukon Gold potatoes in this recipe, but may not need as much half and half to get a smooth, creamy result. If using Yukon gold potatoes, start with half the amount of half and half and add more as needed.
Half and Half - For a lighter (but slightly less creamy) version, you can use any type of milk in place of the half and half. Non-dairy milks also work.
Nutrition
Serving:
1
cup
|
Calories:
274
kcal
|
Carbohydrates:
30
g
|
Protein:
6
g
|
Fat:
15
g
|
Saturated Fat:
10
g
|
Cholesterol:
44
mg
|
Sodium:
261
mg
|
Potassium:
709
mg
|
Fiber:
2
g
|
Sugar:
1
g
|
Vitamin A:
467
IU
|
Vitamin C:
9
mg
|
Calcium:
110
mg
|
Iron:
1
mg
Nutrition information is automatically calculated, so should only be used as an approximation.
*This post contains affiliate links*
SaveSave
SaveSave