Make the best crispy home fries that are tender on the inside and golden on the outside. All you need is a few ingredients, a skillet, and a bit of (mostly hands-off) time at the stove.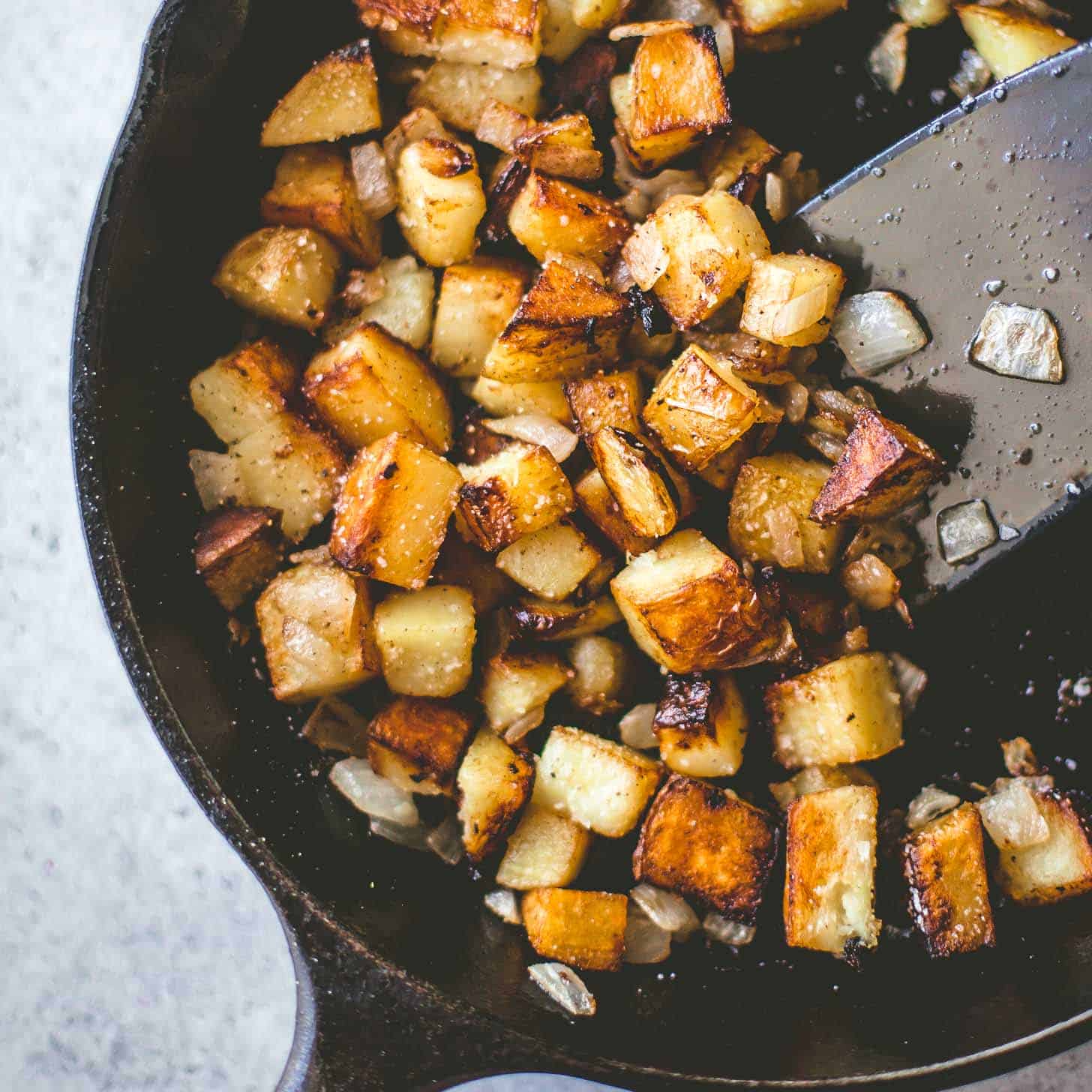 I never was one to frequently make home fries or hash browns until this method came into my life. There's no pre-boiling the potatoes or oven needed, which means these potatoes really are something you could actually make in the morning.
Just cube the potatoes, chop some onions, and cook it all up in a skillet. While the potatoes cook, you can fry an egg or two to put on top. It's a diner-style breakfast in the coziness of your own kitchen.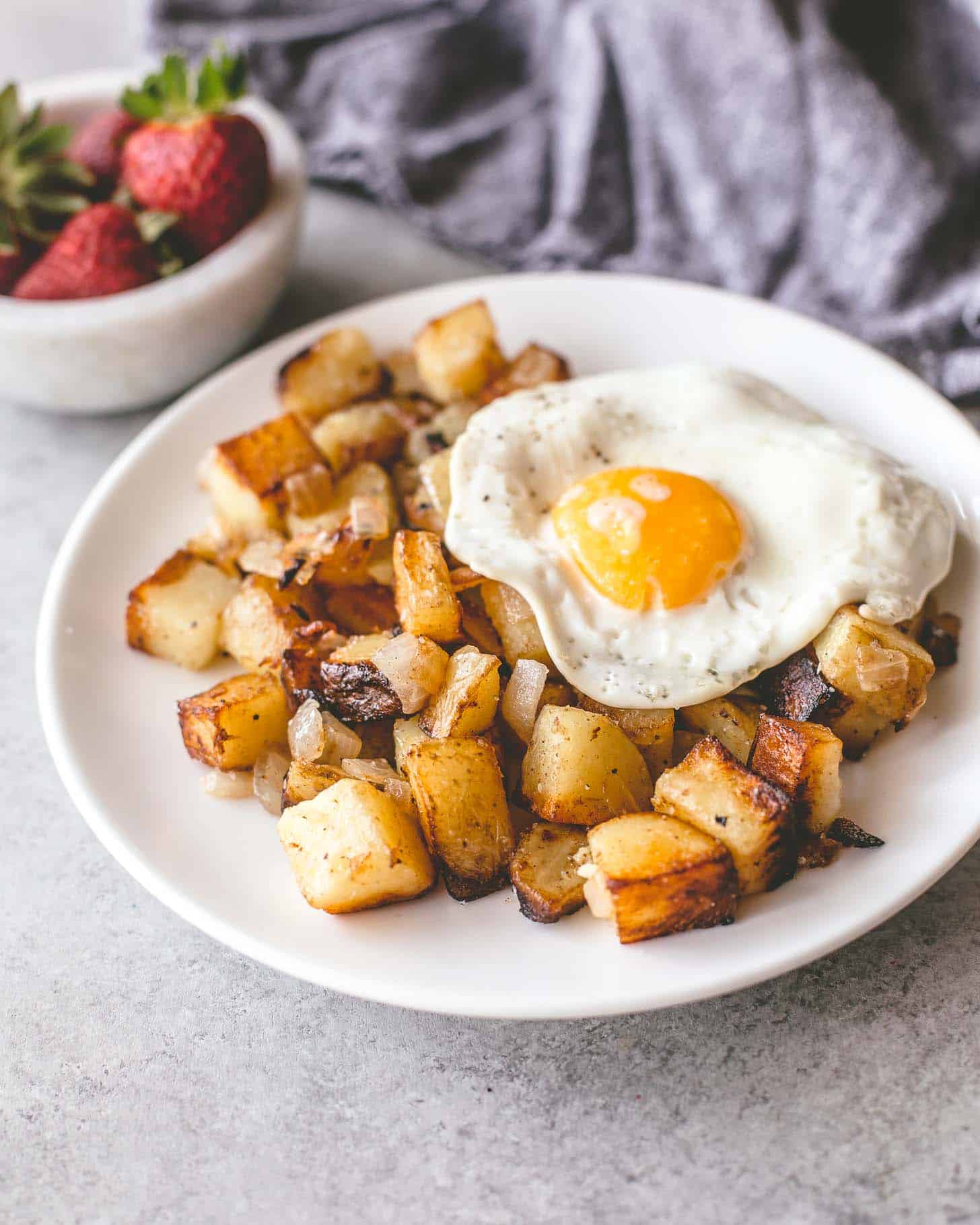 How to Make Crispy Home Fries
The key to making crispy skillet home fries that are tender on the inside and crisp on the outside is to steam them while they sear. To do this, you leave the potatoes in the skillet for a full 10 minutes, without stirring, and cover the pan with a tight-fitting lid. The lid ensures that heat and moisture are trapped inside while the potatoes cook. Then flip the potatoes and repeat the process on the other side. A few final minutes of cooking the potatoes with the lid off lets you keep an eye on them so that they get that perfect browning on all sides and don't overcook.
This method is similar to the method I use to steam-roast potatoes in these Parmesan Roasted Potatoes.
To Peel or Not To Peel?
Either way works well. With this method, the potatoes will come out crisp and golden whether they have peels or not, so choose your preference.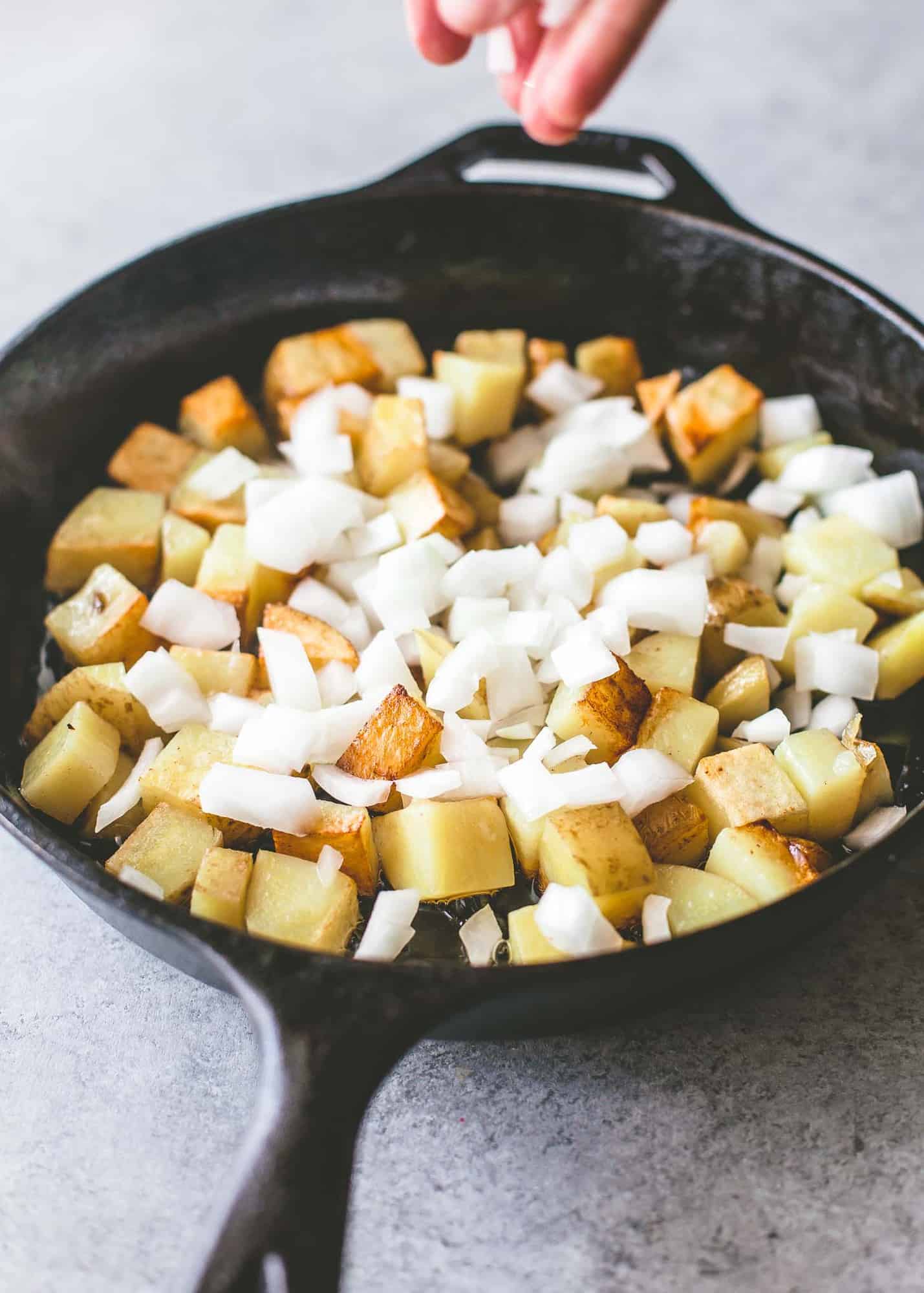 Here's all you need to make it happen!
Ingredients
Extra Virgin Olive Oil

- This gives the potatoes a savory flavor and helps them to crisp up in the pan. If you don't have olive oil, any other oil you use for cooking will work.

Unsalted Butter

- Butter is essential for flavor and crispness. If using salted butter, reduce the added salt to about ¼ teaspoon and then taste the potatoes at the end and add more salt, if needed.

Yukon Gold Potatoes

- I have a slight preference for Yukon Gold potatoes here, but Russet potatoes will work (see below for the difference). You can also use baby or new potatoes that have been cubed or sliced into small wedges.

White Onion

- A small amount of onion will cook down with the potatoes and gives them that authentic diner home fry feel. You can skip this or use diced yellow onion. Just be sure not to dice them too small or they will burn. You need some good-sized onion pieces like those shown below.

Kosher Salt and Garlic Powder

- For seasoning. Be sure you use garlic powder

not

garlic salt.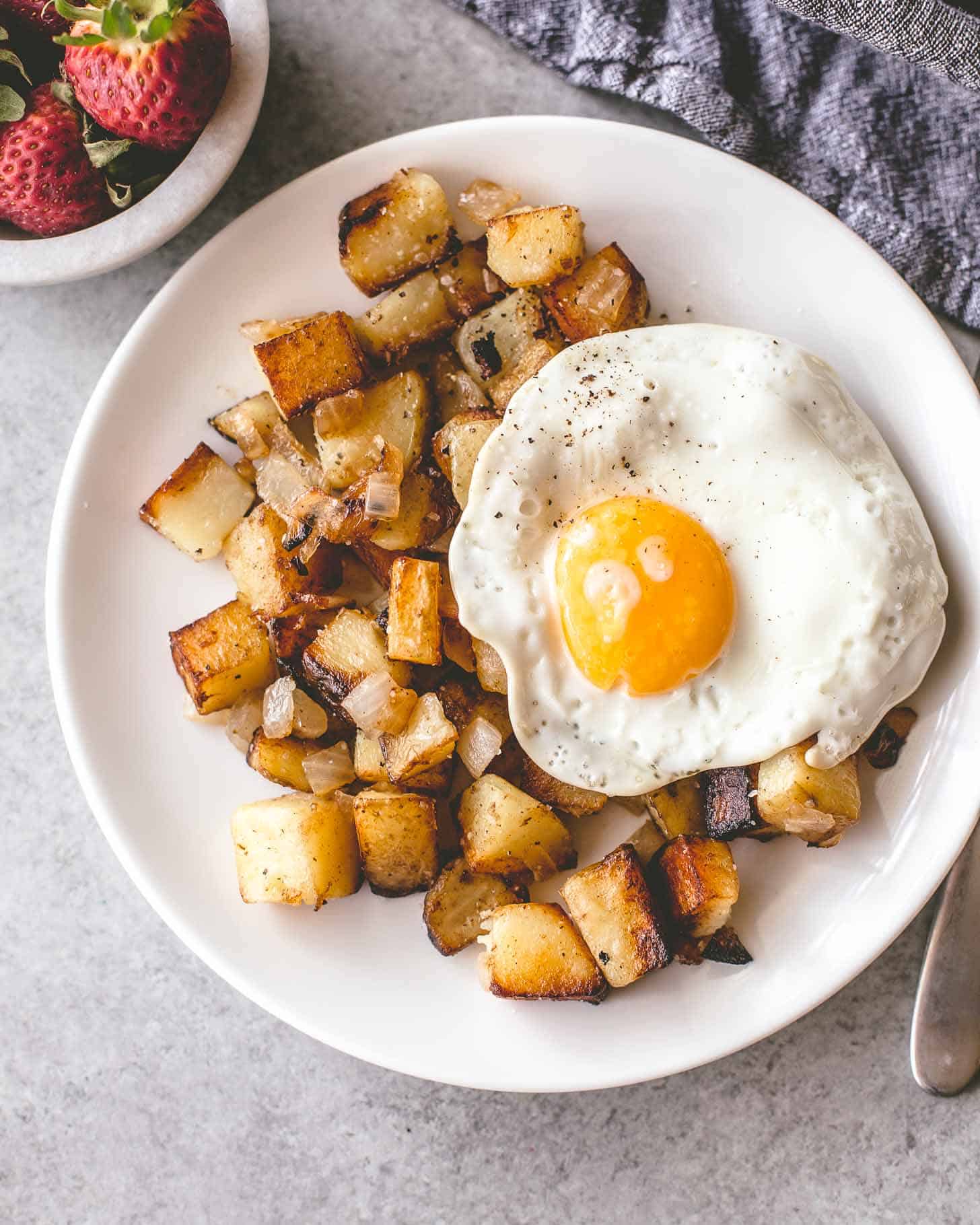 Yukon Gold vs. Russet Potatoes for Home Fries
When making home fries in a skillet, Yukon gold potatoes will hold their shape better while Russet potatoes will break down a bit more. Both varieties will work well for making home fries.
See below for the difference in Yukon gold vs. Russet potatoes when cooked in the same size skillet for the same amount of time. (Yukon on top; Russet on bottom.)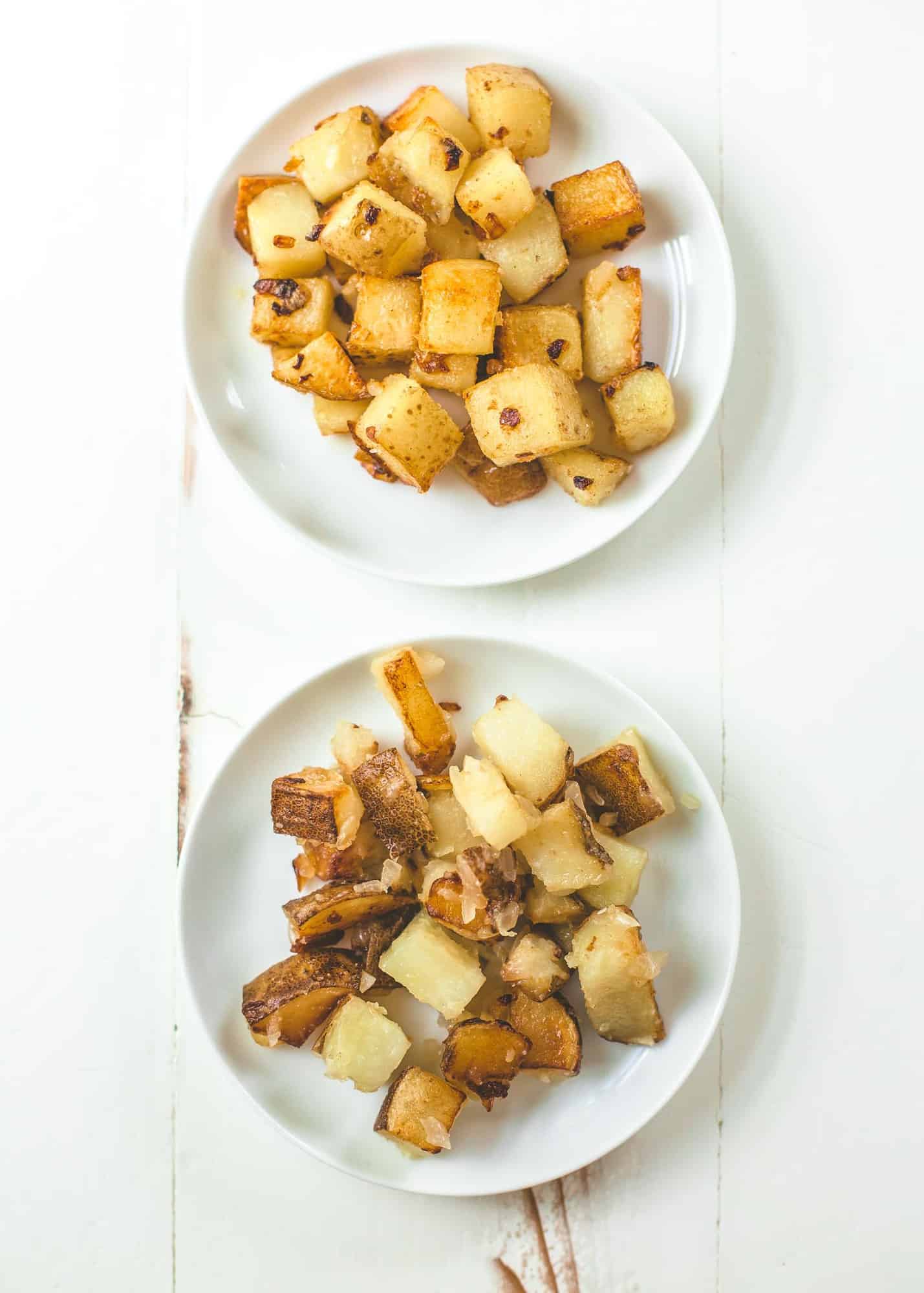 More Breakfast / Brunch Favorites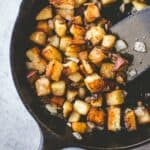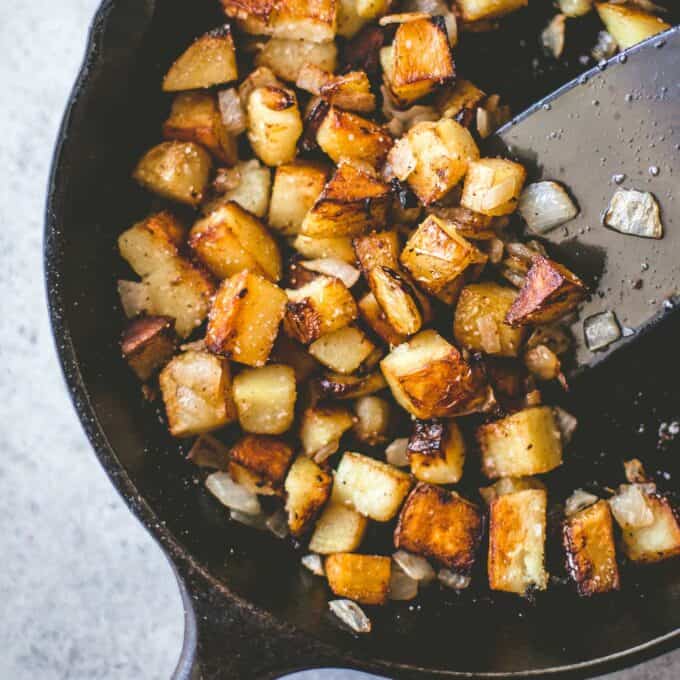 Print Recipe
Crispy Skillet Home Fries
Make the best crispy home fries that are tender on the inside and golden on the outside. All you need is a few ingredients, a skillet, and a bit of (mostly hands-off) time at the stove.
Ingredients
2

tablespoon

Extra-Virgin Olive Oil

2

tablespoon

Unsalted Butter

1.5

lbs

Yukon gold potatoes, cubed

½

cup

Chopped White Onion

(see note)

¾

teaspoon

Kosher Salt

¼

teaspoon

Garlic Powder (not garlic salt)
Instructions
Heat a large skillet (see note) over low-medium heat. (Note: on my electric range which heats from 1-10, I set the heat at 4 for these potatoes.)

Add oil and butter and stir gently until butter melts.

Add potatoes in a single layer and cover with a lid.

Cook potatoes, covered, without stirring them, for 10 minutes (resist the urge to lift the lid and check on them - keeping the lid closed helps them to steam and get started cooking).

Remove the lid and use a spatula to gently flip the potatoes. Add onions to the pan, scattering them over the potatoes. Cover again and continue to cook for 10 minutes more.

Remove the lid and season potatoes with salt and garlic powder.

Continue cooking potatoes, flipping them occasionally with a spatula, until potatoes are very tender, 5 to 10 minutes more (depending on the size of the potato cubes).

Serve immediately. (Great with a fried egg on top!)
Notes
Potatoes - Yukon gold potatoes will hold their shape a bit better while cooking, but Russet potatoes work great in this method as well. Russet potatoes just break down a bit and will have less well-defined edges / corners than Yukon gold. Onions - Be sure not to dice the onion too small or the pieces will burn. The onion pieces should be roughly a quarter the size of the potato pieces when you get started cooking. They will reduce in size as they cook. Large Skillet - Cast iron pans works best for home fries because they allow the potatoes to crisp up without sticking. It is better to use a nonstick pan if you are concerned about the potatoes sticking. No matter what type of pan you use, it should be one that has a lid and is large enough to hold all of the potatoes in a single layer.
Nutrition
Calories:
252
kcal
|
Carbohydrates:
32
g
|
Protein:
4
g
|
Fat:
13
g
|
Saturated Fat:
5
g
|
Cholesterol:
15
mg
|
Sodium:
448
mg
|
Potassium:
745
mg
|
Fiber:
4
g
|
Sugar:
2
g
|
Vitamin A:
177
IU
|
Vitamin C:
35
mg
|
Calcium:
25
mg
|
Iron:
1
mg