Cinnamon Walnut Povitica
Published Dec 05, 2011•Updated Aug 05, 2022
It was only as an adult that I learned that everyone, everywhere did not have Povitica at Christmas. In Kansas City, where I grew up, not a Christmas went by without Povitica from Strawberry Hill. It is an Eastern European bread, but to me, it's also a little slice of Christmas in Kansas. Povitica is not like any old loaf of bread because the bread serves merely as a delicate shell for all of the rich, fantastic ingredients contained inside. Back home, I loved the loaves that came with cream cheese and apples, but my favorite was always the original – cinnamon walnut.
This was one of those baking challenges that I would only undertake here in Thailand where we cannot simply order our Povitica shipped directly to our door from Strawberry Hill. Nevertheless, it was not nearly as daunting as I thought it might be. Okay, so it's not a walk in the park either. But, the only truly difficult step was getting the dough to be so fantastically thin that it would embody that paper-thin shell, holding all that filling, that I remember from home.
It helped that I found a great recipe, step-by-step instructions, measurements for batches that make four large loaves, two loaves, or even just one (which is what I include below) at the Daring Kitchen. I didn't even attempt to photograph the entire process, since the pictures provided at that site cannot be beat. I divided the recipe for one loaf further into four mini loaves so that we could share them with friends tonight as we celebrate the birthday of the King of Thailand. The loaves came out just as I remember from home, except that Strawberry Hill somehow piles an impossible amount of filling in each one. Next time I may even push it further and double the filling. Nevertheless, these tasted like Christmas to me, almost as much as the sight of our little tree and stockings hanging in the background as I baked them.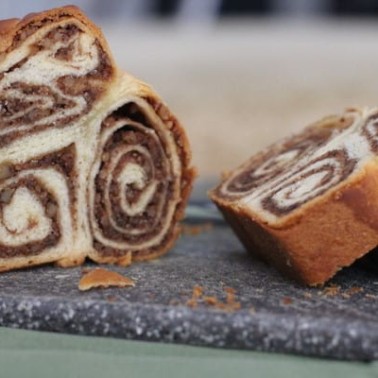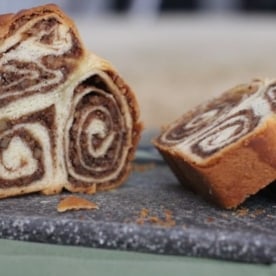 Cinnamon Walnut Povitica
Slice into this festive bread with Eastern European origins to reveal many layers of sweet cinnamon, walnut filling.
Ingredients
To activate the Yeast:
½

tsp.

sugar

¼

tsp.

all-purpose flour

1½

tsp.

instant yeast

2

Tbsp.

warm water
For the Dough:
½

cup

whole milk

3

Tbsp.

granulated sugar

¾

tsp.

salt

1

large egg

1

Tbsp.

unsalted butter, melted

2

cups

(280 gm) all-purpose flour, measure first, then sift, divided
For the Filling:
1¾

cups

(280 gm) ground walnuts

½

cup

(115 gm) sugar

1

tsp.

ground cinnamon

1

tsp.

unsweetened cocoa powder

¼

cup

whole milk

¼

cup

unsalted butter

1

egg yolk from a large egg, beaten

¼

tsp.

vanilla extract
For the Topping:
½

tsp.

melted butter

2

Tbsp.

cold STRONG brewed coffee

1½

tsp.

granulated sugar

extra butter for brushing the crust, after baking
Instructions
In a small bowl, stir 1/2 teaspoon sugar, 1/4 teaspoon flour, and the yeast into 2 Tbsp. warm water and cover with plastic wrap. Allow to stand for 5 minutes

In a medium saucepan, heat the milk up to just below boiling (about 180°F/82°C), stirring constantly so that a film does not form on the top of the milk. Allow to cool slightly, until it is about 110°F/43°C.

In a large bowl, mix the scalded milk, sugar, and the salt until combined. Add egg, yeast mixture, melted butter, and 1/2 cups of flour. Blend thoroughly and slowly add remaining flour, mixing well until the dough starts to clean the bowl.

Turn dough out onto floured surface and knead, gradually adding flour a little at a time, until smooth and does not stick. Transfer to a lightly oiled bowl. Cover loosely with a kitchen towel and allow to rise in a warm place until doubled in size, about 1.5 hours.

About 30 minutes before the dough is finished rising, in a large bowl mix together the ground walnuts, sugar, cinnamon and cocoa. Set aside.

In a small saucepan over medium heat, heat the milk and butter to boiling. Pour the liquid over the nut/sugar mixture. Add the egg yolk and vanilla and mix thoroughly. Allow to stand at room temperature until ready to be spread on the dough. (If the mixture becomes too thick to spread, add a small amount of warm milk.)

Sprinkle a clean counter with a couple of tablespoons of flour (use flour sparingly). Turn out the dough and roll with a rolling pin, starting in the middle and working your way out, until it measures roughly 12 inches square. Spoon ½ tsp. of melted butter over the dough. Using your hands, gently stretch dough out from the center until the dough is thin and uniformly opaque. (You can also use a rolling pin, if you prefer.) As you work, continually pick up the dough from the counter, not only to help in stretching it out, but also to make sure that it isn't sticking. When you think it the dough is thin enough, try to get it a little thinner. It should be so thin that you can see the color of the counter underneath.

Spoon walnut filling evenly over dough until covered. Gently roll the dough like a jelly roll. Once the dough is rolled up into a rope, gently lift it up and place it into a greased loaf pan in the shape of a "U", with the ends meeting in the middle. Coil the remainder of the dough around itself, tucking the end into the rest of the dough so that the surface of the dough is relatively smooth.

Whisk together the coffee and granulated sugar for topping. Brush the top of the loaf with the mixture. Cover the pan with a kitchen towel and allow to rest for approximately 15 minutes. While resting, preheat the oven to 350°F.

Bake the roll at 350°F for 15 minutes. Then reduce the oven temperature to 300°F and bake until golden brown on the top and cooked through, about 30-40 minutes more. Remove bread from oven and brush with melted butter. Allow to cool on a wire rack for 20-30 minutes in the bread pan. When cool, turn out onto a cutting board.

Serve immediately or store, covered at room temperature for several days.
Nutrition information is automatically calculated, so should only be used as an approximation.
If you like povitica, you will love this Cinnamon Star Bread.