Christmas in Madrid
Published Jan 05, 2015•Updated Nov 08, 2023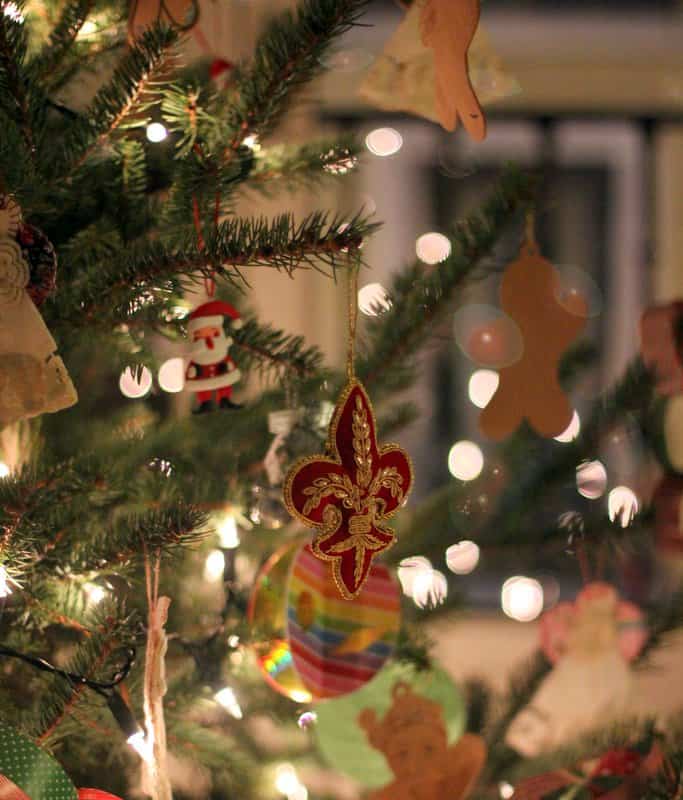 We are home in Bangkok after a 3-week vacation in Madrid, Spain. Before I throw myself at the laundry, I wanted to post a few photos from the trip. I also wanted to pay tribute to the loveliness that is Madrid at Christmas. Despite the unmatched weirdness of two jet-lagged babies who never quite got themselves onto a normal schedule, my memories of the trip are filled with family and thick hot chocolate and piney Christmas trees and violinists playing carols on corners.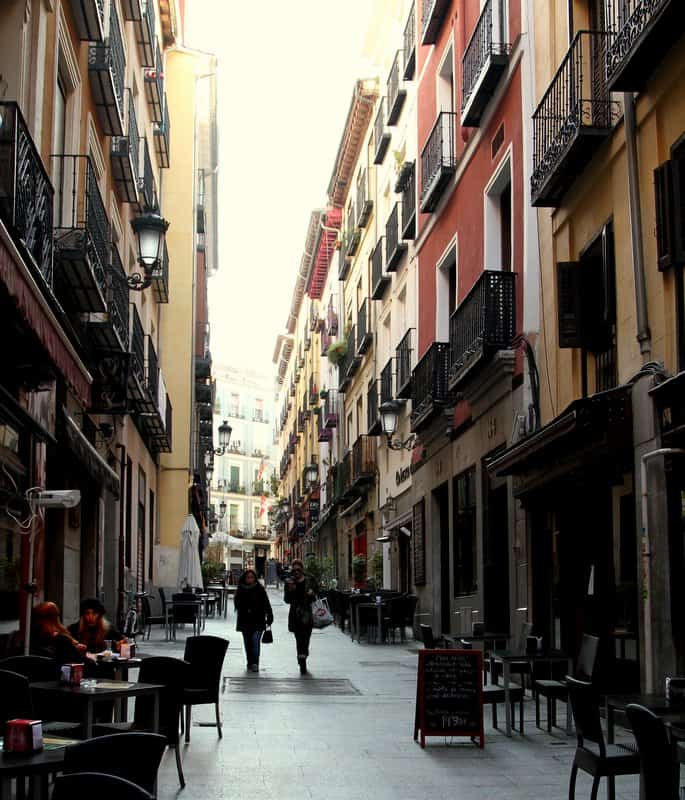 We rented an apartment on Airbnb which had its highs and lows (more on that later), but was much better than staying in a hotel for cost and space for the 50 kilos of baby paraphernalia we brought with us. And because flying 12 hours with two 8-month-olds wasn't quite enough of a new-parent challenge, Frank got me and the girls settled in the apartment and promptly left for four days for a well-deserved spa retreat. Oh wait, not at all. He left for four days to bury himself in schoolwork and group meetings to achieve the second greatest accomplishment our family can claim in 2014 (after having two children of course) – finish business school.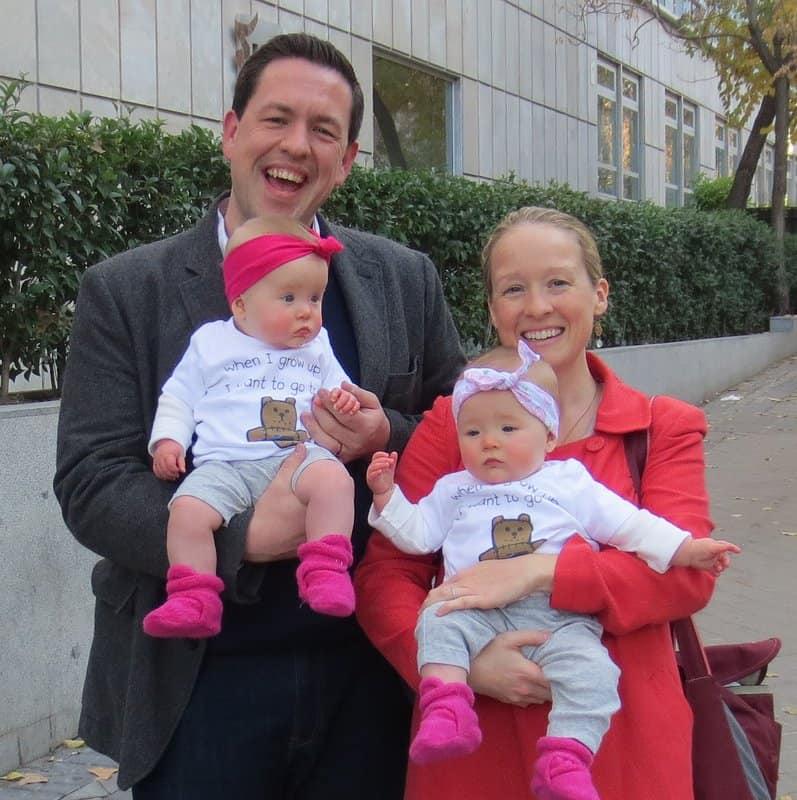 While Frank was gone, Molly, Clara, and I had our own European adventure. And like all of my previous European adventures, it was filled with cross-cultural and linguistic flubs, made more comical with the addition of two babbling babes.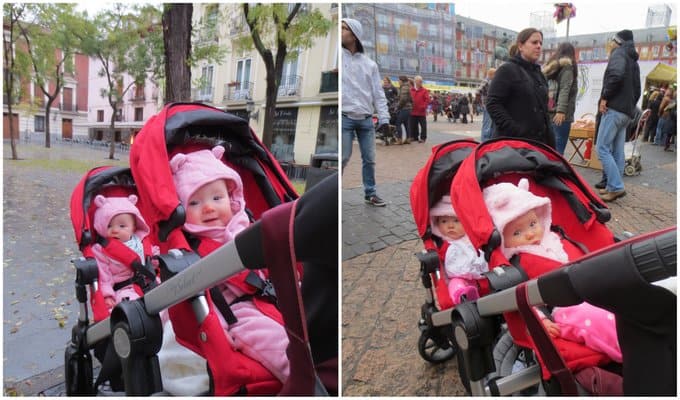 By day two I mastered the most critical of Spanish phrases – "yes, twins", "8 months old", "both girls", "300 grams of olives please".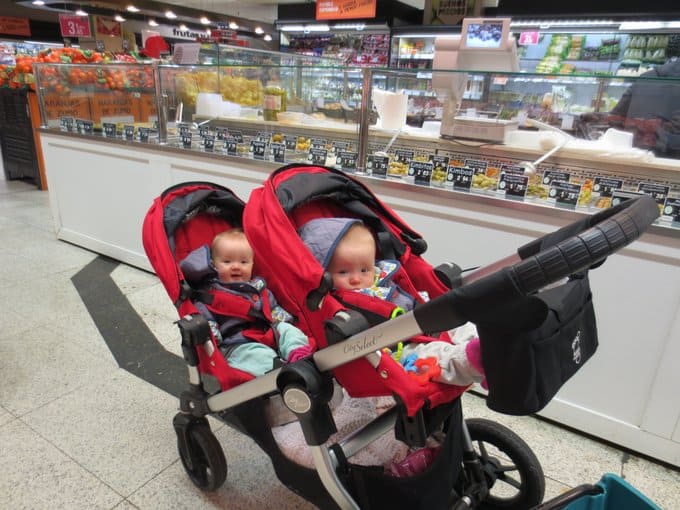 It also would have been handy to know how to say "please don't give my children those tiny metal balls on string which are clearly choking hazards, although I know you mean well". But apart from that incident, now I believe it is universally true that there is always someone willing to help a slightly frazzled mom with opening doors, piling groceries onto the checkout counter, or picking up toys that get tossed over the side of the stroller.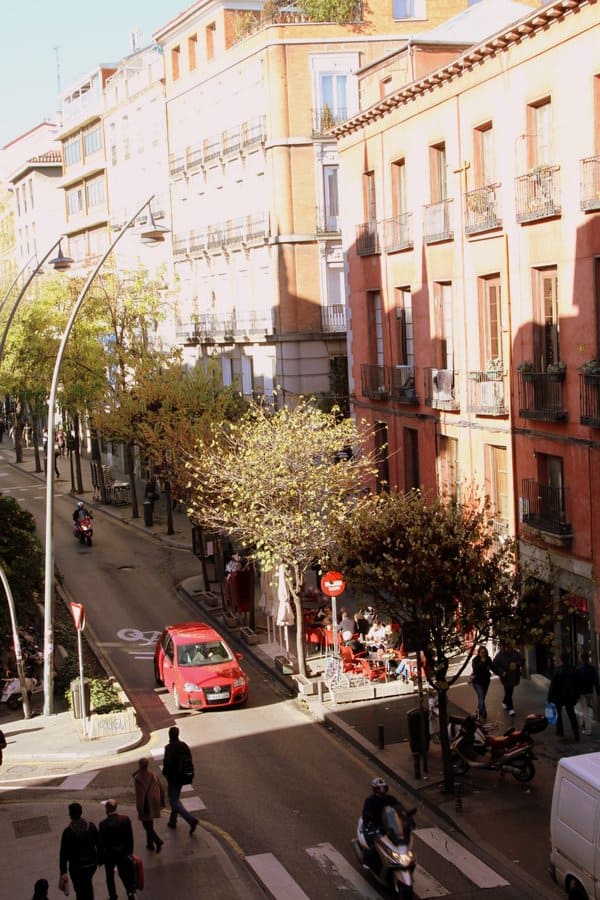 The weather was chilly in Madrid, especially for us Thailand-dwellers. Clara and Molly demonstrated varying degrees of disdain for all their cute winter clothes. Nevertheless, we walked and walked and walked all over that beautiful city.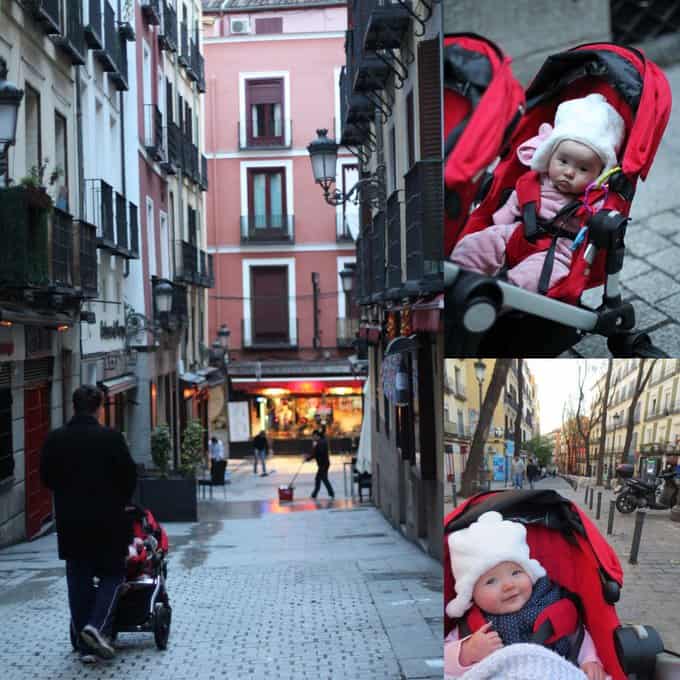 The biggest obstacle was getting out of the apartment with the double stroller and 30+ pounds of baby (and often back in with 30+ pounds of groceries). And this was my major issue with our Airbnb rental. We chose an apartment that had an elevator for obvious double-stroller related reasons. And since finding an elevator in an old apartment building in Europe is like winning the lottery, we were thrilled when we found an affordable spot that advertised one.
We were not, however, thrilled to arrive in Madrid to find that the elevator didn't go to our floor.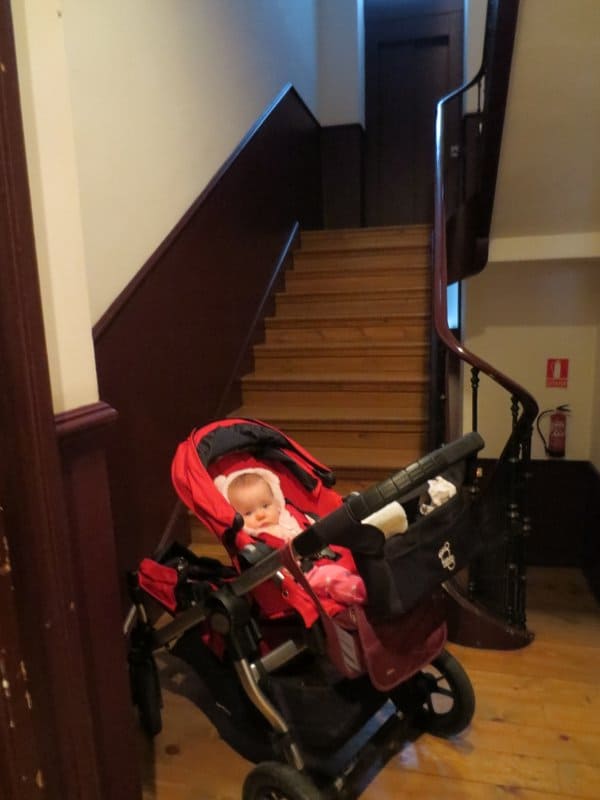 Fortunately Clara thought thumping slowly (and loudly) down the stairs in the stroller was the funniest thing that has happened in her eight months of life.
Frank officially completed his MBA a few days before Christmas and, after breathing a huge sigh of relief, we celebrated with our daughters who were up and ready to party at 5am the next morning.
What followed for the rest of our vacation was much Christmas-themed joy and merriment.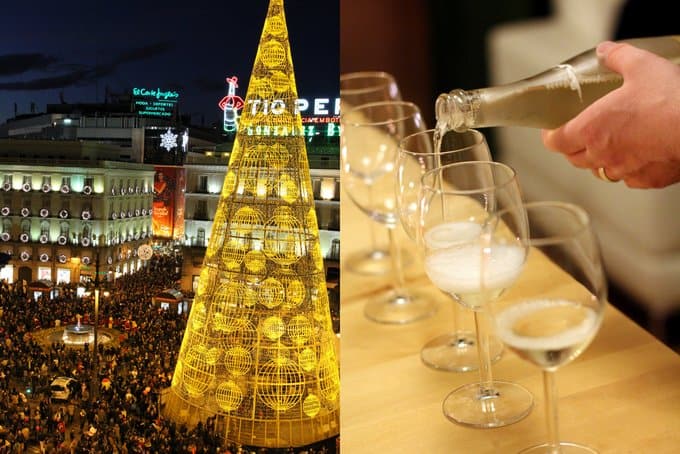 A bunch of our family members made their own transatlantic odysseys to spend Christmas with us in Madrid. Clara and Molly were thoroughly spoiled and loved in that manner at which grandparents and aunts are particularly gifted.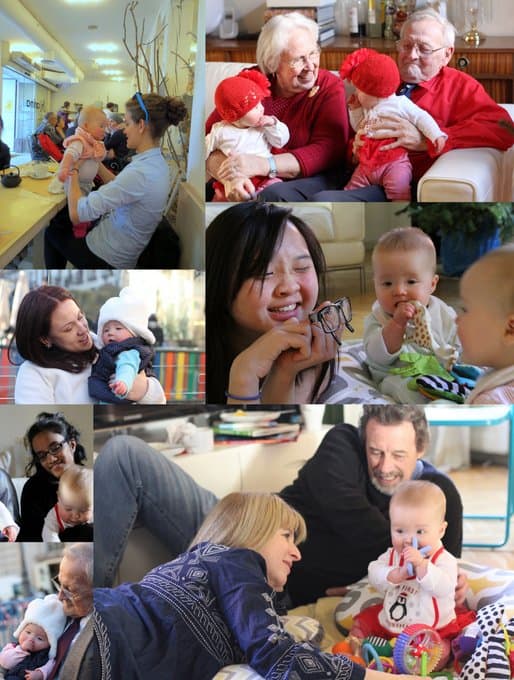 One of the hopes I had for the girls' first Christmas was a tree with all the needles-everywhere-piney-scented realness. So on a chilly afternoon, Frank, my sister-in-law Ellen, and I made our way to crazy Plaza Mayor…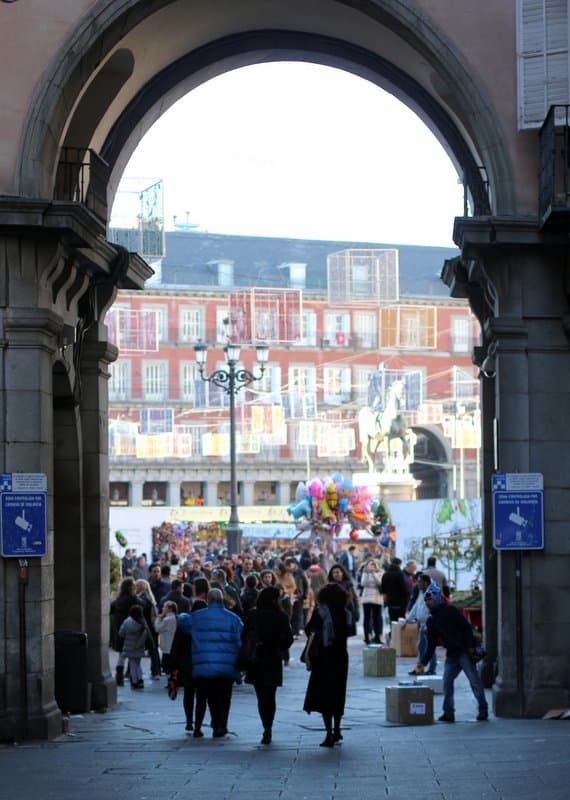 Where Frank haggled for a tree.
And we loaded it into a Trader Joe's bag to carry back to the apartment.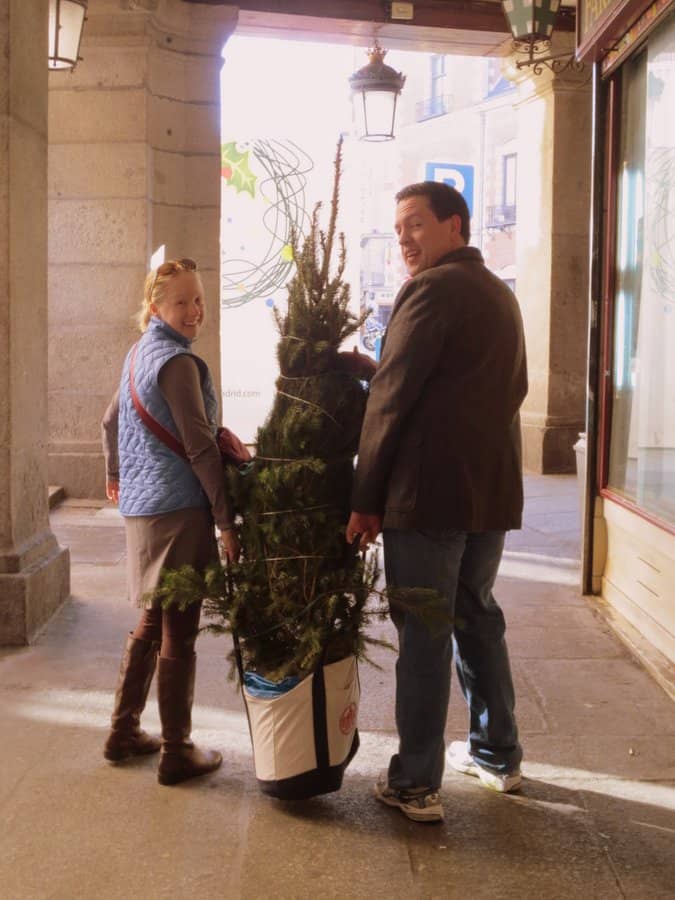 We even managed to get the whole crew together for one big group photo by the tree.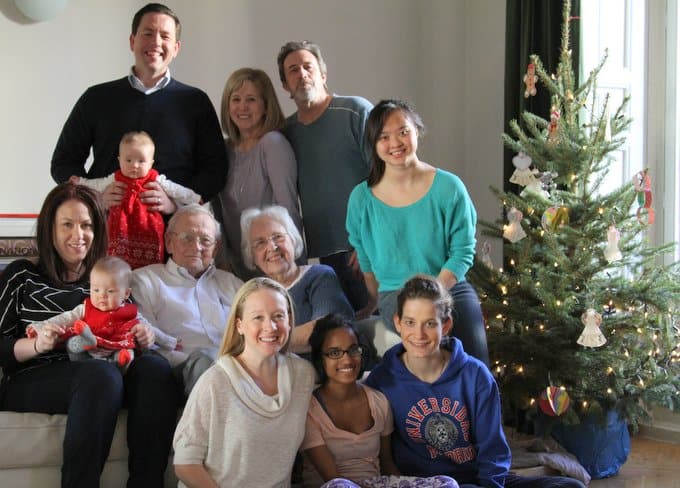 It was one of the best Christmases in memory, thanks to so much great time spent with family and this year's addition of our two extra special presents.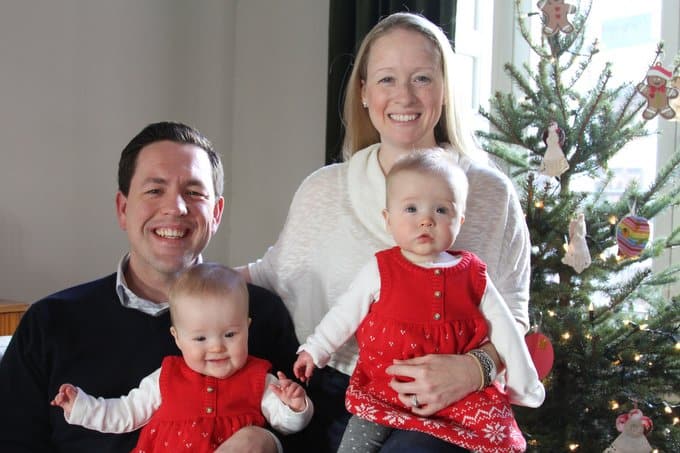 Other highlights of the trip included Clara and Molly's first carousel ride.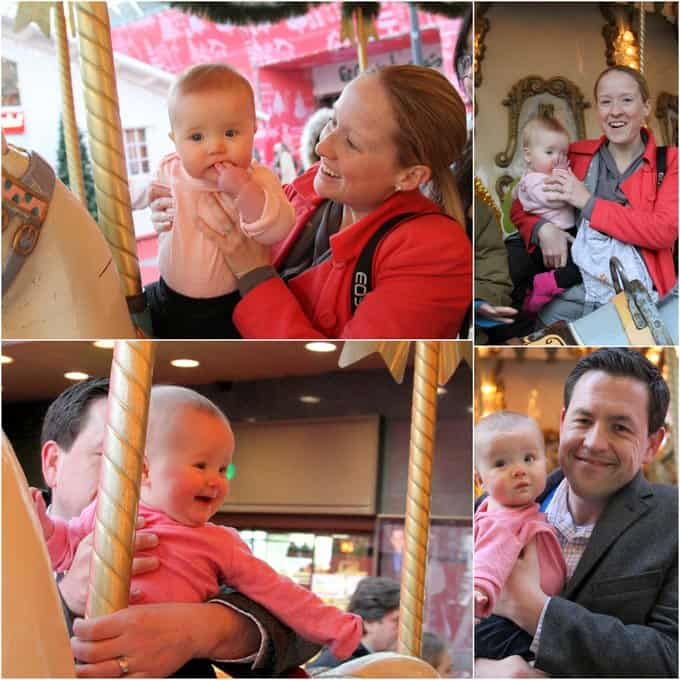 And our first international trip as a family which involved this very early post-flight photo that will forever serve as evidence that we left the airport without one of our bags. Lesson learned.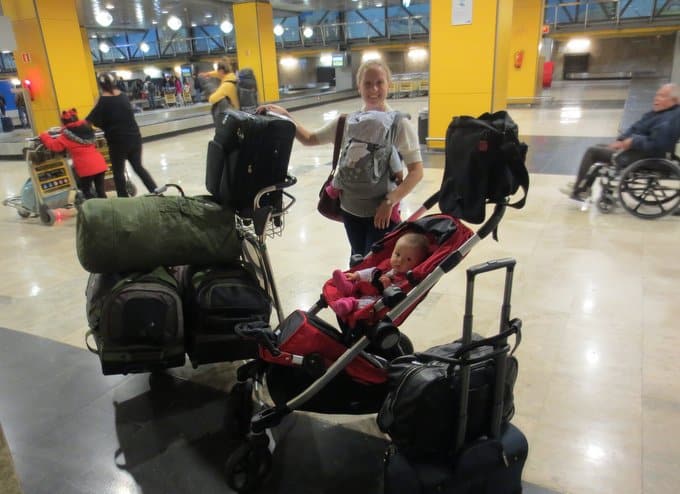 I hope your holidays were very merry, wherever and however you celebrated!