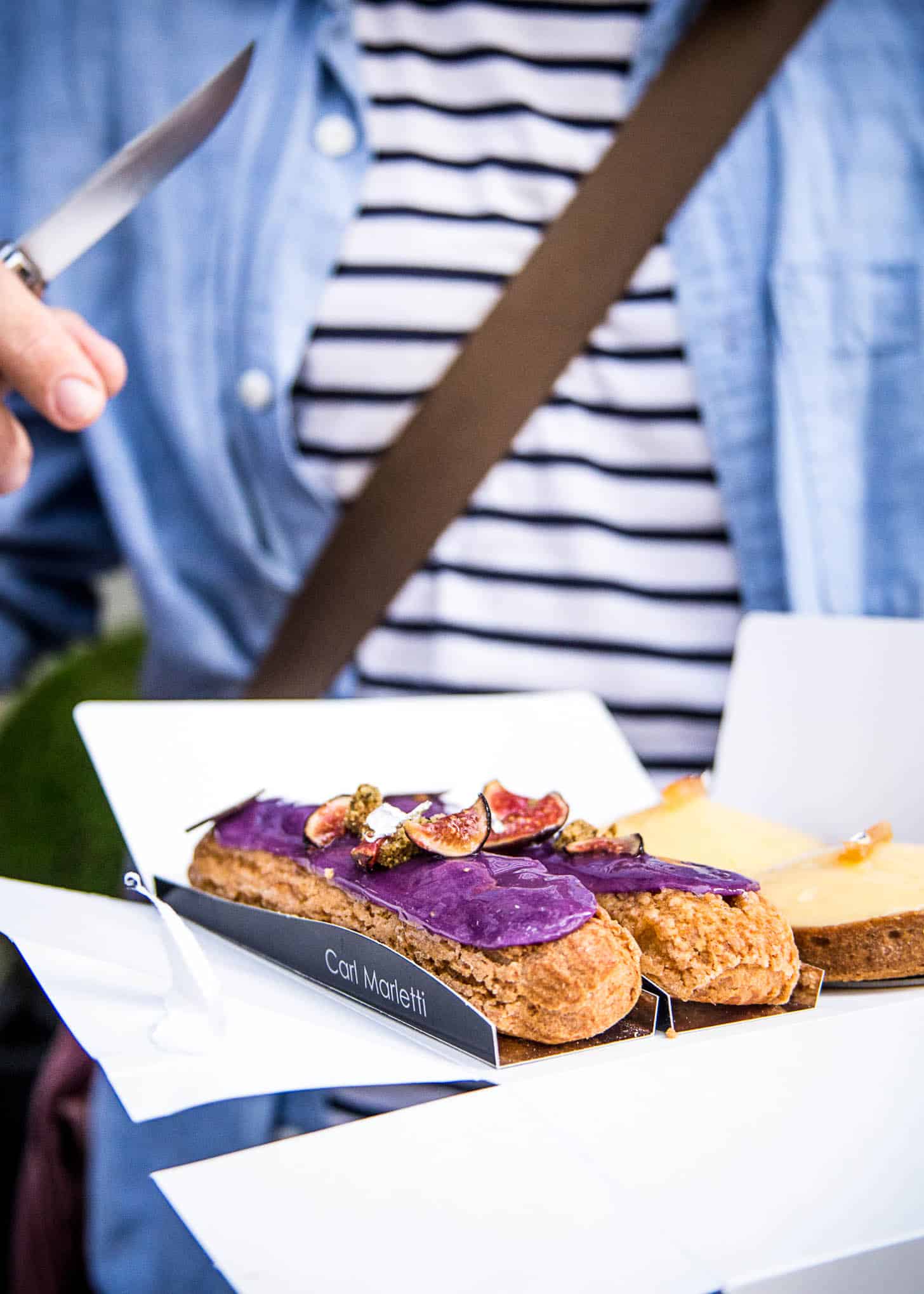 The week Frank and I spent in Paris in October is feeling more distant with the arrival of freezing weather here and vast shortage of funky cheese and rich red wine in our Kansas City life. As if I hadn't photo-bombed you all with enough with that last Paris post, I just wanted to pop in with a few more from one of the most fun things that Frank and I did during our week in Paris - a Paris by Mouth food tour.
Note: This is NOT a sponsored post. Just something we loved, paid for ourselves, and wanted to share.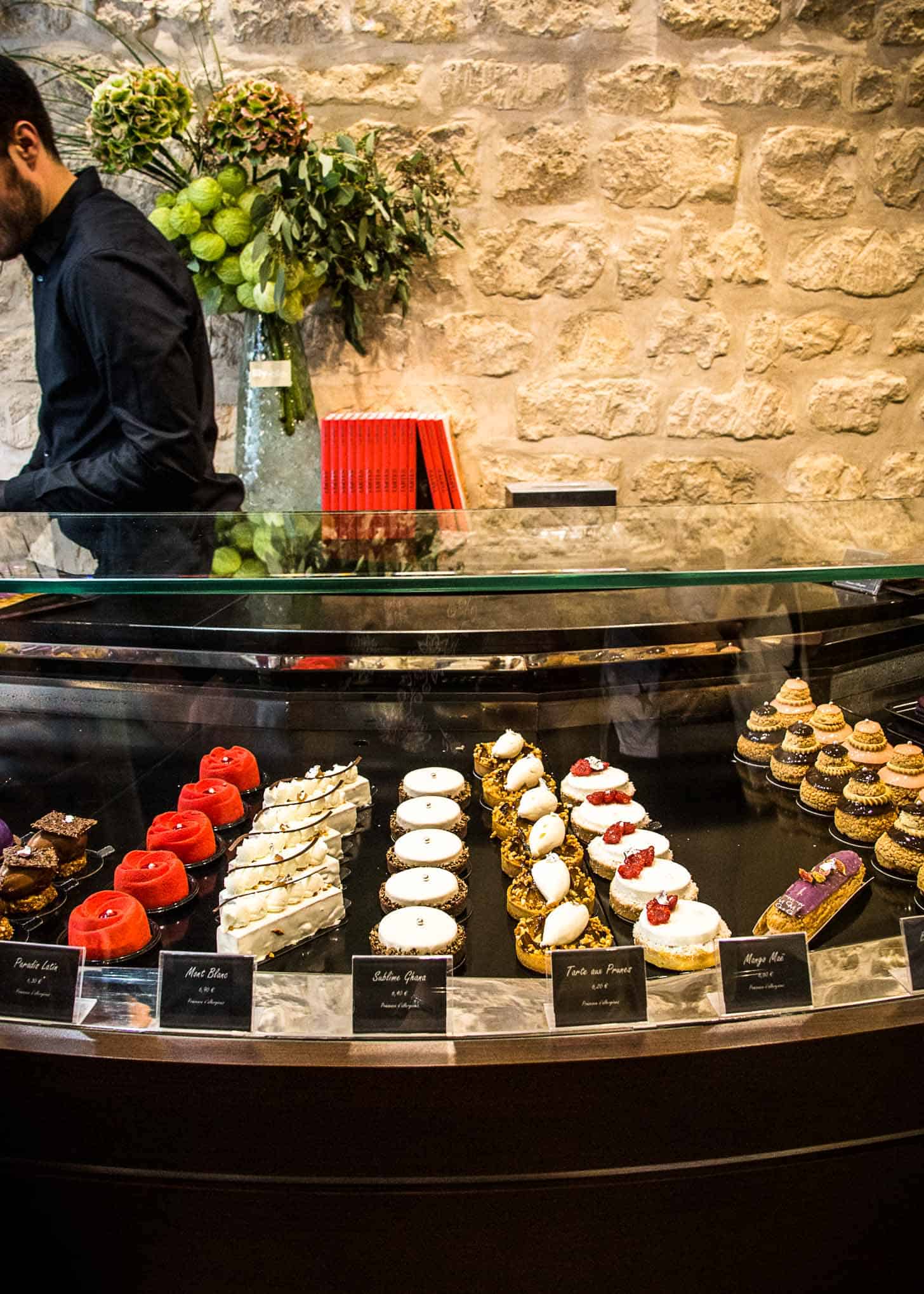 Paris by Mouth has a few food tour options, but we chose the "Taste of the Latin Quarter" largely because it was in a part of the city that I wasn't super familiar with. There were just seven of us on the tour (we were told that all the tours are kept about this size). We started at a lovely patisserie, wound our way up Rue Mouffetard (a charming, ancient street lined with food shops) and ended at a wine shop.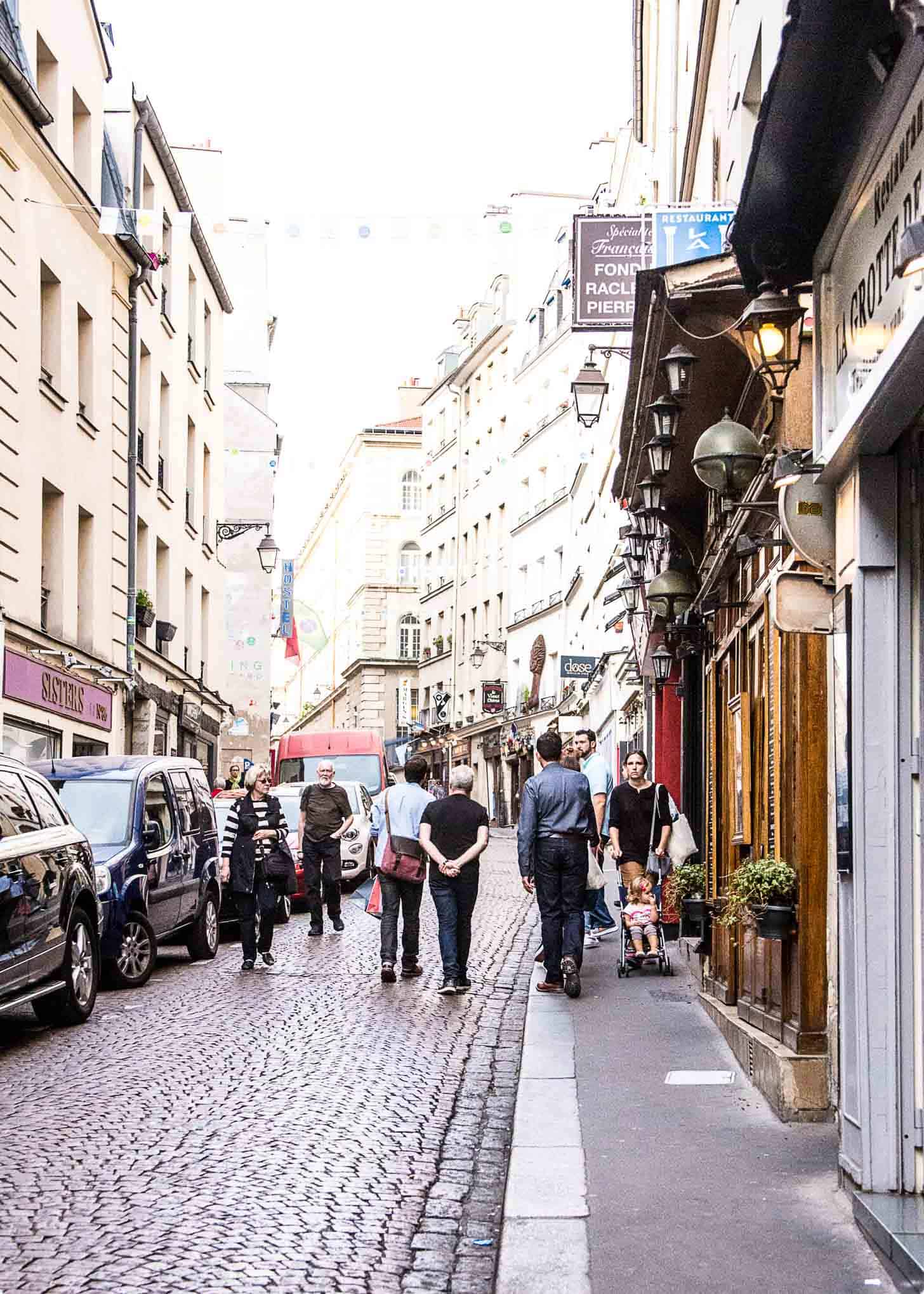 Here's one more shot of the pastry we sampled, because that eclair is a thing of beauty. Topped with figs and filled with mint cream, it might have been my favorite flavor combination ever.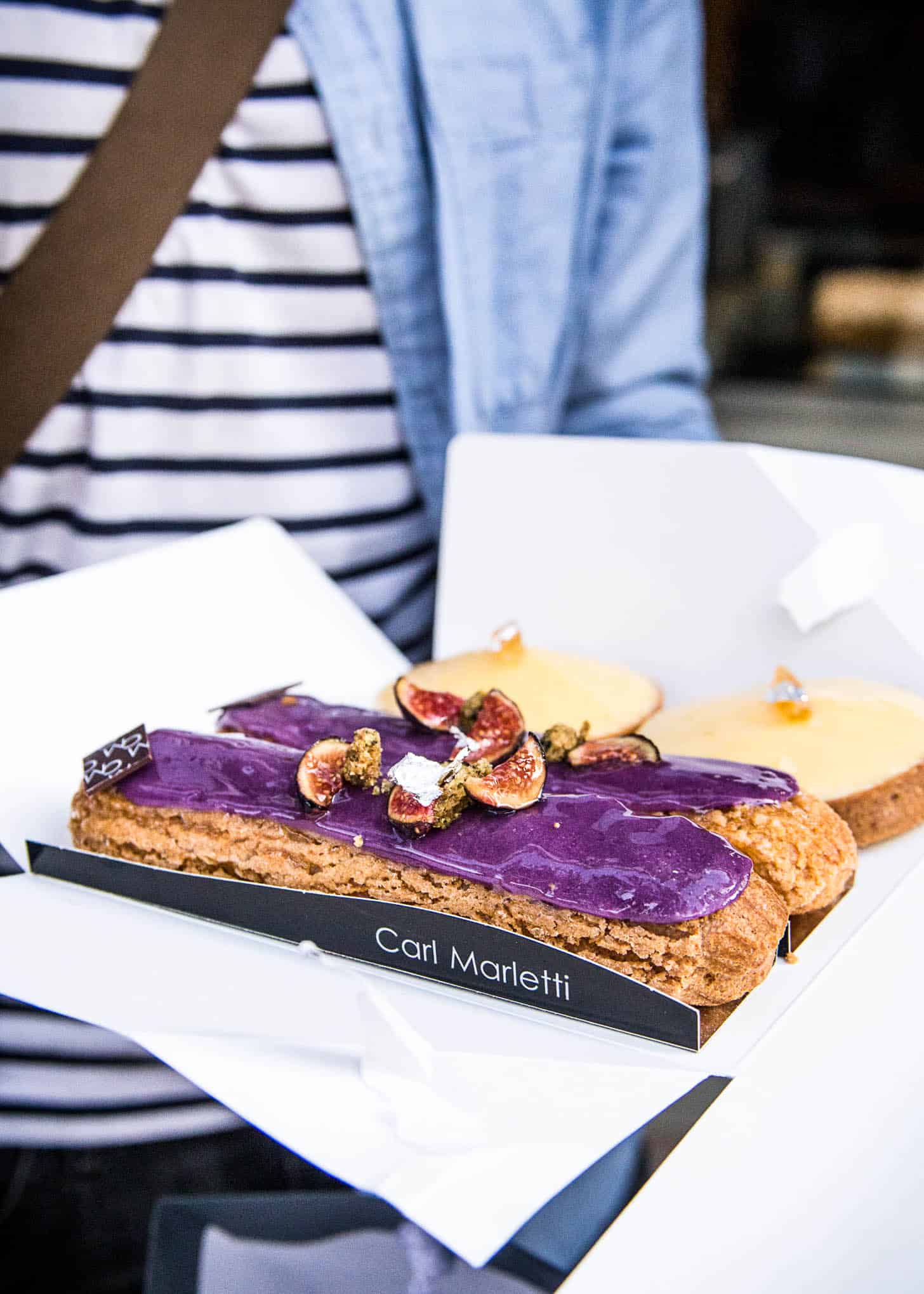 We had the lemon tarts in the back later. With wine.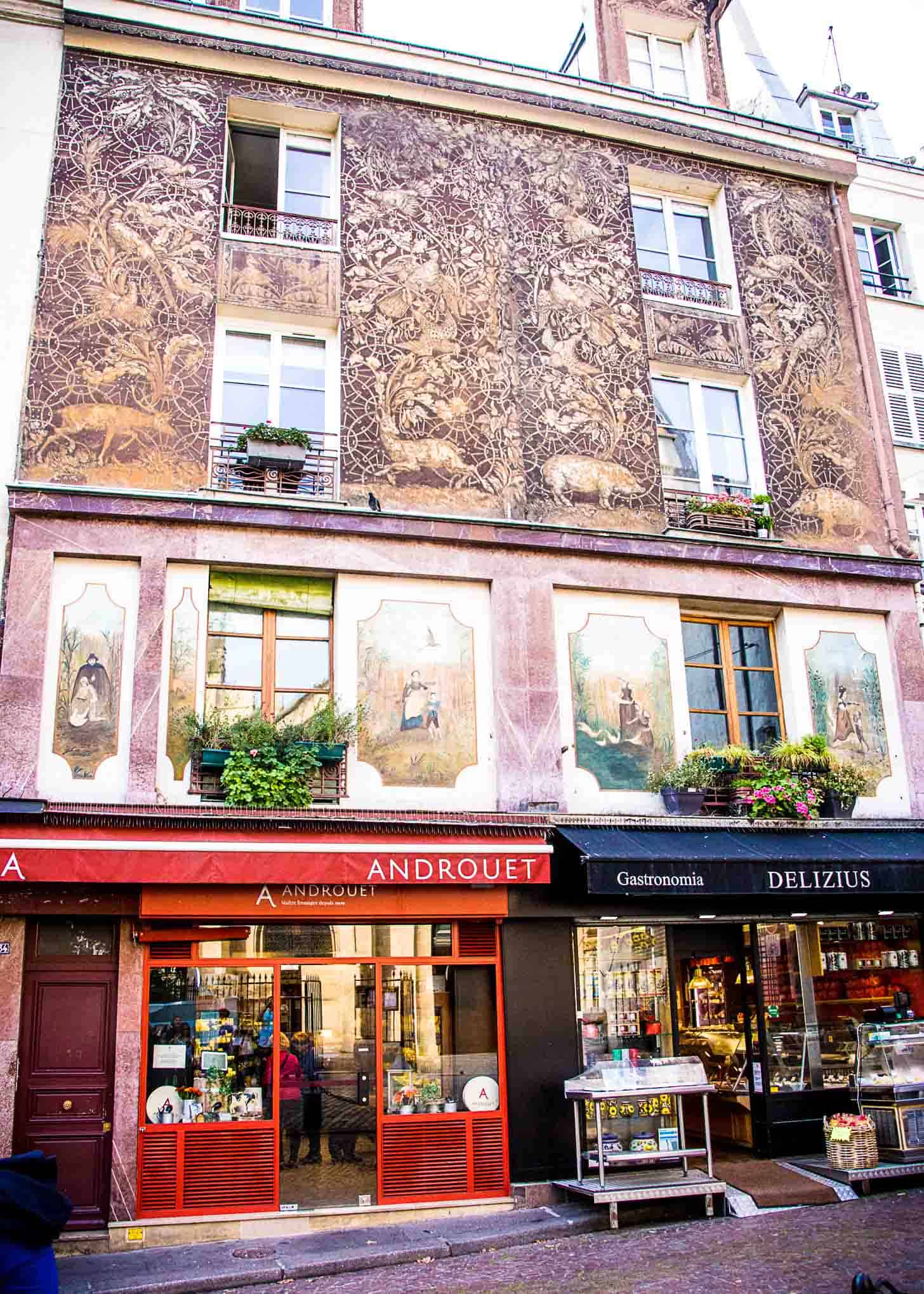 Our guide, Aurélien had answers to everything that our group asked about French food and wine. And was high skilled at slicing things into perfectly even pieces so we could all sample a few items during the tour.
Including this very fresh goat's milk cheese that was so tangy and tart and redolent of fresh thyme that I could taste it in the back of my throat the moment it touched my tongue.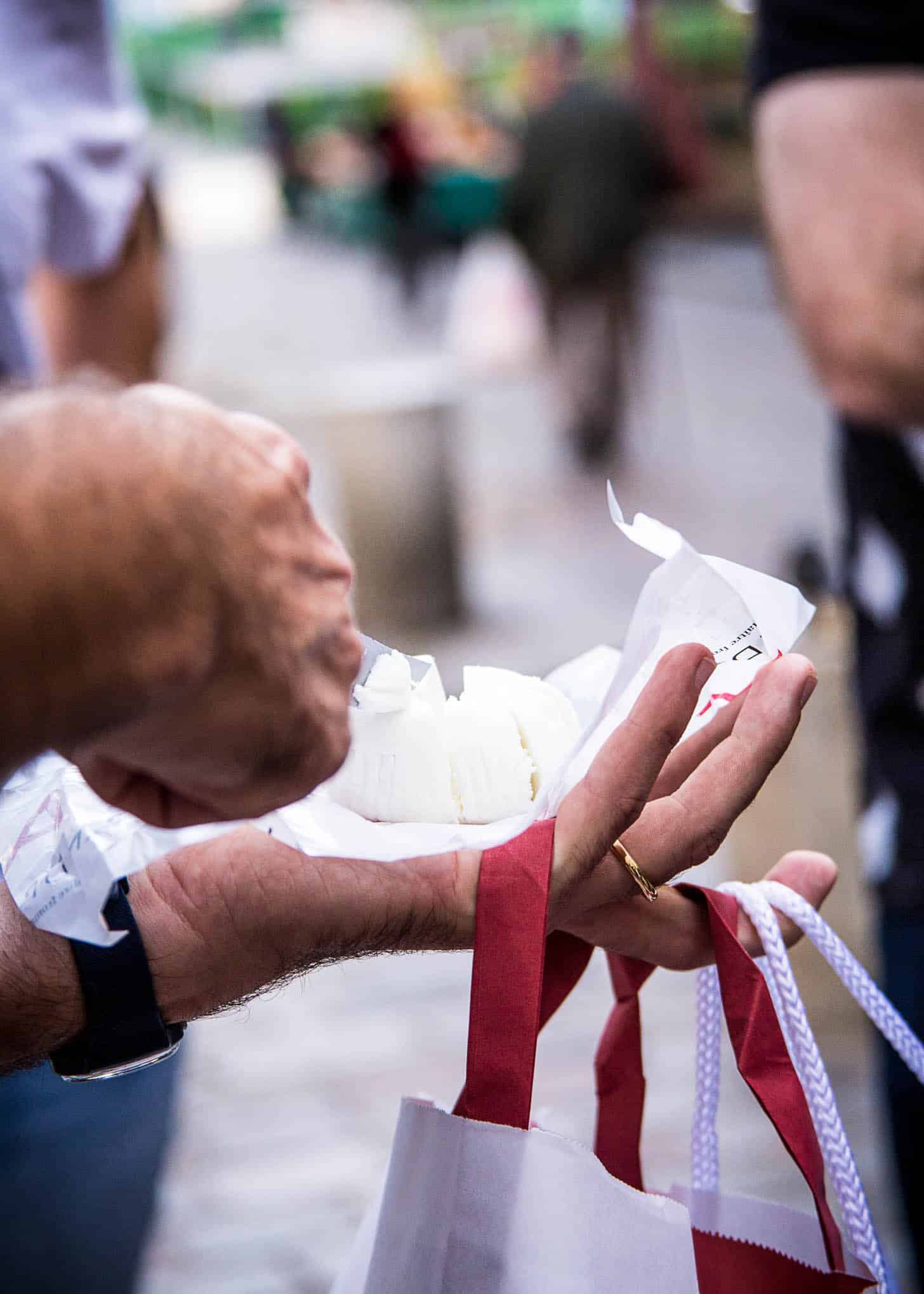 Though we sampled a few things along the way, part of the tour that was so fun was that our guide was basically assembling a cheese / meat / dessert board as we walked. It probably goes without saying, but I'm not sure there's anything I like more than a cheese / meat / dessert board assembled in Paris.
To round out the sampling, we stopped for some sausages and a pheasant and poached peach terrine that was the perfect combination of savory and sweet.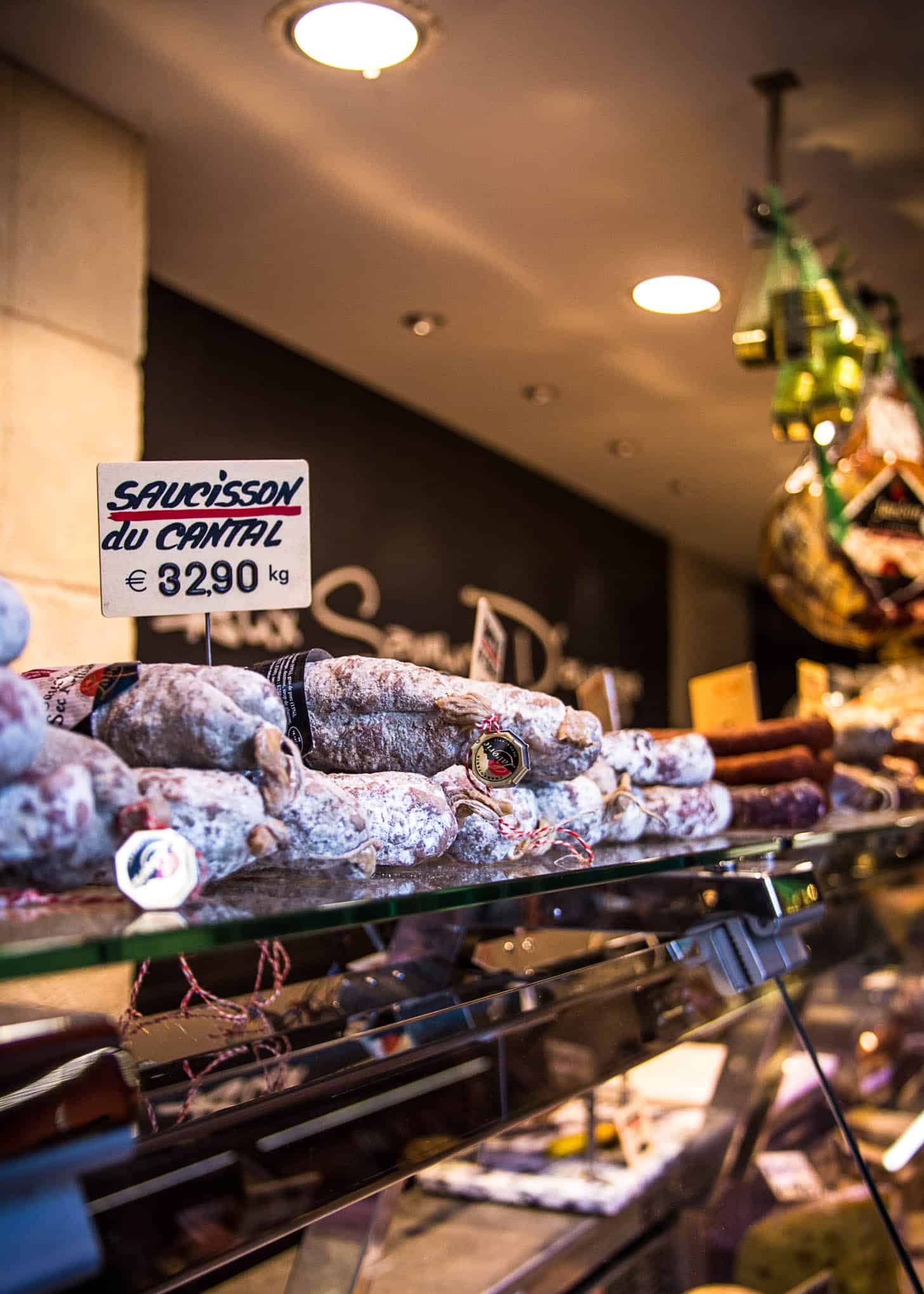 The tour, wisely, also included chocolate. The chocolatier even boxed up a few beautiful little chocolates and candies that we took back to our hotel and cracked open later that night.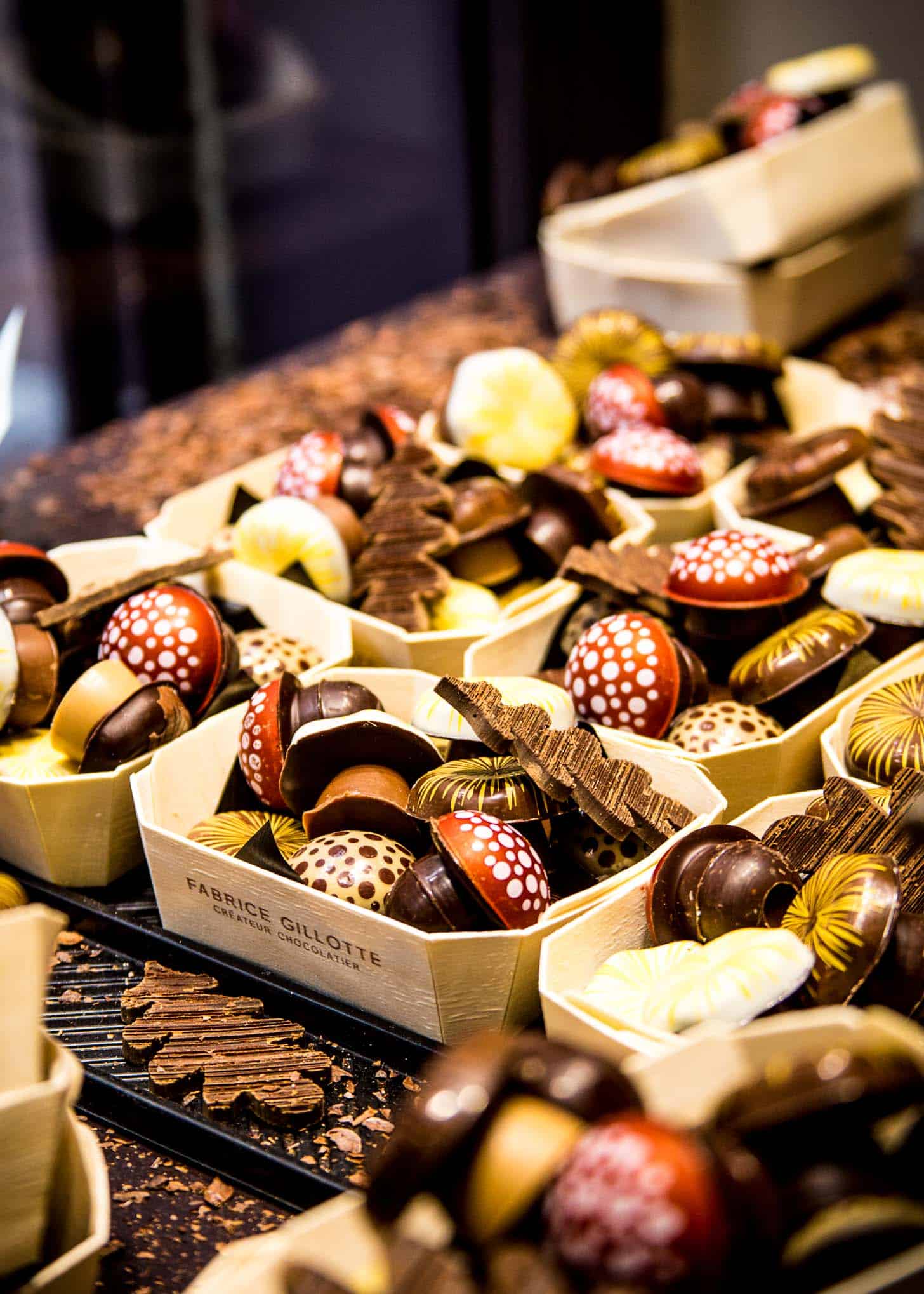 Finally, we found ourselves at a charming wine shop where we crowded around a high top table, sipped a few bottles and were schooled in the ways of French cheese.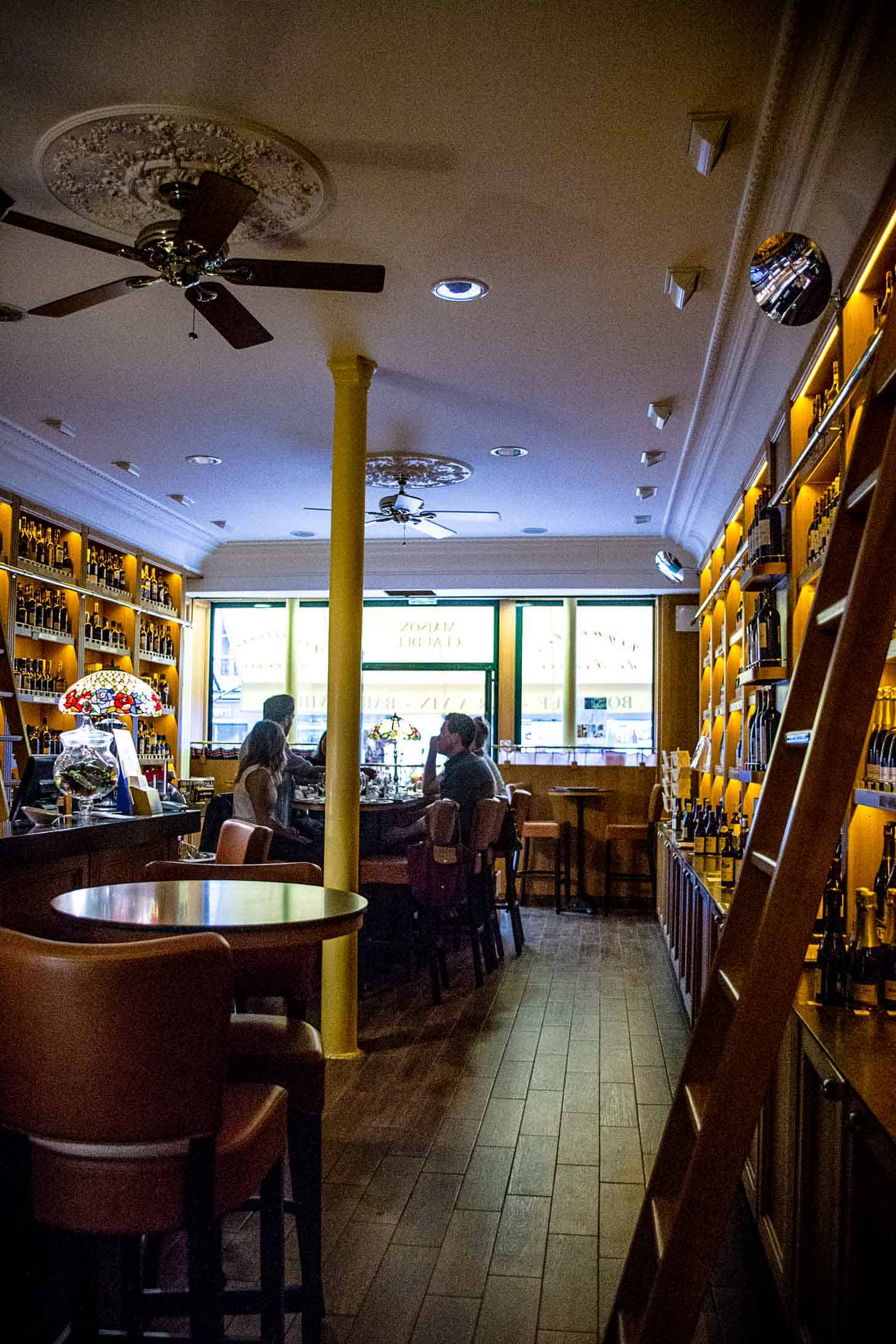 And wine. All around a pretty delightful way to spend an afternoon.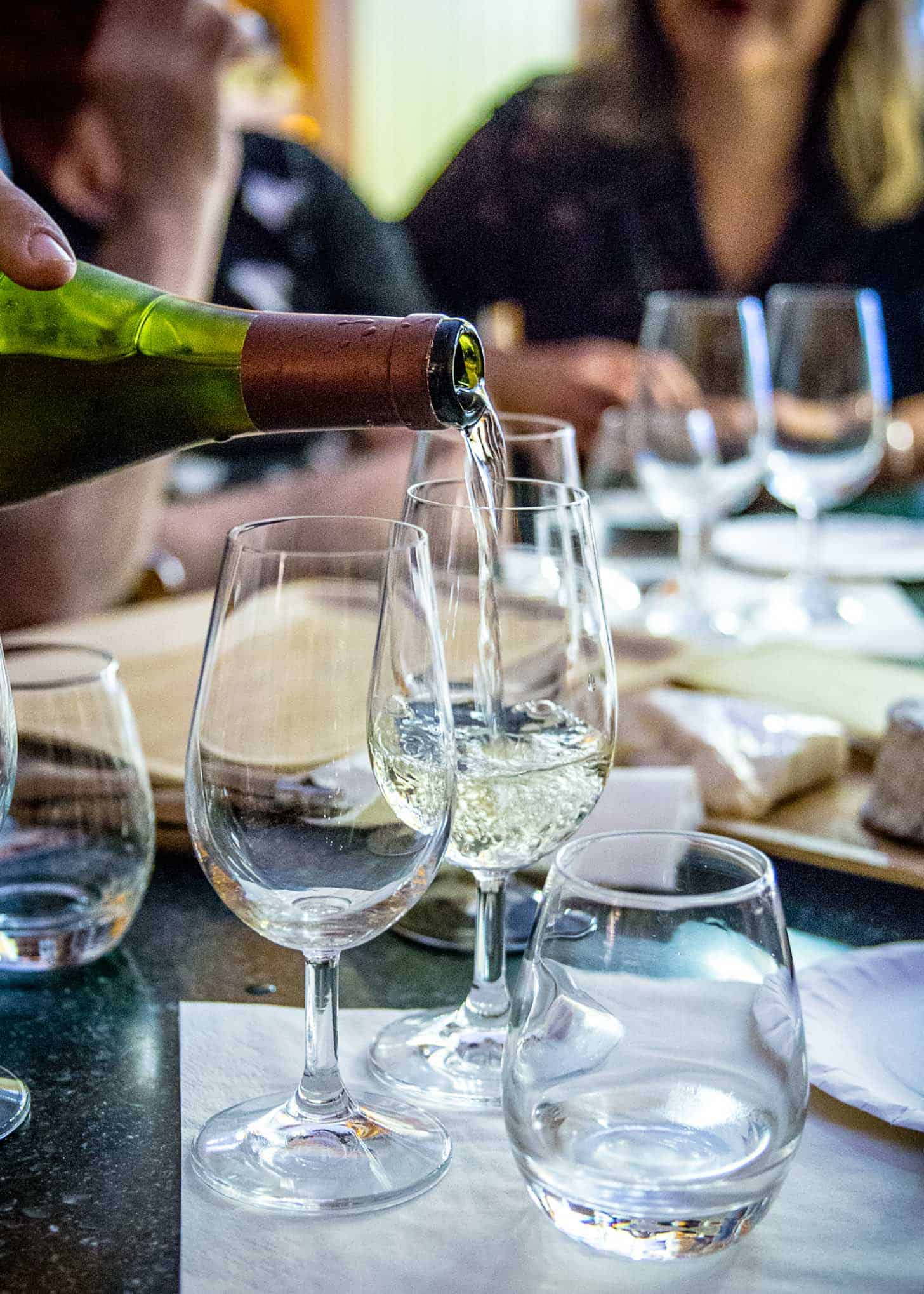 Paris by Mouth
Frank stumbled across the site Paris by Mouth in the months leading up to our trip. In addition to food tours, the site is packed with restaurant recommendations and other food-related resources that we found really useful (especially when doing touristy things). Posts like Not Terrible Near the Eiffel Tower and even a Gluten-Free Guide to Paris offer something for everyone.
We used the site to make a few restaurant reservations (all of which we loved). The tours are very well thought-out and great for people looking to become more familiar with the food in a certain part of the city or who just really love food and wine. If you're vacationing in Paris, it's also nice to have access to a French guide for a couple hours so that you can ask him / her all your burning French food questions - like should you eat the rind of those funky cheeses.
The answer according to Aurélien. Yes. Always yes.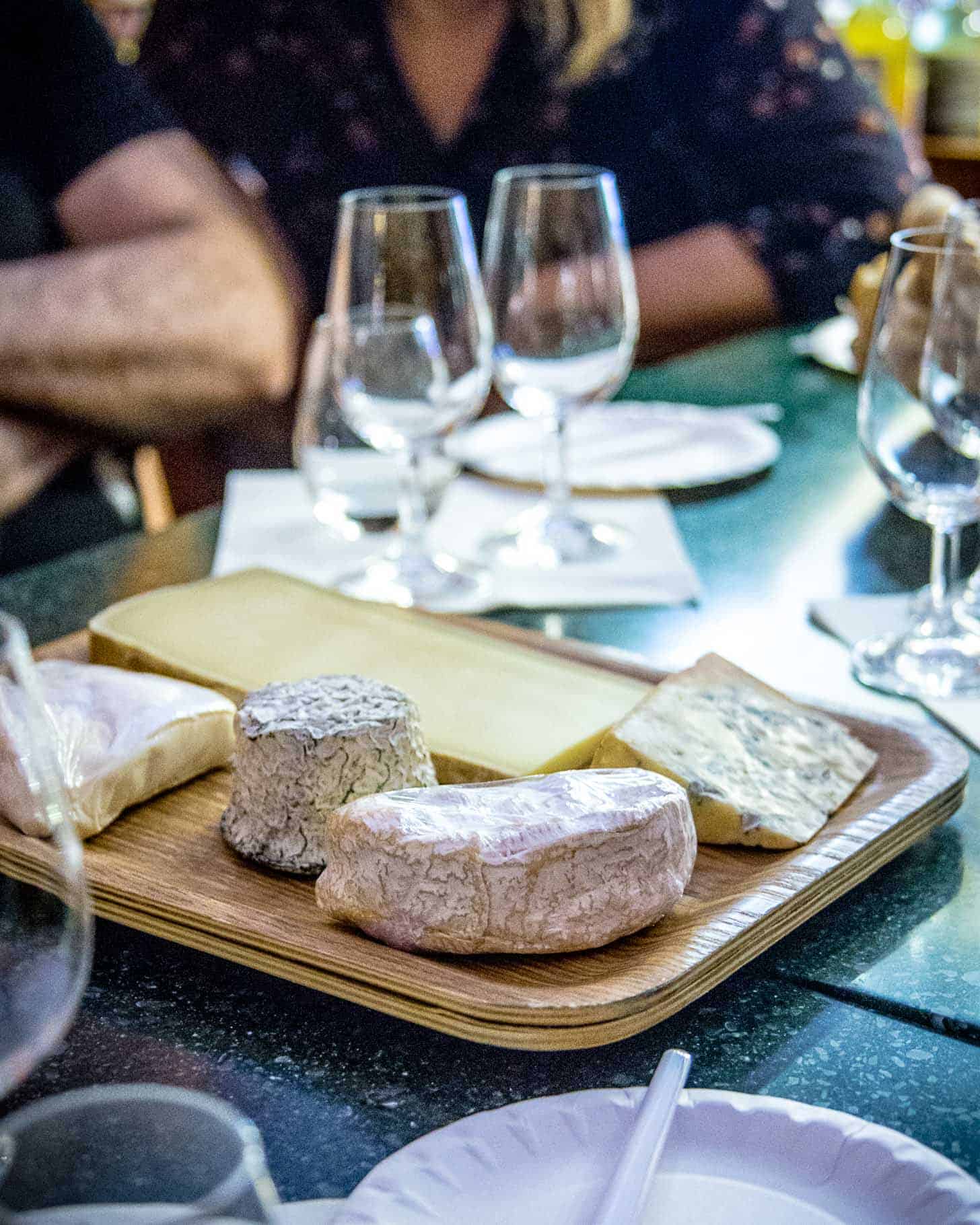 Note to self, must eat more funky cheese.
In other news, we decided to test all known limits of toddler patience this weekend and get some family photos taken on a wet, freezing day. Outside.
I *may* have stuck a bag of candy corn in my pocket for coaxing out smiles. #noregrets