Detroit-Style Pizza with Ricotta
Published Dec 13, 2021•Updated Aug 11, 2023
If you've never had Detroit-Style Pizza with Ricotta Cheese, prepare to fall in love. This thick crust pizza not only has a layer of pepperoni and cheese but it's topped with fresh ricotta and basil.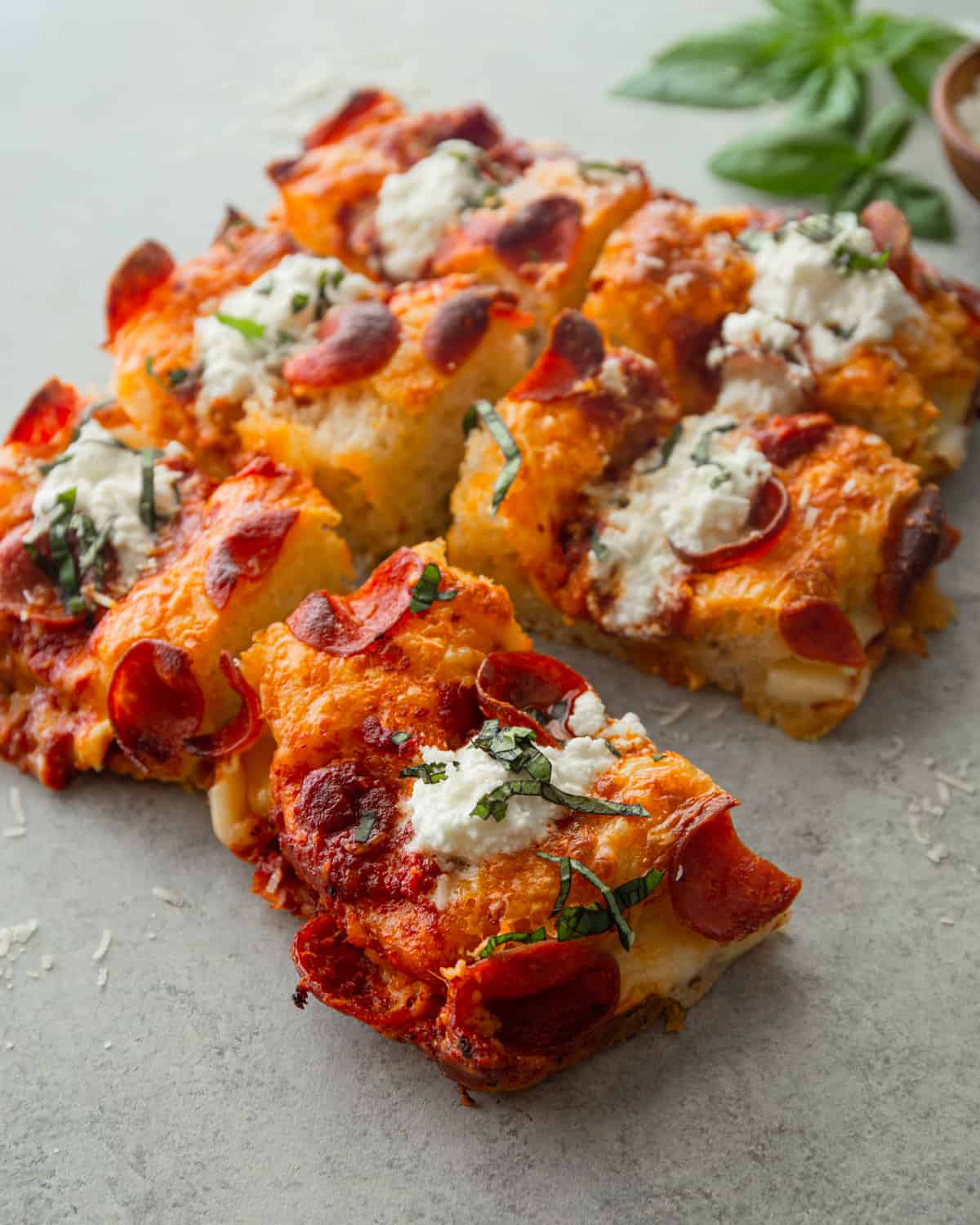 Homemade pizza night has long been a favorite at our house, and this new addition was just too good not to share. While many versions of thick-crust Detroit-style pizza require a special pan, I have been testing this one on repeat so that it can be made in 8-inch cake / brownie pans that you hopefully already have on hand.
This recipe has been many months in the making. It all started with my favorite Detroit-style pizza here in Kansas City – "Motor City Pizza" from Providence Pizzeria Co. The toppings of my version are the same as theirs – crispy pepperoni and a finishing of creamy ricotta and fresh basil. But when I set out to make my own, I went down a deep rabbit hole of pizza research, from the Pan Pizza Episode of Spilled Milk to Emily: The Cookbook.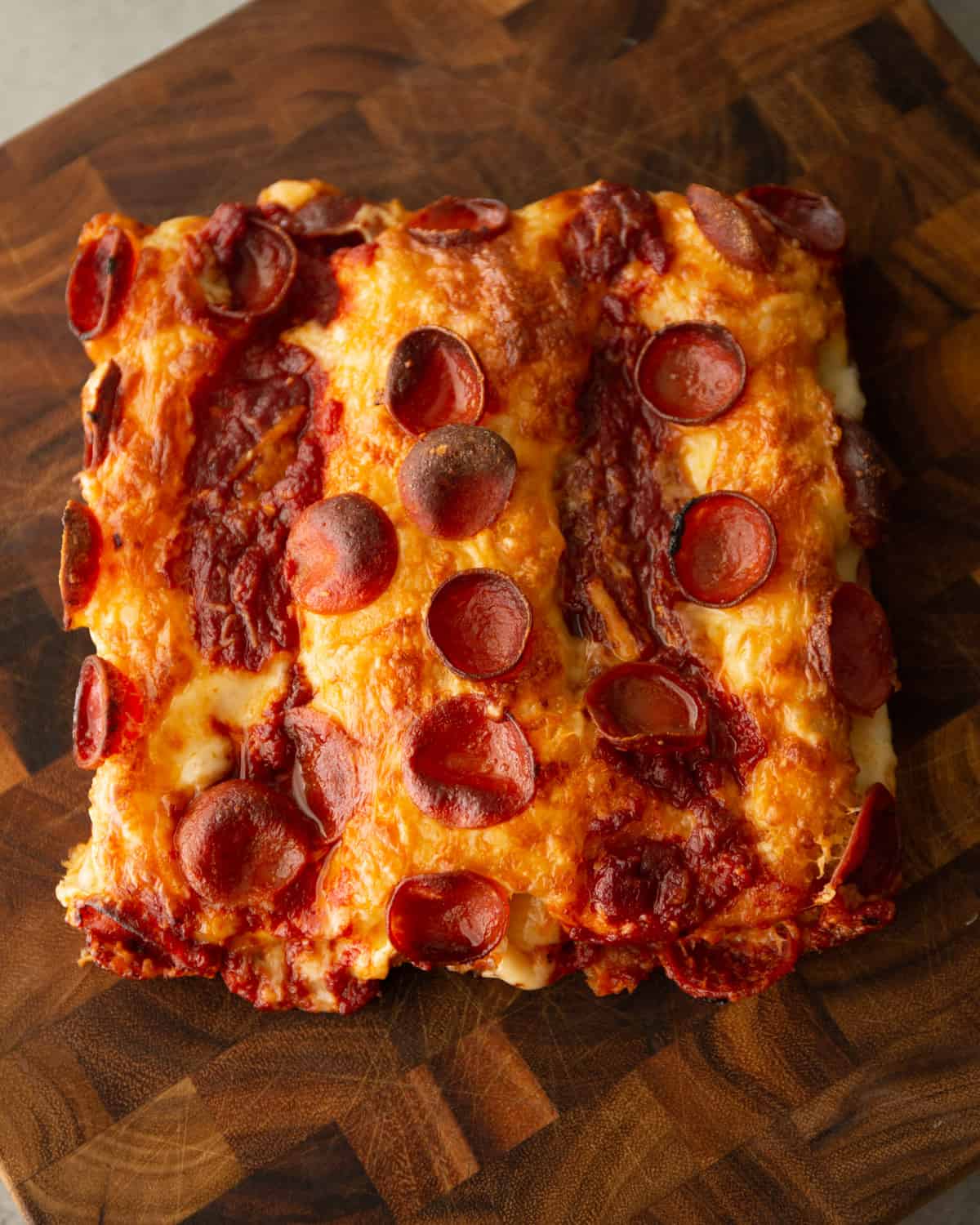 What is Detroit-Style Pizza?
So what makes Detroit-style pizza so unique? First, it has a thick crust that is tender and chewy. The edges get golden and crisp as they bake against the sides of a metal pan. Next, a mixture of mozzarella and cheddar cheeses is spread all the way to the edges, allowing some extra crispness to form where the cheese meets the pan. Finally, although red sauce does make an appearance on Detroit-style pizza, it is often spread in thick lines on top of the cheese. Because the sauce doesn't come in direct contact with the dough, the resulting pizza really lets the tender dough shine.
Ingredients for Detroit-Style Pizza with Ricotta
For the Dough:
Flour

– All-purpose flour works great in this pizza dough recipe.

Warm Water

– Warm water activates the yeast so it can get to work. Yeast is very temperature specific, so make sure you check the yeast pack for the appropriate water temperature.

Kosher Salt

– Salt brings out the yeasty dough flavor that we all love.

Instant Yeast

– Yeast is what makes the pizza dough rise into what will become a soft thick crust. Yeast also works its magic by making the dough easy to work with.

Sugar

– Sugar plays a few roles in the dough-making process. It speeds fermentation, maintains moisture in the crust, and helps it brown.
For Assembling Pizzas:
Low Moisture Mozzarella Cheese

– Low moisture Mozzarella cheese is great for pizzas because the low water content means it melts beautifully onto the crust without getting greasy.

White Cheddar Cheese

– Cheddar cheese's sharp flavor is a great contrast to mozzarella's mild flavor.

Pepperoni

– Any type will work, but if you can find

Hormel Cup n' Crisp

, I highly recommend them. The edges lift up as they bake and get extra crunchy. Feel free to skip the pepperoni for a vegetarian version.

Parmesan Cheese

– This hard Italian cheese adds just the right amount of salty cheese flavor to the pizza.

Ricotta Cheese

– Ultra creamy and slightly sweet spoonfuls of ricotta cheese sends homemade pizza over the top.

Fresh Basil

– This classic pizza topper is a must to round out the warm melted cheese, acidic tomatoes, and pepperoni.
For the Sauce:
Olive Oil

– To sauté the shallots and create the base flavor of the sauce.

Shallot

– Shallots add a mild, slightly sweet flavor.

Red Wine Vinegar

– Red wine vinegar enhances the tomato acidity in the sauce.

Tomato Paste

– Tomato paste is used in pizza sauce recipes, and some marinara recipes, to deepen the tomato flavor.

Tomato Sauce or Crushed Tomatoes

– Both crushed tomatoes and jarred tomato sauce can be used to make pizza sauce. Whichever you choose, the sauce will have a rich, tomato flavor.

Sugar

– Sugar is added to tomato sauces to balance the acidity. Use it the same way you'd use salt. If the sauce still tastes a little too acidic as it's simmering, add a pinch more.

Black Pepper – Adds a little pepper spice.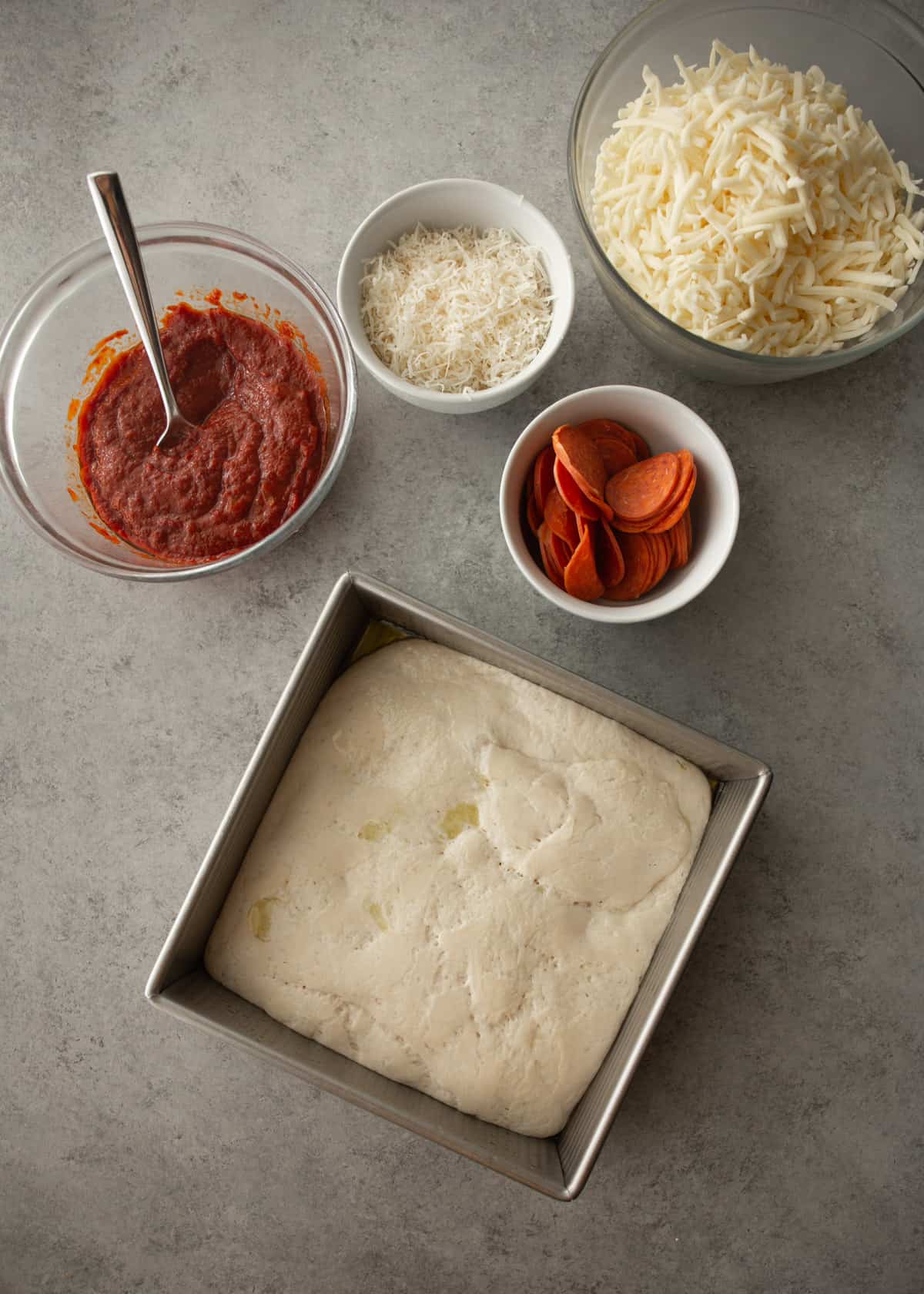 How to Freeze Pizza Dough
Need to save some time in the kitchen? Pizza dough can be made ahead of time and frozen. Instead of removing the dough from the mixing bowl, cover it with plastic wrap and let it rise until it's doubled in size.
After the dough has completely risen, remove from the bowl and divide it into two individual balls of dough, just as you would if you were making your pizzas. Take a little olive oil or non-stick cooking spray and coat the outside of each ball of dough, making sure the entire ball is coated. Place each ball into its own large freezer bag, seal, and place in the freezer. Use within 3 months for best results.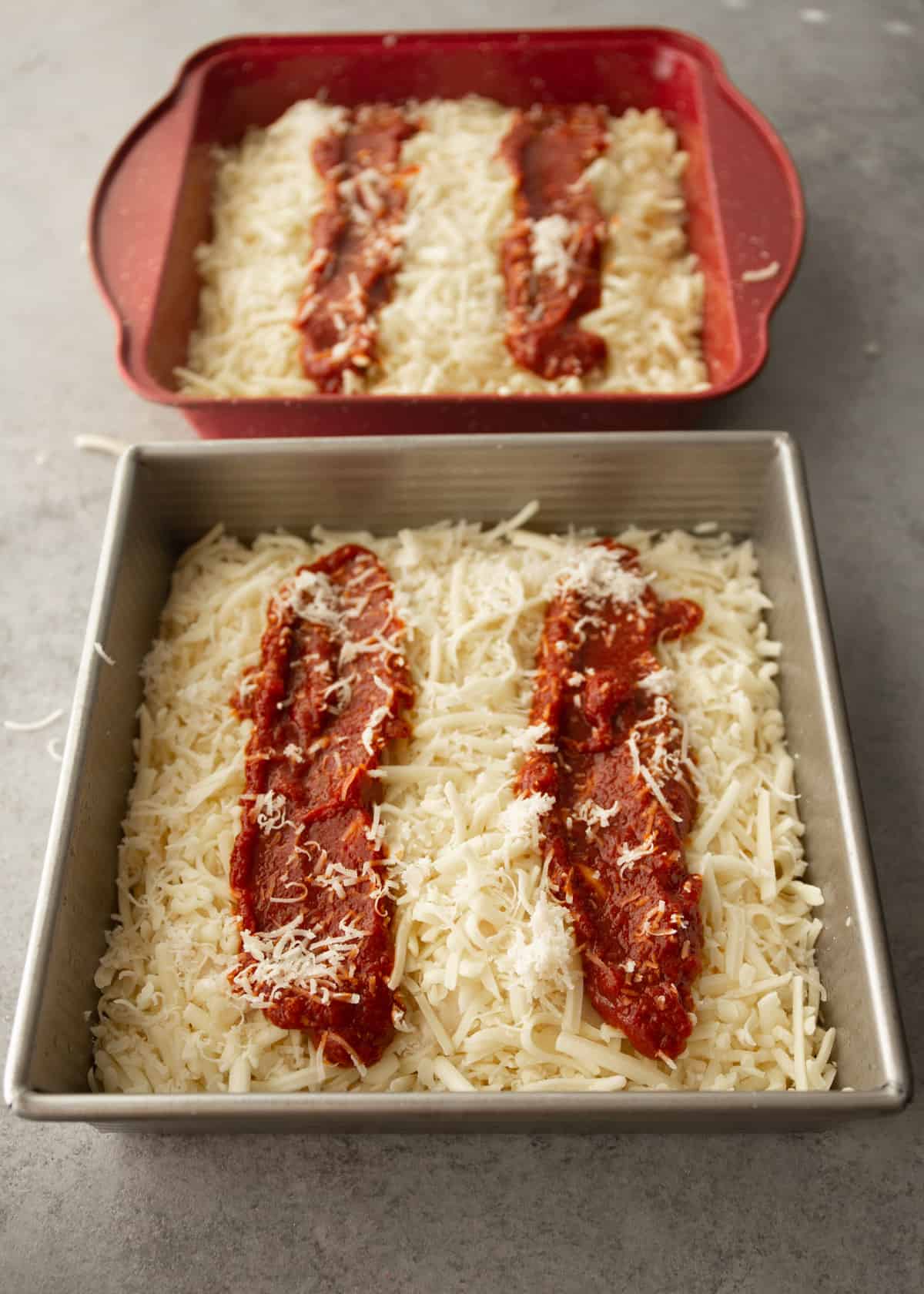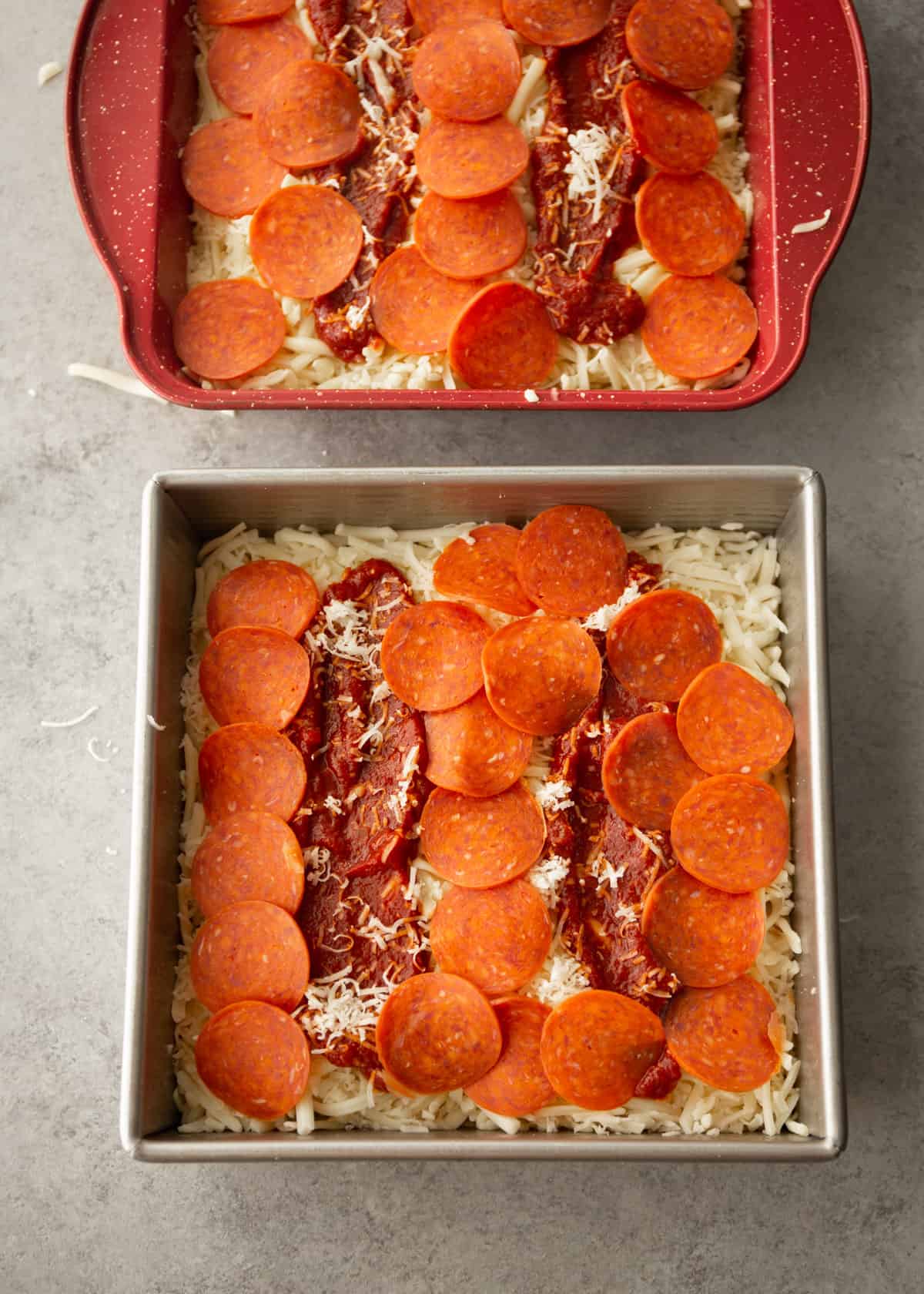 Variations
Add different toppings –

The fun thing about pizzas is that they're totally customizable! Make an all meat pizza with sausage, pepperoni, ham, and meatballs. Make a veggie pizza with mushrooms, black olives, cherry tomatoes, and bell peppers. Or, mix things up and make a supreme pizza with everything on it. It's easy to add your own favorite toppings and create a pizza exactly the way you'd order it from your neighborhood pizza joint.

Make a spicy pizza sauce –

Add some spice to the pizza sauce recipe by including some red chili flakes. Just remember, a little goes a long way.
More Recipes for Pizza Night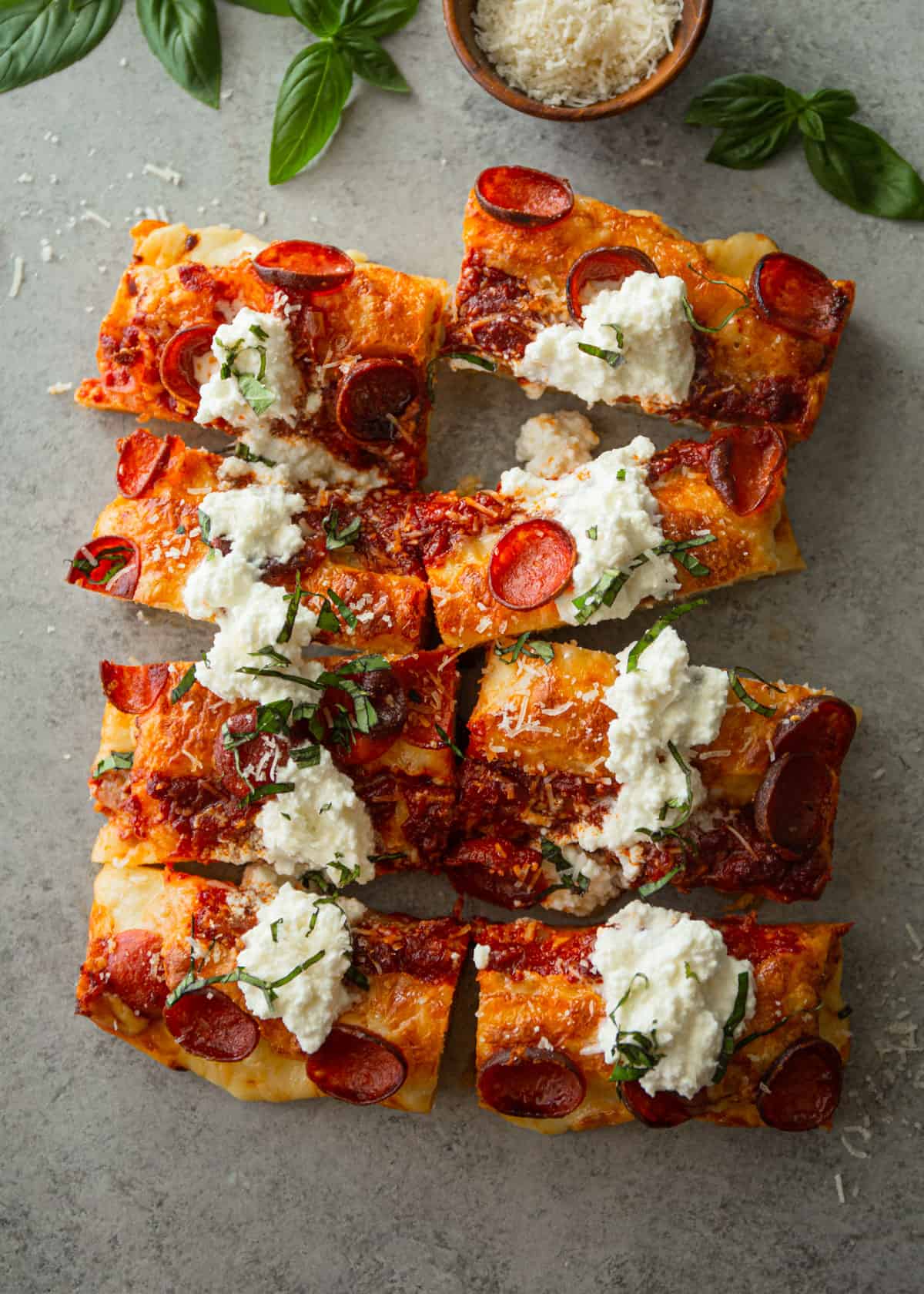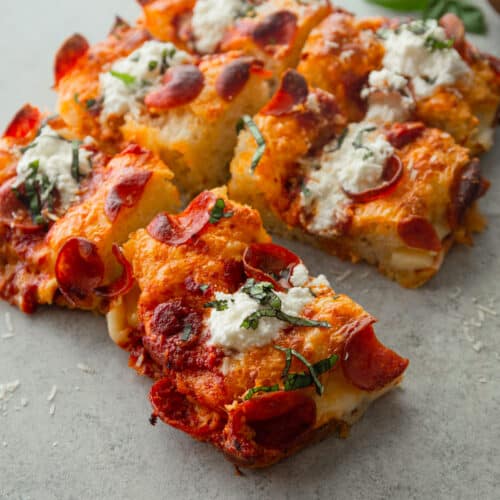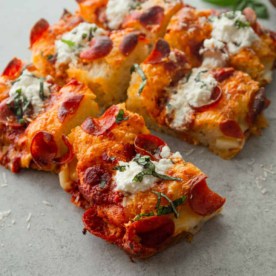 Detroit-Style Pizza with Ricotta Cheese
If you've never had Detroit-Style Pizza with Ricotta Cheese, prepare to fall in love. This thick crust pizza not only has a layer of pepperoni and cheese but it's topped with fresh ricotta and basil.
This recipe makes 2 pizzas (using 8-inch square metal pans)
Equipment
Stand Mixer with Dough Hook

Saucepan

2 8" Baking Pans
Ingredients
For the Dough:
3

cups

all-purpose flour

(375 grams)

1 1/2

cups

warm water

1 1/2

teaspoons

kosher salt

1 1/2

teaspoons

instant or "fast-acting" yeast

1

teaspoon

sugar
For Assembling Pizzas:
nonstick cooking spray

1/4

cup

olive oil, divided

6

ounces

shredded low moisture mozzarella cheese

6

ounces

shredded white cheddar cheese

1

package

pepperoni

(preferably cupping pepperoni like Hormel Cup n' Crisp)

3

tablespoons

grated parmesan cheese

1/2

cup

whole milk ricotta cheese

20

leaves

fresh basil, thinly sliced
For the Sauce:
2

tablespoons

olive oil

2

tablespoons

minced shallots

1

tablespoon

red wine vinegar

1/3

cup

tomato paste

1

8-ounce can

tomato sauce or crushed tomatoes

1/2

teaspoon

sugar

1/4

teaspoon

black pepper
Instructions
Make dough: In the bowl of a standing mixer fitted with a dough hook, combine flour, water, and salt. Mix on low until evenly combined, 3 to 4 minutes.

Let dough rest 10 minutes.

Add yeast and sugar and mix for 2 minutes to evenly combine. Increase speed to high and mix until dough pulls away from the sides of the bowl, 4 to 6 minutes more, scraping down the sides of the bowl as needed. (You may be tempted to add more flour to help the dough come together, but don't do it. This should be a very wet, floppy dough.)

Prepare two 8-inch square cake pans (see note) by spraying them with nonstick cooking spray and then generously rubbing them each with about 1 Tablespoon of olive oil. (Don't skip these steps – you'll want to do everything you can to help minimize sticking.)

Divide dough evenly between pans (it may not reach the edges). Drizzle each pizza with another 1 Tablespoon of olive oil.

Let rise, uncovered, at room temperature until dough reaches the sides of the pan and bubbles form on the surface, about 2 hours.

Make sauce: Heat 2 Tablespoons of olive oil in a small saucepan over medium heat. Add shallot and sauté until soft, about 2 minutes. Add red wine vinegar and cook until vinegar reduces, 1 to 2 minutes more. Stir in tomato paste, crushed tomatoes, sugar, and black pepper. Bring to a simmer, stirring frequently. Cook until thick, 2 to 3 minutes more. (If the sauce begins to sputter, reduce heat and add a lid, leaving it slightly ajar.) Set aside to cool.

Combine shredded mozzarella and cheddar cheeses. Refrigerate until ready to use.

Heat oven to 425°F / 220°C.

Assemble pizzas: When pizzas are done rising, scatter half the cheese mixture over top of the pizzas, all the way out to the edges (the cheese around the edges becomes the cheesy crust).

Spread thin lines of sauce over the tops of the pizzas (the sauce shouldn't fully cover the top, but you want to be sure there's some sauce in every slice).

Top pizzas with pepperoni and parmesan cheese.

Bake pizzas until the cheese is deep golden brown around the edges and bubbling on top, 18 to 22 minutes. (This may vary slightly depending on the thickness of the pans.)

Remove pizzas from oven and immediately run a flat spatula around the edges to loosen the cheese from the sides (it's very important to do this right away to prevent sticking).

Let the pizzas rest in the pan for a minute before using a large spatula to transfer them to a wire rack to continue cooling.

Top pizza with generous spoonfuls of ricotta and fresh basil.

Slice into squares and serve!
Notes
Square Pan
– For the best results, and most golden, crisp edges use a metal pan. A glass pan won't allow for as much of a crispy crust to form, so the results will still be delicious, but not as crisp.
Kosher Salt
– I test my recipes with Morton's Kosher Salt. If using table salt, reduce by about half. If using Diamond Kosher Salt, increase by about 25%. Everyone has their own preferences when it comes to the amount of salt they like, so be sure to taste and adjust as you go.
Yeast
– Be sure to get yeast labeled as Fast Acting, Instant, Quick-Rise, Bread Machine, or RapidRise – any of these will work. Do not use "Active Dry Yeast" which needs to be dissolved in water before using.
Water
– Check the label on the brand of yeast you purchased for the recommended water temperature. Water that is too hot will kill the yeast, water that is too cool will not activate it.
Nutrition
Calories:
526
kcal
|
Carbohydrates:
42
g
|
Protein:
22
g
|
Fat:
30
g
|
Saturated Fat:
13
g
|
Polyunsaturated Fat:
2
g
|
Monounsaturated Fat:
12
g
|
Trans Fat:
0.3
g
|
Cholesterol:
65
mg
|
Sodium:
1124
mg
|
Potassium:
297
mg
|
Fiber:
2
g
|
Sugar:
3
g
|
Vitamin A:
675
IU
|
Vitamin C:
3
mg
|
Calcium:
327
mg
|
Iron:
3
mg
Nutrition information is automatically calculated, so should only be used as an approximation.