It's Thursday here, tomorrow's a holiday, and it's Easter weekend, to boot. How about something sweet for breakfast? I have just the thing.
I've had it in my mind for some time that I wanted to make baked french toast. It was not going to be particularly blog-worthy. I was just going to take whole pieces of a precious loaf of sourdough bread I've been saving in the freezer, drown them in eggs and milk and stick them in the oven. However, with a few keystrokes and a google search, I changed course thanks to The Pioneer Woman's spin on the dish. Hers is a sweet strata of sorts, topped with a crunchy crumble of cinnamon sugar.
It had me at cinnamon sugar crumble.
This is tossed together in minutes and refrigerated overnight, needing only to be baked in the morning. In my book, that makes it the ideal sort of recipe to accompany chocolate eggs on Easter morning (when consuming excessive sugar before 10am is strongly encouraged).
When I made this baked french toast last weekend, just as the apartment began to fill with the toasty, warm smell of cinnamon, I looked over to see that it had puffed up like a crunchy-topped soufflé.
I took this as a sign that it was done, and snapped a picture before it collapsed.
The french toast comes out creamy and custard-like. Thanks to the sourdough, the sweetness is balanced and has a lovely bit of crunch on the top.
I have had a fascination with The Pioneer Woman since seeing pictures of her kitchen, with its wall of windows looking out on the prairie. But, between bites of this baked french toast, I started thinking that I may be cut out for being a modern pioneer woman myself. I do, after all, have Midwestern roots that have been particularly on my mind this week, in large part to a thrilling (but, ultimately disappointing) basketball game. I wonder if Frank has any interest in becoming a rancher…
For now we're most certainly cattle-free (not to mention animal-free, yard-free, and nowhere near the prairie).
But we do have french toast.
As the hot season is here in all of its blazing glory, we are taking advantage of a four-day weekend in Thailand (nothing to do with Easter…everything to do with a royal funeral procession on Monday) and heading to the beach. Have a lovely weekend.

_____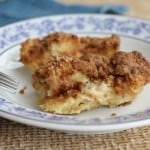 Print Recipe
Baked Cinnamon French Toast
Ingredients
For the French Toast:
1

loaf Crusty Sourdough Or French Bread

8

whole Eggs

2

cups

Whole Milk

1/2

cup

Whipping (heavy) Cream

3/4

cups

Sugar

2

Tablespoons

Vanilla Extract
For the Topping:
1/2

cup

All-purpose Flour

1/2

cup

Firmly Packed Brown Sugar

1

teaspoon

cinnamon

1/4

teaspoon

Salt

1

stick Cold Butter, Cut Into Pieces
Instructions
Grease 9 x 13-inch baking pan. Tear bread into chunks (or cut into cubes) and evenly distribute in the pan. Whisk together eggs, milk, cream, sugar, and vanilla. Pour evenly over bread. Cover tightly and store in the fridge several hours or overnight.

In a separate bowl, mix flour, brown sugar, cinnamon, and salt. Add butter pieces and cut into the dry mixture until mixture resembles fine pebbles. Store in a Ziploc in the fridge.

When you're ready to bake the casserole, preheat oven to 350 degrees. Remove casserole from oven and sprinkle crumb mixture over the top. Bake for 45 minutes for a softer, more bread pudding texture. Bake 1 hour or more for a firmer, less liquid texture. (I found 45 minutes was just perfect.)

Serve immediately.