Croque Madame Ham and Cheese Breakfast Bake
Published Jun 24, 2021•Updated Mar 08, 2023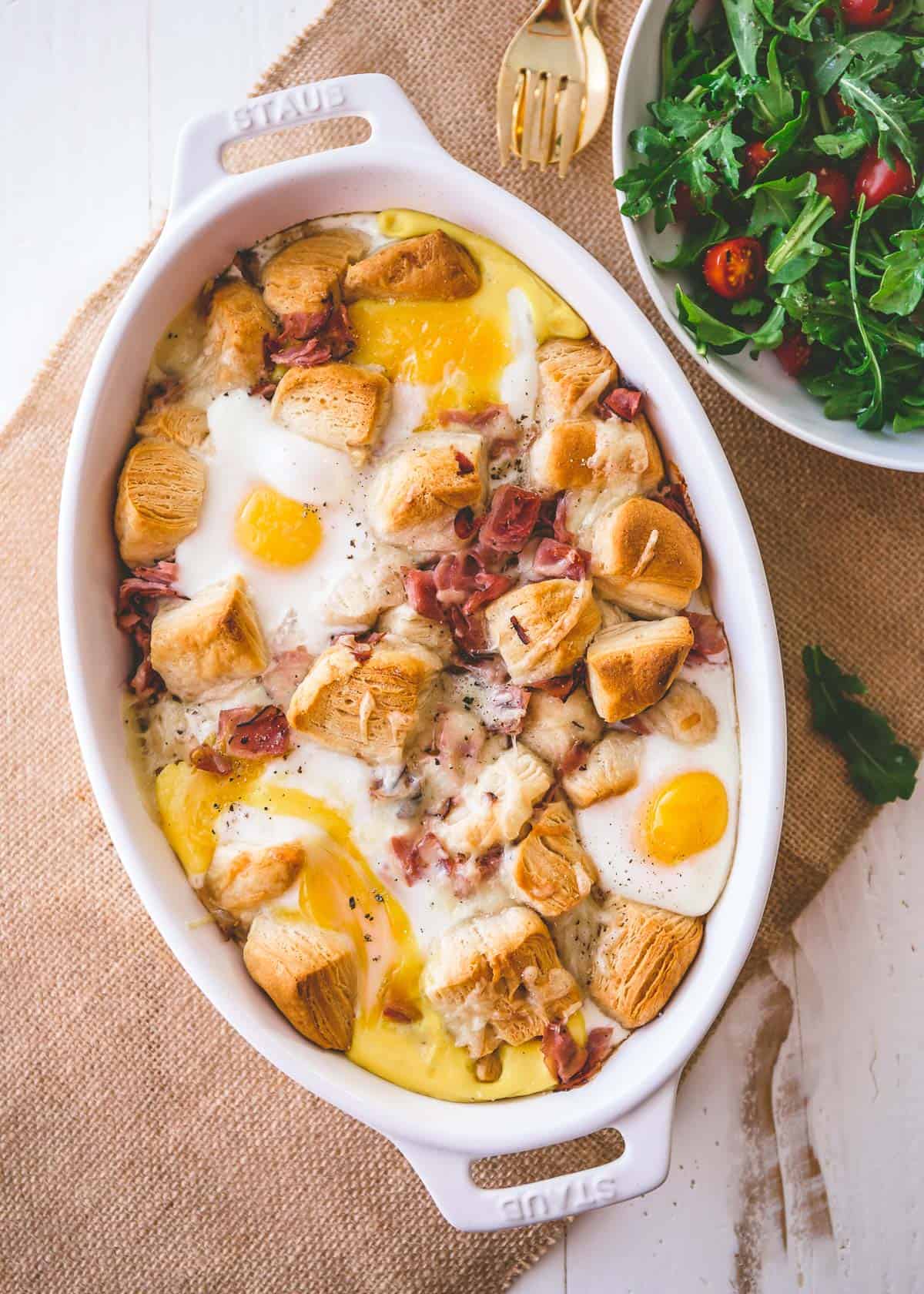 Maybe we can't actually sit in a bistro in Paris right now (though if you are, I want to hear about it!), but we can have this indulgent ham and cheese breakfast bake that was inspired by the bistro favorite – Croque Madame. Purists will know that this is not at all like the original, but includes the classic flavors – savory ham and eggs, nutty gruyere, and creamy bechamel. Combined with refrigerated biscuits and baked in a casserole dish, this is French-inspired brunch made easy!
Since you're here reading this, I can assume that you're my kind of food person, and that means that an over-the-top brunch recipe might be just the type of thing that you (like me) love. Like many of my recipes these days, the inspiration comes from a bit of wanderlust (hello quiche). So many places to see and only so much time (and $$) with which to do it! But this recipe has the Croque Madame flavors with a little shout-out to American biscuits and gravy.
Pour a simple bechamel white sauce into the bottom of the baking dish to start. It will mostly disappear into the biscuits as it bakes, giving the biscuits that tender-on-the-bottom / golden-on-the-top combo that is irresistible. When everything is nearly finished baking, crack eggs into the top. Some yolks may break, some may stay intact, either way this is guaranteed to be a delicious, rich, and utterly indulgent breakfast or brunch you'll love.
Let's make it!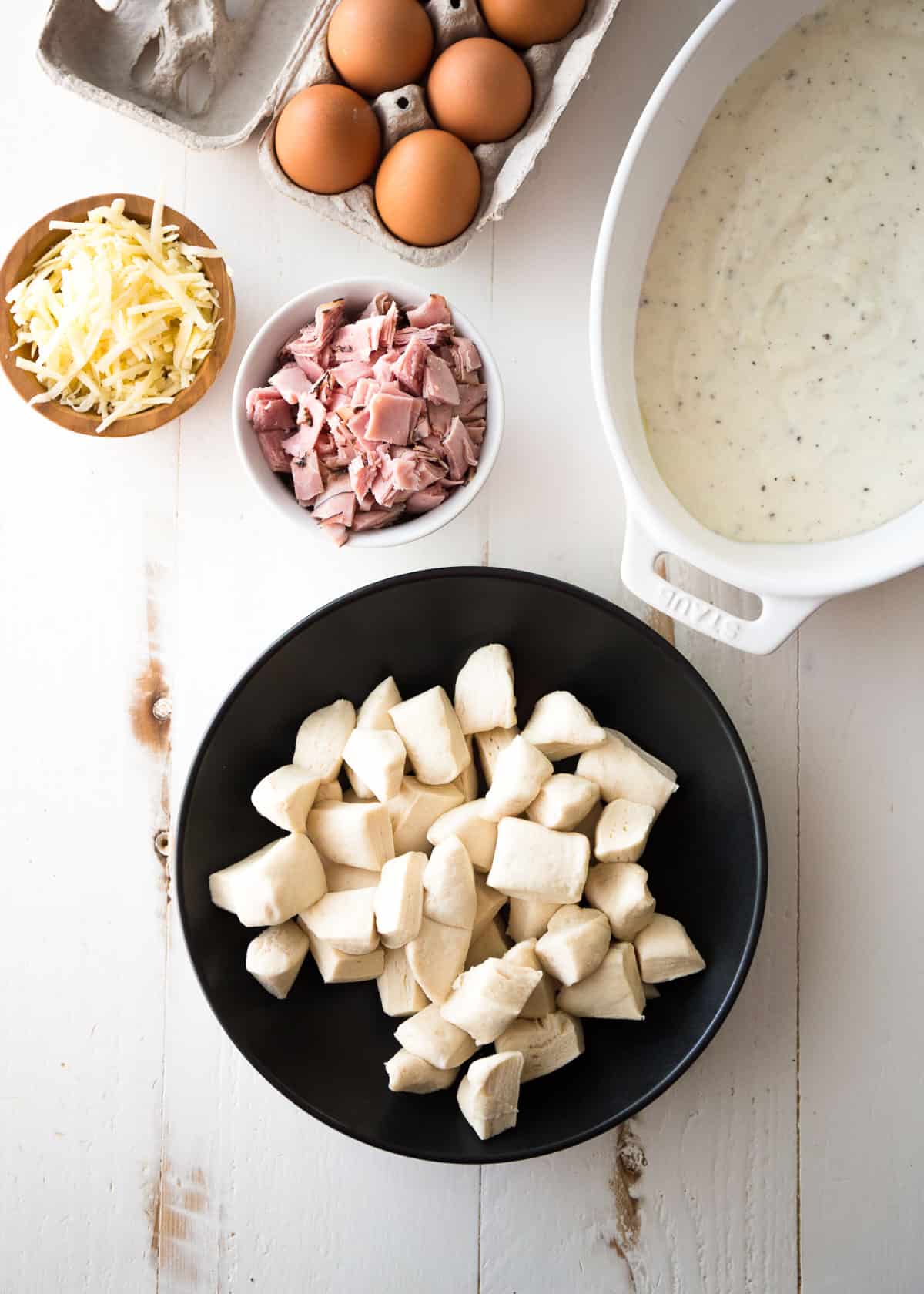 Ingredients for Ham and Cheese Breakfast Bake
Bechamel

– This recipe starts with a creamy white sauce known as bechamel. If you've never made it – don't be intimidated. Start with melted butter and flour whisked together and then slowly add milk. Simmer until the mixture is slightly thick. That's it! Basic ingredients transformed into a creamy sauce.

Refrigerated Biscuits

– Nothing fancy here. You're making a bechamel so let that be all the work you do. The bread base of this dish is refrigerated biscuits. Just pop them open, slice them up, and add them to the casserole dish.

Deli Ham

– Thick-sliced deli ham will give you that Croque Madame vibe. The pieces on top will get golden as the dish bakes and everything else will infuse the casserole with savory flavor. I like honey-roasted ham here, but use another variety if you don't want that sweetness.

Gruyere Cheese

– This is the classic cheese used in Croque Madame and it really makes this otherwise rustic dish taste special. Gruyere is nutty and crumbly and rich. It also can be a bit expensive, so if you want a more affordable option, Swiss or sharp white cheddar would work great.

Eggs

– These are cracked right on top of the bake. See below for tips.
How to Add Eggs on top of a Breakfast Bake
In this breakfast casserole, the eggs are cracked right on top of the dish instead of whisked and folded in as with other varieties. This means that the biscuits stay flaky and golden and the eggs can be cooked just to your liking. Bake the casserole for 20 minutes and then use a spoon to form deep wells in the top. Crack the eggs right into those wells, then continue to bake everything together until the eggs are cooked just the way you like them. It should take 10 to 15 minutes more, but you can take it out and gently press the top of the eggs to test them for doneness – I like the whites completely firm and the yolks still soft in the centers.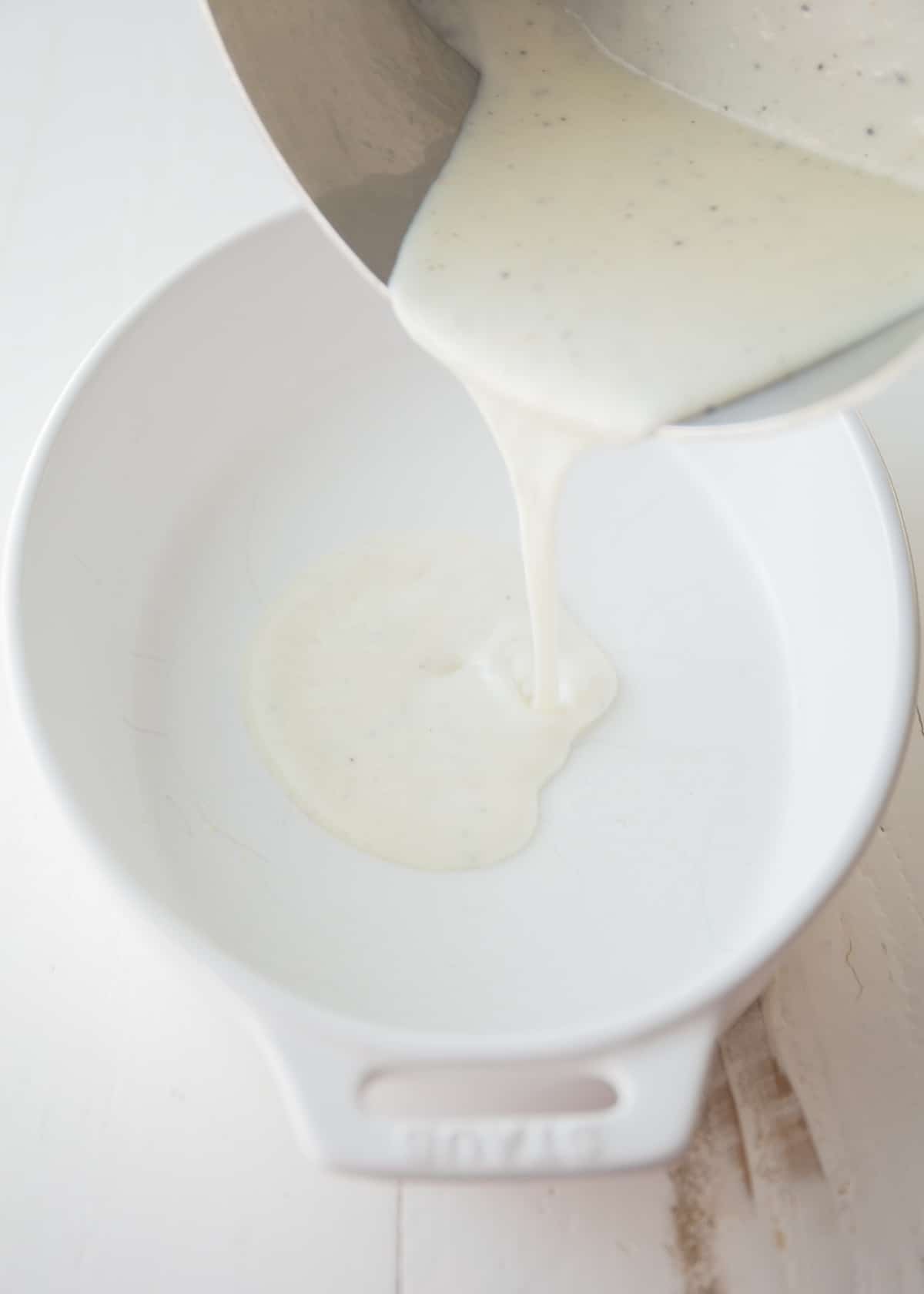 Possible Variations
Change Protein

– If you're not tied to the Croque Madame flavor profile, feel free to mix up the protein. Sausage would be great here (brown it first) and chorizo would give you a spicy kick like

this strata

that is always a favorite in our house.

Skip the eggs

– Don't love eggs? This breakfast bake will work just fine without them, but you might want to double the creamy bechamel / white sauce to lend the dish more moisture that would otherwise come from the egg yolks.
More Brunch / Egg-Based Recipes
Favorite Tools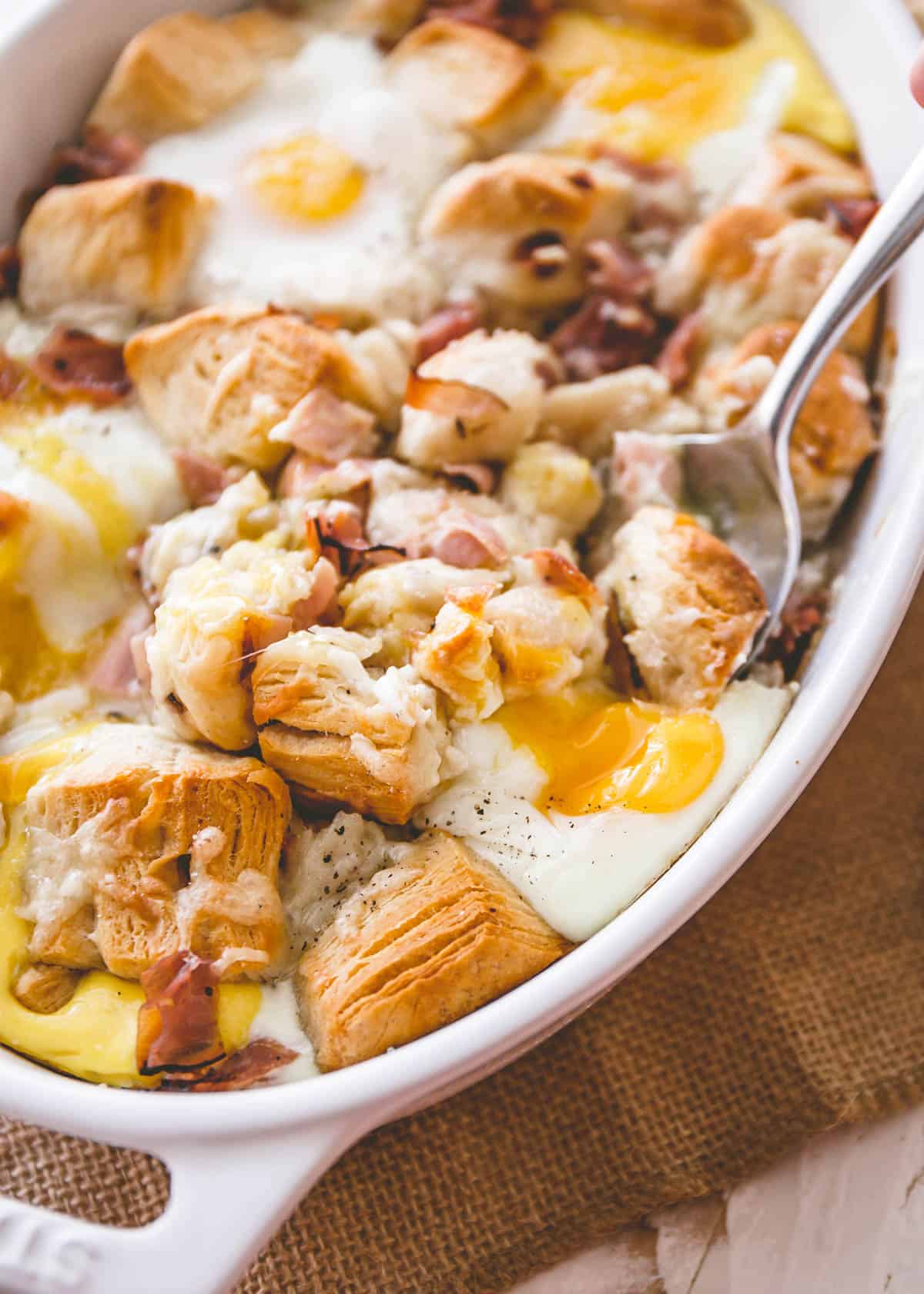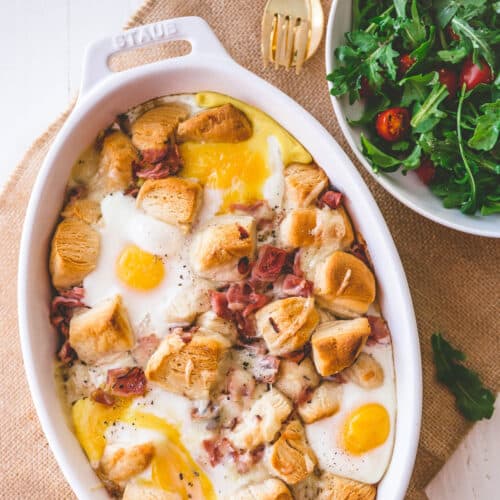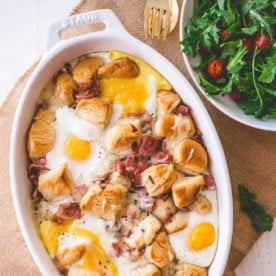 Croque Madame Ham and Cheese Breakfast Bake
Inspired by the French bistro favorite Croque Madame, but adapted to a simple breakfast casserole, this dish is sure to be a crowd-pleaser at your next brunch. Nutty gruyere cheese and deli-ham elevate the flavors but refrigerated store-bought biscuits keep things simple.
Equipment
Saucepan

2 Quart Baking Dish

Knife
Ingredients
3

Tbsp

Butter

3

Tbsp

All-Purpose Flour

2

cups

Milk

1/4

tsp

Kosher Salt

1/4

tsp

Black Pepper

8

oz

Thick-Sliced Deli Ham, chopped

1

15 oz can

Refrigerated Biscuits

4

oz

grated Gruyere Cheese, divided

6

Eggs
Instructions
Preheat oven to 350°F / 177°C.

Spray a 2 quart baking dish (or similar-sized dish, like a 9x9 pan) with nonstick cooking spray or brush with some oil.

In a small saucepan over medium heat, melt butter. Add flour and whisk well until no dry spots remain. Slowly pour in milk while whisking. Bring to a simmer and simmer until slightly thick, 2 to 3 minutes. Whisk in salt and black pepper.

Pour thickened sauce into prepared pan.

Scatter about half of the ham over the sauce.

Separate refrigerated biscuits and slice each biscuit into about 6 even pieces.

Spread half the biscuit pieces out in prepared pan.

Top with remaining ham and half the cheese.

Spread all remaining biscuit pieces on top.

Transfer baking dish to the oven and bake for 20 minutes. (The dough will not be fully cooked.)

Remove pan from oven. With the back of a spoon, make 6 deep wells in the biscuit mixture. Scatter remaining cheese into wells and over the rest of the dish. Crack an egg into each well.

Return pan to oven and continue baking until biscuits are golden brown and eggs are cooked to your liking, 10 to 15 minutes more. (The timing varies a bit depending on how deep you made the wells for the eggs and whether you'd like the yolks fully cooked or still slightly soft.)

Season the top of the eggs with some salt and pepper before serving.
Nutrition
Calories:
331
kcal
|
Carbohydrates:
7
g
|
Protein:
22
g
|
Fat:
23
g
|
Saturated Fat:
11
g
|
Polyunsaturated Fat:
2
g
|
Monounsaturated Fat:
8
g
|
Trans Fat:
1
g
|
Cholesterol:
227
mg
|
Sodium:
758
mg
|
Potassium:
309
mg
|
Fiber:
1
g
|
Sugar:
4
g
|
Vitamin A:
746
IU
|
Calcium:
319
mg
|
Iron:
1
mg
Nutrition information is automatically calculated, so should only be used as an approximation.
*This post contains affiliate links*