Bright and early this morning I was struggling through my Thai lesson when my teacher broke in, as she sometimes does, with some gloriously tricky, yet delightful tidbit about the Thai language. She used the word "family", "khrup khrua" in a sentence and then paused to point out that a translation of this term would literally be something like "those who gather in the kitchen". ("Khrup" is the word for kitchen.) How lovely and appropriate is that? It is true that sometimes what I see of Thai food in Bangkok is about good, quick, convenient food for grabbing on the run. Skewered finger bananas hot off the grill, anyone?
But it is also about recognizing that meals are, often, the thing that bring people together to share and catch up. The metaphor for family and the kitchen was in the back of my mind all day. It was only overshadowed this afternoon by thoughts of dinner. I could think of nothing better than this Thai dish that I now love, but never even knew existed before I lived here. This warm, rich, fragrant dish is the perfect thing to have bubbling away on the stove before "gathering" in the kitchen to share. My recipe for Chiang Mai Noodles was originally published on Honest Cooking (you can find it here). I've also re-posted it below.
Chiang Mai Noodles is a curry-based soup that is full of flavor, but I love it all the more because of its craziness in texture. When you assemble the perfect bite, you get a burst of curry and turmeric around the chicken, with both the smoothness and crunch of egg noodles cooked two ways. It only took one bite of this dish on our recent trip to Chiang Mai, and I was instantly hooked.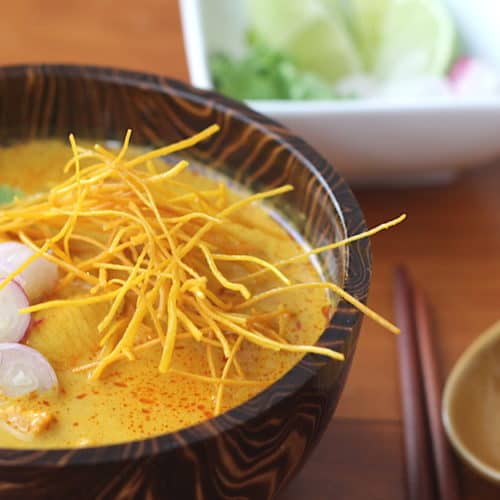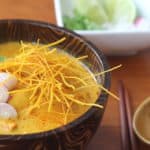 Print Recipe
Chiang Mai "Khao Soi" Noodles
Ingredients
8

oz

(225 g) Bami-style thin egg noodles

Approximately 2 cups (about 500 ml) vegetable oil, for frying

1.5

oz

(40 g) fresh turmeric root, peeled

4

cloves

garlic

1

Tbsp.

(15 ml) vegetable oil

2

Tbsp.

(30 g) curry powder

1.5

Tbsp.

(20 g) red curry paste

1

tsp.

(5 g) ground coriander seed

½

tsp.

(2 g) cardamom

2

cups

(475 ml) coconut milk

4

cups

(950 ml) low-sodium chicken broth

1

Tbsp.

(15 g) white sugar

salt, to taste

16

oz.

(450 g) boneless, skinless chicken breast, cut into 1-inch pieces

Garnish with:

a small bunch of fresh coriander

2

shallots, thinly sliced

1

lime, cut into wedges
Instructions
Fry half of the noodles in hot oil just until crisp, about 2 minutes. Remove from oil and set on paper towels to cool and drain. Soak the remaining noodles in room temperature water for 5 minutes to soften and remove extra starch. Drain noodles and set aside.

Crush turmeric root and garlic together using a mortar and pestle until rough paste is formed. Heat 1 Tbsp. vegetable oil over medium heat. Add turmeric, garlic, curry powder, red curry paste, coriander seed and cardamom to the oil and heat just until fragrant, about 1 minute. Add coconut milk and bring to a boil, stirring to break apart curry paste. Allow coconut milk to boil for 1 minute. Add broth and sugar and bring mixture to a boil. Taste and add salt, if needed. Add chicken and reduce to a low simmer. Simmer until chicken is cooked through.

Place one fourth of the softened noodles into each serving bowl. Pour chicken and curry into the bowls and top each portion with fried noodles. Serve immediately with coriander, shallots and lime wedges on the side.
Notes
Don't skip out on the coriander, shallots and lime wedges that are served with this dish. They are important finishing touches but are served on the side so that each person can adjust the dish to fit their tastes.