10 Easy Easter Recipes
Published Apr 03, 2020•Updated Feb 20, 2023

Easter may look very different this year than any of us had planned, but still it will arrive in all of its springy, pastel, egg-themed glory. And as for us at our house, we will still be celebrating with fake-grass-filled baskets for the kids, church (online), and maybe a Zoom-connected brunch with friends and family. And of course, there will be food! I'm still debating what will be on tap for our Easter meals, but in case you are looking for inspiration – here are 10 easy Easter recipes that would be great to make for the holiday.
What to Serve for Easter
Easter is a great holiday to serve one large meal at a time that falls between regular meal times. Think brunch at 11am or a mid-afternoon meal around 3 or 4pm. This gives you plenty of flexibility to set out a variety of dishes that can be served at room temperature and / or buffet-style. Egg dishes like casseroles, quiches, and frittatas are great options. Fresh salads made with greens or grains feel lighter for spring. Ham is a traditional offering and can be served in a variety of ways, either incorporated into other dishes or set out to slice and add to sandwiches. And don't forget dessert! Everyone wants something sweet on Easter.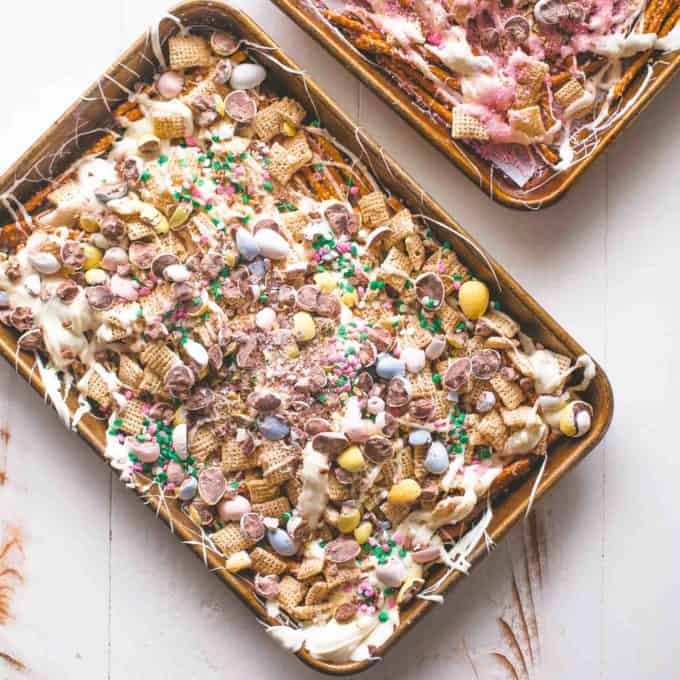 We just shared this fun kid-friendly no-bake project earlier this week, and my kids are insisting that we make it again before the holiday. It's sweet and salty and a fun treat to snack on while decorating eggs!
This long-time favorite bread recipe here on the site delivers delightful, soft, buttery dinner rolls in one hour. I give the rolls a light brush of butter before and after baking and a sprinkle of salt which makes them irresistible! Just check out the reviews written at the bottom of the post to see all of the different tips and variations that fans of this recipe have come up with.
This classic breakfast casserole is filled with eggs, sausage, sweet potatoes, and cheese and can be made in the slow cooker! It's low carb and keto-friendly. Prepare it at night to serve first thing in the morning (or prepare first thing in the morning to serve for brunch). Great for a low-key Easter morning.
A fun, festive dessert for spring parties and Easter. These "carrot top" chocolate cupcakes are as easy as making your favorite chocolate cupcakes (I often just use a box mix for the cupcakes since these are really all about the fun topping) and dipping strawberries in orange-colored white chocolate. Great for kids to help with!
Frittata is a baked egg dish that takes less than 30 minutes, is easily customizable, and can work for any meal of day. This is what I served last year when we hosted Easter brunch for a big family gathering. I made it the day before and just warmed it briefly in the microwave before I served it.
Wondering what to do with that leftover Easter ham? Make Baked Ham and Cheese Rolls with a sweet tangy Honey Mustard Glaze. It's a totally fun twist on a classic ham and cheese sandwich.
Egg in a Hole is a classic diner dish that can be easily scaled up for a crowd using this baked version. Take it to the next level with bacon and buttery brioche bread! This is a beautiful breakfast and a bit different. Always a hit around our breakfast table.
This really, truly is the best chocolate bundt cake going – just check out the reviews! It's got a deep not-too-rich chocolate flavor and is topped with a creamy, thick glaze that has just a hint of coffee. We make this coffee for all sorts of celebrations and I'll let the kids add sprinkles to go with the holiday or celebration.
This recipe is not at all complicated, but the splash of cream and a bit of butter make the eggs creamy and rich. These baked eggs come out of the oven hot and bubbly and slightly fragrant with the herbs and garlic. With crusty bread for dipping, it's a great breakfast or brunch.
This Easy Vanilla Snack Cake makes a celebration possible any day of the week with just a little bit of effort! This is a no-mixer-required cake that is baked in an 8×8 pan and comes out tender and soft. If you're looking for a small, simple dessert to serve at your at-home Easter gathering, this simple cake is a great option.