Last night I had a dream that Michelle Obama came to our wedding and gave me a bag with my new initials embroidered onto it. Maybe it's just because I so love Mrs. Obama – her style, her shoes…her organic garden at the White House…
More likely it's just because we are about to celebrate our one-year anniversary and my mind is tricking itself into the state it was in a year ago this week – pre-wedding dreams about flowers not showing up, problems with seating charts, music that no one would dance to, or food being served cold. I was never worried about any of those things in my waking moments a year ago, but somehow they crept into my dreams. And now they're back for a little reunion?
Fortunately I woke up and reminded myself that there are no wedding stresses necessary this week! We just get to sit back and enjoy celebrating a first year of marriage that brought us halfway around the world and has been more full of fun and surprises than I ever could have imagined a year ago.
But if my crazy dreams weren't baffling enough, this morning I left the house and encountered a man on the street selling hot dog buns fresh off the grill and filled with chocolate and strawberry sauce. What will they think of next.
Thai shrimp salad, however, is far more traditional around here than hot dog buns filled with sweet stuff. I have had this prawn salad tossed with pomelo, so if you can get your hands on some pomelo slices (or probably even grapefruit would fit the bill), they are a tasty addition to this light summery salad.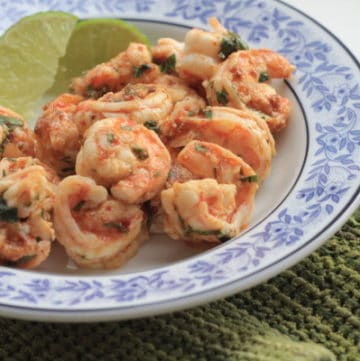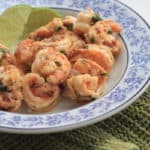 Print Recipe
Thai Shrimp Salad
Servings:
3
-4 as a side dish
Ingredients
¾

pound

shrimp, peeled and de-veined

1

tsp.

vegetable oil

3

Tbsp.

sweet thai chili paste

juice from ½ a lime

4

kaffir lime leaves

2

stalks lemongrass, white parts only

2

medium shallots, thinly sliced

½

cup

roughly chopped fresh mint leaves
Instructions
Sauté the shrimp in vegetable oil over medium heat just until cooked through, about 3-4 minutes. Drain any liquid off the shrimp and pour the shrimp into in a mixing bowl. Toss with chili paste and lime juice until evenly combined.

Remove the stem from the center of the kaffir lime leaves. Cut the kaffir lime leaves and lemongrass stalks into very thin slivers. Add kaffir lime leaves, lemongrass, shallots and mint leaves to the shrimp and toss until combined. Serve immediately or chill for several hours before serving.