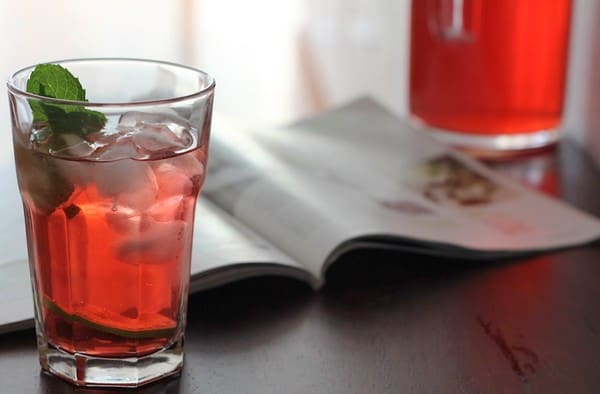 Years ago my parents packed our family in the car and took us on a vacation to Arkansas. I'm from the midwest and vacationing in Arkansas never struck me as unusual...until just a moment ago when I saw it spelled out on the page in front of me. In fact, I have great memories of that vacation and an artsy B&B where we stayed called Dairy Hollow House. Although I was very young, I remember instantly loving the Dairy Hollow House, first because of its quaint, cottage-like setting and second, because it was identified as a bed and breakfast. Loving breakfast as much as I do, I am easily sold on anywhere in which a good breakfast spread is implicit.
There were definitely noteworthy breakfasts brought to our little cottage every morning (only years later did I learn, with mild disappointment, that not every B&B brings breakfast to your door in a charming woven basket). But one of my best memories is not of the food, but of a bright red iced tea, with a hint of sweetness and the flavor of red berries. It was refreshing and had that endearing ruby color reminiscent of a Shirley Temple. The secret, as it turned out, was Red Zinger Tea.
I'm enjoying some downtime today, as I am on a brief hiatus from Thai lessons and using a relatively quiet week to work on a few projects at the apartment. It was luxurious to sit by the window for a few minutes this afternoon, reading a magazine and sipping a glass of iced tea. Others around me were not so fortunate to be comfortably seated inside however, as it also happens to be the day that they are cleaning the exterior of my apartment's windows. Here we see the window cleaner, prancing around on the narrow ledge outside...8 floors above the ground. If I hadn't been afraid of the fall that a distraction might have caused, I would have leaned out and handed him a glass.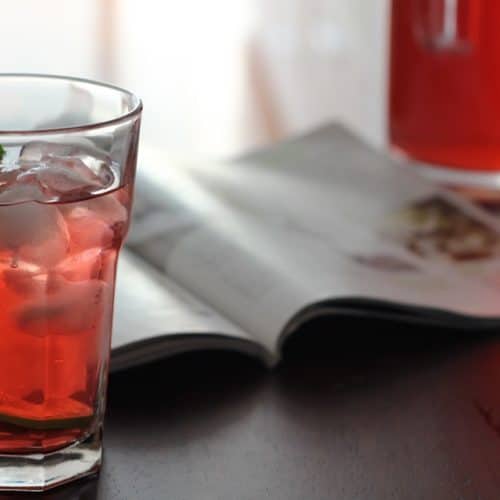 Print Recipe
Red Zinger Iced Tea
Ingredients
4

bags Red Zinger Tea

1

bag green tea

1

and ½ cups white grape juice

lemon or lime slices and mint springs, for garnishing
Instructions
Bring 2.5 pints (1.5 L) of water to a boil. When water just begins to boil, turn off heat and pour water over tea bags in a large pitcher. Allow to steep until water cools, about 30 minutes. Remove tea bags and add grape juice, stirring to combine. Pour over ice and serve garnished with lemon or lime slices and sprigs of fresh mint.
Notes
inspired by tea served at the Dairy Hollow House - Eureka Springs, Arkansas