Watermelon Mint Lemonade
Published Jul 27, 2012•Updated Apr 19, 2022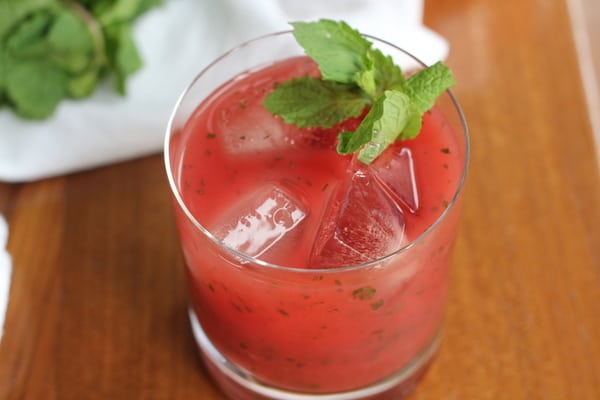 You know it's big news when we're talking about it in Bangkok.
I wish I was referring to more profound news, like economic growth in China, or elections in Egypt, but no…it's Katie Holmes' divorce from Tom Cruise. Why is this so intriguing? Have you been following it too? You can tell me. No judgment here.
Most of the time I can resist the siren's call of celebrity gossip and focus on something respectable. Like eating popsicles for breakfast.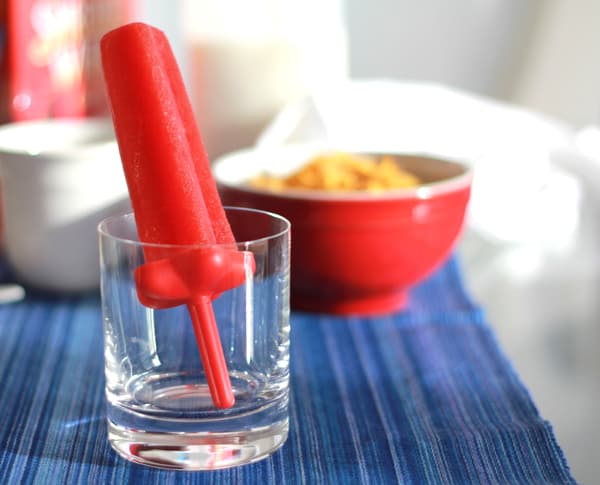 After I made a batch of Watermelon Lime popsicles and ate them at all hours of the day last week, I had the urge to put watermelon purée into just about everything.
It was the only thing distracting me from celebrity "news".
So when I came across Alice Currah's Watermelon, Mint Lemonade, I had to make it. Immediately.
It turned out to be the perfect drink to serve up at our summertime dinner party last week. Refreshing, light, and downright healthy.
Particularly when we added a shot of gin (because…why not?), we all agreed that this tastes like summer in a glass.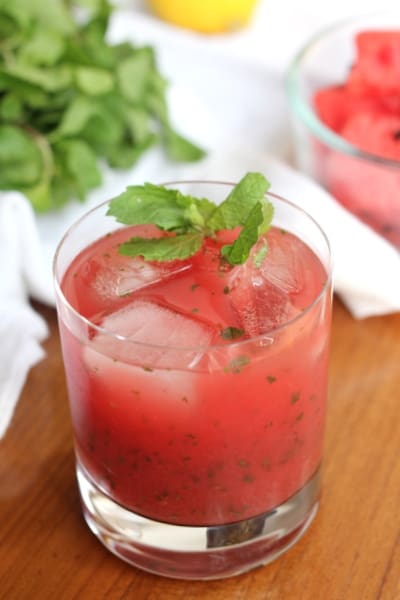 Watermelon and Mint – an undeniably successful combination.
Katie Holmes and Tom Cruise – not so much.
__________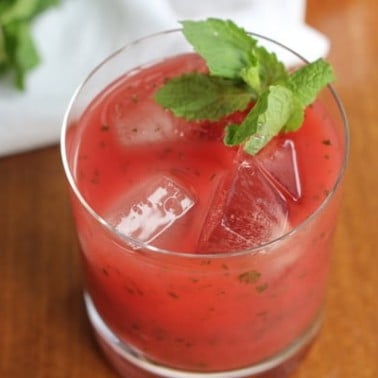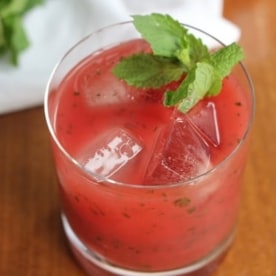 Watermelon Mint Lemonade
This refreshing summer drink will ward off the heat with the bright combination of watermelon, mint, and lemons.
Ingredients
½

cup

granulated sugar

10

cups

seedless watermelon, cubed in 1-inch pieces

1

cup

fresh-squeezed lemon juice

½

cup

loosely packed mint leaves

lemon slices, for serving

fresh mint sprigs, for serving
Instructions
Make a simple syrup by combining 1/2 cup sugar and 1/2 cup water in a small pan over medium-high heat. Heat the liquid just until the sugar is complete dissolved, 5-6 minutes. Set the simple syrup aside to cool.

Pulse the watermelon in a blender until smooth. (You may need to do this in 2 batches.) Strain the pureed watermelon through a fine mesh collander into a large bowl. Discard the pulp and rinse the blender container out with water.

Return the watermelon liquid to the blender. Add the lemon juice and mint and blend until the mint is very finely chopped. Transfer the Watermelon Mint Lemonade to a juice pitcher. Slowly adjust for your desired sweetness by adding simple syrup to the lemonade. (I found that I needed only about half of the simple syrup, but depending on the sweetness of your watermelon, this may vary.)

Chill until serving. Serve over ice, with lemon slices and fresh mint as a garnish.
Nutrition information is automatically calculated, so should only be used as an approximation.