I thought I'd be one of those really organized pregnant bloggers with some rhyme or reason to these updates. But I posted one at 24 weeks and here it is 31 weeks and change into this thing called pregnancy, and even though I know I'll want to look back and remember this glorious time (of aching hips, none of my shoes fit, freakishly hot all the time/everywhere), it's seemed less important when really all I want to do is take a nap. Plus, I've been really focused on my pre-baby priorities like getting a teeth cleaning and filling out my bracket for the NCAA tournament.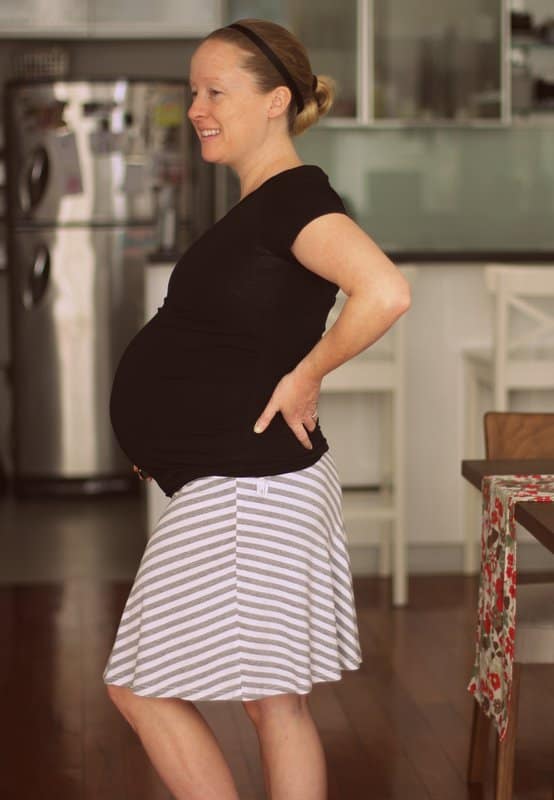 26 weeks
Not that it is a surprise to me (or probably anyone else), but the fact is that twins just take up more space. At this stage in the game, I look really pregnant. And though I'm thrilled with this because it means the girls are growing big in there (!), it also means that I get a LOT of comments from strangers. Most of them are of the excited and very well-meaning "looks like you're due any day" variety. I probably get even more of these comments than I know, but fortunately I live in Thailand, so half the time I can't understand so I just smile and nod and pretend that they are saying "wow - if I didn't know better, I'd think that you got 9 solid hours of sleep and spent your day at the spa...and gosh, your feet look tiny."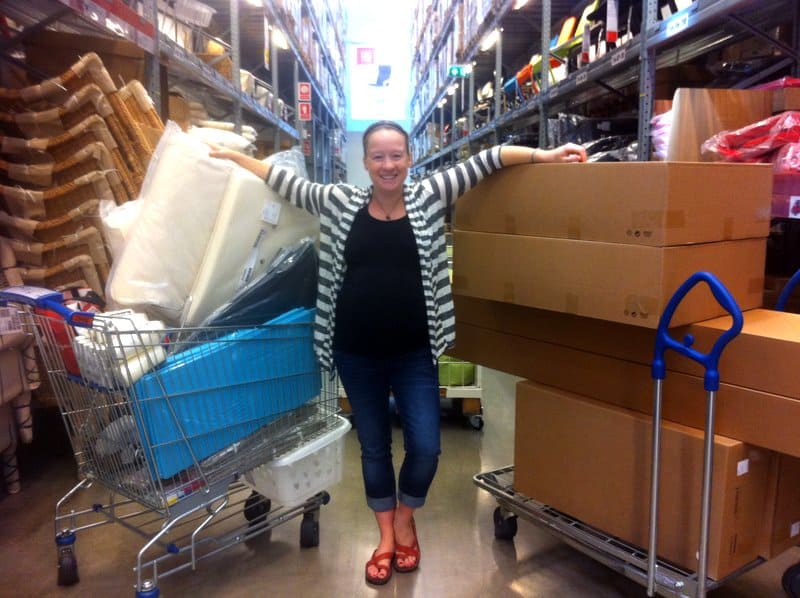 27 weeks on a giant Ikea run
How I'm Feeling
In a word - pregnant. Some days I feel clear-headed and pretty good - like an extra-tired version of my pre-pregnancy self. Other days, everything seems trickier, and I feel like I'm struggling even to complete basic tasks. I live in somewhat constant fear that I'll drop something and won't be able to pick it up. There's a small collection of chocolate-covered blueberries that have fallen somewhere under my desk at work. Don't tell anyone.
I've been medically advised to "walk slowly" (as if there was really any other way I could walk at this point), but otherwise I'm going strong. My office has been great about me leaving on time and working from home when I need to, so I hope to work for a couple more weeks before I pull the plug on my commute and the heat!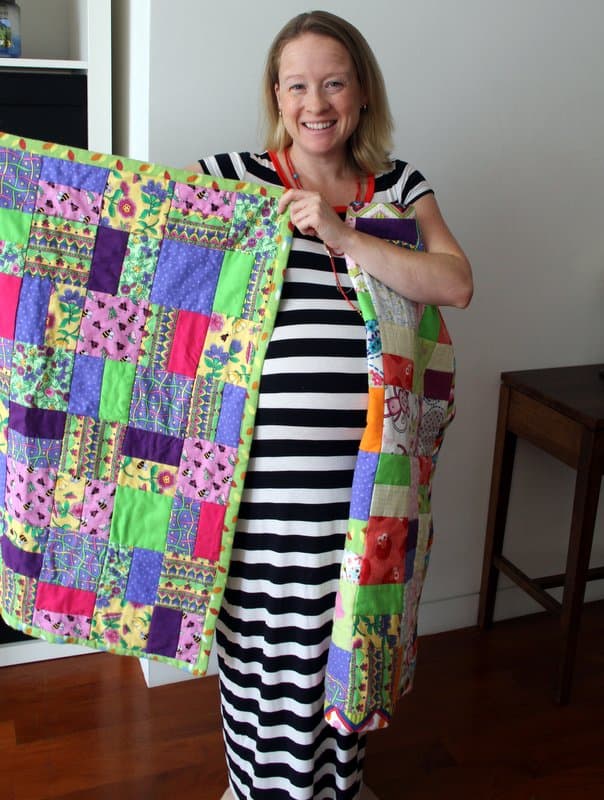 29 weeks with these amazing baby quilts that my cousin made!
How the Babies are Doing
GREAT! Despite the discomforts and worries and general pregnancy-related maladies for me, the babies are thriving. My last appointment was almost two weeks ago and the girls were both growing right on track. They should be nearly 4 pounds each by our next appointment this weekend! I can tell that they are getting rather squished in there - movements are becoming more like little jabs than the big thumps from even a few weeks ago. The girls' movements really peaked at around 27 weeks when I think they both still had decent space to wiggle around. Frank and I went out for a Valentine's Day dinner and a movie and spent most of the movie with our hands on my stomach focussed on their wild acrobatics.
tight quarters at 27 weeks and almost impossible to get an image of them, but Baby A is on the left and Baby B is on the right (but B is in motion…always in motion); little hands in the middle!
Despite the fact that their movements are getting more subtle now, their responsiveness to the outside world seems to have increased. If I press on what feels like an arm or a leg, they'll often push back. Baby A gets the hiccups constantly, but seems to stretch out and get more comfortable when I change directions or turn at night. Baby B is particularly responsive to Frank when he plays the guitar. Both babies often bounce when they hear Frank's voice. A woman at my office now talks directly into my belly button. "They'll recognize me when they come out!" she says. I wonder how true that is. Will they be looking for Zoe Chace when they arrive? I do listen to a LOT of Planet Money...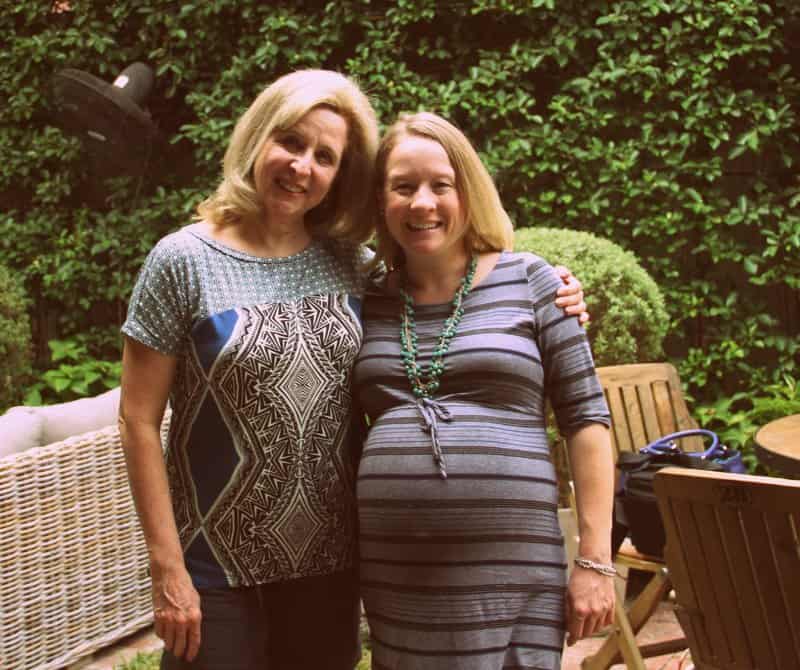 30 weeks with my mom; she'll be back in May!
Random Third Trimester Thoughts
I said it in an earlier post, but pregnancy time is a funny, fickle thing. Some days, I feel like these have been long months of hoping and praying and sometimes worrying that these little girls of ours are safe and sound. Other days, I can hardly believe how fast it has gone. My friend Natalie sent an email last week pointing out that it had been a year since we spent a long weekend with our close friends on Koh Lipe, and I could hardly believe how much had changed in such a short time. Children, especially TWO children, seemed like a somewhat distant reality. The other thing I'll say about the third trimester is that, for me, it's been tough. Not first trimester tough, but still no party. As we near the finish line lots of that first trimester sickness seems to be resurfacing, and there are so many new discomforts. Sleep is harder and harder to come by. Plus the Bangkok heat - good gracious is it HOT outside.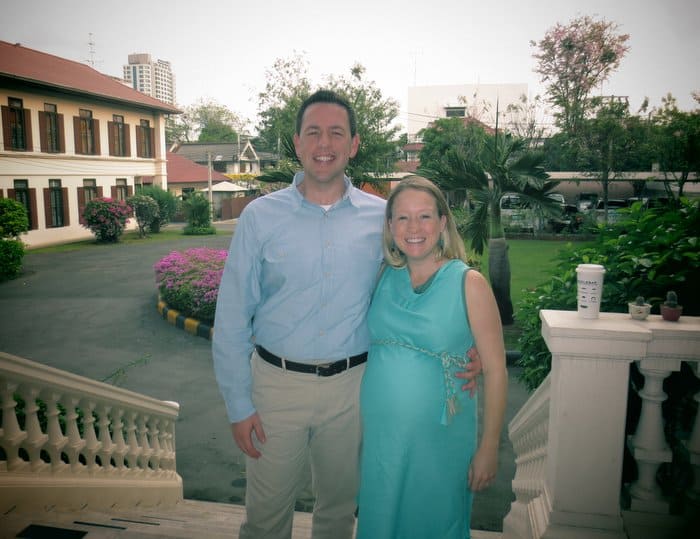 28 weeks at our baby shower at Frank's office
Thankful
I said it last time, and I'll say it again - despite a bit of whining, I feel so very, very grateful. We'll hit the 32 week mark this weekend, and while I still want them to stay put, we're hopefully out of the woods for many of the challenges that twins born before this point might face. I feel so very lucky for this time to have the girls growing and thriving and knowing they're with me constantly. What a special thing that is. I also feel such overwhelming gratefulness that I have a husband that is, in every way, a partner in all of this. (And it's been pretty fun to watch him assemble baby furniture and our beast of a double stroller.)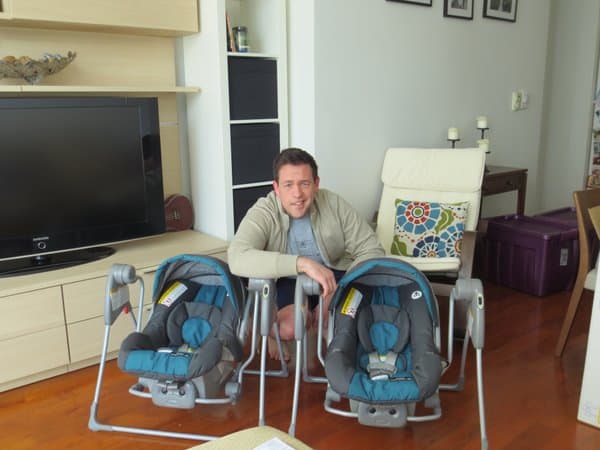 Other pregnancy updates: