St. Patrick's Day Puppy Chow
Published Mar 05, 2021•Updated Mar 12, 2022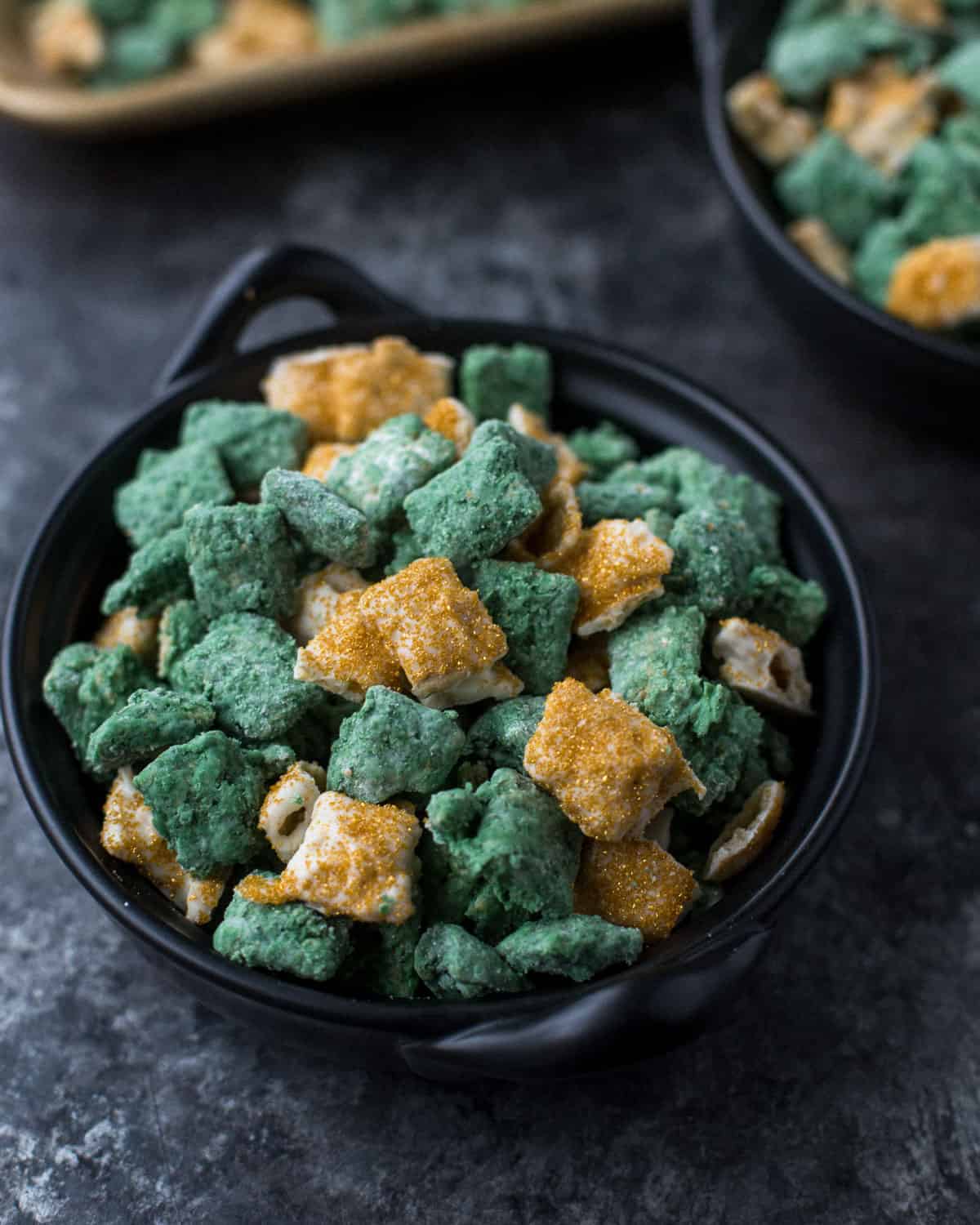 Give the classic sweet, crunchy, Chex cereal snack a spring holiday twist with St. Patrick's Day Puppy Chow!
How about something fun this Friday?! It finally feels like spring is on the horizon here in Kansas City. We're thinking about the garden, dusting off the bikes and scooters, and planning recipes for spring holidays. After the longest-seeming, coldest winter in memory, I couldn't be happier to get us all out in the sun.
This holiday-inspired recipe is a great choice for any age kids because it doesn't require actual "baking". All you need to make this sweet, crunchy version of Puppy Chow is a microwave and a pair of mixing bowls and sheet pans.
It took far more testing that I would have liked to get this sweet snack to look the way it did in my mind. Ultimately, I had to swap out the chocolate element found in traditional Puppy Chow for white almond bark. (Every time I tried to incorporate chocolate the colors got muddy and never looked as bright green as I wanted.) I refused to ditch the peanut butter flavor though, so this result still tastes fairly close to classic Puppy Chow with a white chocolate twist.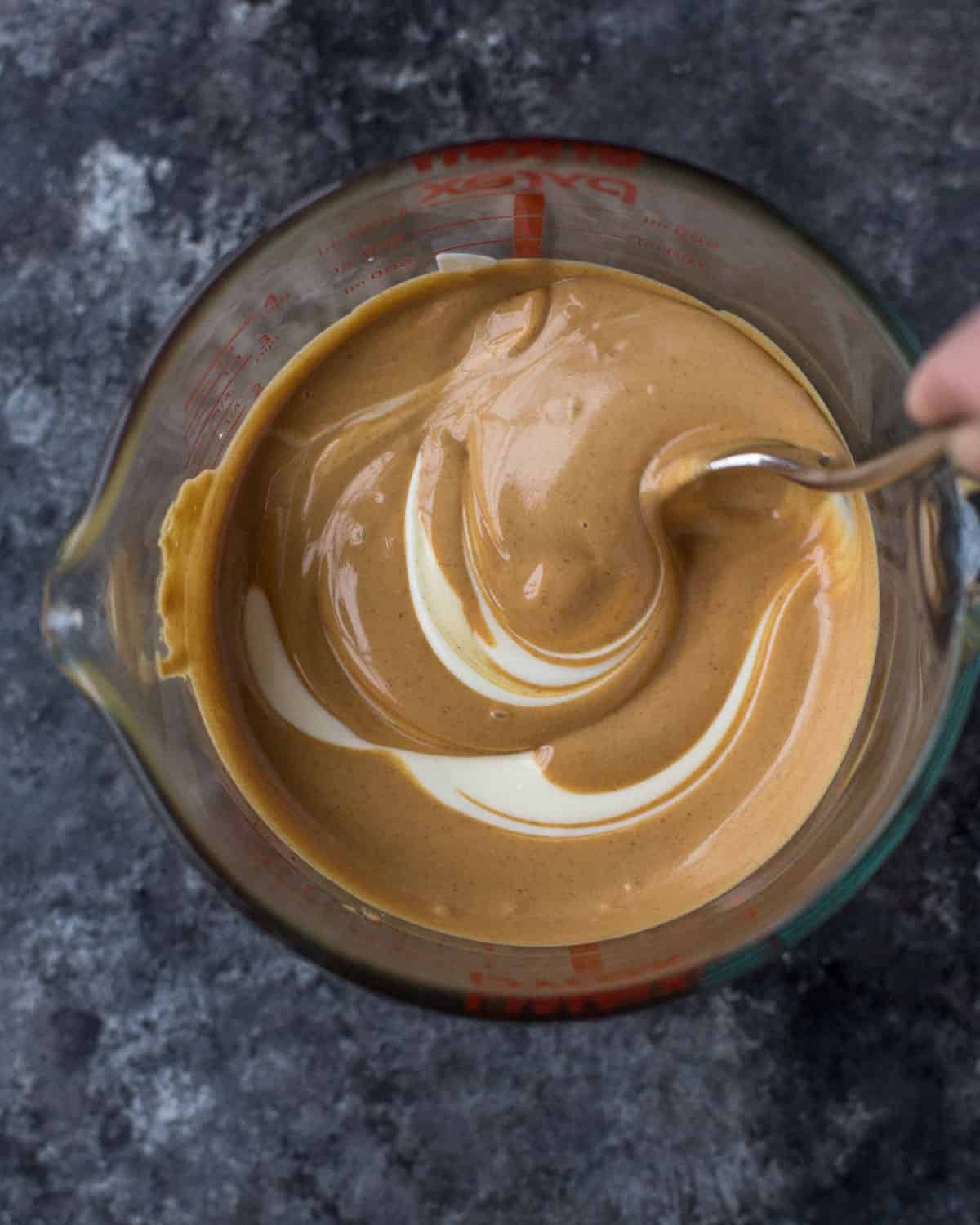 This recipe uses one standard size box of Chex mix and, for fun, about a third of the cereal gets a lucky leprechaun touch with sprinkles! I used gold, but rainbow sprinkles would be great too. The combination of gold / rainbow cereal "hiding" in a bowl of green Chex is just so festive and fun!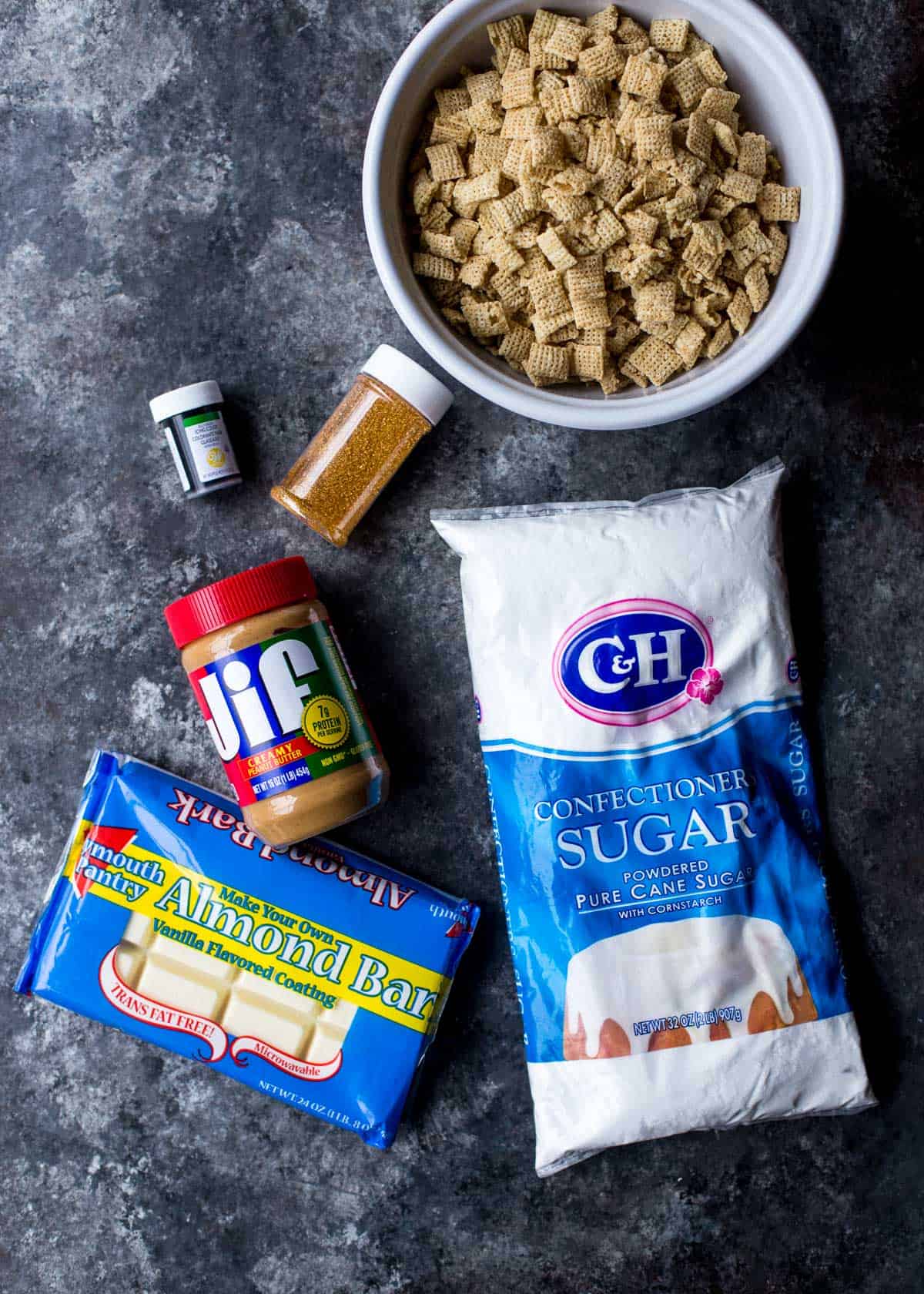 Puppy Chow or Muddy Buddies?
I think this is one of those regional food things. I grew up in Kansas and we always called it Puppy Chow, but depending on where you're from, you might call it Muddy Buddies. I took a poll on Instagram, and Puppy Chow was a clear winner at 82%.
It's the same dish either way. Just do NOT feed this to your dog. 😉
Green Puppy Chow
The green cereal pieces in this mix are made by melting peanut butter and almond bark in the microwave and then stirring in green food coloring. You'll get the brightest color from green gel food coloring, but your cereal doesn't have to be as bright green as mine. (This bright color turned all of our mouths green!)
As soon as the Chex is coated in the green peanut butter mixture, fold in powdered sugar. This recipe uses less powdered sugar than traditional Puppy Chow because you want the green color to show through. To have the green color show clearly, you'll need to stir until the powdered sugar is evenly distributed, clings to each piece of cereal, and gets saturated with the chocolate mixture. It takes a lot of stirring to reach that point, but you'll know you're there when the cereal looks green.
Gold Puppy Chow
The gold cereal pieces are just Chex coated in almond bark, spread out on wax or parchment paper, and then topped with sprinkles. You'll just get the tops of the cereal coated in sprinkles, but don't be tempted to stir the sprinkles in – the colors will run and won't look as bright.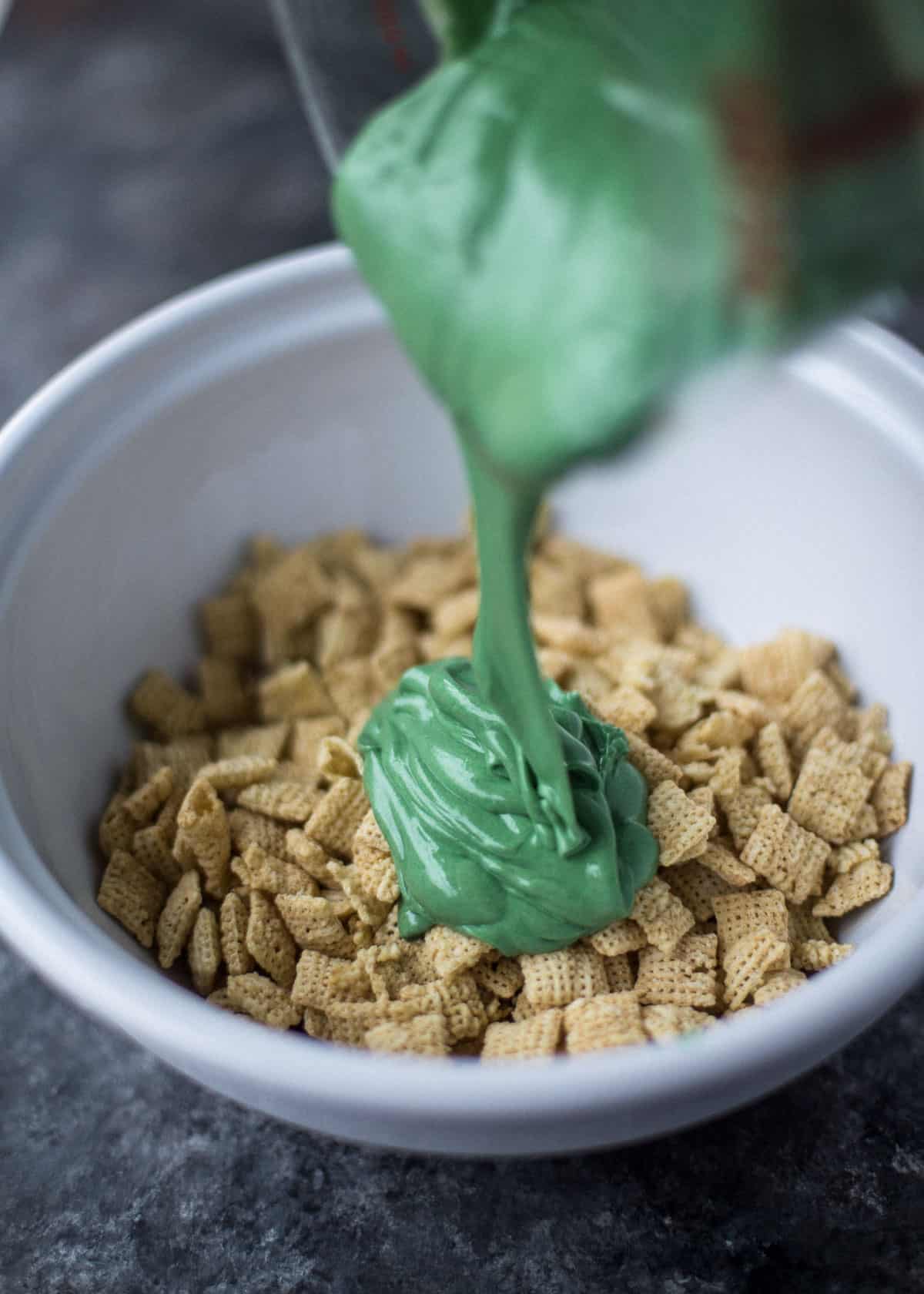 Can You Freeze Puppy Chow?
Yes! Puppy Chow can be frozen for up to 2 months. Serve it straight out of the freezer or bring to room temperature.
My sister (hi Veronica!) prefers it this way. She always freezes her puppy chow immediately and eats it straight from the freezer.
More Sweet Spring Recipes
Favorite Tools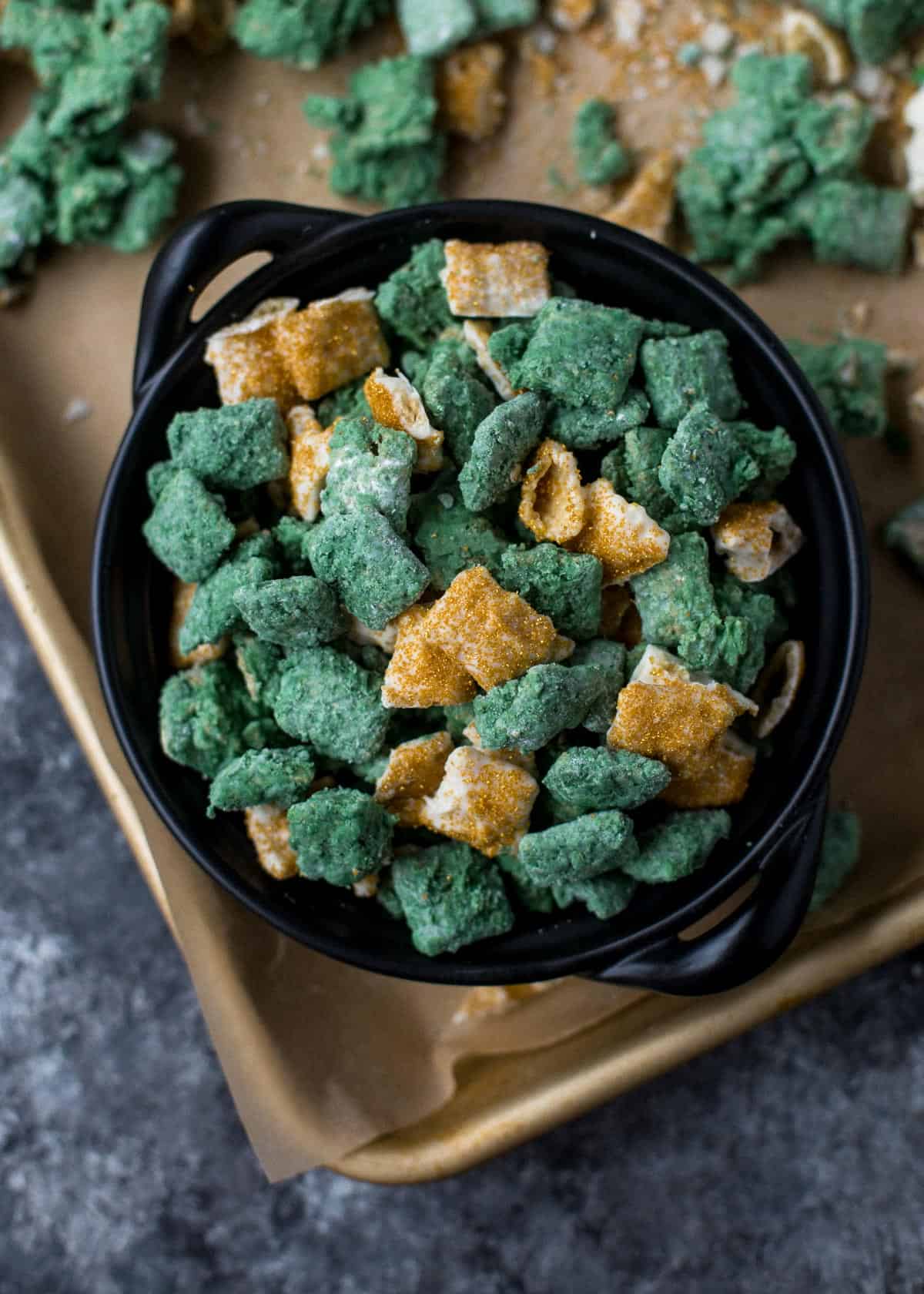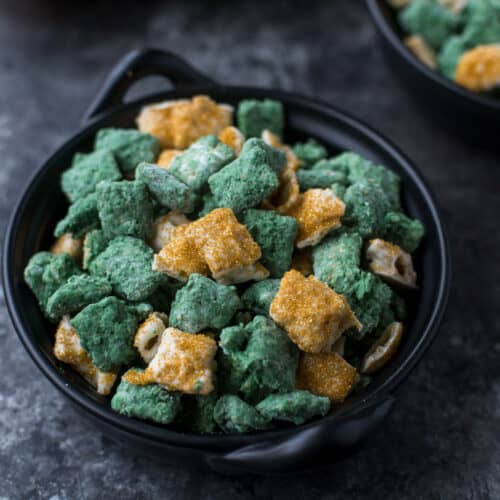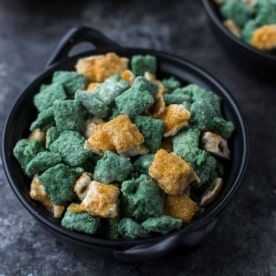 St. Patrick's Day Puppy Chow
We gave everyone's favorite crunchy cereal-based treat a spring holiday twist for this St. Patrick's Day Puppy Chow.
Equipment
2 Large Mixing Bowls

2 Microwave Safe Bowls

2 Half Sheet Pans
Ingredients
Green Puppy Chow:
12

oz

White Almond Bark

1/2

cup

Creamy Peanut Butter

Green Food Coloring

8

cups

Rice Chex Cereal

1

cup

Powdered Sugar
Gold Puppy Chow:
3

cups

Rice Chex Cereal

12

oz

White Almond Bark

1/4

cup

Gold Sanding Sugar

(you can also use any gold sprinkles or rainbow sprinkles)
Instructions
Line two sheet pans with wax or parchment paper. Set aside.

Make Green puppy chow: Place 8 cups Chex in a large mixing bowl. Set aside.

In a microwave-safe bowl combine 18-oz almond bark and peanut butter. Microwave for 60 seconds and then remove and stir. Continue microwaving in 30 second increments, stirring each time, until completely melted and smooth. Stir in green food coloring until mixture is bright green.

Pour green almond bark mixture over cereal and gently fold until coated. Add powdered sugar and continue folding until cereal is evenly coated. (Note: You may need to gently stir this for up to 5 minutes. The powdered sugar needs to coat every piece of cereal and get slightly moist in order for the green to show through.)

Pour green cereal out in a single layer on one of the prepared sheet pans.

Make Gold puppy chow: Place 3 cups of Chex in a large mixing bowl.

Melt 6-oz almond bark in the microwave until smooth, stirring every 30 seconds. Pour over cereal and stir gently until cereal is evenly coated.

Spread cereal out over second prepared sheet pan. Sprinkle generously with sanding sugar or sprinkles, tipping the pan to try and get most of the surface and sides covered.

Let the cereal pieces cool completely, 30 minutes to an hour. (You can speed this along by transferring them to the fridge.)

Break the gold cereal apart. Combine the green and gold cereal.

Enjoy immediately or store in an airtight container at room temperature (for 5 days), in the refrigerator (for 2 weeks), or in the freezer (for 2 months).
Nutrition
Calories:
321
kcal
|
Carbohydrates:
47
g
|
Protein:
3
g
|
Fat:
13
g
|
Saturated Fat:
10
g
|
Sodium:
173
mg
|
Potassium:
66
mg
|
Fiber:
1
g
|
Sugar:
34
g
|
Vitamin A:
275
IU
|
Vitamin C:
3
mg
|
Calcium:
58
mg
|
Iron:
5
mg
Nutrition information is automatically calculated, so should only be used as an approximation.
*This post contains affiliate links*