Let me begin this morning's post with a small confession. We are not actually eating these lovely stuffed peppers for dinner tonight. The were delicious and delightful and fun...and we ate them on Monday. We are eating a meatless dinner tonight, but that dinner will be the most addictive dinner to reach our table in ages. Yes folks, we're having vegetarian tostadas again tonight. And, quite frankly, I've been looking forward to them all week. They're just. that. good.
Phew - I feel better now that I've laid all my cards are on the table (so to speak). Now...to the peppers.
I go through phases with my stuffed vegetables. A few summers ago I stuffed every vegetable I brought home from the farmers' market. Tomatoes, peppers, zucchini, even a cucumber or two. When fall rolled around, I "stuffed" a pumpkin with a concoction that was meant to be a stew of sorts and baked it in my then-boyfriend's (now-husband) apartment. It smelled fantastic...and tasted like feet. To this day, neither he or his roommates have let me live that one down. I baked cookies like a crazy person for the rest of the fall, just to erase the memory of the terrible pumpkin stew.
The thing that I love about stuffed peppers (and all other members of the stuffed-vegetabale family; except for the pumpkin which we shall never again discuss) is that they are hard to get wrong. Just about any flavor combination can work, and it is a forgiving way to use a few leftover ingredients. This recipe is a great way to use a few things that one might have sitting around from...say salsa quinoa. Despite the many variations of stuffed peppers I have made in the past, I had never tried one with a southwestern twist of black beans, salsa, and a few spices. However, I'm glad that I finally stumbled across the combination - they are a perfect match, with the flavor of the peppers complimenting their ingredients seamlessly.
The moral of the story here is that stuffed peppers (particularly southwestern style ones) are well worth your time tonight or any night of the week. However, if you haven't yet tried the vegetarian tostadas, you might want to make them first. (Immediately, if not sooner.) The peppers can wait until tomorrow.
As if things weren't already looking incredibly promising with tonight's dinner all planned out and an episode of New Girl to watch, we got a care package this week with an extra special dessert.
I almost forgot they existed, and now I don't know how I've gone a whole year without them.
_____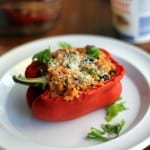 Print Recipe
Southwestern Style Stuffed Peppers
Servings:
4
as a main course (8 pepper halves)
Ingredients
4

medium bell peppers (any color)

1

and ¼ cup grated cheddar cheese

2

cups

cooked rice (brown or white)

¾

cup

black beans

½

tsp.

chili powder

½

tsp.

cumin

½

tsp.

salt

¾

cup

salsa

½

small onion, finely chopped

3

Tbsp.

cilantro, chopped (plus more for garnish, if desired)

sour cream, for serving (optional)
Instructions
Preheat the oven to 375 degrees F.

Slice the peppers in half (cutting from the stem to the base). Using a spoon, scrape out and discard the core and seeds. Arrange the peppers in a glass baking dish or on a baking sheet so that the hollow side is facing upwards. (They can be arranged close enough to be touching.)

Set ¼ cup of the grated cheddar cheese aside. In a large mixing bowl, combine the remaining 1 cup cheese and all of the remaining ingredients, stirring to distribute evenly. Fill the peppers with the rice mixture, packing it gently to compress it inside the peppers. Bake the peppers until the rice starts to turn golden and crisp on the top and the peppers soften, 15-20 minutes. Sprinkle the remaining ¼ cup of cheese over the peppers and continue baking until the cheese melts, about 2 minutes more.

Serve immediately, topped with sour cream (if desired).