Cajun Fish with Sweet Peppers is a quick stove-top meal with spiced fish and tender sweet peppers. Finish the dish with a quick lemon-butter sauce that mellows out the bold, zesty Cajun flavors.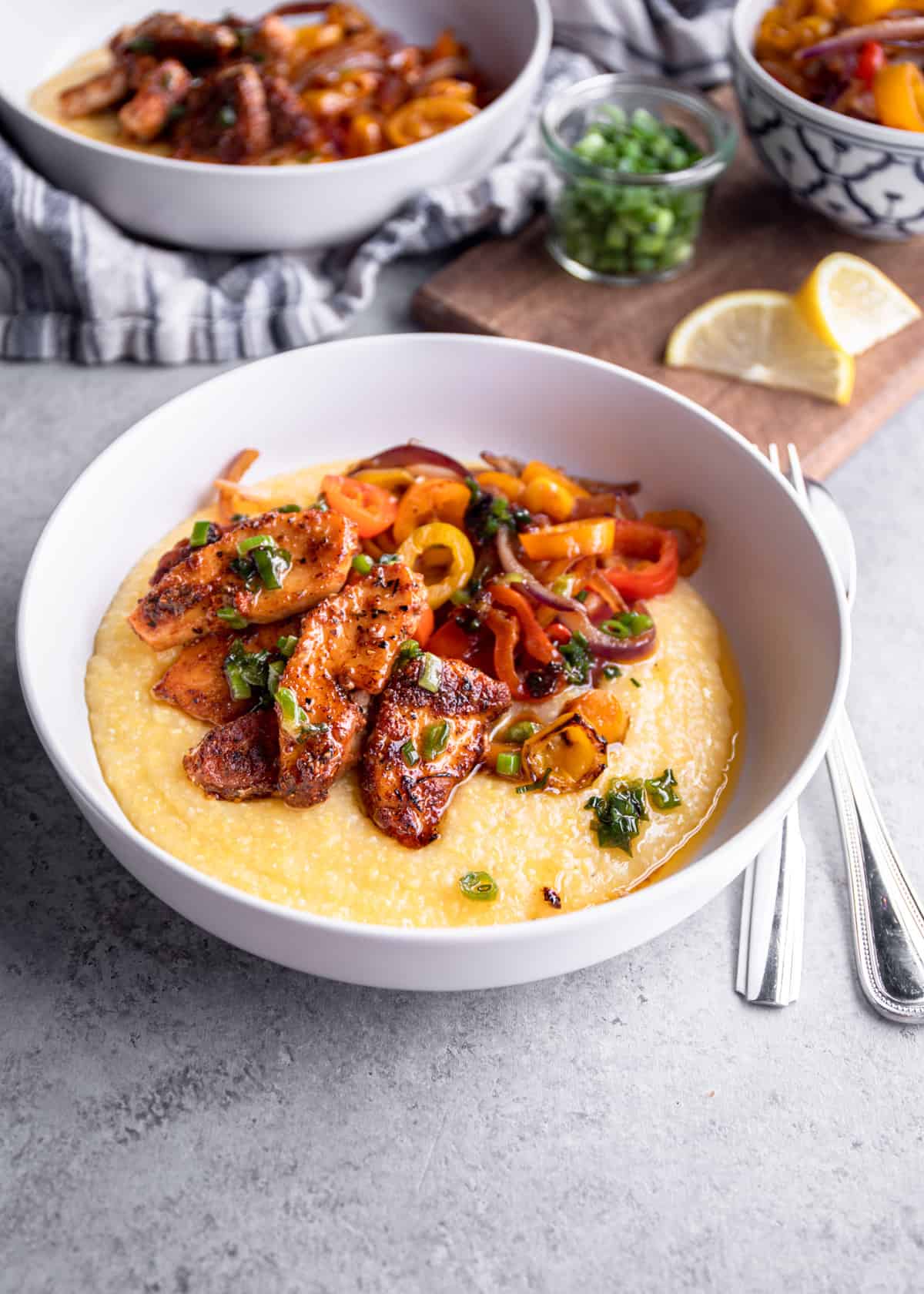 It's not often that a recipe earns a place in our regular dinner rotation. With so many new recipes to test and perfect every week, we're almost always eating something new, and only the absolute favorites make an appearance again and again.
But this Cajun fish…this is one that we will be making over and over for years to come. We have made it for guests, for fish Fridays (during Lent), and even twice in one week just because we were craving it. The real magic comes from the butter sauce with fresh green onions and a tiny bit of honey. It perfectly balances the spice of the fish. We love this dish over creamy polenta which gives it a bit of a shrimp and grits vibe, but it's great over any cooked grain. Here's how to make it!
What is Cajun fish?
Cajun fish is any type of fish coated in a Cajun, Creole, or Blackening spice blend and seared in a hot skillet or on a grill until it forms a dark, crisp crust. Cajun fish is usually spicy, but the level of spice can be adjusted by using more or less cayenne in the spice blend.
What fish is best for blackening / Cajun seasoning?
Because Cajun seasoning has such a bold flavor, it will work with almost any variety of fish. The blackened crust looks beautiful with white fish like mahi mahi, tilapia, snapper, halibut, or cod. It can also stand up to more hearty fish like salmon or swordfish.
Cajun vs. Creole vs. Blackening Seasoning
Cajun, Creole, and Blackening Seasoning refer to similar seasoning blends with paprika, thyme, garlic, and cayenne but they vary in the level of spice they include. Cajun seasoning is typically the most spicy. While Cajun and Creole seasoning can be used with any type of cooking method (including recipes that are boiled, like Shrimp Boil), Blackening seasoning is intended for recipes that are seared or grilled to give them a dark "blackened" crust. If you have a hankering to try another recipe in this family, check out this Blackened Cod recipe.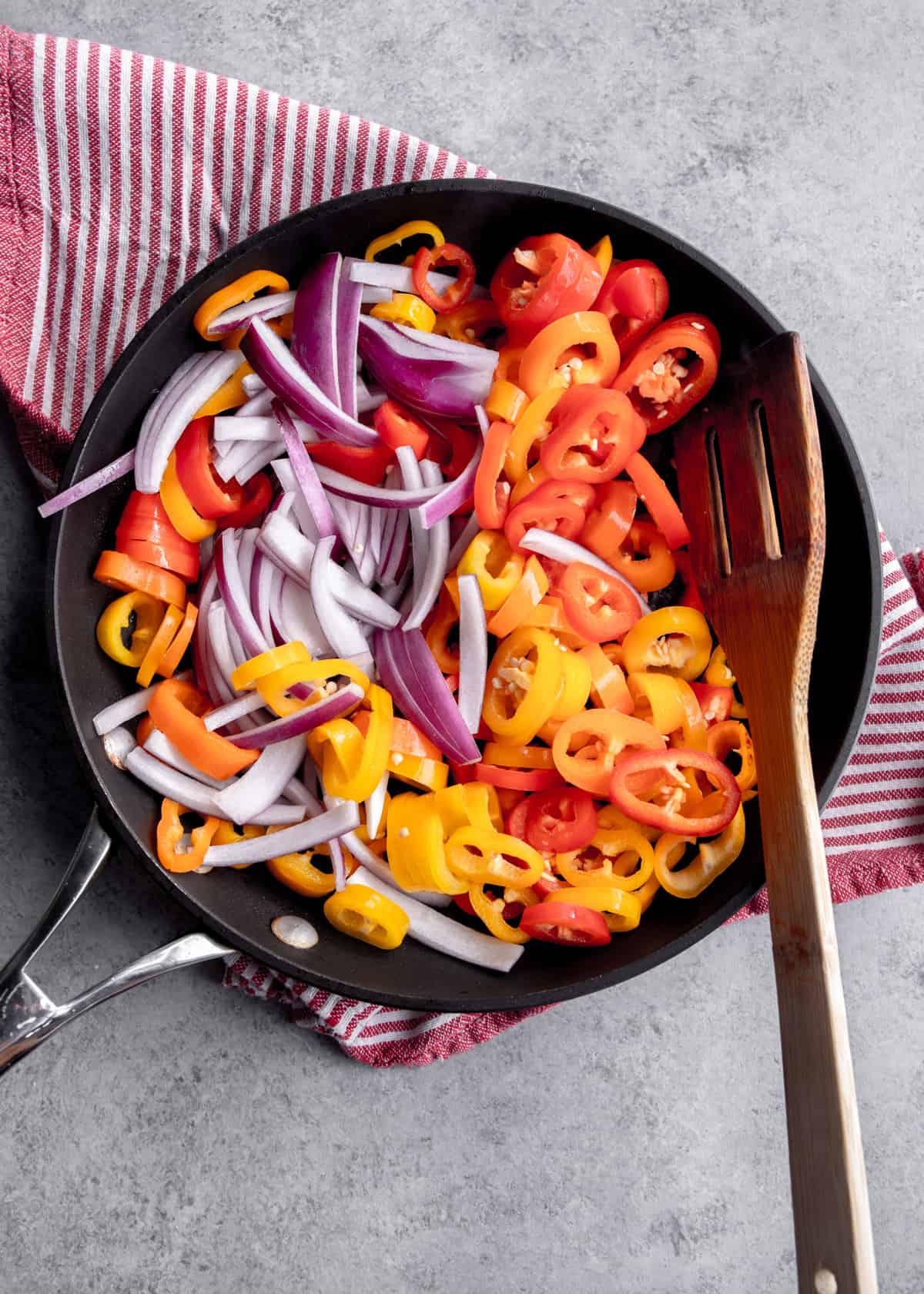 Spices in Cajun / Blackening seasoning
Cajun / blackening seasoning includes a mix of dried herbs and spices with cayenne pepper to give it heat. The key flavors are paprika, onion powder, dried thyme, garlic powder, and salt and pepper. This seasoning blend is usually spicy, but if making the seasoning blend yourself, you can adjust the amount of cayenne pepper to make it more or less spicy.
Homemade Cajun spice blend recipe
To make a homemade Cajun / blackening spice blend, combine:
1 Tablespoon Smoked Paprika (sub regular paprika)
1 teaspoon Dried Thyme
1 teaspoon Onion Powder
1 teaspoon Garlic Powder
½ teaspoon Kosher Salt
½ teaspoon Black Pepper (preferably fresh-cracked)
½ teaspoon Dried Oregano
¼ teaspoon Cayenne Pepper, more or less to taste
Store in an airtight container at room temperature. Best if used within 3 months.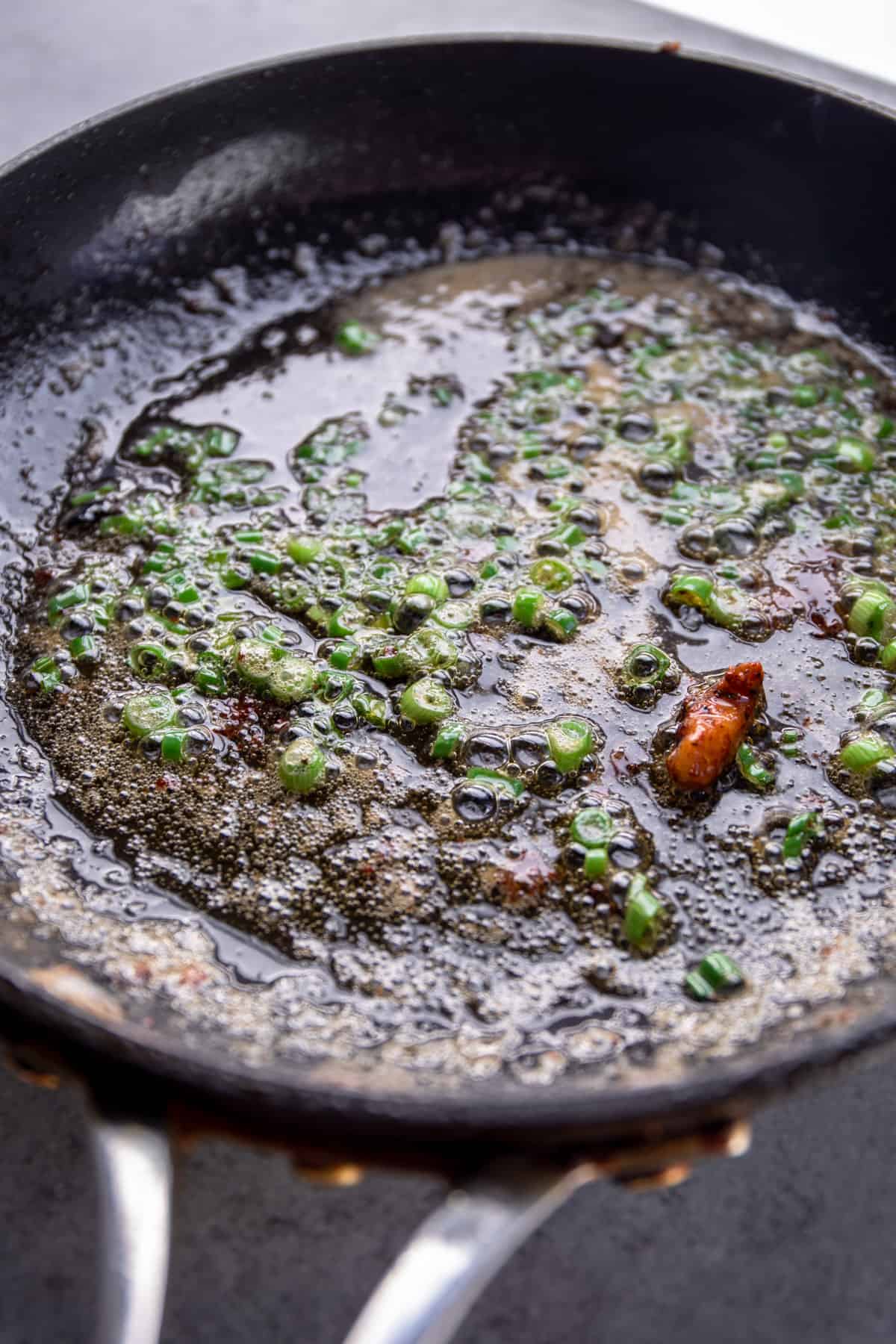 Variations
Make it gluten-free - This recipe is naturally gluten-free but make sure that your spice blend is certified gluten-free (or make it yourself using the recipe below).
Make it vegetarian - Use thinly sliced tofu in place of the fish.
Use another protein - This is great with thinly sliced chicken or beef instead of the fish.
What to serve with Cajun Fish
Polenta or Grits
Rice (regular or coconut rice )
Quinoa
Couscous
Favorite Tools
Lodge Cast Iron Skillet

- I use this 10.5-inch cast iron skillet nearly every day. To keep it seasoned, just be sure to dry it well and rub it with some oil before storing it (this will prevent rust and keep it seasoned).

Global Chef's Knife

- You only really need one chef's knife to use for everything and this is my favorite. I've had it for 7+ years. It's incredibly lightweight. If you, like me, are under 5'4", the 6-inch is a perfect size (if you're taller, get the 8-inch).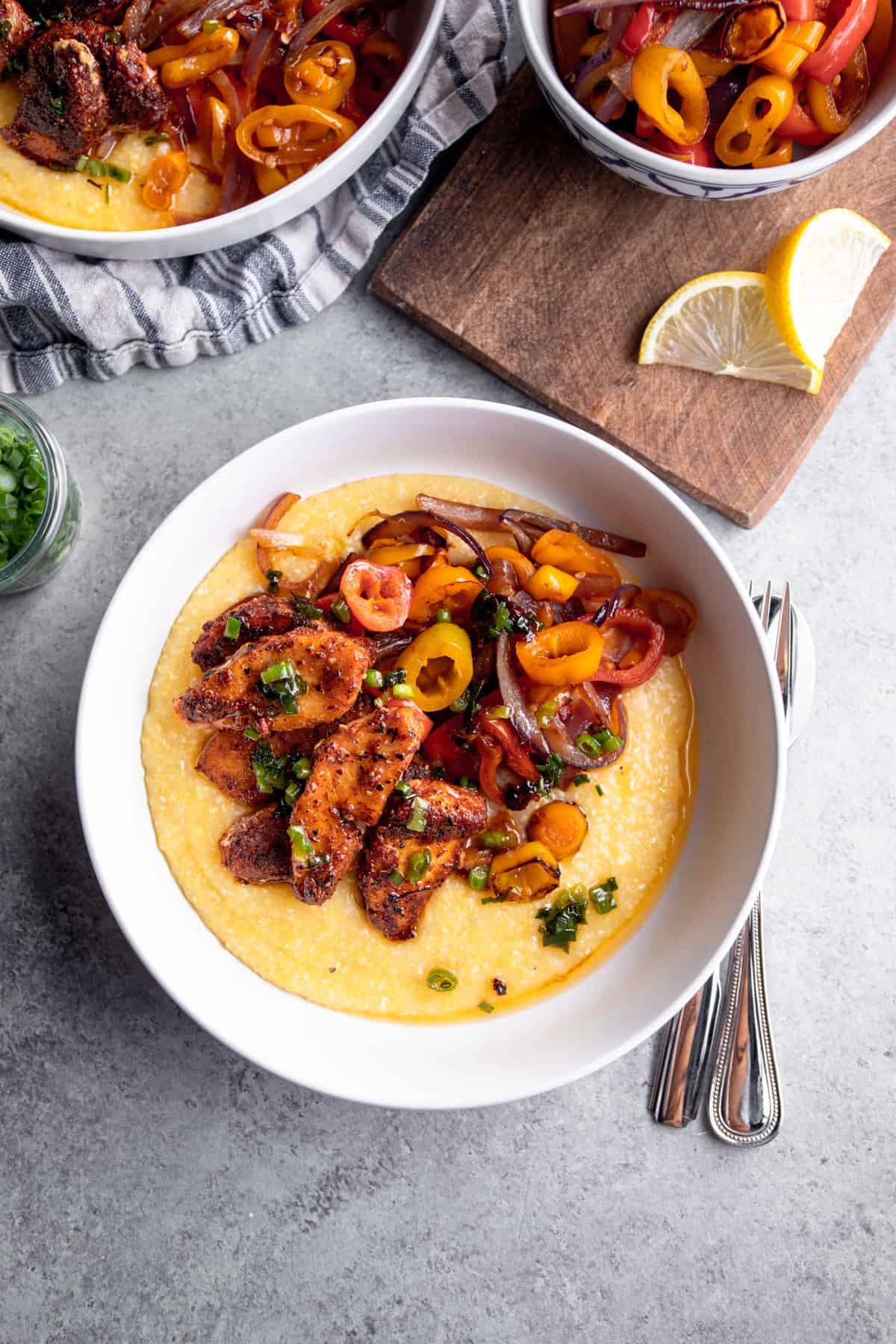 📖 Recipe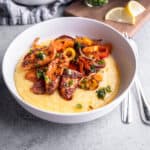 Print Recipe
Cajun Blackened Fish with Sweet Peppers Recipe
Cajun Fish with Sweet Peppers is a quick stove-top meal with spiced fish and tender sweet peppers. Finish the dish with a quick lemon-butter sauce that mellows out the bold, zesty Cajun flavors.
Serve over polenta, grits, rice, quinoa, or couscous.
Ingredients
3

Tablespoons

Unsalted Butter

1 ½

Tablespoons

Lemon Juice

½

teaspoon

Ground Cumin

½

teaspoon

Honey

1 ½

pounds

Fish, sliced into 3-inch pieces

(see note)

1

Tablespoon

Cornstarch

5

teaspoons

Cajun / Blackening Seasoning

¼

teaspoon

Black Pepper

3

Tablespoons

Cooking Oil, divided

3

cups

sliced Bell Peppers, use a mix of red and yellow / orange

(I like to use baby sweet peppers in this)

1

cup

thinly sliced Red Onion

4

stalks

Green Onions, thinly sliced

Cooked polenta, grits, rice, quinoa, or couscous, for serving
Instructions
Combine butter, lemon juice, cumin, and honey in a small bowl (no need to stir them together, just measure them into a bowl together). Set aside.

Pat fish dry with paper towels. Stir cornstarch, Cajun seasoning, and black pepper into fish stir until evenly coated. Refrigerate until ready to use.

Heat a large skillet with 1 Tablespoon cooking oil over medium heat. When oil is shimmering, add bell peppers and onions with a pinch of salt. Saute until very tender, 4 to 5 minutes. Set aside, covered to keep warm.

Return skillet to heat and add remaining 2 Tablespoons cooking oil. Working in batches (and adding more oil as needed) sear fish until flakey and cooked through, 2 to 3 minutes per side. Transfer fish to the covered bowl with peppers and onions.

When all of the fish is cooked, add butter-lemon juice mixture to heated skillet. Cook, scraping up any browned bits on the bottom of the pan, until butter is completely melted and sizzling.

Remove pan from heat and stir in green onions. Pour butter sauce over fish and peppers.

Serve fish and peppers over polenta, grits, rice, quinoa, or couscous.
Notes
Fish -
Almost any type of fish will work, but look for boneless, skinless filets to make them easy to slice. I prefer a firm white fish like Mahi Mahi (used in the recipe photos above) or Snapper, but a more tender fish like cod will work. Salmon also works well.
Cajun Seasoning / Salt
- If using store-bought Cajun / blackening seasoning check the ingredients (or taste it before adding it to the fish). Most varieties include salt, but if for some reason yours doesn't, add ½ teaspoon of salt when you add the Cajun seasoning.
Want to make your own Cajun seasoning? Just combine the following:
1 Tablespoon Smoked Paprika (sub regular paprika)

1 teaspoon Dried Thyme

1 teaspoon Onion Powder

1 teaspoon Garlic Powder

½ teaspoon Kosher Salt

½ teaspoon Black Pepper (preferably fresh-cracked)

½ teaspoon Dried Oregano

¼ teaspoon Cayenne Pepper, more or less to taste
Nutrition
Calories:
307
kcal
|
Carbohydrates:
16
g
|
Protein:
36
g
|
Fat:
12
g
|
Saturated Fat:
7
g
|
Polyunsaturated Fat:
1
g
|
Monounsaturated Fat:
3
g
|
Trans Fat:
1
g
|
Cholesterol:
108
mg
|
Sodium:
100
mg
|
Potassium:
913
mg
|
Fiber:
4
g
|
Sugar:
8
g
|
Vitamin A:
5117
IU
|
Vitamin C:
150
mg
|
Calcium:
54
mg
|
Iron:
2
mg