Thai Red Lentil Soup
Published Jun 04, 2011•Updated Apr 19, 2022
My husband doesn't like soup. Okay, actually, he wouldn't like me to characterize his soup preference with such broad strokes. Maybe he doesn't totally dislike it, but he never craves it. In fact, he has told me that it makes him feel full without being satisfied. Husbands can be confusing. Fortunately, I have plenty of other cooking tricks up my sleeve.
(Did you know that I make soup in a wok these days? It makes me feel like I'm on Iron Chef.)
I, however, love soup. It feels comforting. A good soup, in my book is simultaneously simple and flavorful. A good soup gives me the same feeling I get from being curled up on the couch in fuzzy pajamas watching a really good movie.
But since the prospect of soup for dinner is exciting only to 50% of our two-person family, there is one time when soup for dinner always seems like a good idea – when Frank is out for the night. And so, the other night while Frank was out at a post-work happy hour, soup was what was for dinner here at home.
I had had a particular recipe on my mind for a while. When I stumbled upon this Thai Red Lentil Soup a couple months ago, I immediately bookmarked it. Lentil soup has never been my favorite, but healthy lentils with Thai-style pizzaz – yes, please.
And although I was husband-less for the evening, I was not alone. This little guy made me jump out of my flip-flops when I came across him next to the outlet while plugging in my laptop. This is the second one we've found in the apartment in the past two weeks.
For six months we've been free of creatures in the apartment, but they've now found their way in and are looking to join us for dinner.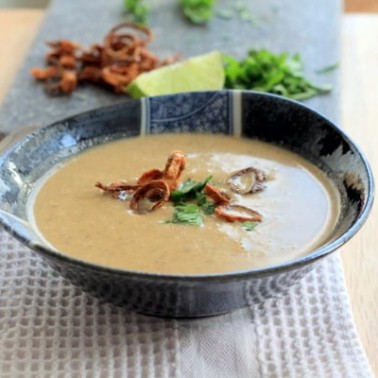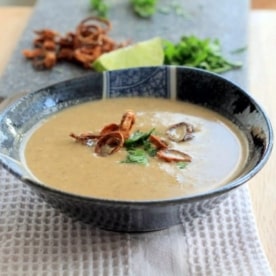 Ingredients
3

tbsp

vegetable oil

1

medium onion, finely sliced

1

Tbsp.

red curry paste

2

lemongrass stalks, white portion only, smashed with a rolling pin

4

makrut lime leaves

1 1/4

cups

(250 g) dried red lentils

5

cups

(1.2 L) water

2

cups

(500 ml) coconut milk

2

Tbsp.

soy sauce

juice from 1 lime

for garnish (optional):

fried shallots (2 large shallots, thinly sliced and fried in vegetable oil until crisp)

2

Tbsp.

chopped fresh cilantro

lime wedges
Instructions
Heat oil in a large soup pot over medium heat. Add onions and cook until soft and translucent, about 10 minutes. Add red curry paste and push it into the sides and bottom of the pan with a wooden spoon to break it apart. Add lemongrass, makrut lime leaves and heat until they become fragrant, about 2 minutes. Add lentils and water and bring to a boil. Reduce heat and simmer until the lentils are tender, about 20 minutes.

Remove the lemongrass stalks and lime leaves and discard. Puree the soup in a blender or using an immersion blender until it becomes smooth. Add the coconut milk and soy sauce, stirring to combine. Return the soup to medium-low heat and cook until it just begins to boil. Remove from heat and add lime juice, stirring to combine. (Taste at this point and add additional soy sauce or salt if needed - mine needed another half teaspoon or so of salt.)

Serve immediately, topped with fried shallots and fresh cilantro.
Nutrition information is automatically calculated, so should only be used as an approximation.