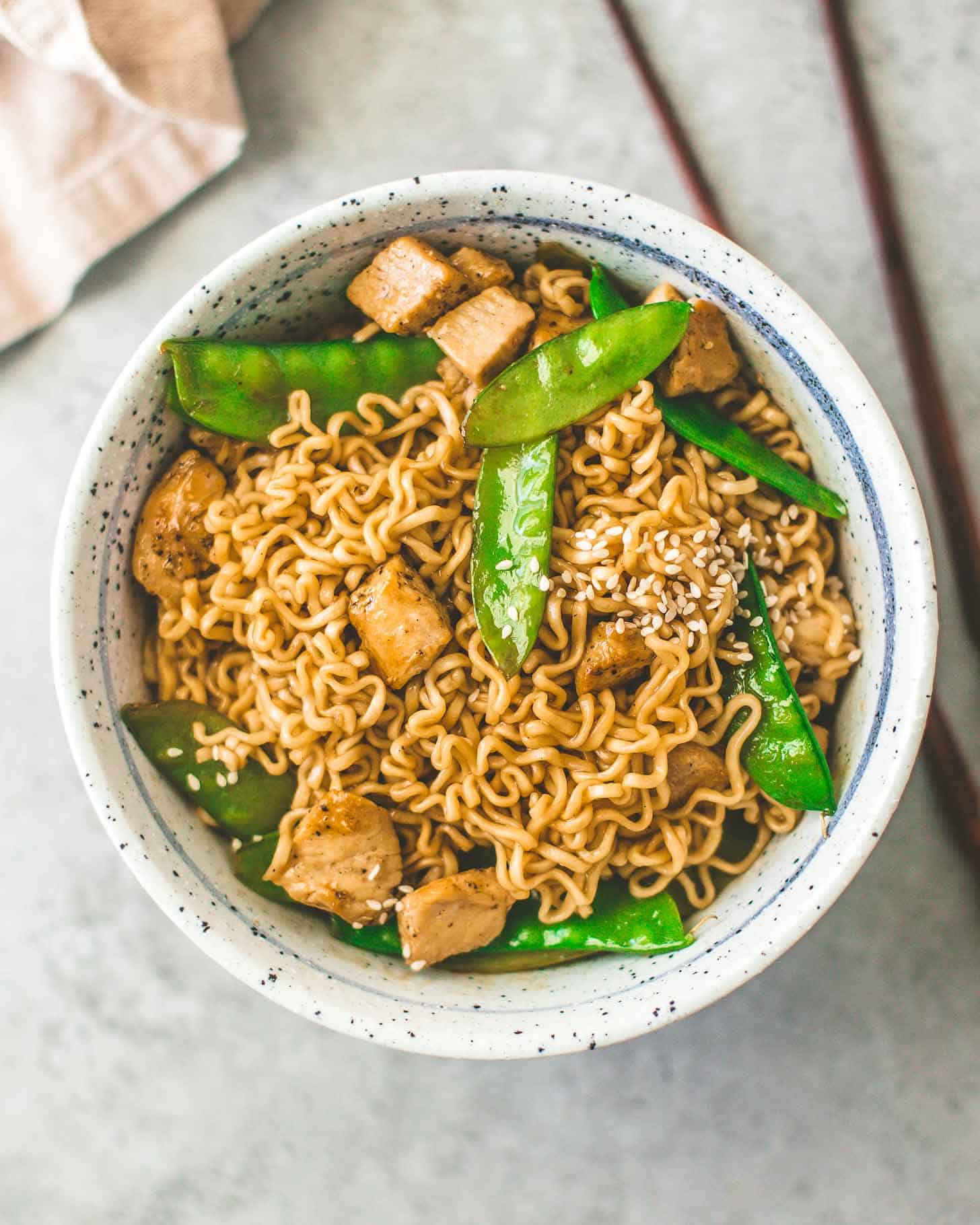 Need a quick and easy weeknight meal? Look no further than this one-pan stir-fry noodle dish made with quick-cooking instant ramen noodles, tender chicken, and crisp snow peas in a savory sesame garlic sauce.
Let's talk ramen noodles. If you look in my pantry, you will always find these inexpensive, springy noodles. They cook fast and their curly texture is perfect for soaking up sauces. They make a great base for a quick weeknight stir-fry like this one. Add some sort of vegetable and protein, and it's a complete, reasonably healthy dinner in under 30 minutes. The garlic, sesame sauce here is savory, sweet, and completely addictive. Here's how it's done!
Sesame Garlic Ramen Ingredients
Garlic – Three cloves is perfect for us, but if you love garlic, feel free to add more.
Soy Sauce – I always test / use low-sodium soy sauce. If using regular soy sauce, add an extra teaspoon of brown sugar to help keep the salty/sweet balance.
Rice Vinegar – Don't skip this. If you cook Asian-style dishes, this is a good staple to have. In a pinch, another vinegar (white wine or apple cider for example) would work, but the flavor won't be as authentic.
Toasted Sesame Oil – Like rice vinegar, this is a great staple to have in your pantry for Asian cooking. A little goes a long way and it gives the dish its distinctive sesame flavor!
Instant Ramen Noodles – These are my favorite weeknight ingredient! Super affordable, they usually come in the same 3-oz packages that you probably remember from college. Purchase any flavor because the noodles inside are all the same, and you'll discard the flavoring packet that comes with them.
Cooking Oil – I use avocado oil for most everything, but any oil that works at high heat is fine (grape seed, vegetable, or peanut are my favorites).
Boneless, Skinless Chicken Breast – Slice it into even cubes for the stir-fry. See below for possible substitutes!
Snow Peas – These cook very fast in a wok and are great for stir-fry dishes. Fresh or frozen will work. See below for other ideas for vegetables to use.
Cornstarch – Cornstarch is whisked with room temperature water to form a slurry which thickens the sauce. Don't skip this as it's what makes the sauce thicken and coat to the noodles.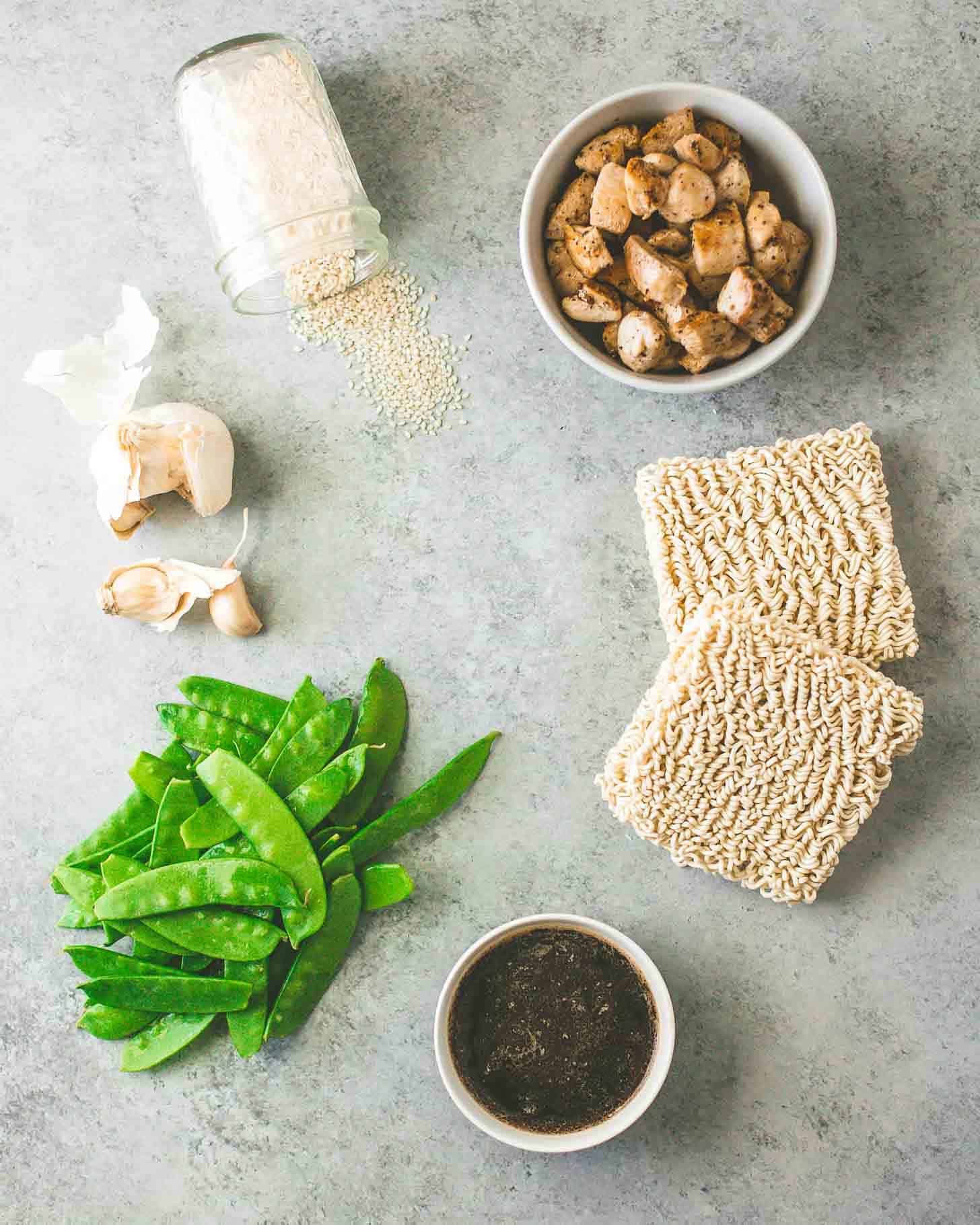 How to Make Sesame Garlic Ramen Stir-Fry
Cook ramen noodles – Instant Ramen just needs to be soaked in hot water to cook. (Isn't that why we all had those hot plates in our dorms?) Heat water in the microwave or on the stovetop. Remove from heat and add noodles. Drain off the water as soon as the noodles are tender (about 5 minutes).
Make sauce – Whisk together sauce ingredients. This can be done several days ahead of time!
Toss chicken with some salt and pepper – Just a pinch of each. A little seasoning adds a lot of flavor to the chicken breast as it cooks.
Saute chicken and snow peas – Saute chicken in oil until cooked through and set it aside. Add a bit more oil and saute the snow peas just until they turn bright green.
Simmer sauce – Pour sauce over snow peas. Bring to a simmer.
Add cornstarch slurry – "Slurry" is just water and cornstarch mixed together. Add that to the sauce and it will thicken it up to a smooth, rich consistency in about 2 minutes.
Combine everything. Move the wok off the heat and add the chicken and noodles. Toss everything together to coat it in sauce. Top with some sesame seeds and enjoy!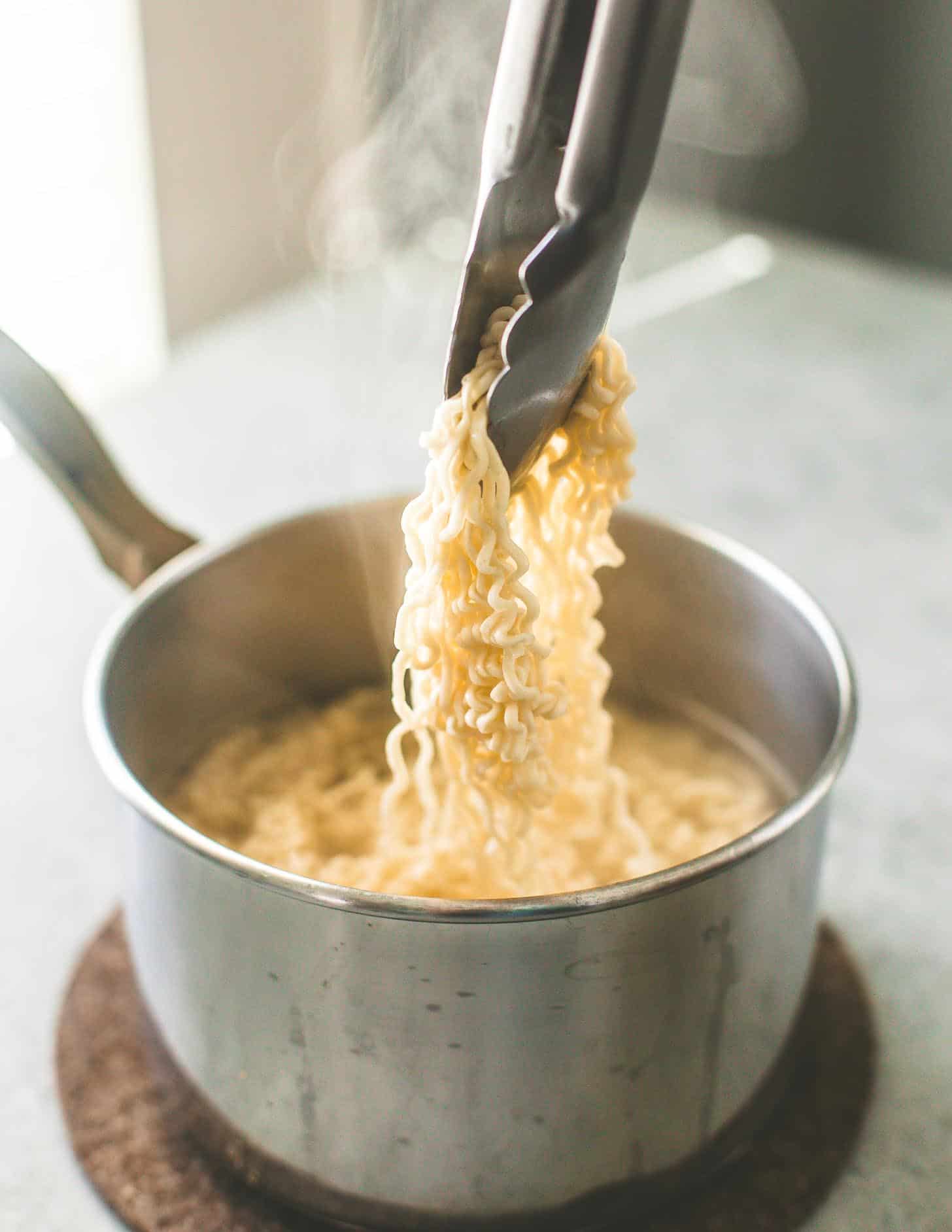 Variations on Sesame Garlic Ramen
Lime most stir-fry dishes, this recipe can be adapted in so many ways!
Choose a different protein – Cubed tofu works great for a vegetarian version. Thinly sliced pork, beef, or chicken thighs would also be great. If using chicken thighs, they may need to cook for an extra minute more two.
Switch up the veggies – The sky is the limit when it comes to vegetables in this dish. If you want to keep it green snap peas, broccoli florets, or cubed zucchini would all work. Just be sure to simmer them in sauce until they are tender – a couple minutes more for broccoli florets or zucchini. Sliced bell peppers would also be delicious!
Noodle variations – It's hard to beat Instant Ramen Noodles for how quick and easy they are to prepare, but you can also use spaghetti, rice noodles, or soba noodles here. Just cook them according to the package directions before you start.
Gluten-free version – For a gluten-free version of this dish, use Tamari instead of soy sauce and gluten-free soba or rice noodles.

More Easy Asian Stir-Fry Dinners
If you need more ideas for easy Asian stir-fry dinners, check out these favorites:
20-minute Chicken Ramen Stir-Fry – This dish gets rave reviews and has been shared on Pinterest over 60,000 times. Proof that we all could use more 20-minute recipes!
Thai Cashew Chicken – Thai-style cashew chicken packs even more flavor than the classic Chinese version of this dish.
Thai Chicken Peanut Noodles – Who can pass up peanut noodles? Just like this recipe, it's made with ramen noodles and chicken but tossed in a savory peanut sauce.
Favorite Tools
Joyce Chen Carbon Steel Wok – I've had this wok for years and it may be my favorite cooking tool. I rub it with a bit of oil after washing it to season it, and it cooks everything fast and evenly. Love the price too!
Instant Ramen – I can't imagine a grocery store exists that doesn't sell these noodles that are beloved by college students everywhere, but just in case you need a quick link to them.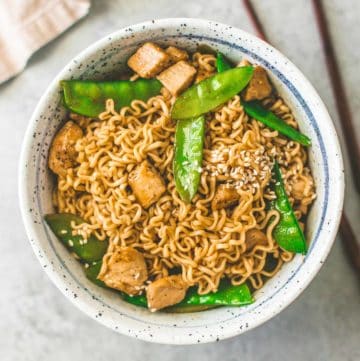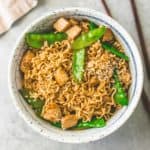 Print Recipe
Sesame Garlic Ramen Stir-Fry
Need a quick and easy weeknight meal? Look no further than this one pan noodle dish made with quick-cooking instant ramen noodles, tender chicken, and crisp snow peas in a savory sesame garlic sauce.
Ingredients
Stir-Fry:
2

(3-oz) packages Instant Ramen Noodles (discard flavor packets)

2

Tbsp

Cooking Oil (like avocado, grape seed, vegetable, or peanut oil), divided

8

oz

Boneless, Skinless Chicken Breast, chopped

8

oz

Snow Peas (sub snap peas, broccoli florets, or cubed zucchini)

2

tsp

Cornstarch

1

Tbsp

White Sesame Seeds (opt)
Instructions
Heat a bowl or pot of water in the microwave or on the stovetop until simmering. Remove from heat and stir in noodles. Set it aside to let the noodles soften (this should take about 5 minutes).

While noodles soften, make sauce by whisking together garlic, soy sauce, 1/4 cup water, rice vinegar, brown sugar, and toasted sesame oil. Set aside.

Toss chicken with some salt and black pepper (about 1/2 tsp salt and 1/4 tsp black pepper).

Return to noodles and check to see if they are tender. (Continue soaking in warm water if not yet tender.) Drain ramen noodles and set aside.

Heat 1 Tbsp cooking oil in a wok over medium-high heat. Add chicken and saute until chicken is cooked through, 4 minutes. Set chicken aside and return wok to medium-high heat.

Add 1 Tbsp cooking oil to heated wok and then snow peas. Saute until snow peas turn bright green, 1 minutes. Push the snow peas off to the side of the wok to make space in the middle. Pour sauce in the middle of the wok and bring to a simmer.

Stir cornstarch into 1 Tbsp water to make a "slurry". Add slurry to sauce, stirring to combine. Continue cooking sauce until it thickens, 2 minutes more.

Remove wok from heat and stir in ramen noodles and chicken. Toss everything to combine.

Top with sesame seeds.

Serve immediately.
Notes
This recipe uses those super inexpensive packages of Instant Ramen noodles. Be sure to toss the seasoning packet included in the noodles - you won't need anything to top the noodles but the flavorful from-scratch sauce included in the recipe.
The snow peas can be easily swapped out for any vegetable of choice - I love this combination of flavors with snap peas, broccoli florets, or cubed zucchini. Want a vegetarian version? Use tofu instead of chicken.
Nutrition
Serving:
1
g
|
Calories:
578
kcal
|
Carbohydrates:
48
g
|
Protein:
31
g
|
Fat:
29
g
|
Saturated Fat:
6
g
|
Polyunsaturated Fat:
23
g
|
Cholesterol:
55
mg
|
Sodium:
1466
mg
|
Fiber:
3
g
|
Sugar:
9
g
It's been such a rainy spring here! Thank goodness for indoor activities. I wonder if we can get one of these for the house. 😉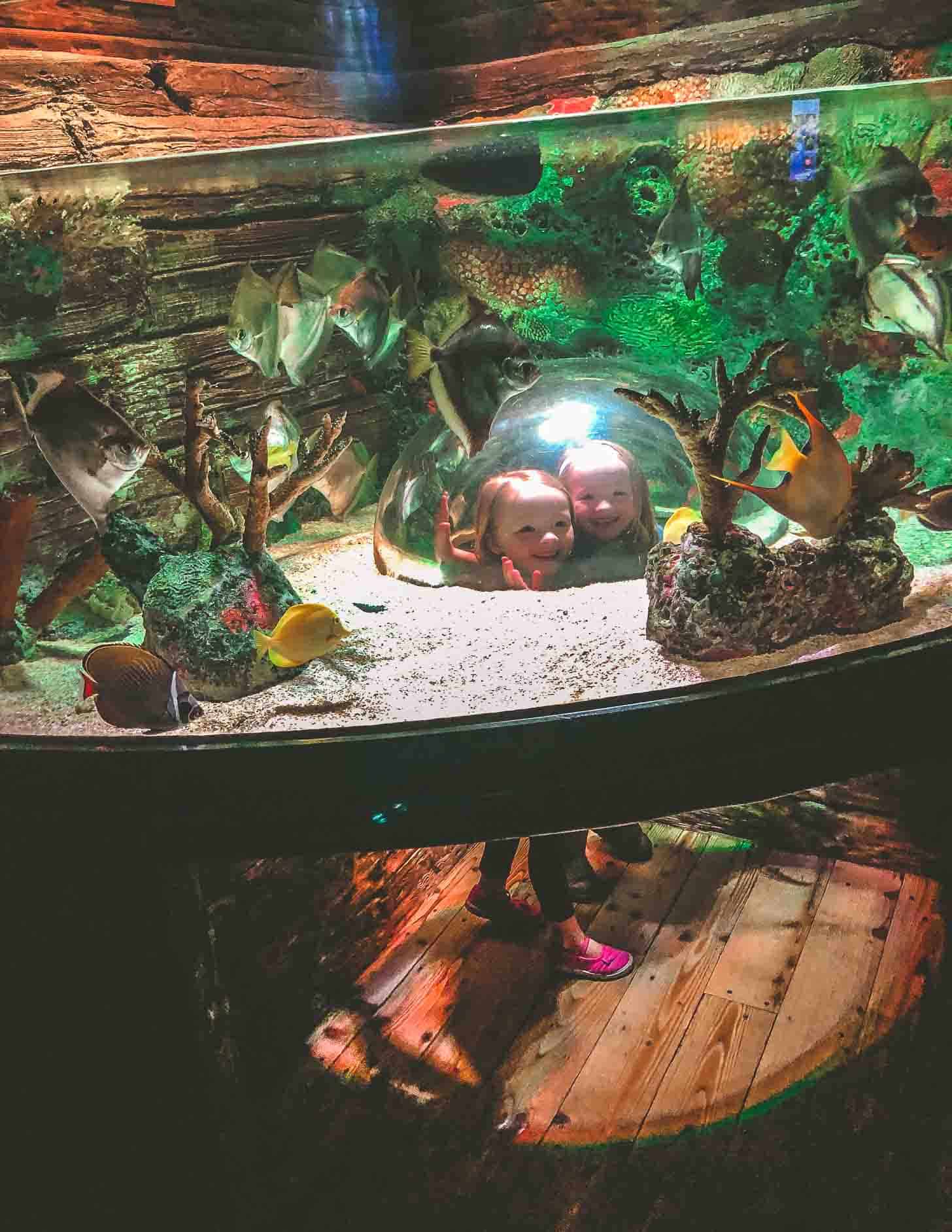 This post is not sponsored, but it does contain affiliate links. There is no extra cost to you, but we may earn a small commission. Thank you for your support!