We're adding to our week of Spring Cleaning-themed posts with a quick chat about kitchen organization! Once you've got meals planned and prepped, you want an organized space in which to cook and enjoy them. Here are my favorite tips and tricks for organizing a small kitchen.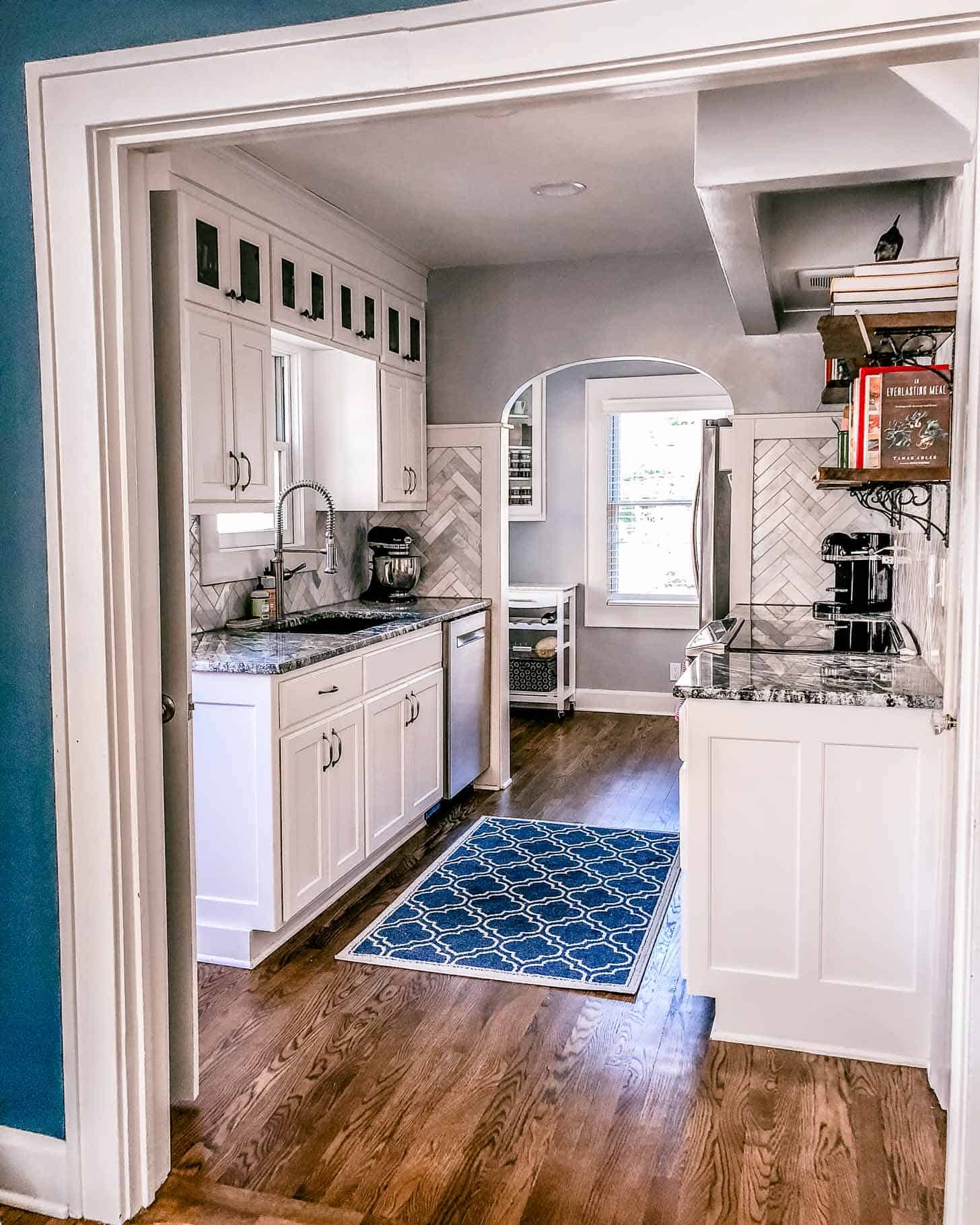 One of my favorite things is to peek into other kitchens. It was one of the things I really liked about house hunting last year. It's both nosy and super useful because it gives you so much insight into one of the busiest rooms in the home. You can get an abundance of ideas for your own space by seeing how others prioritize tools, create workflow, and make use of storage.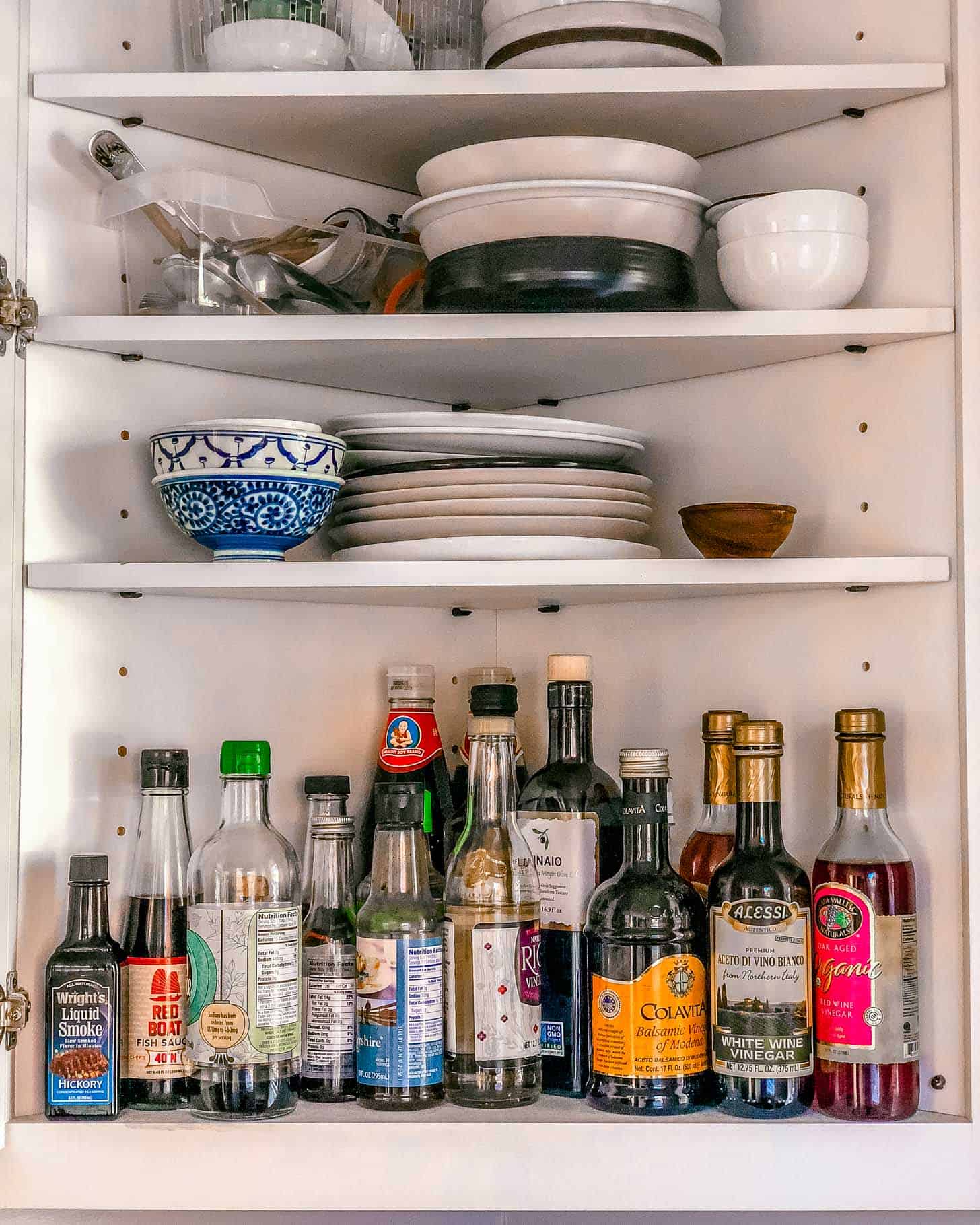 We moved into our current house a year ago and it's taken about that long to tweak our process and find the right home for everything. The kitchen was remodeled before we moved in, but our kitchen is little. Its footprint is smaller than the kitchen I had ten years ago in a studio apartment in Washington, D.C. Last April we vacationed in Charleston, South Carolina and the kitchen in our hotel room had more counter space. We're not quite dealing school-bus-turned-tiny-house levels over here, but some days I feel like we're not that far off.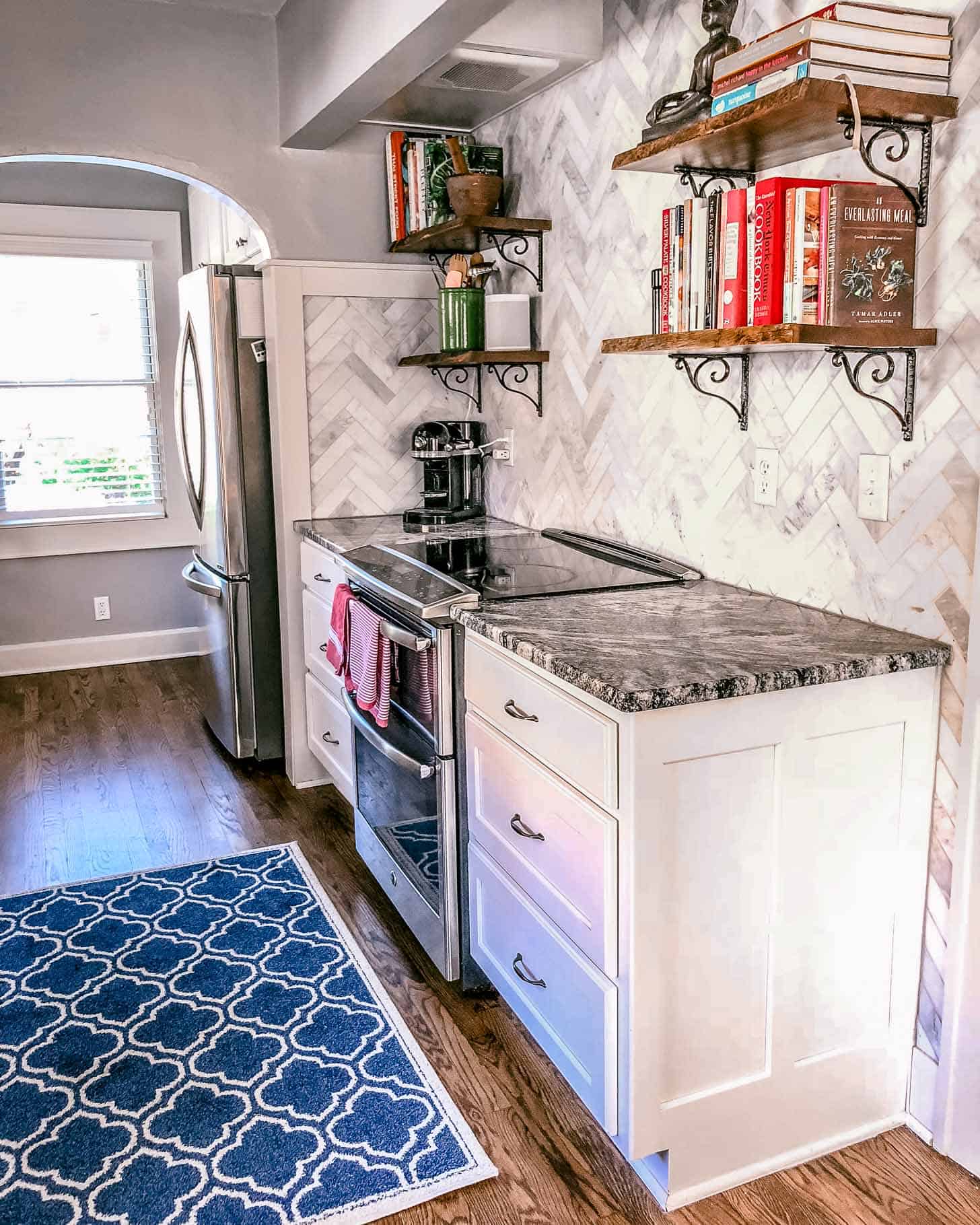 If I can make my career out of cooking in this small space, I feel confident that anyone can make great home-cooked meals in whatever space they have.
Rule 1: Prioritize Most-Used Kitchen Tools
The most important step in organizing a small kitchen is prioritizing the kitchen tools that you use the most. The smaller the space, the more ruthless you have to be. I start by taking everything out of cabinets or drawers and being brutally honest with myself about what I really need. Anything that hasn't been used in the past week or two should be set aside. I physically move those lesser-used items down to the basement where I can easily get to them but they're not in my main workspace. I do this with serving dishes, specialized baking dishes, and just about anything else that we don't use nearly every day. Give extra thought to the containers you use to store leftovers - those seem to multiply and can hide in cabinets for a long time without lids that fit on them.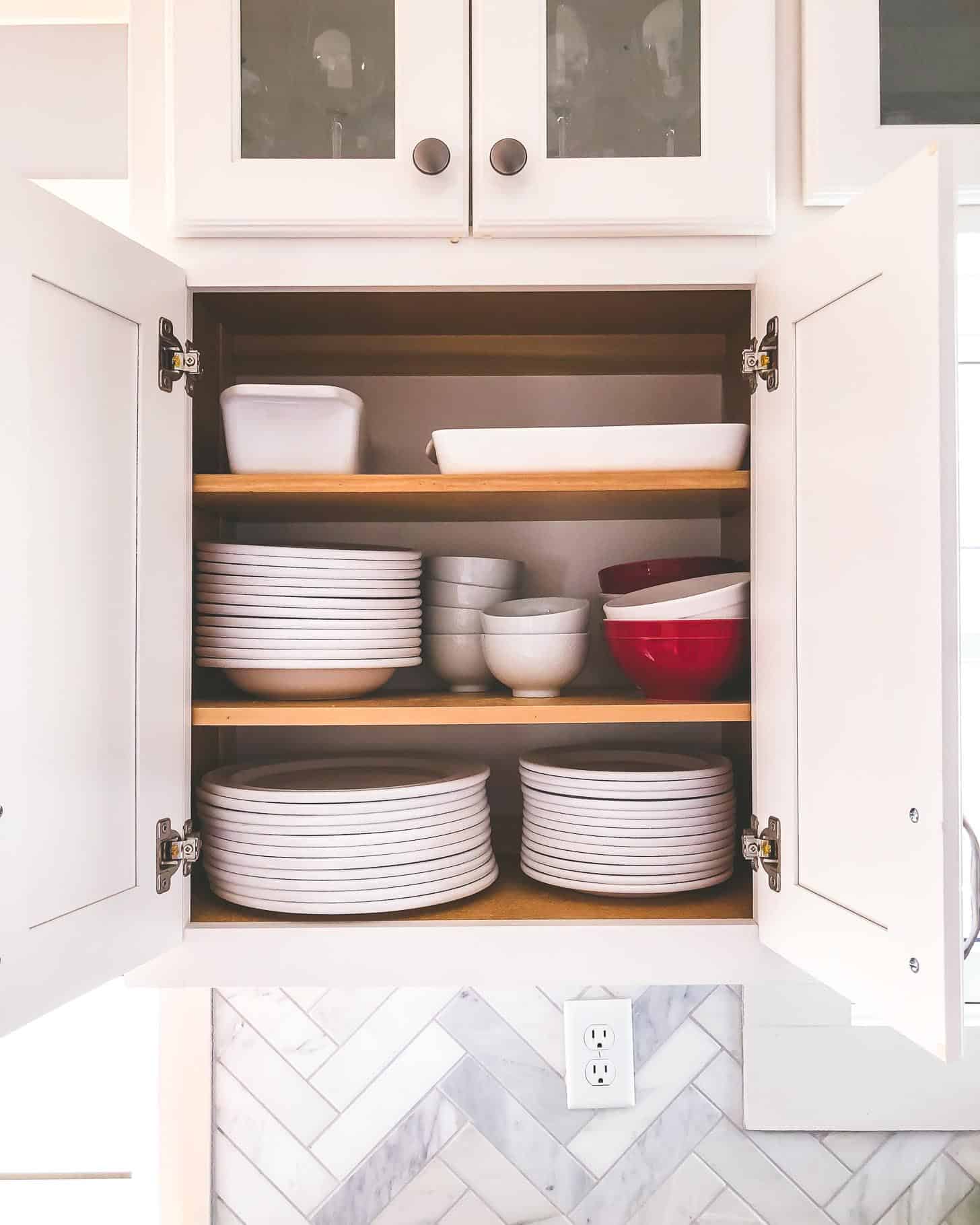 It's especially important (and challenging) to scale down pots and pans. Since these take up so much space, I make sure that each pot or pan I keep serves a clear function. If I have duplicates, I make sure they are in various sizes so that they easily nestle inside one another.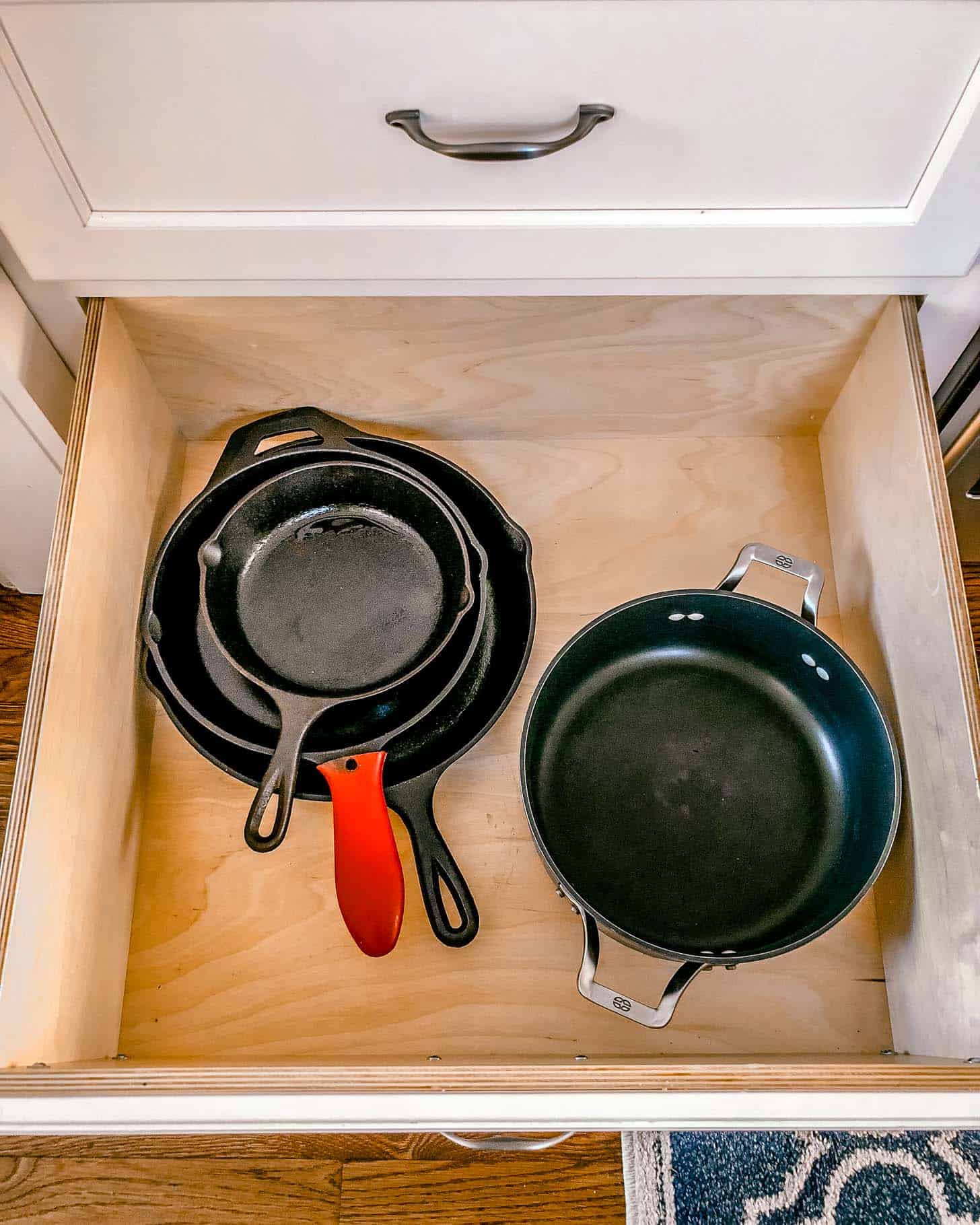 We tend to let pots and pans hang out in our main workspace because they're bulky and heavy to move, but that's exactly why we should remove the ones that are hardly ever used. There's nothing worse than having to dig through heavy pans and lids when you just need to fry an egg.
Occasionally I realize there is something I pulled out that I actually need easier access to, and I'll move it back into a permanent spot in the kitchen. But most of the less-often used kitchen tools are better housed outside of the kitchen if space is limited.
In addition to using the basement for storage, I have one spare drawer in the dining room where I keep some second-tier tools that may get used every couple weeks. The second-tier drawer holds things like a pizza slicer, meat tenderizer, pastry blender, hand mixer, and pastry brushes.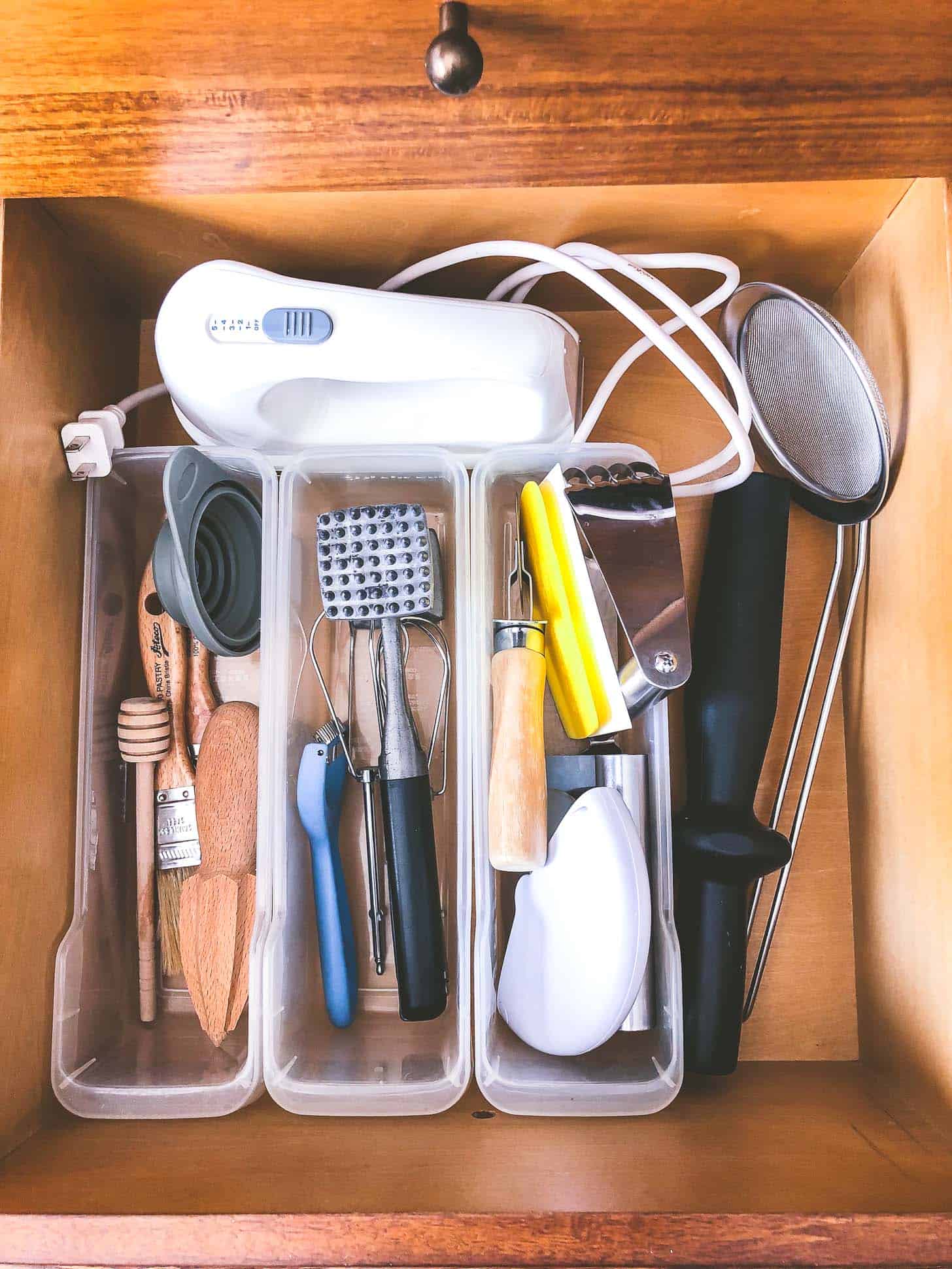 Rule 2: Store Items Where They'll be Used
Over at Cook Smarts we call this Organizing by Zones and it's the single best way to make your kitchen easier to use. Assign each counter a primary use and keep all the tools you need for that right where you can reach them. I used to walk all the way across the kitchen to get a marker to label my prep containers until I realized I should just put the marker under the counter where I prep meals. I keep all of my spoons, spatulas, and other similarly-shaped kitchen utensils in a carafe right by the stove. (It would probably be easier to reach on the countertop, but I like to keep my countertops as clear as possible, so it stays up on a shelf.)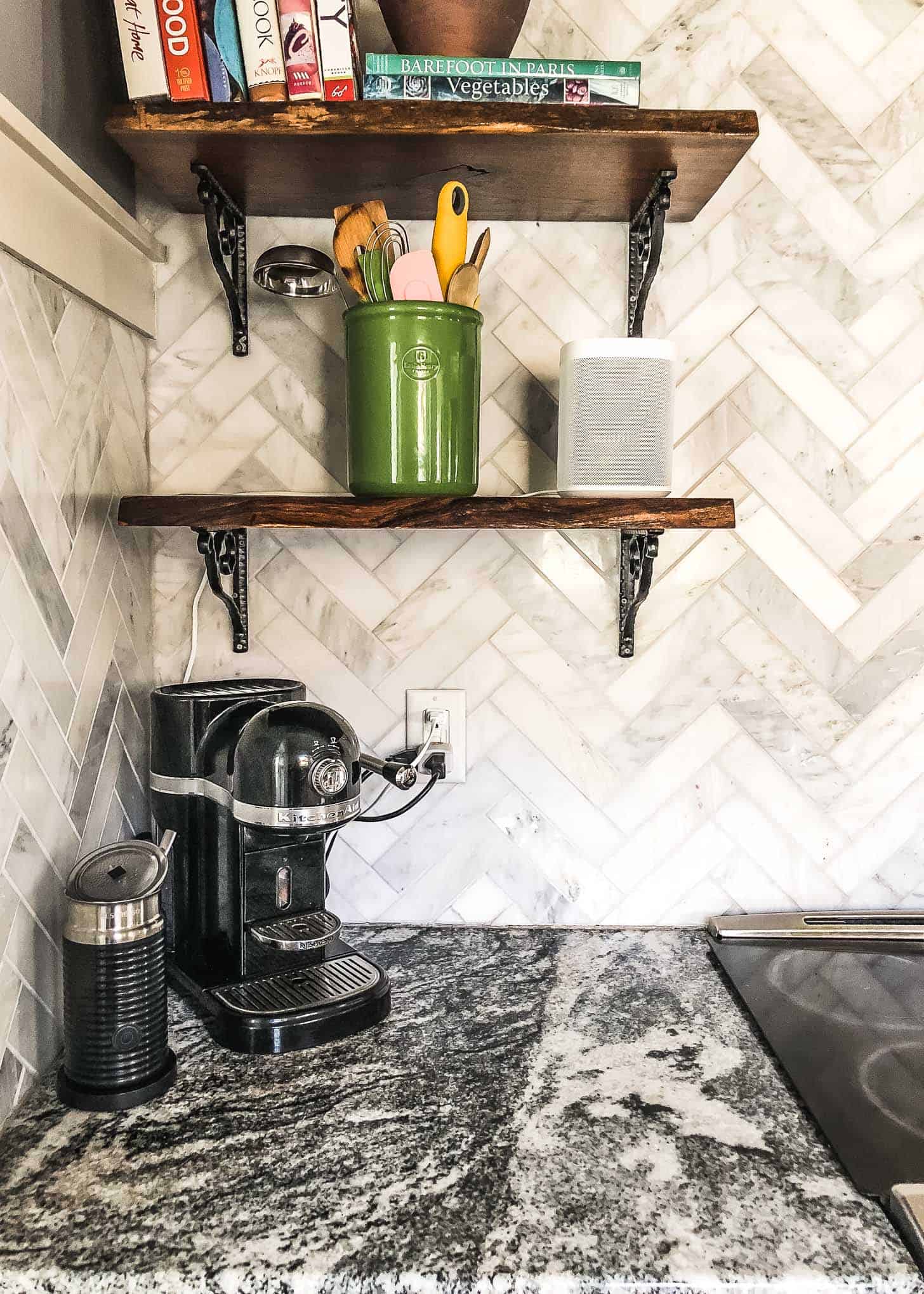 The counter I use the most is the one shown below. It's where I prep meals, where I put away leftovers, and where I make kids' lunches. All of the drawers below it support those tasks.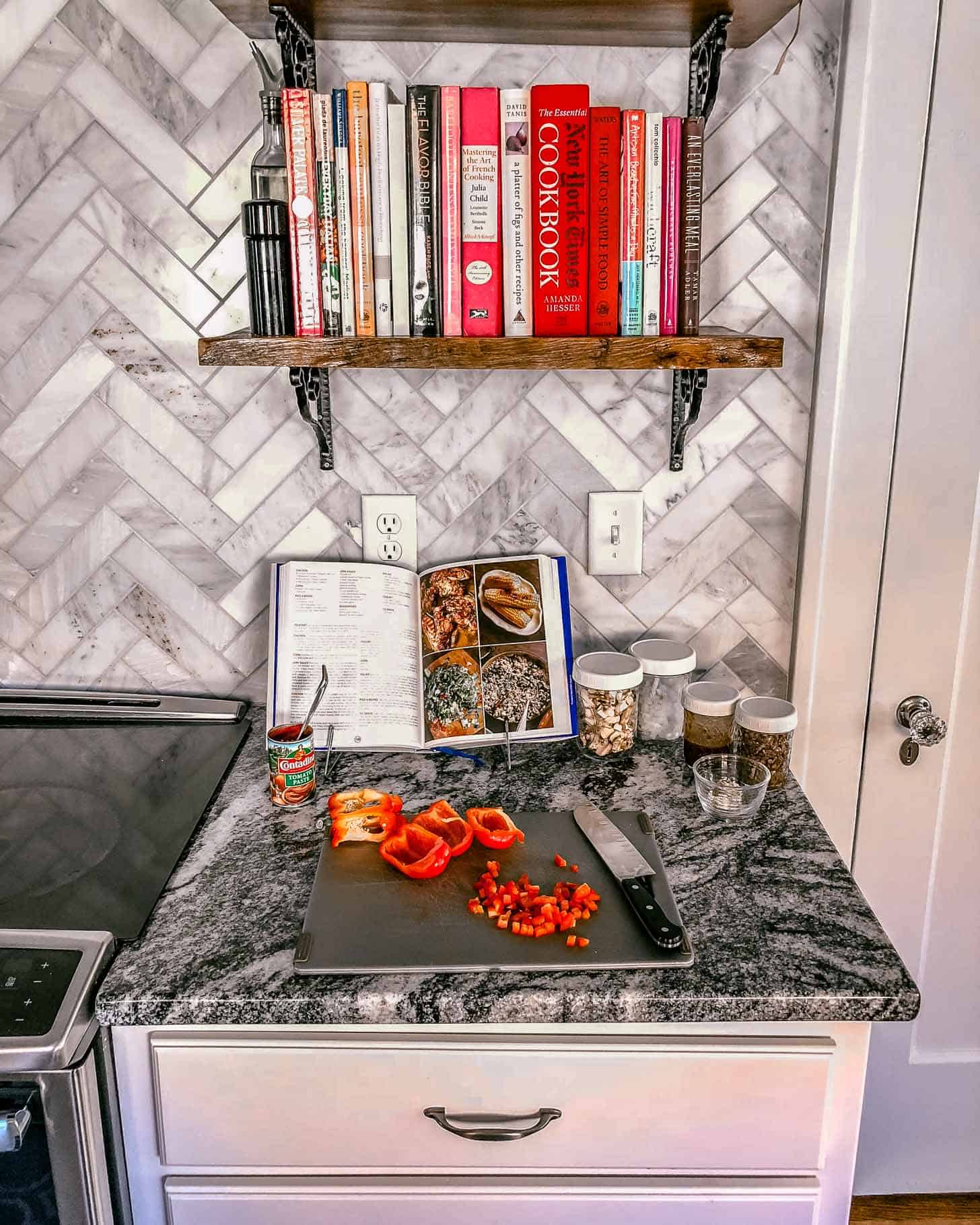 Here's what is tucked inside the drawers (some of these are affiliate links):
Top Drawer: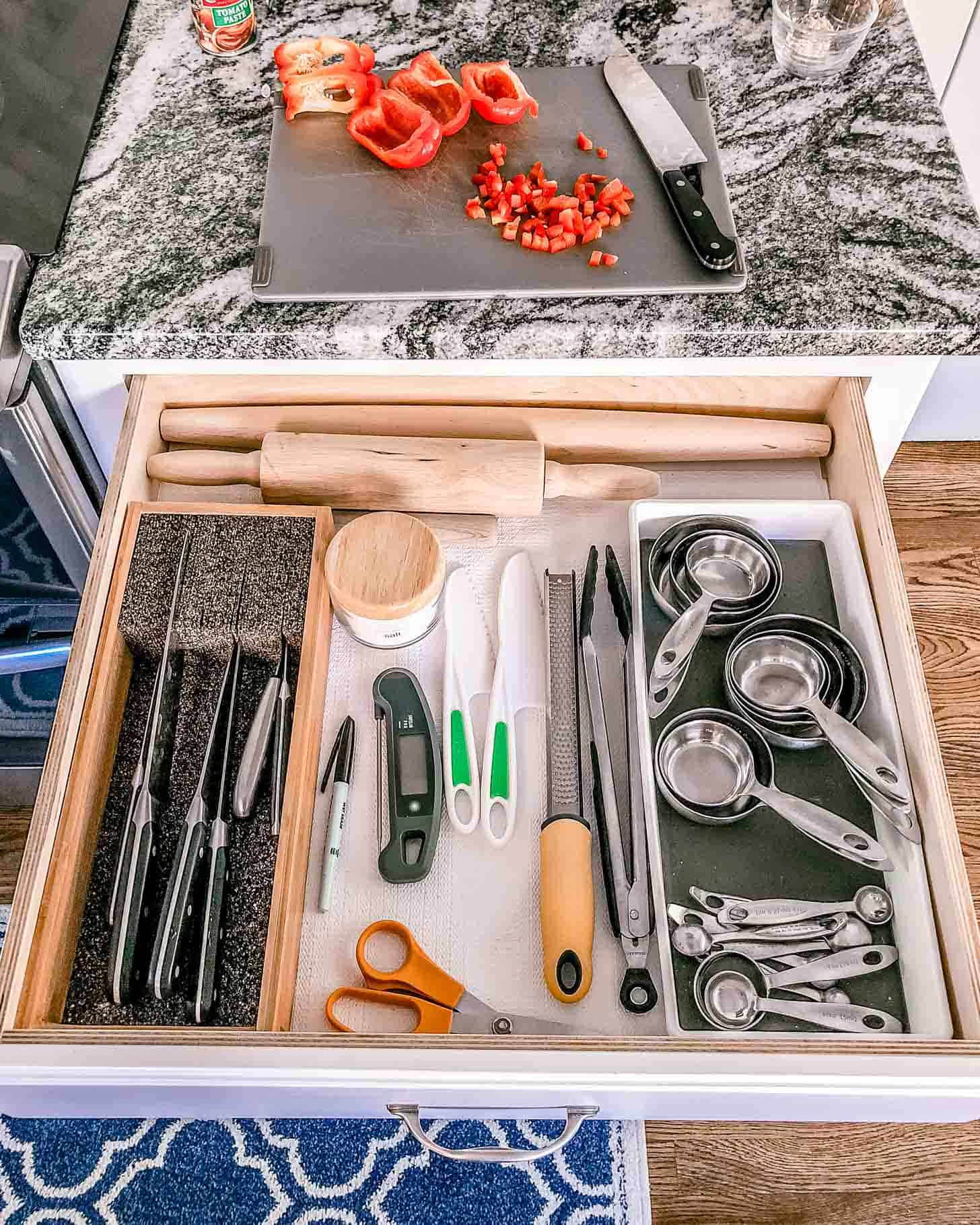 Second Drawer: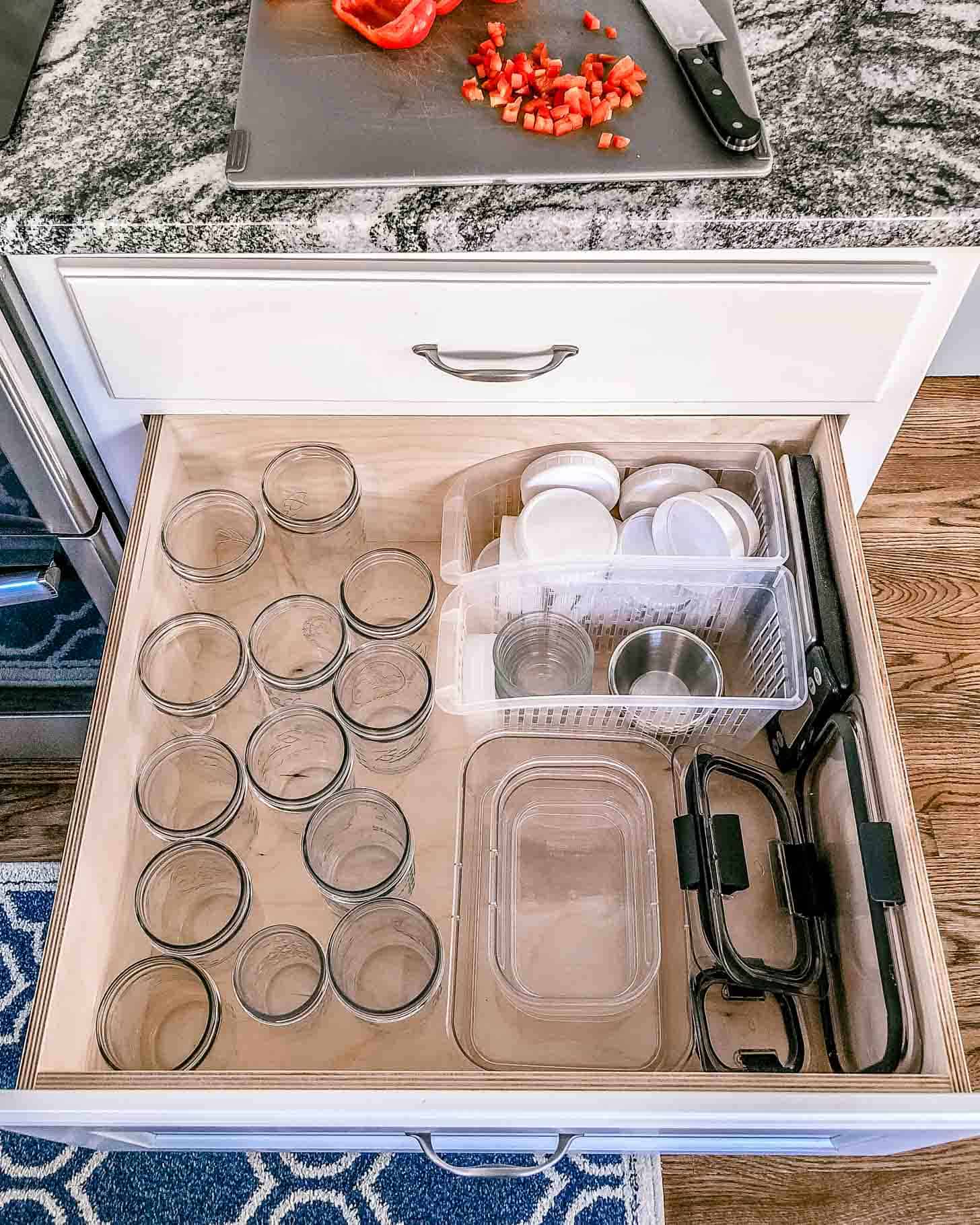 Bottom Drawer: This is where I keep dish towels and kids cups and lunch containers.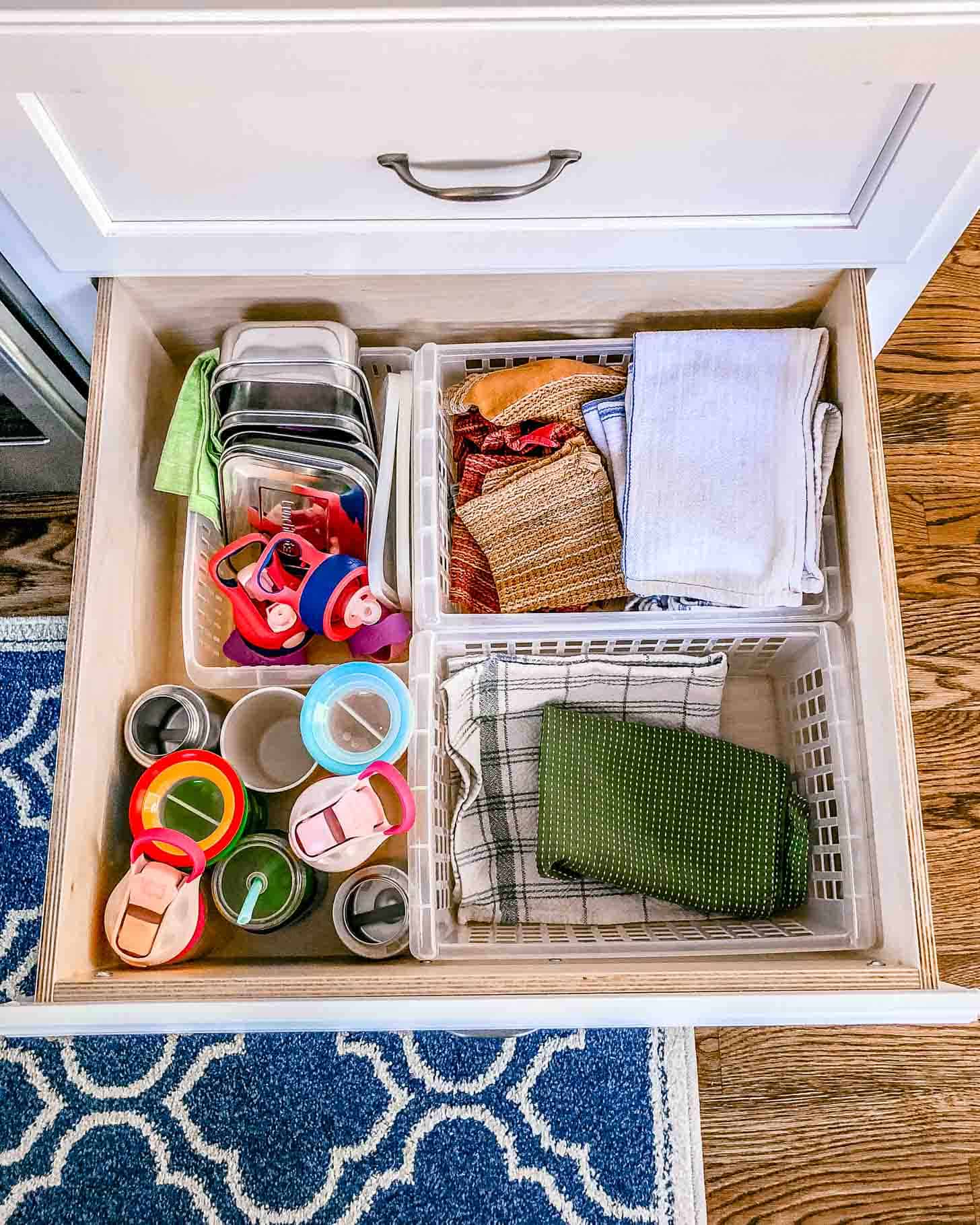 Rule 3: Invest in Useful Storage (but do so sparingly)
Containers designed to organize drawers and cabinets definitely have their place in small kitchens, but it's important to give yourself plenty of room to adjust as you go. The Knife storage and a small container for all of my measuring cups and spoons (shown below) have both been great. I love having a space to collect all of those measuring spoons (I have a three sets since I often test many meals at a time), but I love that we just drop everything in there after unloading the dishwasher.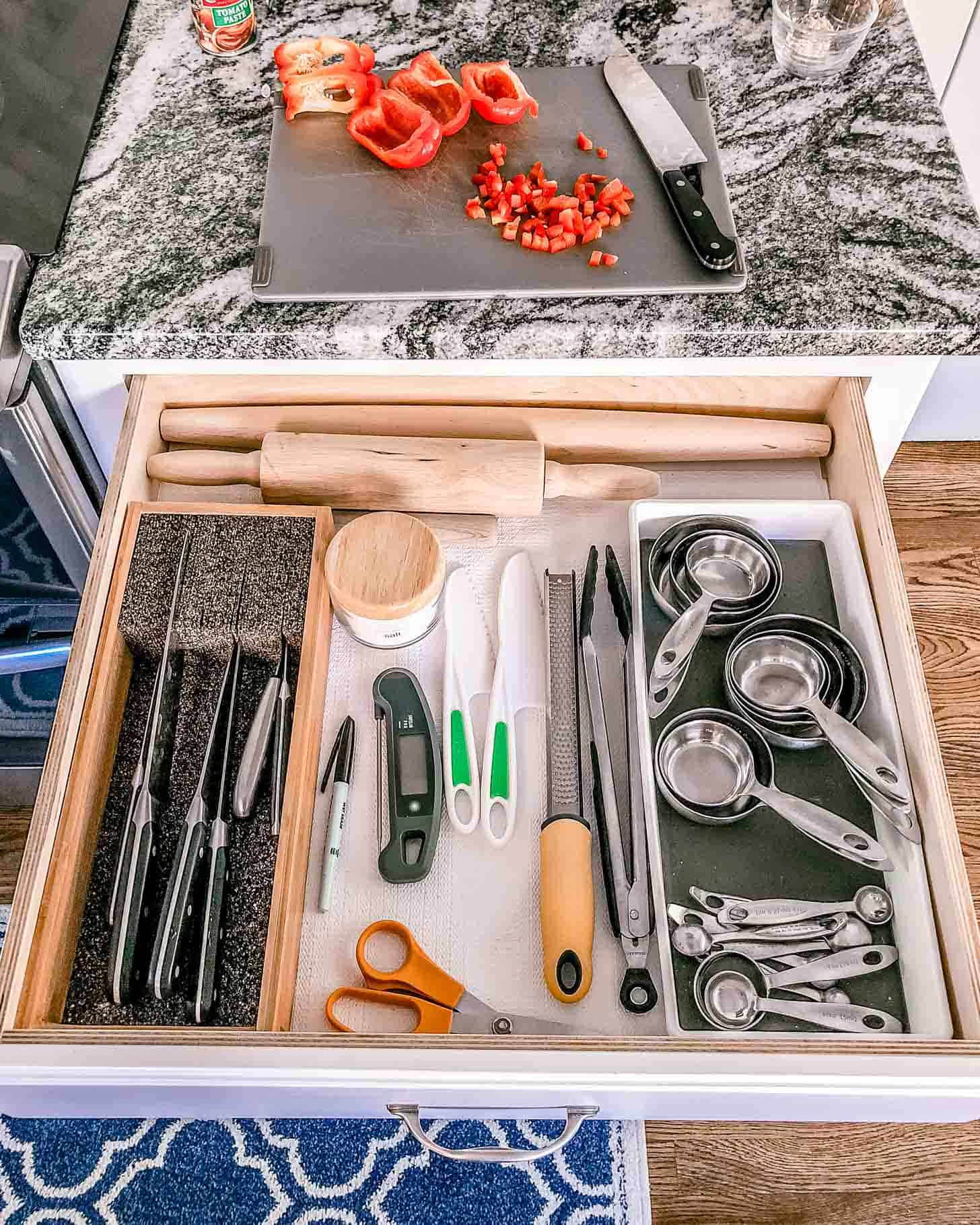 For most of my other drawers, the best storage tool is just textured drawer liners. These keep things from sliding around in the drawers but are totally flexible. I use this version because they don't stick to the drawer but are held in place by the items on top of them. When they get dirty, I just pull them out, wipe them with a warm towel and hang them to dry.
Rule 4: Be Flexible
Flexibility is the key to creating useful kitchen spaces. It's easy to move into a new kitchen, put everything away, and never reevaluate it. I am constantly auditing our kitchen cabinets based on our stage of life. It drives Frank crazy, but when kitchen real estate is at a premium, the most convenient drawers have to be assigned to what is most important.
This changes over time. For a long time one large drawer of our kitchen held sippy cups and bottles. Now it's used for containers for packing kids' lunches.
Four Inexpensive (But Useful) Kitchen Tools
You don't have to spend a lot of money to have a well-stocked kitchen. My most-used tools are super affordable: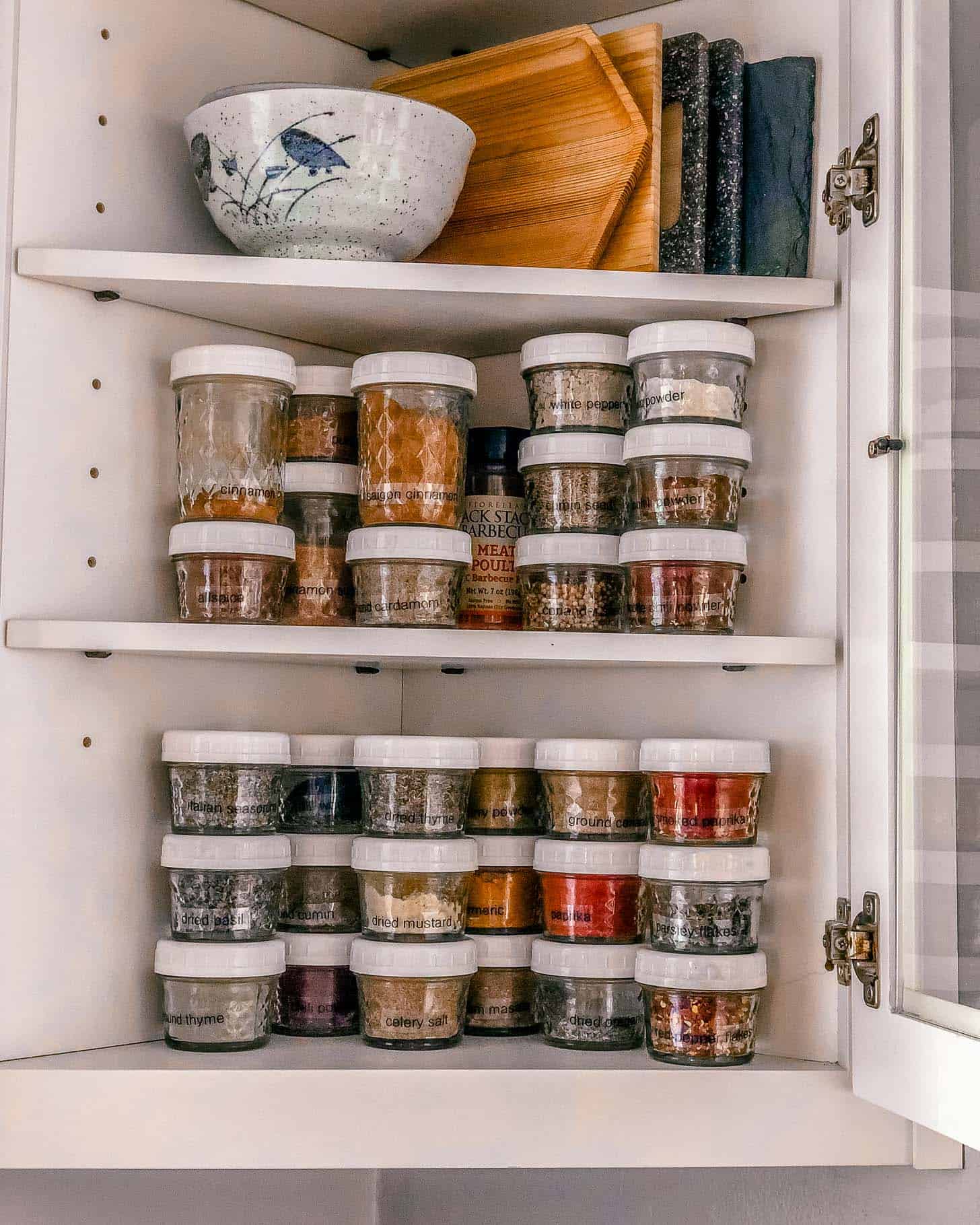 Kitchen Items Worth an Investment
Even with as much cooking as I do, most of kitchen tools I use are affordable. A few things have been worth investing in:
For more ideas, I love seeing what tools other professional cooks consider to be their kitchen essentials.
How to Organize a Small Pantry
Just like the rest of our kitchen, the pantry is fairly small. But also like the rest of the kitchen, prioritizing what we need is key. The top sliding drawer holds the things that we need on a daily basis - Snacks, Bread, Breakfast. (The breakfast bin holds granola, honey, and peanut butter to add to yogurt and oatmeal. The top shelf of the pantry also holds a small bin for Sweets which is where we put all the random candy that the kids bring home and some dark chocolate for Frank and I. We do not need easy access to that, but we DO need it out of the reach of 4-year-old hands.) Other less-used pantry items are on the middle two shelves. All of the baking supplies go together on the bottom shelf so that when we need it, everything is housed together.
Labels aren't for everyone, but my label maker and I are BFFs. The pantry seems to be the one space in the kitchen where I find that plastic bins and containers are super helpful. Without a designated space for everything, we end up with bags and cans piled on top of one another and impossible to find.
Thanks to meal planning, I don't spend much time stocking up on extra pantry items. I always know that I'll grocery shop for what we need each week. There's no room for us to store many Costco containers anyway!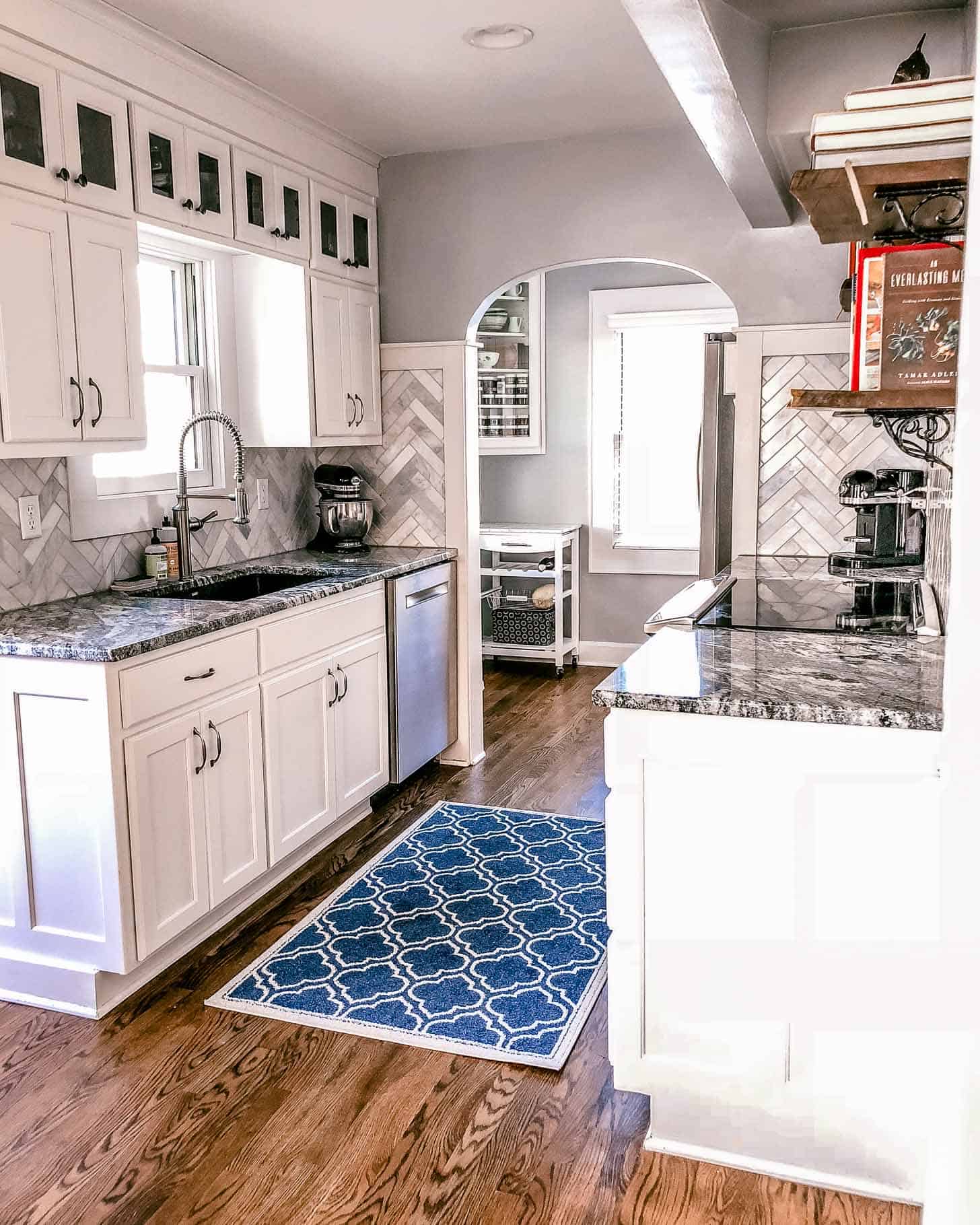 Please share here in the comments or join the conversation on Instagram! How do you keep your kitchen organized? Do you have a ton of space or not enough? Is there a cooking tool that you can't live without?
*This post contains affiliate links*