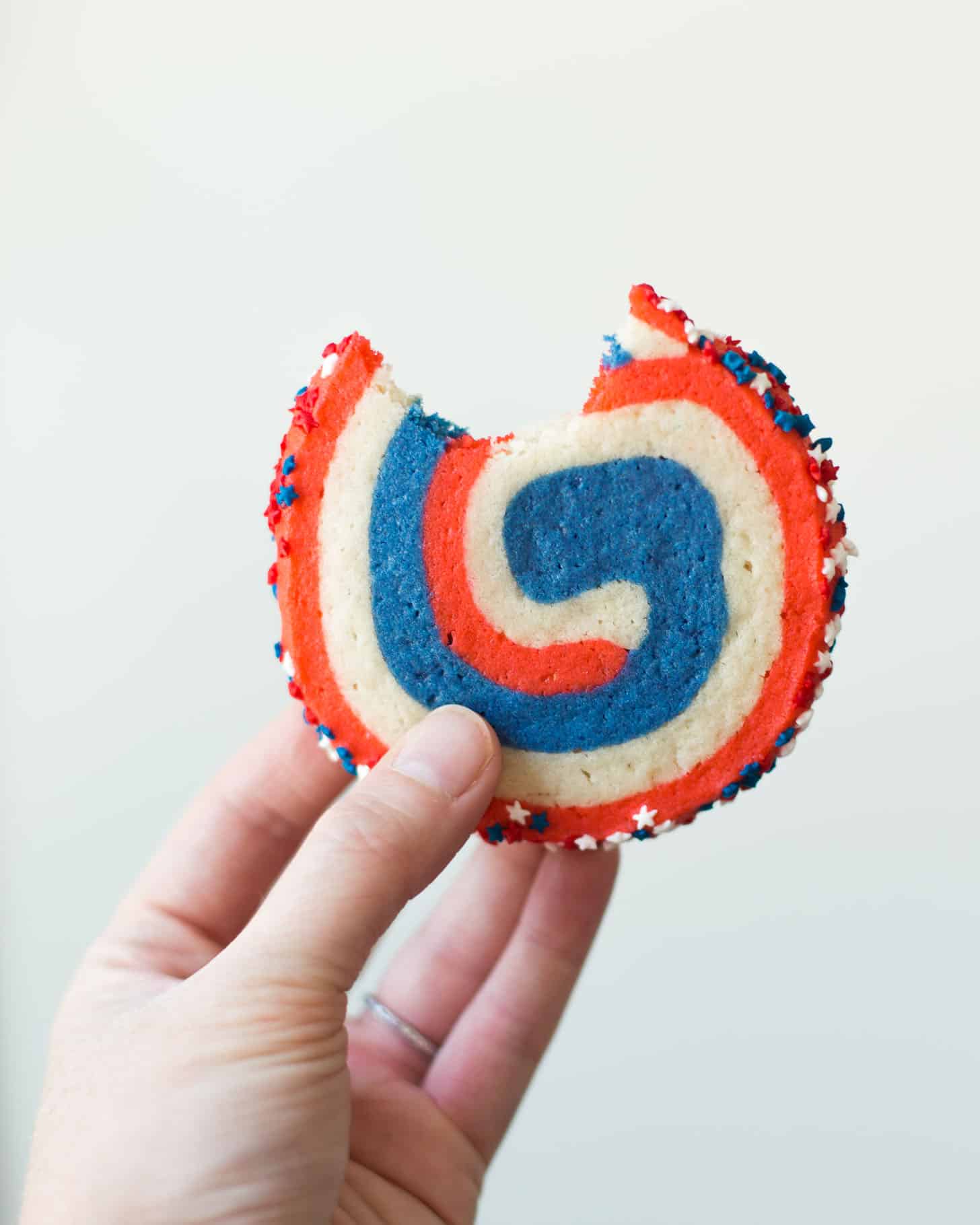 Want to go patriotic with your next dessert? Red, White, and Blue Pinwheel Cookies are just the thing. Buttery and soft, refrigerate them ahead of time to just slice and bake when you're ready to serve!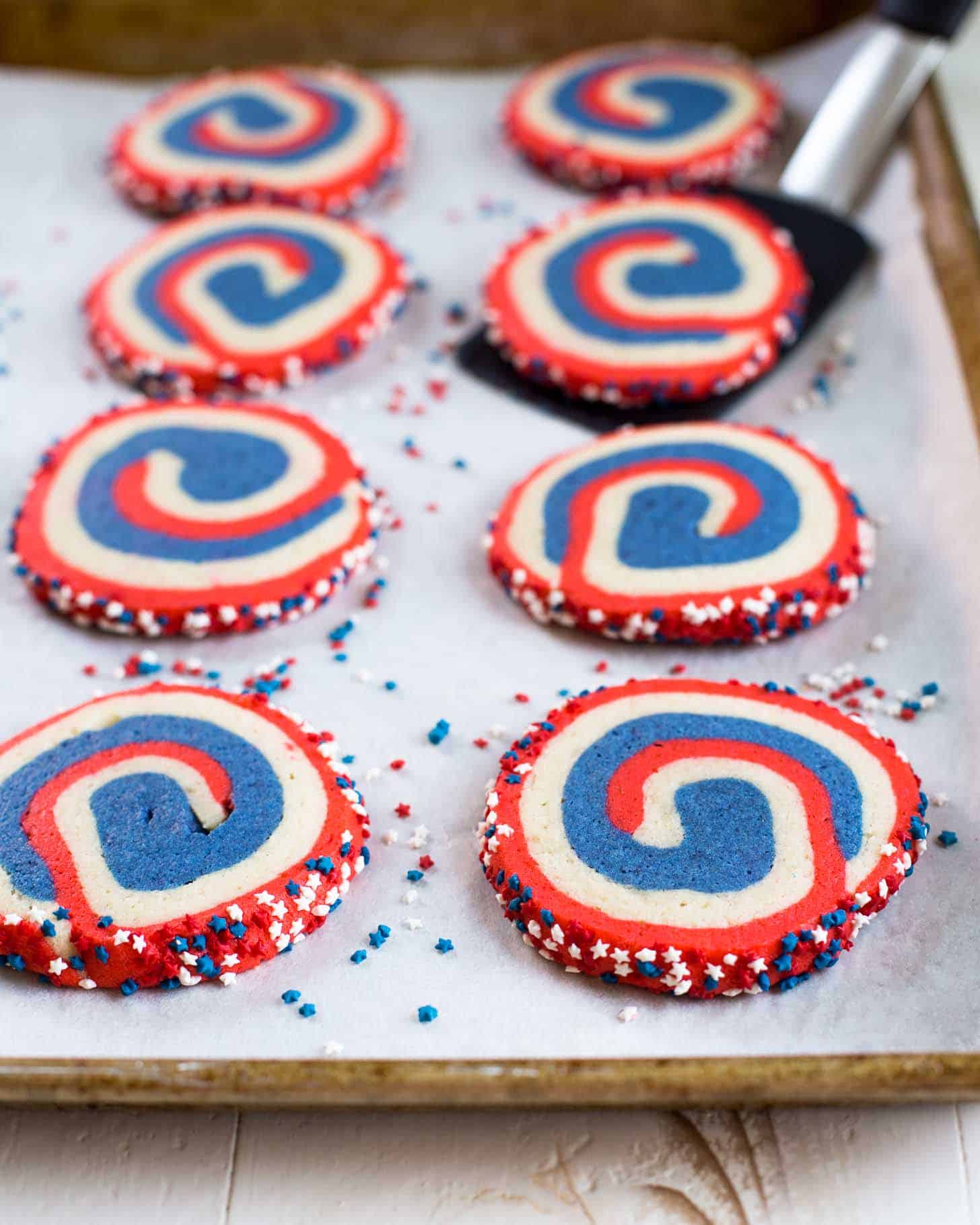 Happy Fourth of July week! Is anyone out there? Hopefully you're off at the pool / beach / lake / beer garden (?) kicking off your week with relaxation and fun! We had an early celebration at my mom's house with fireworks by the lake, a plastic kid pool that the adults all put our feet in, and dinner cooked on the grill. (Scroll to the bottom of the post for a peek!)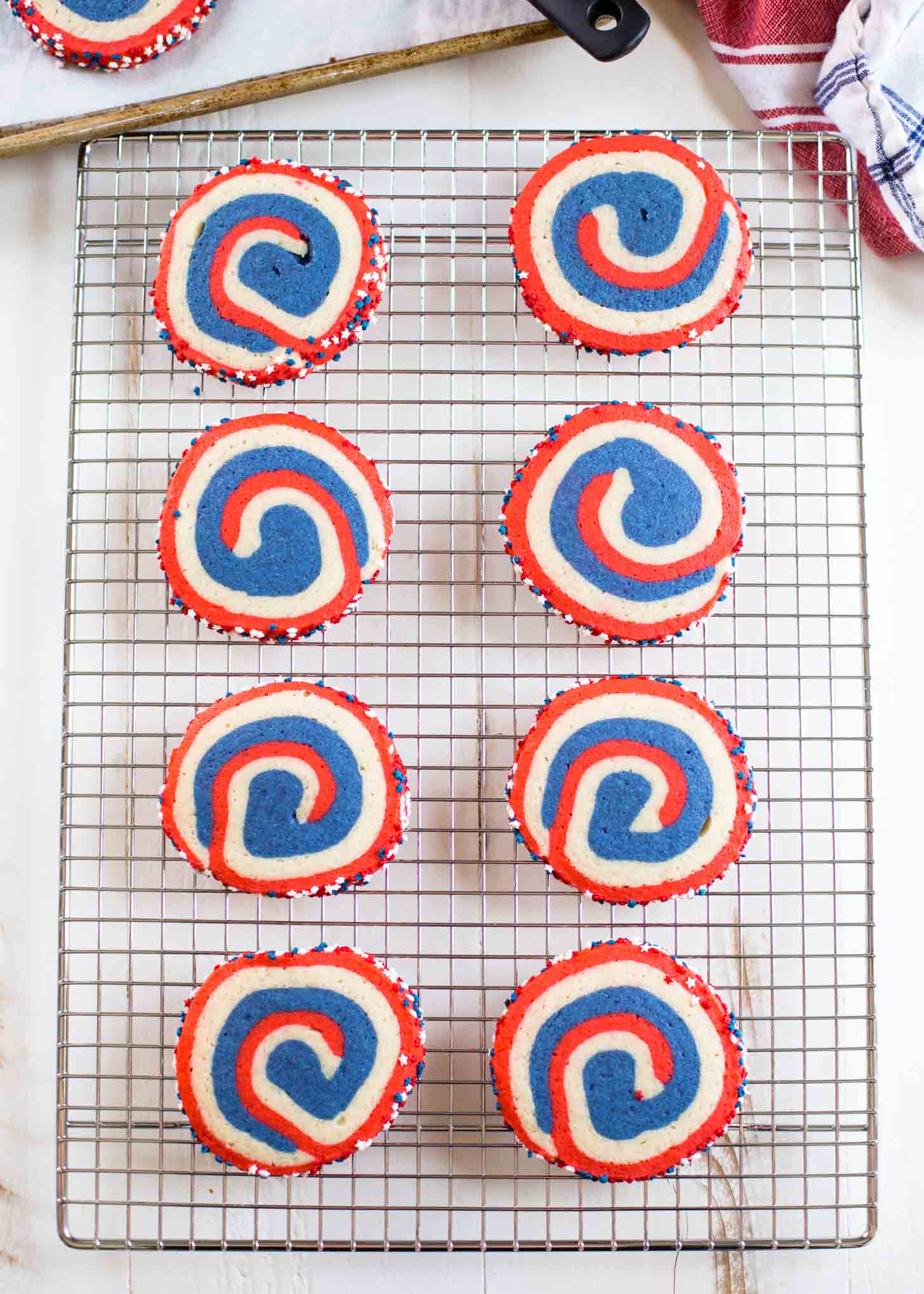 Despite being 9 months pregnant in July and overheating even without moving, I'm feeling particularly celebratory this holiday. Having a couple four-year-olds around will do that. Those two are overjoyed with their first experiences with fireworks (especially sparklers), so we've been deep in the patriotic spirit.
These cookies had to be a part of the July 4th spread this year. Buttery and soft, this is a classic vanilla cookie that is a variation on a household favorite. Though they look complicated, it's really just one batch of dough, divided in three and mixed with some food coloring (I use food gel these days because it delivers reliably vivid colors). You just stack the dough as shown below.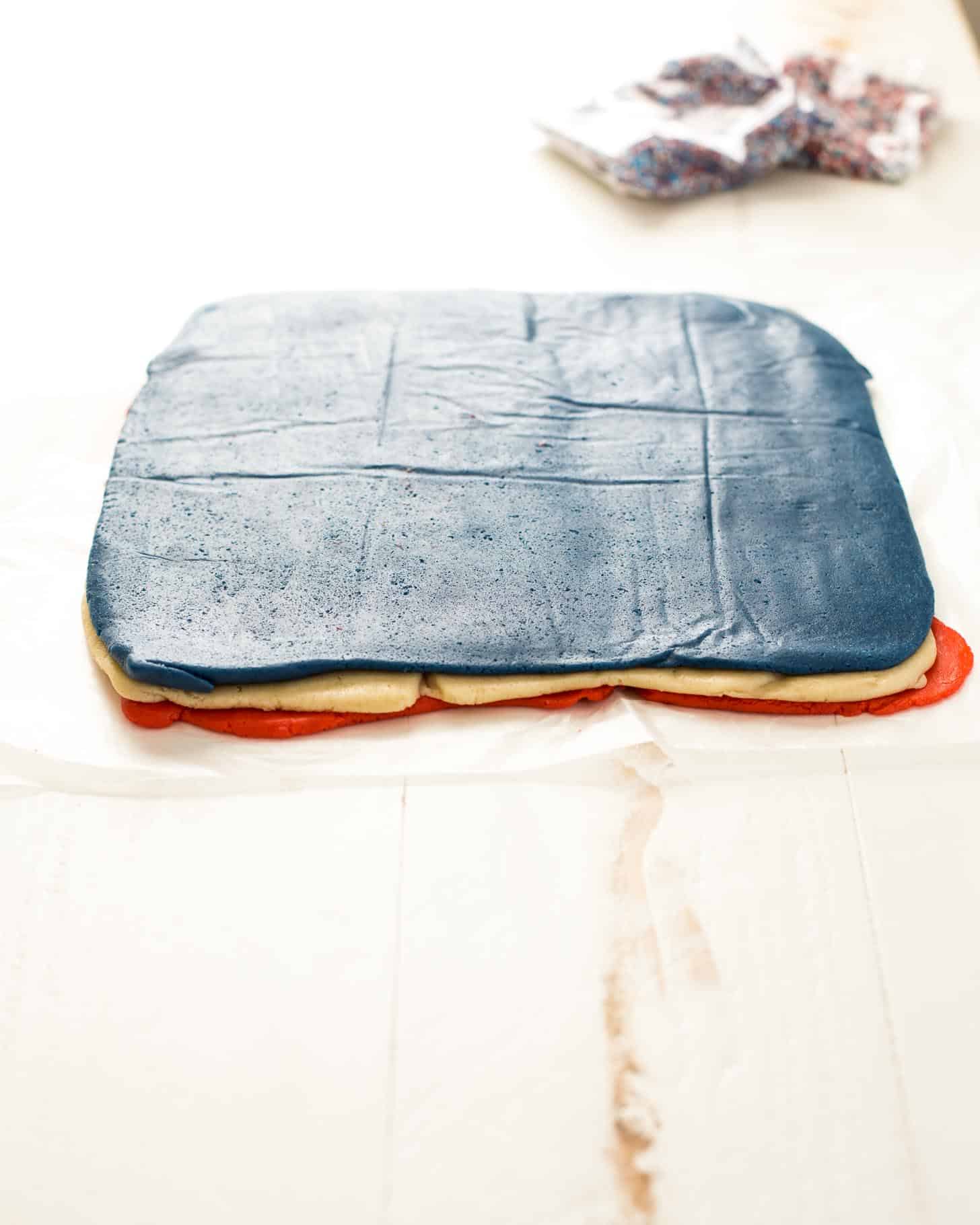 Then roll into a log, wrap in wax paper, and refrigerate it. When it's time to bake, just roll the dough in some sprinkles  (optional, but super fun!), slice, and bake.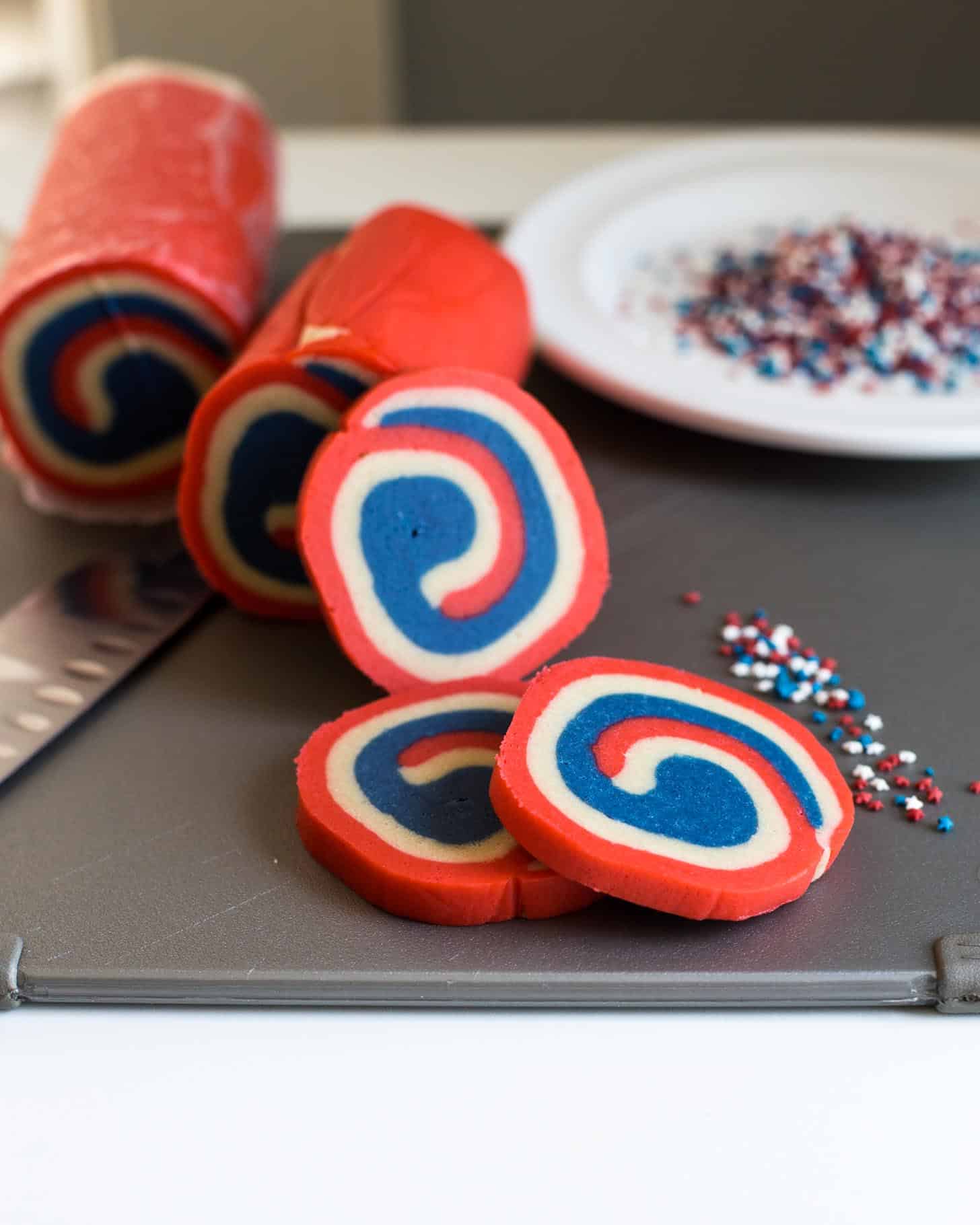 Serve with a side of fireworks!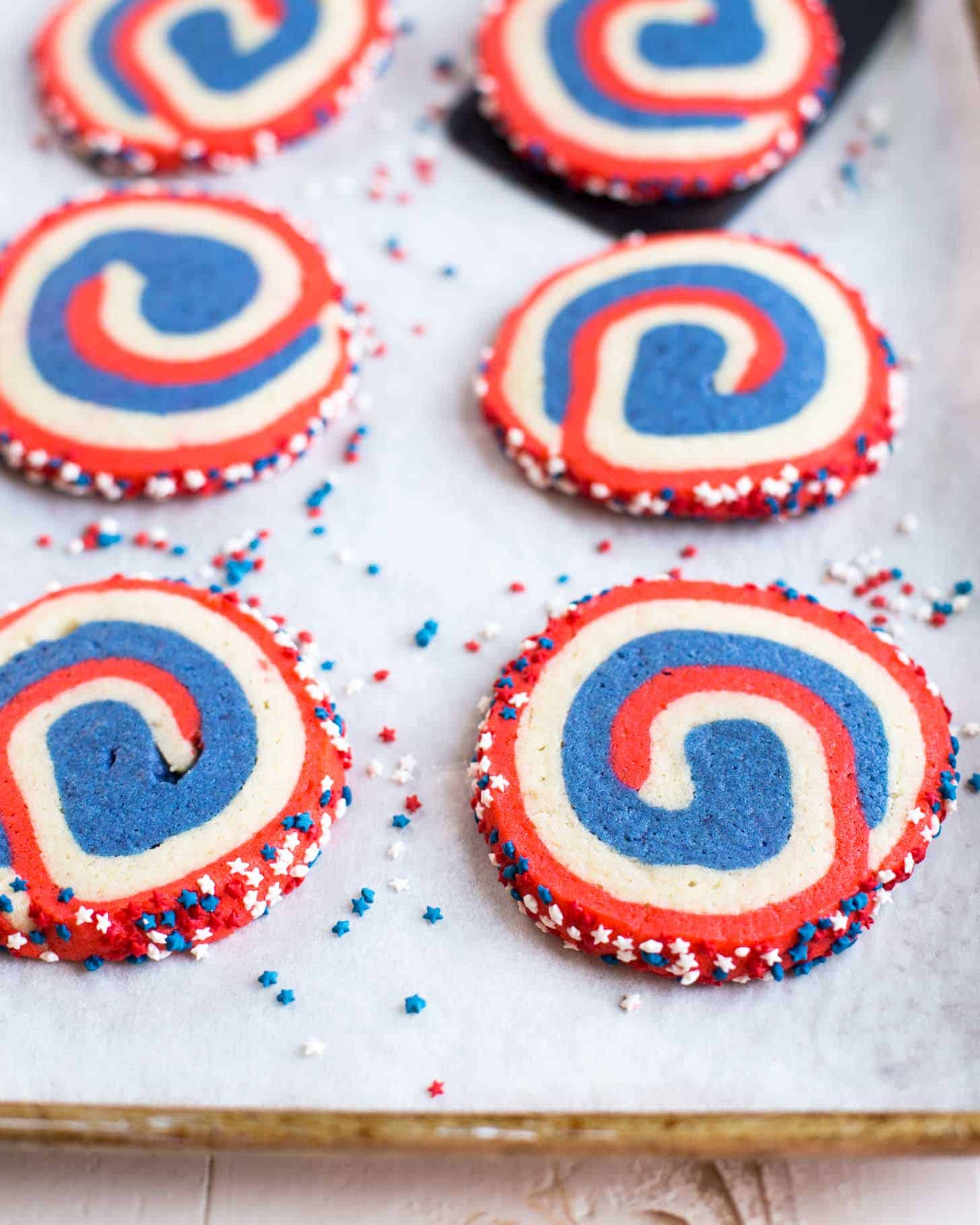 For detailed photos of the process for making these cookies, check out this post.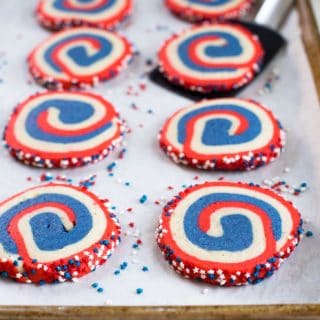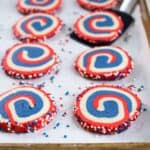 Print Recipe
Red, White, and Blue Pinwheel Cookies
Buttery and soft, you can refrigerate or freeze these pinwheel cookies. Just slice and bake when you're ready to serve!
Ingredients
4

cups

All-Purpose Flour

2

tsp

Baking Powder

1/2

tsp

Salt

1 1/3

cup

Unsalted Butter, softened

1 1/2

cup

Granulated Sugar

2

Eggs

1

tsp

Vanilla Extract

Red and Blue Food Coloring / Food Gel

Sprinkles (optional)

Wax paper, for rolling dough
Instructions
In a mixing bowl, whisk together flour, baking powder, and salt. Set aside.

In the bowl of a standing mixer, beat the butter on medium-high until smooth.

Add sugar and beat on high until light and fluffy, ~2 minutes.

Add eggs one at a time, mixing between each addition. Add vanilla and mix for 1 minute more.

Add dry ingredients in three increments, mixing between each one.

Divide dough into three even portions.

Red. Put the first portion of dough in the mixer and add red food coloring / gel, while mixing, until the dough is a nice bright red. Set red dough aside and wipe out bowl.

Blue. Put the second portion of dough in the mixer and add blue food coloring / gel, while mixing, until the dough is a nice bright blue. Set red dough aside.

Working with one portion of dough at a time, roll each into a 11" x 11" square. (I use a permanent marker to draw a square on a piece of wax paper and use that as a guide. The squares don't have to be perfect, just generally around the same size.)

Refrigerate dough squares for 30 minutes until chilled (this will make them easier to layer without the colors bleeding together).

Remove dough from refrigerator and stack the three portions of dough (in any order). Gently press dough layers together.

Using the bottom sheet of wax paper to lift dough, roll it into a log. Press gently as you roll to avoid gaps. Wrap the dough tightly in wax paper.

Refrigerate for 2 hours or up to 5 days. (At this point the dough can be wrapped in foil and frozen for up to 3 months; defrost in the refrigerator for 2 to 3 hours before baking.)

Preheat oven to 375 degrees F.

If using sprinkles, remove the dough from the wax paper and roll in sprinkles to coat on all sides.

Using a sharp knife cut roll into 1/8" slices. Place slices on an ungreased baking sheet. The cookies will spread slightly as they bake, so leave ~2" between.

Bake until cookies appear just set in the middle, 8 to 10 minutes. (The texture will be tender and buttery. I've been known to bake these for as little as 6 minutes. Soft, gooey, delicious.)

Transfer to a cooling rack and allow to cool completely.

Store in an airtight container for up to 3 days.
Is there anything better in early July than a kiddie pool filled with cold hose water?