This Chocolate Oatmeal Cookie with Toffee Recipe makes golden cookies with crisp edges, pools of melted dark chocolate and toffee, and chewy centers. Freeze the dough to bake whenever you're ready.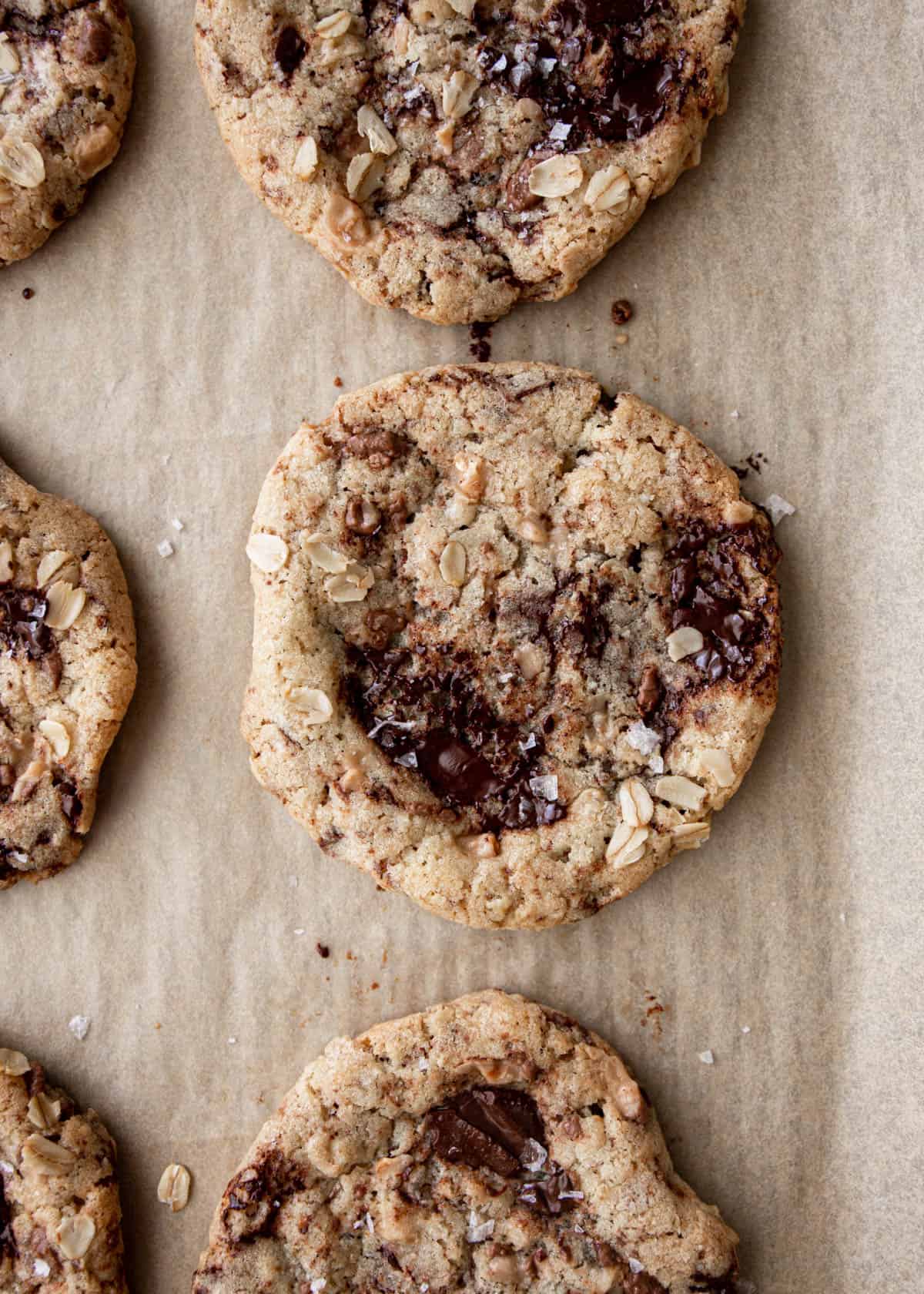 Is there anything better than the smell of homemade cookies baking? And these oatmeal cookies may be the most delicious smelling cookies I've ever baked. The combination of dark chocolate and toffee in the batter gives them this rich caramel aroma and flavor that is truly unique. And truly hard to resist. These have been a favorite at our house since I started testing them. In the Inquiring Chef Test Kitchen, my testers called these "fabulous," "delicious," and "a new favorite." I'm sure you're going to love them too!
And if you're debating between cookies, I have a few others for your consideration - chocolate chip cookies (one of my most popular recipes), peanut butter cookies, or if you're baking around the holidays be sure to check out the 50 best cookies to take to a cookie exchange or 15 Freezer-Friendly Christmas Cookies.
How to Make Them
Soften butter. Be sure the butter is very soft before using it so that it will properly cream with the sugars.
Whisk together dry ingredients. Carefully measure dry ingredients - flour, baking soda, and salt. (Use a kitchen scale for the flour if you have one or gently scoop it out of the bag into a measuring cup so that it doesn't compress.)
Cream butter and sugars. Don't skimp on this step. It should take about 3 minutes for the butter and sugars to be light, fluffy, and very pale in color.
Add egg and vanilla extract. Mix egg and vanilla into butter-sugar mixture. Keep the mixer on low so that you don't beat any air into the eggs (this can cause the cookies to be cakey).
Add dry ingredients. Add dry ingredients and mix on low until fully combined. Don't overmix.
Add mix-ins. Add in the oats, chopped chocolate, and toffee bits just until combined.
Bake at 350°F for 12 to 14 minutes. Use a heaping tablespoon to scoop out the cookie dough onto a greased cookie sheet. You can press some extra mix-ins on top of each cookie dough ball if you'd like.
Deflate cookies. Firmly tap the baking sheet on the kitchen counter. This deflates the cookies so the centers are chewy and soft.
Let cool on the pan for about 10 minutes. Transfer to a cooling rack to cool completely.
Enjoy!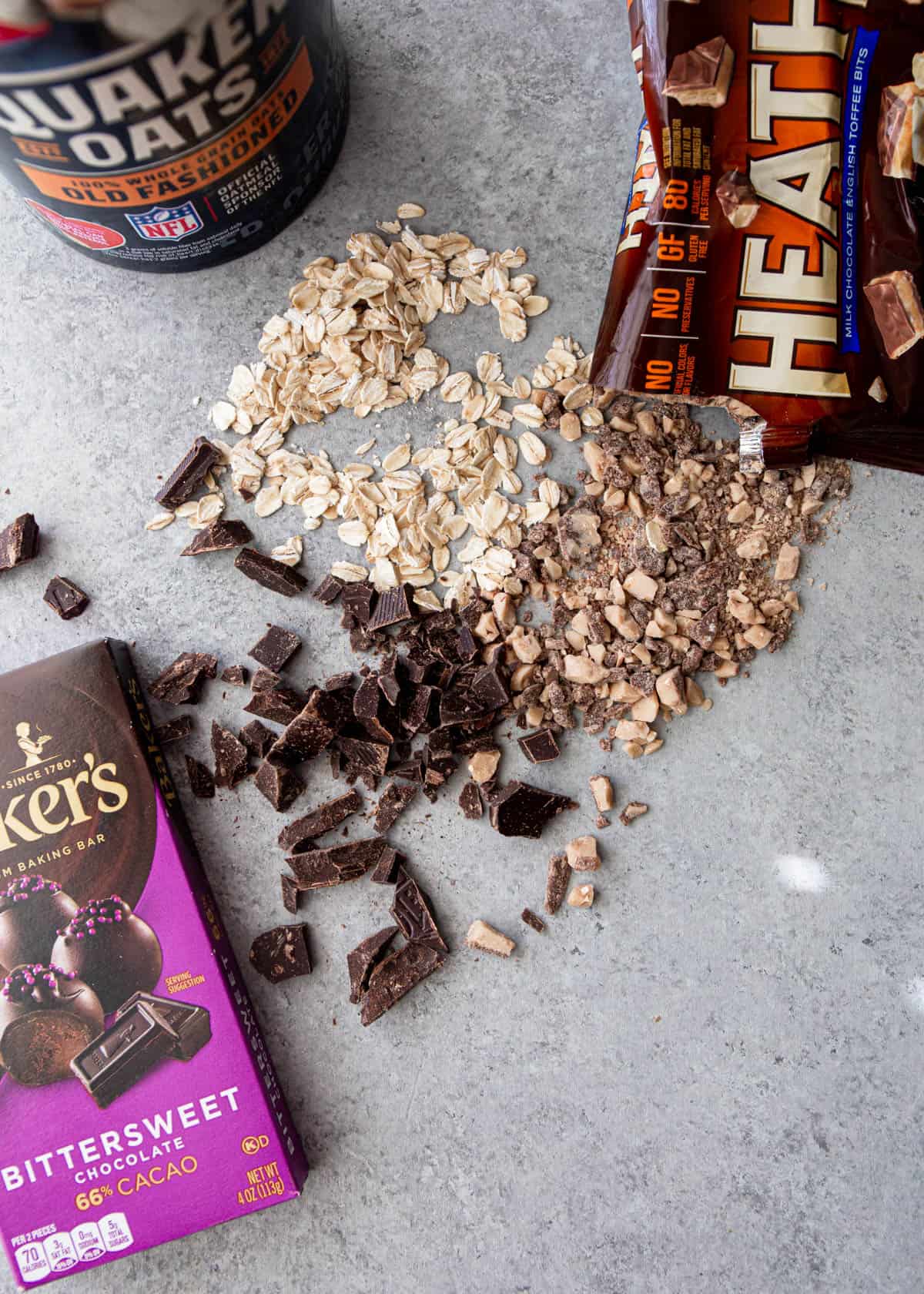 Ingredients
Old Fashioned Oats - Use "old fashioned oats" or "rolled oats" for that classic chewy oatmeal cookie texture.
Dark Chocolate - I love the irregular pools of melty chocolate that comes from using 70% cacao chocolate bars that I chop up myself, but if you want to save time, these work well with dark chocolate chips.
Toffee Bits - Heath Toffee Bits add little crunchy bites of sweet and salty toffee to every bite. Look for these in the baking aisle near the chocolate chips!
All-Purpose Flour - I tested this recipe with Gold Medal Unbleached All Purpose Flour. It gives me reliable results every time.
Baking Soda - These provide the dough with just a bit of lift, giving the cookies that soft and tender texture. Be sure to replace your baking soda every few months (yes - every few months!). Old baking soda won't give you the same results as a fresh box.
Light Brown Sugar and White Sugar - These cookies use a combination of light brown sugar and white sugar. The brown sugar gives the cookies a caramel flavor and color while the white sugar helps give them crispy edges.
Unsalted Butter - It is important to use unsalted butter to get the measurement for salt (see below) right. If using salted butter, it's a good idea to skip the added kosher salt in the dough so that the cookies don't become too salty. Don't forget to take the butter out of the fridge in advance. It needs to be softened while still feeling slightly cool to the touch.
Egg and Pure Vanilla Extract - Standard cookie ingredients. The eggs add texture, the vanilla extract adds flavor.
Kosher Salt and Flaked Sea Salt - Salt in the chocolate oatmeal cookies balances and enhances the sweet flavors of the cookies. Be sure to use kosher salt which comes in larger grains than traditional table salt in the cookie dough. (If you only have table salt, reduce the amount listed in the recipe by half to avoid your cookies being too salty.) At our house, we also all love a light sprinkle of flaked sea salt (I use Maldon) on top of the warm cookies. It's totally optional but gives the cookies a hint of extra salt and a tiny bit of crunch.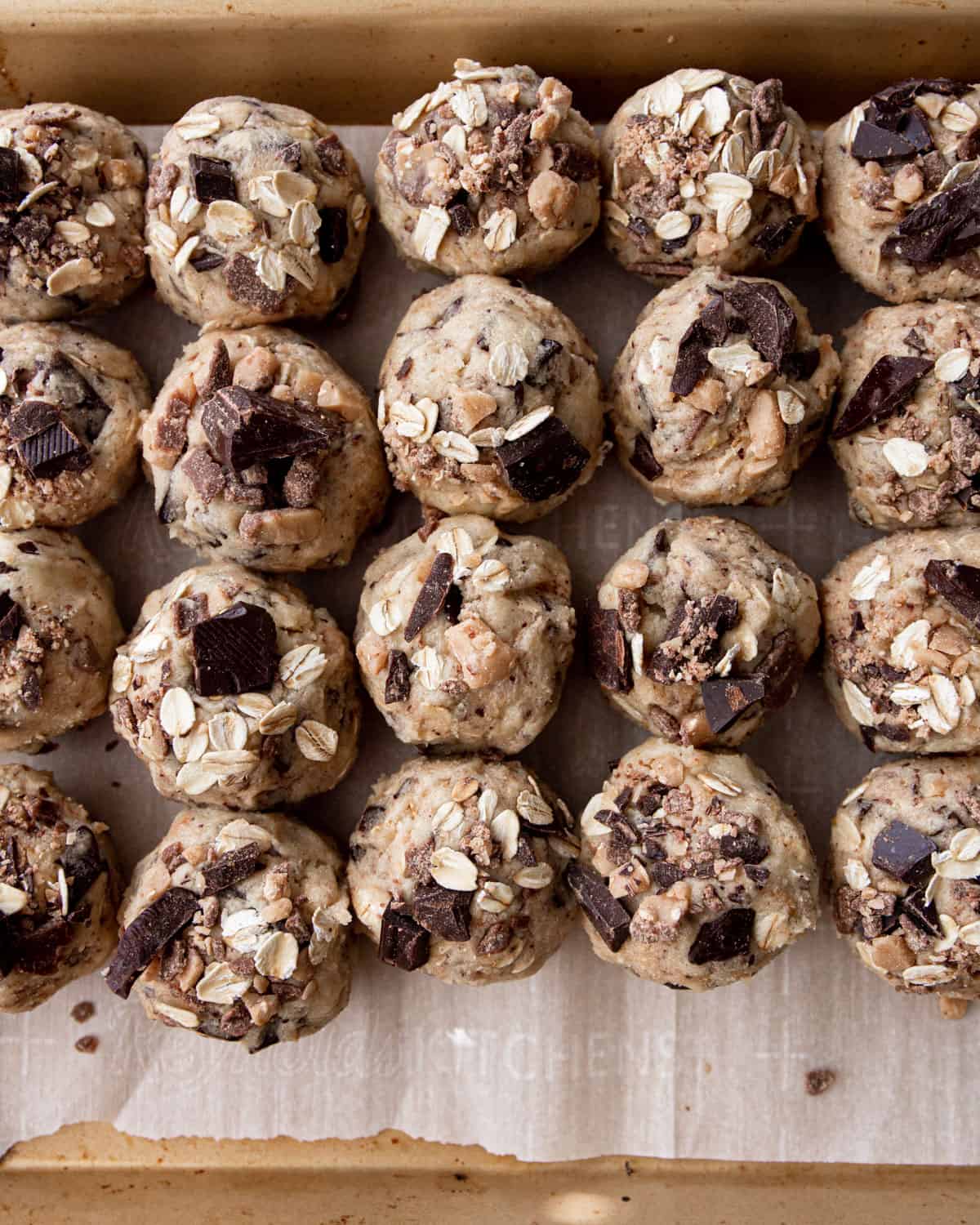 Freeze the Cookie Dough
This cookie dough freezes well and can be baked directly from frozen.
To freeze the cookie dough:
Form cookie dough into balls and line up in a single layer on a sheet pan
Transfer sheet pan to freezer until the dough is frozen solid, 2 to 3 hours.
Transfer the dough to a freezer-safe bag and seal, removing as much air from the bag as possible.
Freeze for up to 6 months.
To bake: Bake the cookie dough directly from the freezer at 325°F / 163°C for 14 to 16 minutes.
Tips
Softened butter - Be sure to let the butter soften to cool room temperature so that it can easily incorporate with the sugars. The butter should be soft enough that you can easily make an indentation with your finger.
Flour - When people ask about getting that great combination of crispy edges and soft centers in their cookies, the answer is always the flour. I test all of my recipes with Gold Medal Unbleached All Purpose Flour and feel that it yields the best texture. I also always measure my flour for cookies by weight.
Top with mix-ins - For beautiful, photo-worthy cookies, press some extra oats, chocolate, and toffee into the tops of the cookie dough balls before baking.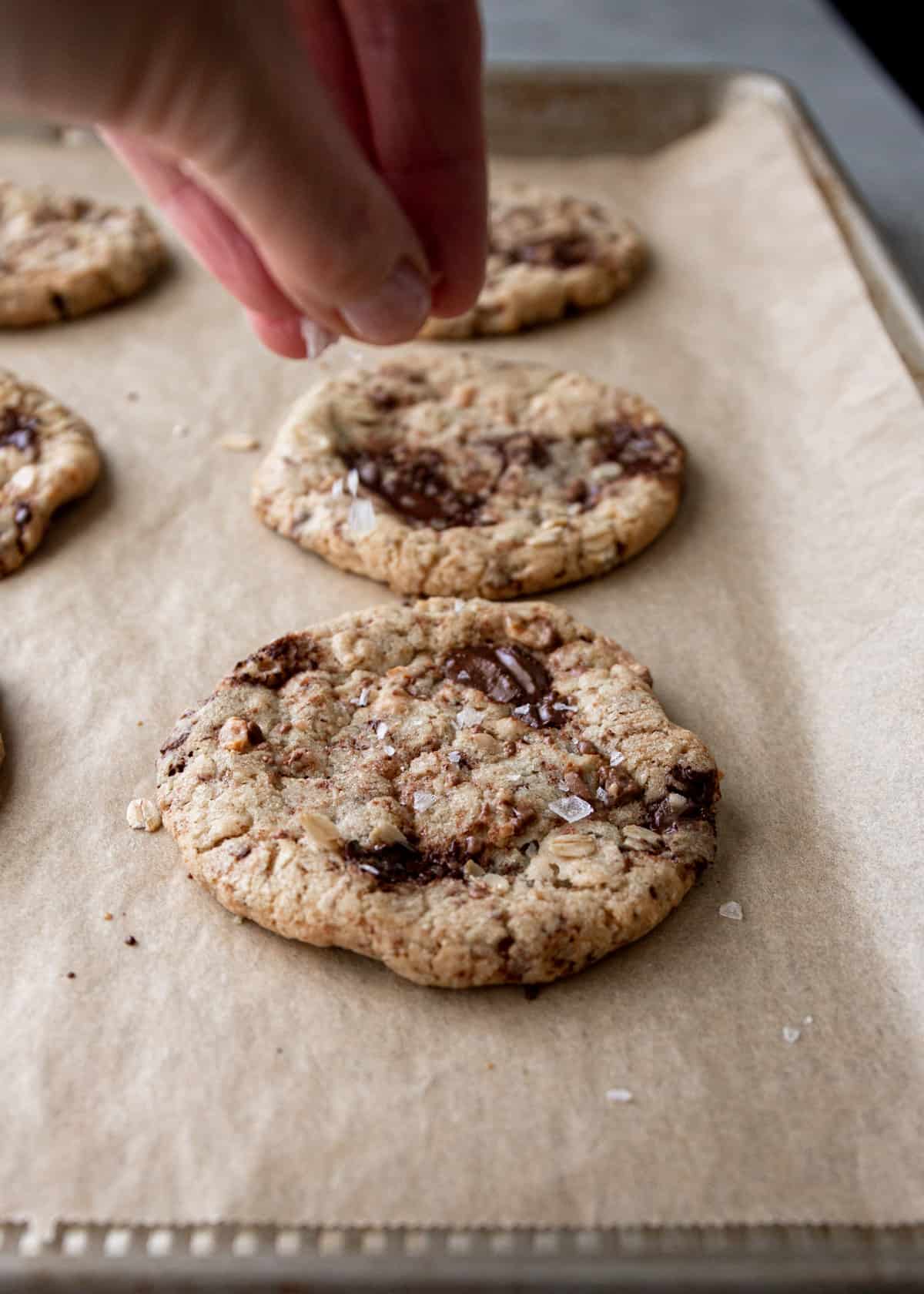 Why are my chocolate oatmeal cookies dry?
Assuming that the cookies are baked properly and not over baked, this usually comes from using too much flour. Measure your flour by weight and you'll get tender, soft centers every time.
What makes a cookie soft and chewy or crispy?
Using a lower amount of flour is usually the key to making a cookie soft and chewy instead of cakey. It also helps to give the cookies a great texture if you firmly tap the pan on the counter right after they come out of the oven. This deflates the cookies and compresses the centers to help the centers to be chewy and the edges to be crispy. For more details on all the factors that affect the texture of cookies, check out the "What Causes Cakey Cookies" section in this Chocolate Chip Cookie Recipe.
More Top Cookie Recipes
Favorite Tools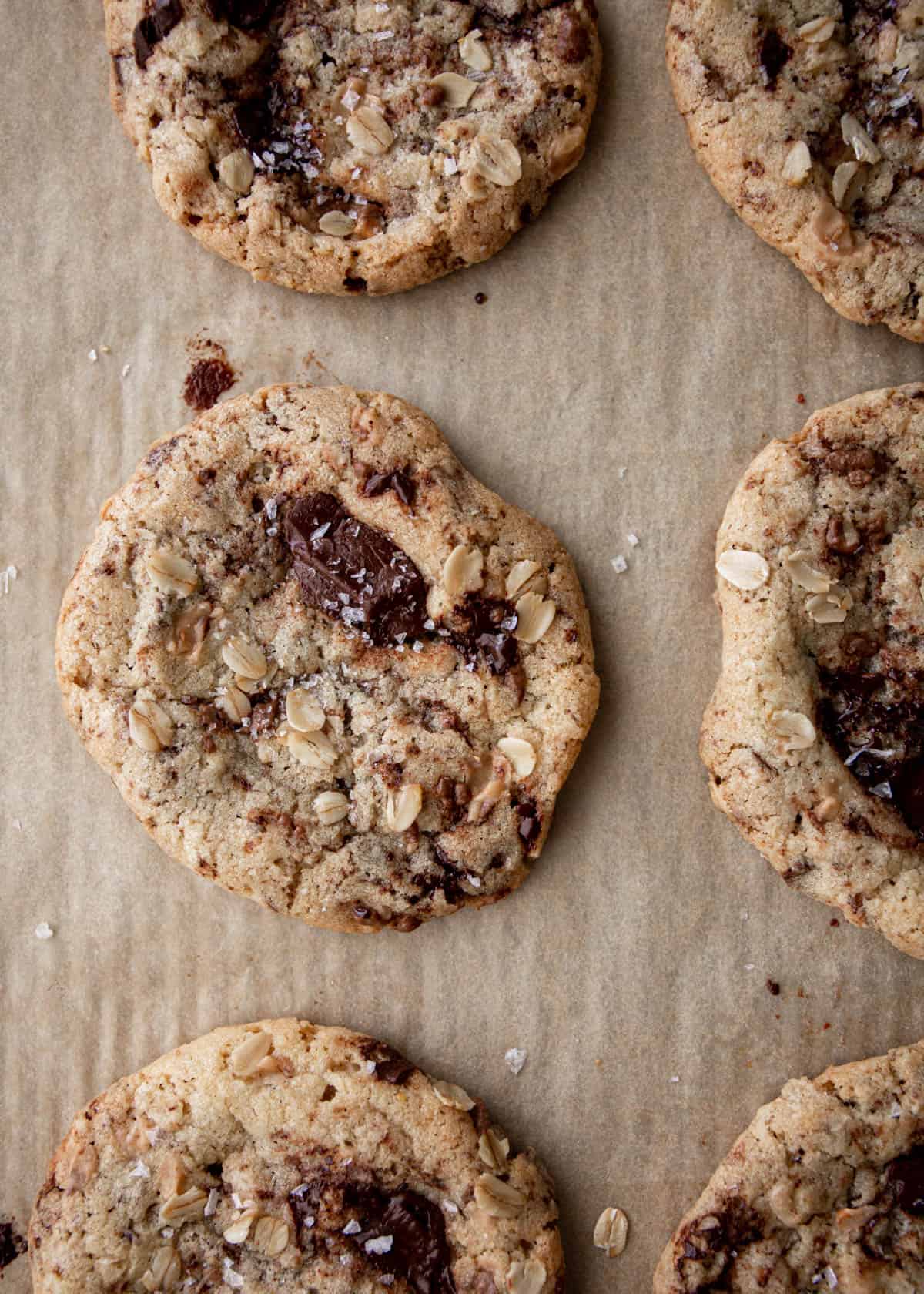 📖 Recipe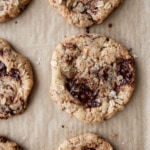 Print Recipe
Chocolate Oatmeal Cookies with Toffee Recipe
These cookies are golden with crisp edges, pools of melted dark chocolate and toffee, and chewy centers. Freeze the dough to bake whenever you're ready.
Equipment
Mixing Bowl

Stand Mixer

sheet pan

Parchment Paper or Baking Mat

Cooling Rack
Ingredients
2

cups

All-Purpose Flour

(250 grams, see note)

½

teaspoon

Baking Soda

½

teaspoon

Kosher Salt

1

cup

Unsalted Butter, softened to room temperature

(2 sticks)

1

cup

White Sugar

½

cup

Packed Light Brown Sugar

1

large

Egg

2

teaspoons

Pure Vanilla Extract

1

cup

Old Fashioned Oats

6

ounces

Dark Chocolate Bars, chopped

(preferably 70% cacao; substitute 1 ½ cups of dark chocolate chips)

1

cup

Toffee Bits

(like Heath Bits O' Brickle English Toffee Baking Bits)

1

teaspoon

Flaked Sea Salt

(like Maldon Sea Salt)
Instructions
Preheat the oven to 350°F / 177°C.

Lightly grease a sheet pan or line it with a Silpat baking mat or parchment paper.

In a small bowl, whisk together the flour, baking soda, and salt. Set aside.

In the bowl of a stand mixer fitted with the paddle attachment, beat the butter, white sugar, and brown sugar on medium-high until light and creamy, about 3 minutes (it should resemble fluffy frosting).

Add the egg and vanilla and mix on low until evenly combined, scraping down the bowl as needed.

Add the flour mixture all at once and mix on low until just combined (stop mixing as soon as there are no dry spots of flour in the dough - do not overmix).

Add oats, dark chocolate, and toffee chips, and mix into the batter on low just until combined.

Use a heaping tablespoon to scoop out even portions of cookie dough and arrange on the prepared baking sheet.

Bake the cookies until the edges are just starting to turn golden brown and the centers are still pale and soft (they will continue to firm up and darken after you remove them from the oven), 12 to 14 minutes.

When you remove the sheet pan from the oven, tap it firmly on the kitchen counter a few times to deflate the cookies.

Sprinkle the tops of the cookies with flaked sea salt.

Leave the cookies on the sheet pan to cool for 10 minutes before transferring them to a cooling rack.

Store cookies in a sealed container at room temperature for up to 3 days.
Notes
Softened Butter
- This tends to feel like the most finicky step of making cookies, but it's important. The butter should be soft enough that you can easily make an indent with your finger but should still be cool to the touch. You want it to hold its shape a bit as you combine it with the sugars and then soften to a fluffy texture after the full 3 minutes of beating.
Flour -
I use Gold Medal Unbleached All Purpose Flour for testing and baking cookie recipes. If you have having trouble with the consistency of the cookies, the culprit is most likely the flour. Try switching to Golden Medal Unbleached and use a kitchen scale to weigh your flour.
Kitchen scale -
To get that crispy / chewy texture, it's a really good idea to measure your flour and sugars by weight. If you have a kitchen scale, use it for this recipe.
Extra mix-ins
- For beautiful cookies that have some of the ingredients on the top after they bake, reserve extra mix-ins (about ⅓ cup each of oats, chocolate, and toffee) and press the toppings onto the top of the cookie dough balls before baking.
To Freeze:
Cookie dough can be formed into balls and frozen on a sheet pan. Transfer the dough balls to a freezer-safe bag and freeze for up to 6 months. To cook, bake the cookie dough directly from the freezer at 325°F / 163°C for 14 to 16 minutes.
Print and attach the label below so cooking instructions are ready when you are!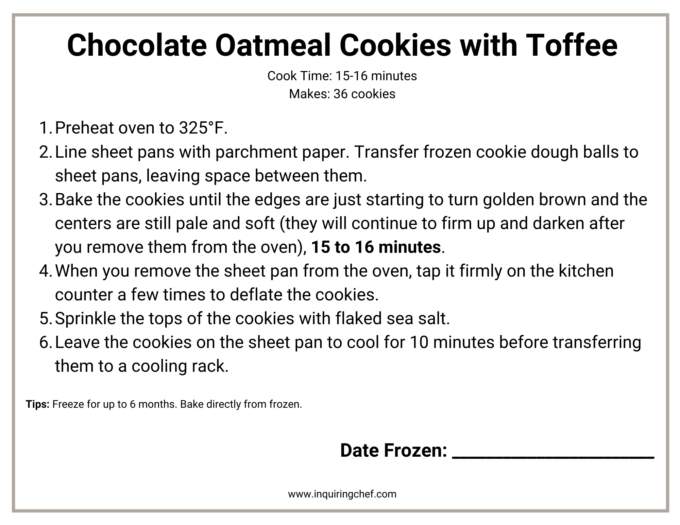 Nutrition
Calories:
216
kcal
|
Carbohydrates:
26
g
|
Protein:
2
g
|
Fat:
12
g
|
Saturated Fat:
7
g
|
Polyunsaturated Fat:
1
g
|
Monounsaturated Fat:
3
g
|
Trans Fat:
0.3
g
|
Cholesterol:
31
mg
|
Sodium:
151
mg
|
Potassium:
73
mg
|
Fiber:
1
g
|
Sugar:
17
g
|
Vitamin A:
291
IU
|
Vitamin C:
0.02
mg
|
Calcium:
15
mg
|
Iron:
1
mg