Paleo Pad Thai with Zucchini Noodles
Published May 02, 2017•Updated Apr 04, 2022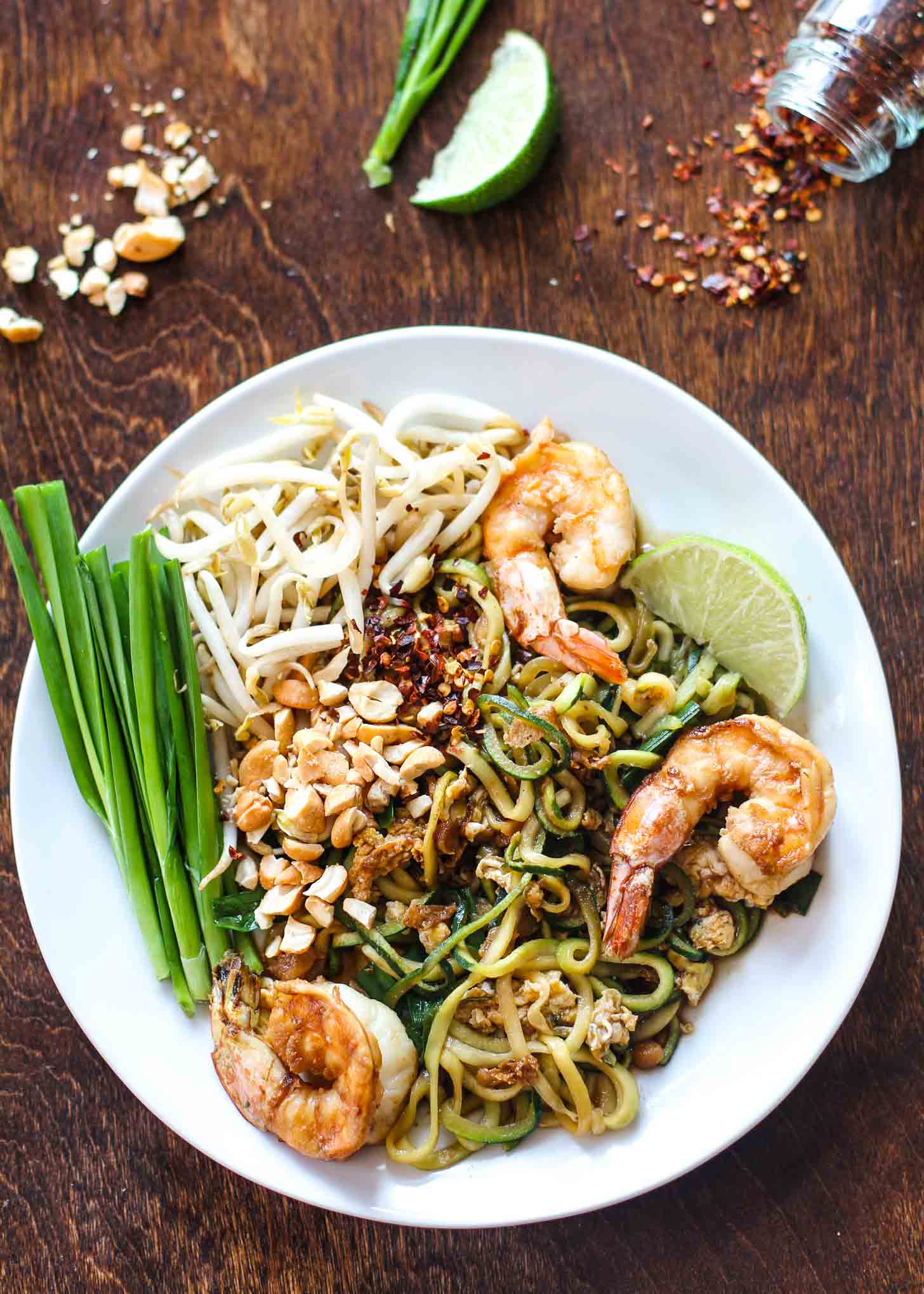 Paleo Pad Thai with zucchini noodles (zoodles) is packed with vegetables and protein.
Super saucy take-out-worthy Thai food that also happens to be loaded with vegetables, protein and good-for-you ingredients? We could all use more of this in our lives.
Whether you're following a paleo diet or not, you'll love this paleo-friendly Pad Thai made with zucchini noodles (zoodles) and homemade tamarind sauce.
I'm getting hungry just looking at that plate of saucy Thai food. We're currently on a flight somewhere over Tennessee and are all pretending not to be wearing the same clothes as yesterday after a last minute cancellation, unexpected overnight in Charlotte, and 6am arrival at the airport this morning. Frank and I are feeling very thankful for in-flight WiFi, toddler-friendly movies, and a big cup of coffee when we land in Kansas City.
But on to the food!
Why Paleo?
If you've been reading for a while, you know that my husband and I lived in Thailand for nearly five years (read all about it here). After eating many a plate of that infamous noodle dish, I spent weeks last year working on a recipe for an authentic, from-scratch Pad Thai. And back when I was testing that recipe, I got hooked on a lighter version made with zucchini noodles.
After all, a girl can only eat so many saucy rice noodles before she starts to feel a little guilty.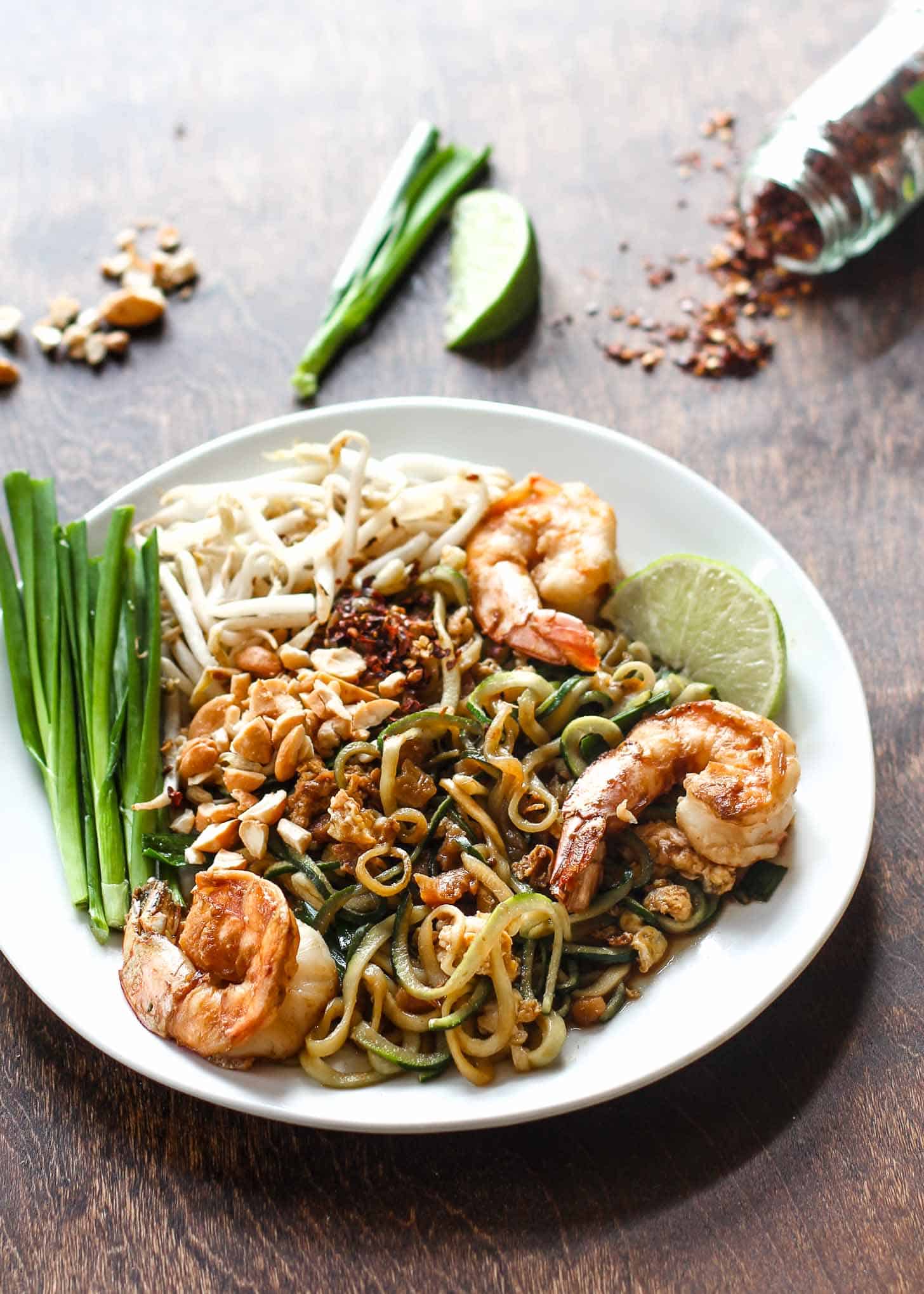 Zucchini noodles aka zoodles, with their tender, slightly crunchy texture can be cooked into Pad Thai in nearly the same way as rice noodles, making them an easy substitute. More importantly, veggie-noodle Pad Thai is super authentic.
In Thailand, restaurants specializing in Pad Thai let you customize it any way you'd like. Extra sauce? Like it spicy? Don't want meat / seafood? No problem.
One of my favorite variations uses shredded green papaya or green mango instead of rice noodles. The tart fruit "noodles" are perfection tossed with the sauce and proteins. And zucchini noodles offer the same texture and balance.
Below: A vendor making Pad Thai in Lumpini Park in Bangkok, Thailand.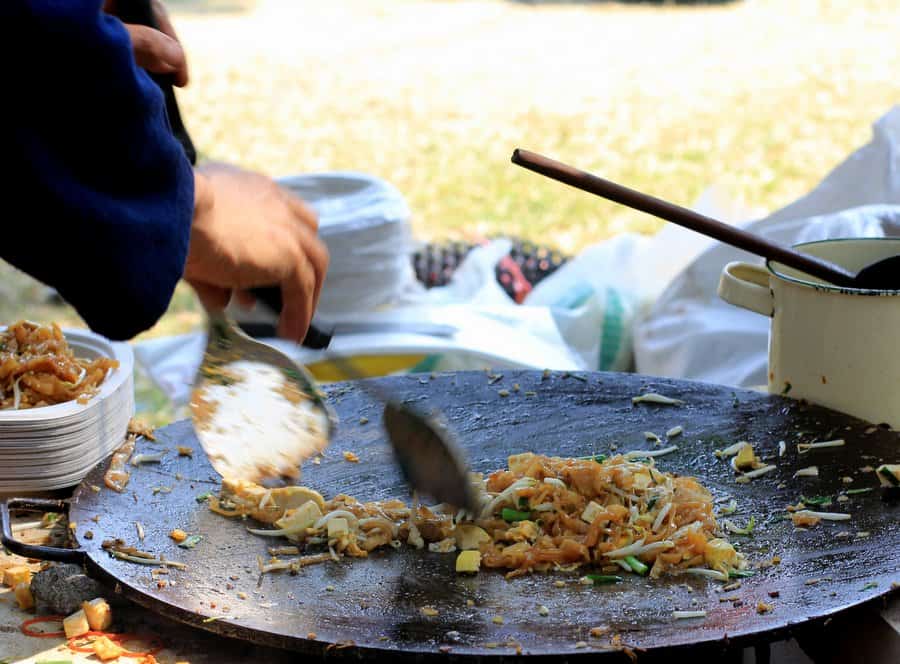 Paleo Pad Thai Sauce
The secret to a great Pad Thai is the sauce, and it's extremely easy to adapt an authentic sauce to a paleo diet. There are plenty of versions out there that use peanut butter, but you won't find peanut butter in the dish in Thailand. An authentic sauce uses tart, citrusy tamarind paste which can be found at Asian grocery stores, Whole Foods or easily made from scratch.
Along with tamarind paste the sauce contains fish sauce (Red Boat brand is paleo-friendly), coconut aminos and a bit of your preferred sweetener. For the sweetener, finely chopped palm sugar is authentic, but use anything you like. (A little sweetness goes a long way to balance the sauce, but you can skip it if you prefer.)
Whether paleo or not, Pad Thai sauce has to be customized to taste, so use the measurements in the recipe below as a start. You can make big batches of the sauce and store it in the fridge for weeks.
Get the sauce flavors right and the rest is easy.
Paleo Pad Thai Ingredients
Before you pull out your wok and dive in to this plate of addictive Thai goodness, a few notes on the other ingredients…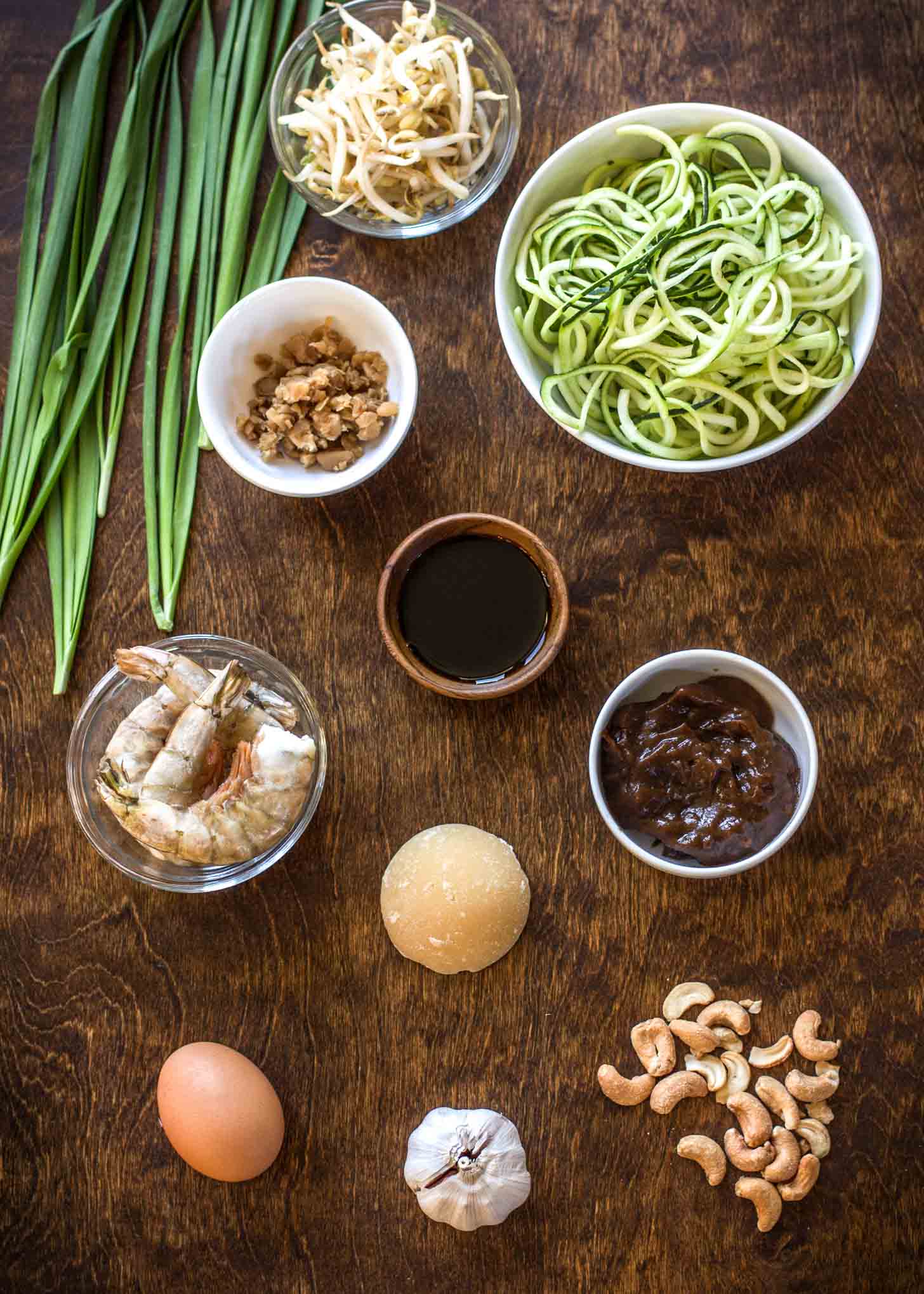 Vegetable / Fruit Noodles – Shredded or spiralized zucchini is an easy choice here, but just about any veggie "noodles" will work. Sweet potato noodles are great as well. (Make your Pad Thai with shredded green papaya or mango and you might as well be sitting on a tiny red stool at a street cart in Bangkok!)
Cashews – Classic Pad Thai is topped with chopped peanuts. I use chopped cashews in this paleo version and love the flavor. The cashews even have a bit of natural sweetness that helps balance the dish if you choose to go light on sweetener in the sauce.
Bean Sprouts – There's a bit of controversy over sprouts in the paleo world, so feel free to skip these if you prefer. If you're not feeling particularly choosy about it, you'll appreciate the crunch they add to the dish. (Just make sure to use mung bean sprouts and Mark Sisson says you're good.)
Pickled Radish and Chinese Chives – These Asian ingredients give the Pad Thai truly authentic flavor and can be found at an Asian grocery store. They're worth tracking down, but in a pinch you can make a great Pad Thai without them. Chinese chives are an herb with a fresh garlic flavor. The pickled radish could contain additives, so if this is a deal-breaker for you be sure to check the ingredients before using them.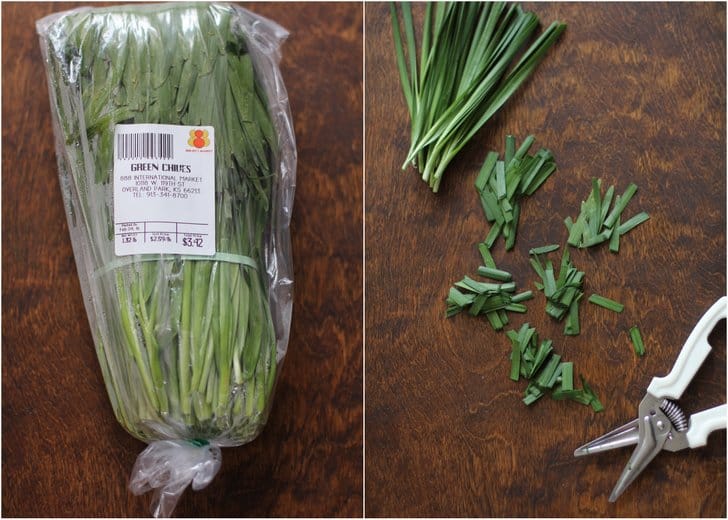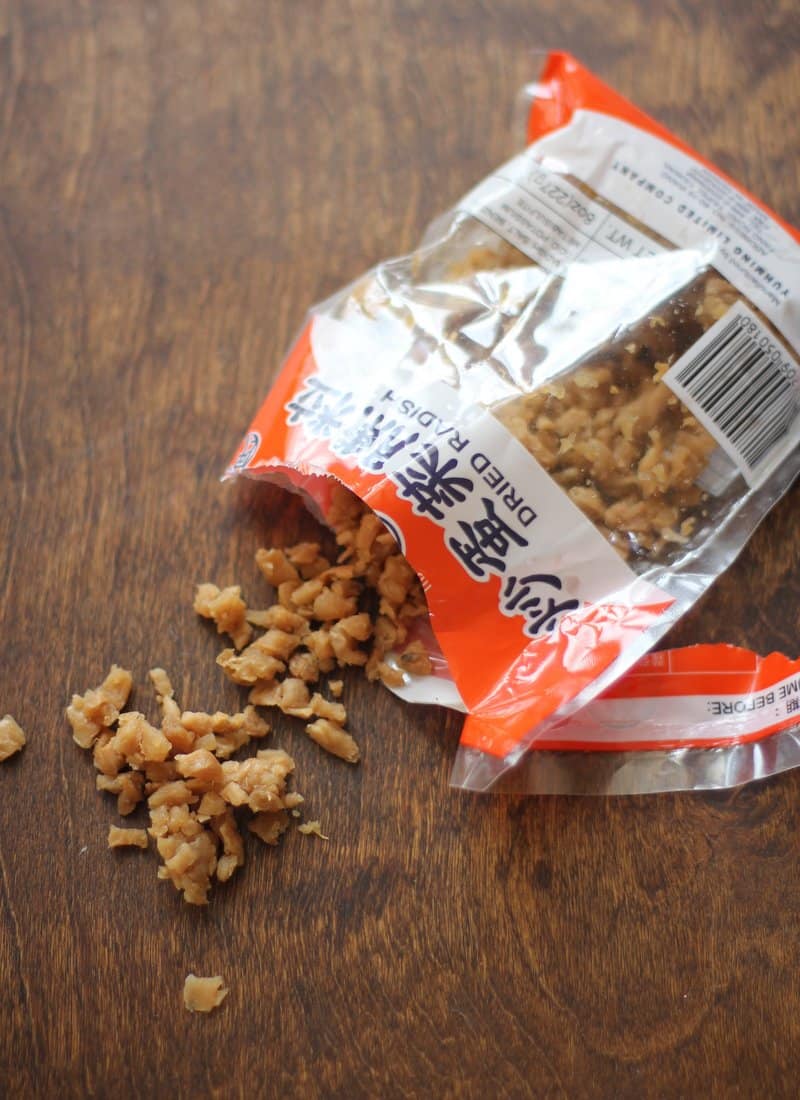 The best thing about this recipe? It's so good that you'll love it whether you follow a paleo diet or not. Tart, crunchy, spicy and hearty enough to be a meal on its own, I could eat this every night of the week!
Note to readers: I'm always curious about what you, sweet readers, would like to see more of! Would you like to see more recipes on the site that fit into a paleo diet? Leave me a note in the comments or send me an email at jess@inquiringchef.com and let me know!
More of Our Favorite Thai Recipes
Favorite Tools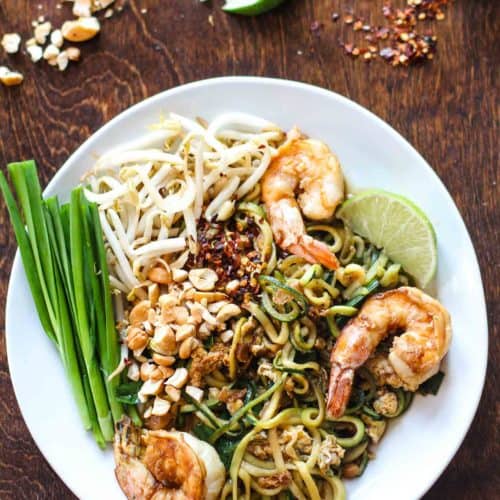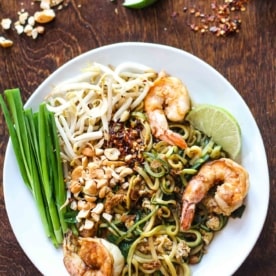 Paleo Pad Thai with Zucchini Noodles
This authentic version of Pad Thai also happens to be paleo-friendly, packed with vegetables and hits all the totally satisfying notes of the creamy, tart, slightly sweet original.
Ingredients
Paleo Pad Thai Sauce:
1/2

cup

Tamarind Paste

(see note)

2

Tbsp

Water

2

Tbsp

Fish Sauce

(Red Boat brand is paleo-friendly)

2

tsp

Coconut Aminos

Sweetener of choice, to taste

(finely chopped palm sugar is the most authentic; use stevia or honey if you prefer)
Paleo Pad Thai:
1

Tbsp

Cooking Oil

8

large

Shrimp, peeled and deveined

6

oz

Zucchini "Noodles"

(zucchini cut into ribbons or spiralized; sub any spiralized vegetable)

2

Tbsp

Dried Radish, chopped

(optional; may be labeled pickled or preserved radish or pickled or preserved turnip)

3

cloves

Garlic, chopped

1

Egg

1

cup

Mung Bean Sprouts

(optional)

4

stalks

Chinese Chives, chopped

(reserve the bottom halves of a few stalks for garnish)

1/4

cup

chopped Roasted, Unsalted Cashews

Lime Wedges, for serving

Red Pepper Flakes, for serving
Instructions
To Make Sauce:
Combine tamarind paste, water, fish sauce, aminos and sweetener in a small saucepan over medium heat. Bring to a simmer and heat until sweetener is dissolved, 2 to 3 minutes. Taste and adjust, adding additional sweetener or aminos if needed.
To Make Pad Thai:
Place a large wok (or skillet) over medium-high heat. Add oil and then shrimp with a pinch of salt. Saute just until the shrimp is starting to turn pink on the outside (it will continue cooking as you add additional ingredients to the pan), about 2 minutes.

Add zucchini "noodles", dried radish, and garlic. Saute until "noodles" are starting to turn tender, 2 minutes (this may take an additional minute or two for more firm vegetable noodles like sweet potato or carrot).

Create a well in the center of the pan and crack the egg into the well. Scramble the egg until fully cooked and toss to combine all of the ingredients. Add 1/3 cup of sauce and stir to coat all ingredients. Continue adding additional sauce until the dish is dressed to your liking.

Turn off the heat and stir in the bean sprouts, chives, and cashews. Squeeze juice from one of the lime wedges over the top.

Transfer to serving plates and garnish plates with more cashews, reserved chive stems, red pepper flakes and lime wedges.
Notes
Look for tamarind paste at your local Asian market. Make sure that the ingredients are just tamarind and water. Alternatively you can make your own - it's easier than you might think. Find out how to make it here.
It's always a good idea to make Pad Thai in small batches. It cooks very fast, so if you are cooking for a crowd, prep all of your ingredients ahead. Keep the wok very hot and cook in a couple batches.
Nutrition
Serving:
2
g
|
Calories:
338
kcal
|
Carbohydrates:
34
g
|
Protein:
15
g
|
Fat:
18
g
|
Saturated Fat:
3
g
|
Cholesterol:
142
mg
|
Sodium:
1772
mg
|
Potassium:
739
mg
|
Fiber:
4
g
|
Sugar:
23
g
|
Vitamin A:
376
IU
|
Vitamin C:
29
mg
|
Calcium:
113
mg
|
Iron:
4
mg
Nutrition information is automatically calculated, so should only be used as an approximation.
The first thing Molly and Clara will be doing when we land is checking the bird's nest outside our upstairs window. We've been carefully tracking it (usually first thing in the morning, still in pajamas), waiting for baby birds to appear!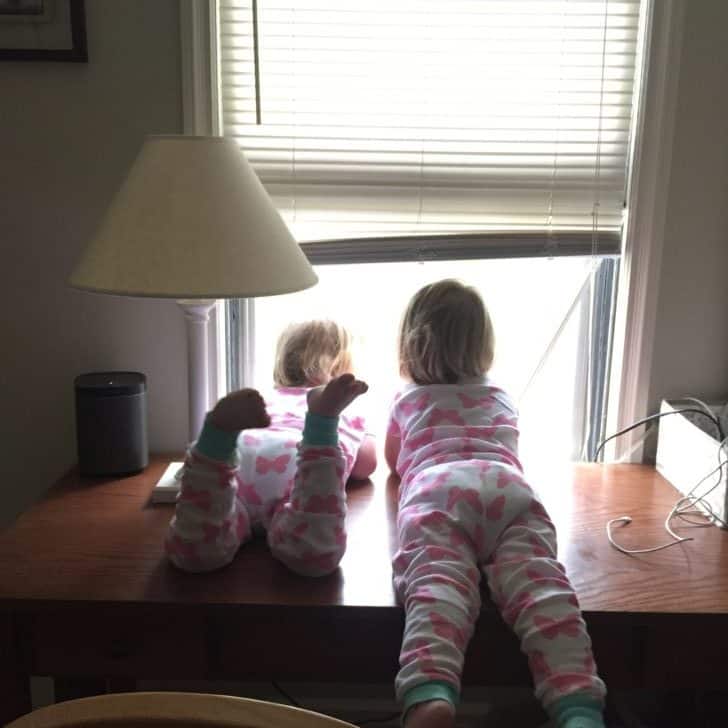 *This post contains affiliate links*