Goat Cheese Naan
Published Jul 26, 2011•Updated Apr 19, 2022
Remember a while back when I mentioned the BBC series on traveling across the Himalayas and the lovely cucumber salad it inspired? Well let's call this dinner part 2 in the Himalayan-inspired dinner series. Last week we watched Michael Palin travel to Amristar and the golden temple where he took part in eating the free lunch of dal and naan that is made by volunteers and served to 10,000 visitors a day. (Nearly 100,000 people visit the temple every week, according to Wikipedia, source of all random facts.) I watched in awe. Sometimes it's hard just to feed two people in this house.
Unfortunately, the dal served on the show in Palin's free lunch was a thin, yellow liquid…not so appetizing. But the naan. Ohhh, the naan. Prepared on a grill over a hot, coal-fueled fire and flipped precisely at the moment that it bubbles and blackens ever-so-slightly in places. Now that got me.
I am happy to report that this recipe produced a soft, moist naan with a tin bit of crunch where it cooked on the outside. Although many naan recipes I found were somewhat complex, requiring the addition of ghee (clarified butter) or other ingredients that I don't typically have on hand, the recipe below is not only more simple than most others, but gets a moist, tangy flavor from yogurt and a bit of goat cheese.
And here is the greatest thing. After making this naan several times, it turns out to be one of the most forgiving breads I have ever made. A couple times I made this at the last minute, not having the time to let it rise for 2 hours, but it cooks beautifully even after resting on the counter for 30 minutes while I pull everything else together. But it really won me over when, one night after making the dough, I decided I didn't have the energy to cook it (and made pasta for dinner instead). I threw that beautiful ball of naan dough in the fridge coated in a bit of olive oil, and when I cooked it up the next day, it came out absolutely perfect.
__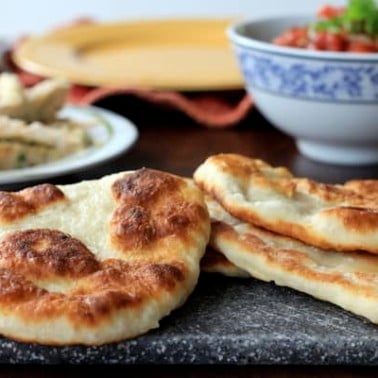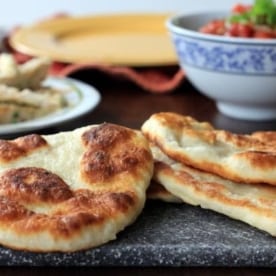 Goat Cheese Naan
Making your own, hot, fresh cheese naan is easier than you might think.
Ingredients
1 1/2

cups

unbleached all purpose flour

1/2

teaspoon

baking powder

1/2

teaspoon

salt

1/2

cup

plus 2 tablespoons plain yogurt

1/4

cup

soft fresh goat cheese

2

Tbsp.

vegetable oil
Instructions
Whisk together flour, baking powder and salt. Using a wooden spoon, stir in yogurt and 1/4 cup goat cheese. Knead on floured surface until smooth and elastic, about 10 minutes. Form into ball. Return to bowl; cover with plastic. Let rest 2 hours (dough will not rise).

Heat vegetable oil in a large pan over medium-high heat. Divide dough into 4 even pieces. Using the palm of your hand, press each piece into a flat, round disk, 6-8 inches in diameter. Gently transfer the naan to the hot pan. Cook until golden brown and crisp, about 2 minutes on each side. (The naan will bubble slightly and cook more in some spots than in others. I find that it sometimes even becomes nearly blackened in small spots, but this is part of what gives it that familiar "grilled" naan flavor.") Serve immediately.
Notes
Adapted from Goat Cheese-Onion Naan with Mango Salsa by Chef Beverly Gannon, Bon Appétit, September 1998
Nutrition information is automatically calculated, so should only be used as an approximation.