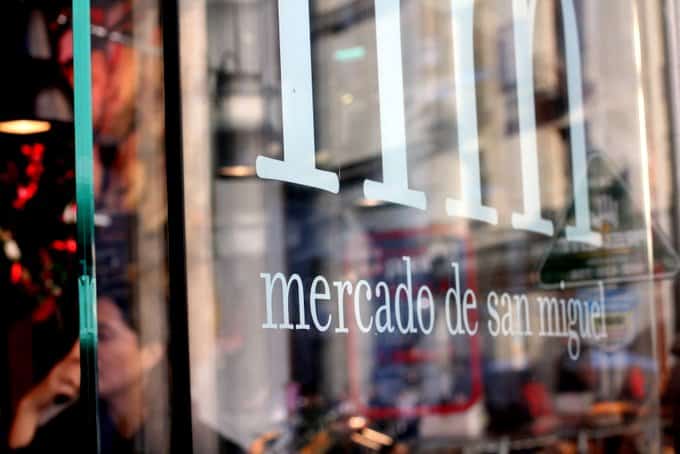 Madrid's Mercado de San Miguel is a wonderland for people who love food and wine. Frank and I strolled through this bright, glass-enclosed mecca of food and drink on our first day in Madrid at which point I vowed to make many return trips during our three weeks in Spain. Mission accomplished. We stopped for a quick bite or to pick up a few things for dinner countless times. It helps that it's right in the middle of all the action in old town Madrid.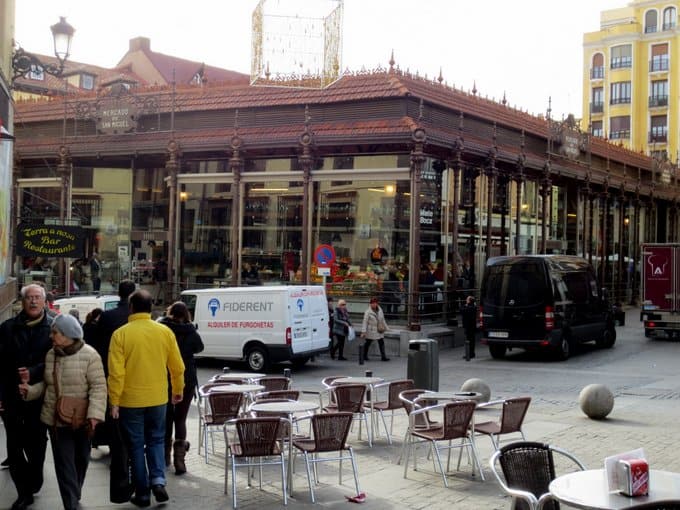 Mercado de San Miguel appeared to be full of people having a glorious time at every hour of every day. We would get there early, long before a typical Spanish lunch and there would still be people tucked into every corner, sipping gorgeous glasses of wine and nibbling on some of the most delicious small plates of food I had in our time in the city.
(Clara was particularly keen to help Frank order octopus.)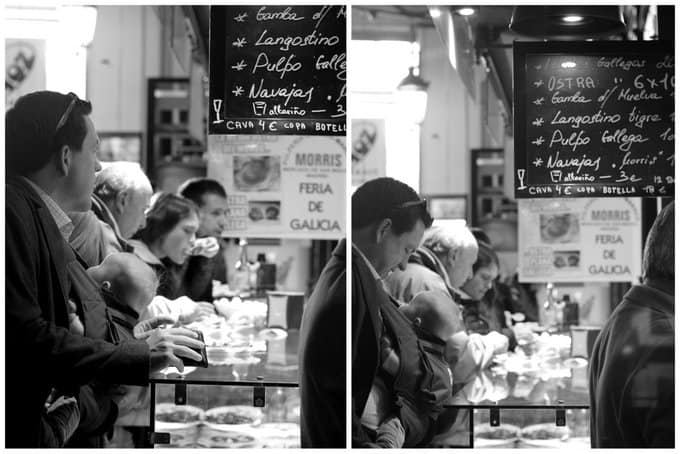 When you arrive at the market, here's what you do - 1) wander until you find a table 2) pounce on said table and grab any stools in the vicinity (though most likely it's standing-room only) 3) leave an anchor-person behind to hold the table 4) grab every delicious thing you see and a glass of wine for you and the person back at the table who is likely hungry and wondering what's taking you so long. Repeat.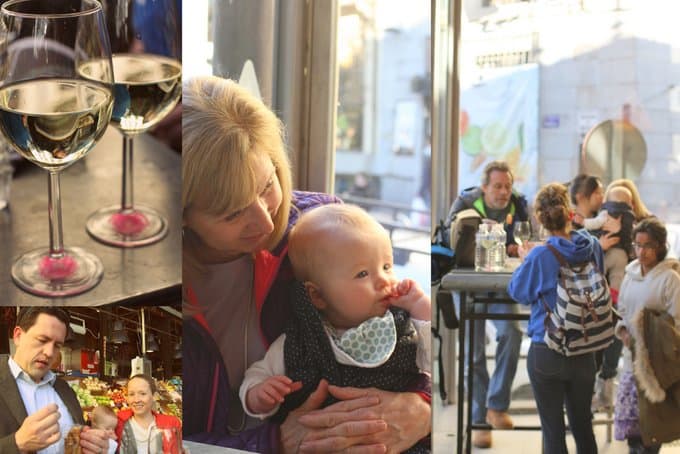 Here are a few of the hits:
Things on toast. These are the original tapas, and those I tried at Mercado de San Miguel were incredibly creative. By far the most delicious one was a slaw that was heavily (to nearly the point of excess) dressed in an avocado mayo and topped with crispy ham and fried onions. Frank said it tasted like an upscale version of everything good about a Big Mac. After another bite, I couldn't disagree. Honorable mention goes to those shrimp over avocado and garlic aioli.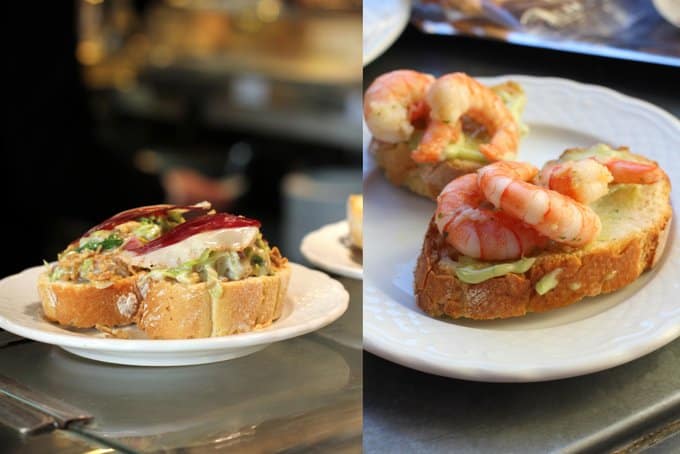 Things on skewers. These are perfect wine-sipping nibbles. There were at least 20 combinations of savory snacks on skewers. The briny olives and onions with sweet sun-dried tomatoes spoke to me.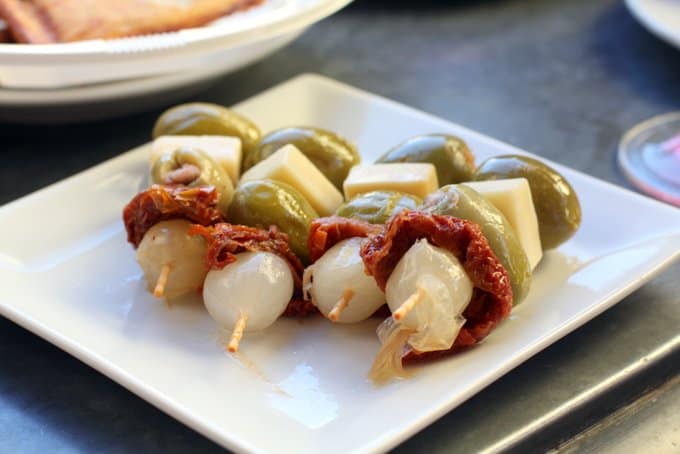 Octopus (pulpo). With paprika. Frank has been talking about Spanish "pulpo" since he was in Madrid last year. It's perfectly prepared so the texture is like a very tender steak. It's topped with olive oil, salt, and tons of paprika. I ate half the plate.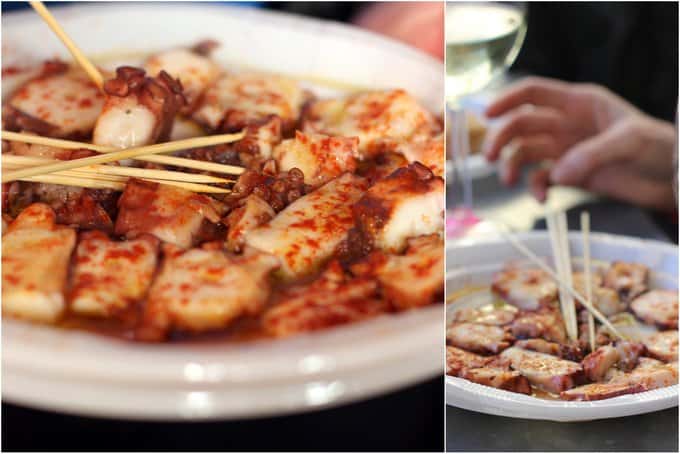 And finally, this jamón. Seriously. There aren't enough words to describe the buttery, deeply savory, salty goodness of this jamón. Some of the magic I found is having it served this way, in tiny rich slices that you eat with crackers. If I ever think of becoming a vegetarian again, the mere memory of this jamón might be enough to dissuade me.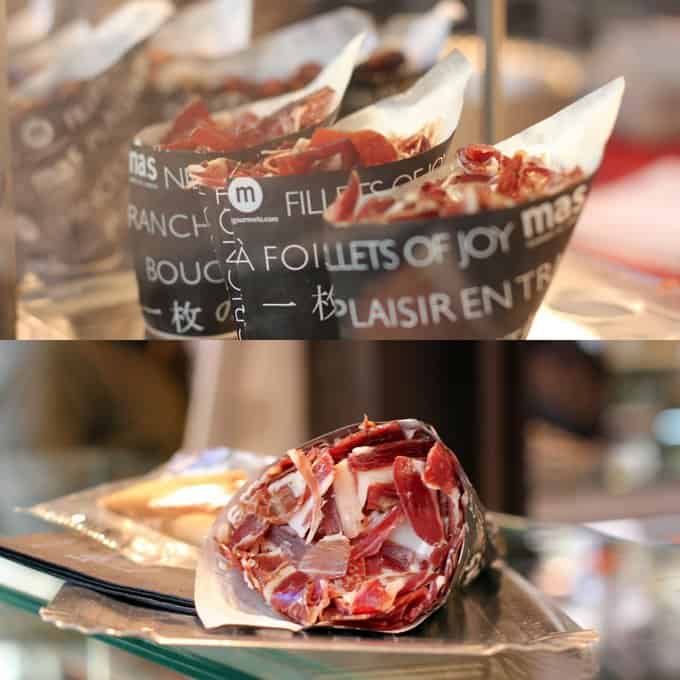 Even after all those visits, I never got to try the burrata station where they had baseball-size burrata on toast with toppings that were all over the map from sweet to savory. I also didn't have my fill of croquetas, although I ate many.
All the more reason to go back.
If you're going to be in Madrid, more information on Mercado de San Miguel can be found at www.mercadodesanmiguel.es.