Green Tea Cocktail
Published Jan 31, 2023•Updated Mar 24, 2023
A little sweet, a little herbaceous, and 100% crisp and delicious. This low alcohol Green Tea Cocktail is made with tea-infused Japanese plum wine, and it's guaranteed to become a favorite.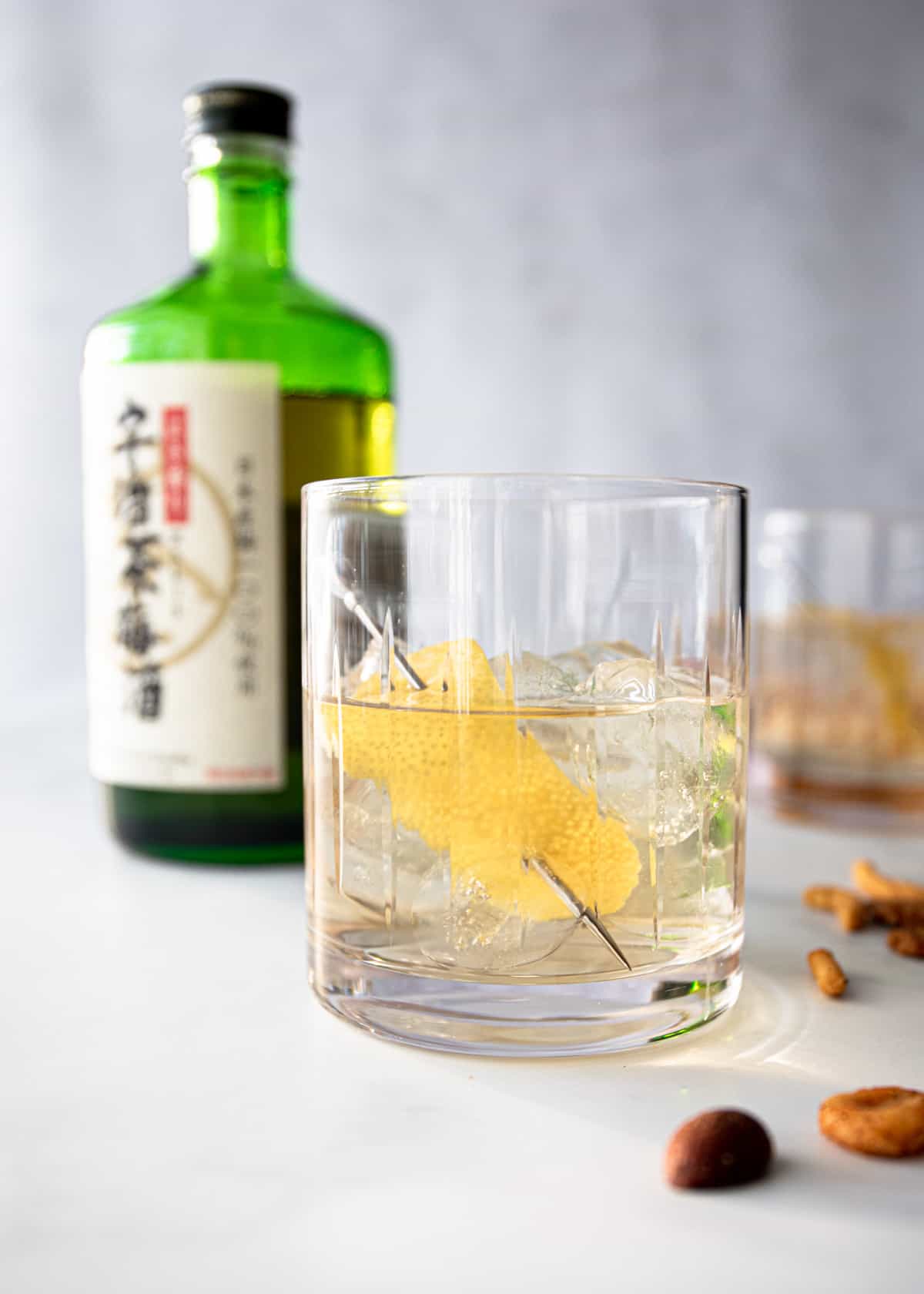 If you haven't tried green tea cocktails yet, prepare to fall in love. Green tea-flavored Japanese plum wine combined with herby dry vermouth and spritz-y club soda are like a cool breeze on a warm summer day. There are so many layers to this refreshing cocktail, and the best part? It's so light that it's perfect for sipping while you're cooking dinner, enjoying on the porch with friends, or paired with a relaxing meal.
Frank is the cocktail-maker in our house, and he created this pretty, pale cocktail that quickly has become one of my favorite. It takes just a minute to throw together. Combine your ingredients in a mixing glass, give it a stir, and pour over ice. The light golden-colored cocktail is crisp and refreshing.
What Is umeshu?
The key to this drink is umeshu. Umeshu is a Japanese liqueur made from steeping unripe Japanese ume plums in a mix of alcohol and sugar. The sweet and sourness of the ume fruit gives umeshu a really unique taste that is great served chilled, warm, or blended into cocktails.
A fun fact about umeshu: While it is marketed as a plum wine outside of Japan, it's not technically a wine, because the plums are not fermented like grapes would be in the winemaking process. They're just mixed with the sugar and alcohol, and then left for 6 to 12 months while the sugar and alcohol work their magic.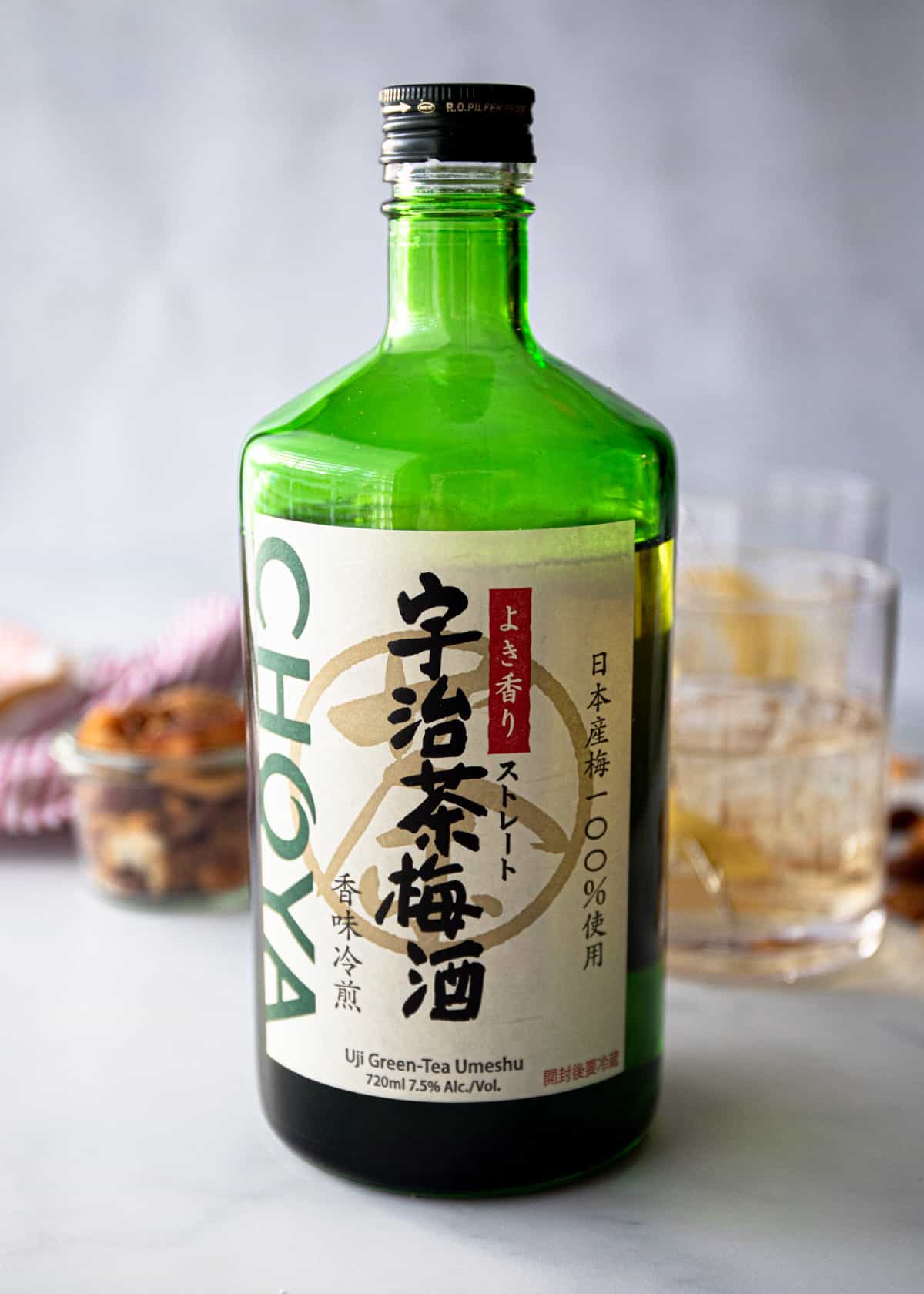 How to Make
Grab a mixing glass or shaker, combine the ingredients and stir.
Fill a rocks glass with ice, pour the cocktail over, and garnish with a lemon twist or wedge.
Ingredients
Green tea-flavored umeshu – The green tea in this umeshu is cold-brewed with leaves from Kyoto's Uji region for a super aromatic umeshu. We picked a low ABV umeshu for our version of this cocktail, but they can jump up to 35% or higher. Be sure to check the ABV before you buy it. Stay with a lower percentage for a lighter cocktail, or go higher for a more punchy drink.
Dry vermouth – Vermouth is a wine that has been fortified with botanicals and herbs. Dry vermouth is less sweet than other types, and has a crisp, herb-like quality.
Club soda – Effervescent club soda gives this cocktail a fun bubbly feel.
Ice and Lemon – To bring the cocktail to the perfect temperature, and give it a sunny burst of citrus.
Tips
Place your rocks glasses in the freezer for a few minutes to get a nice chill on them before pouring your cocktails.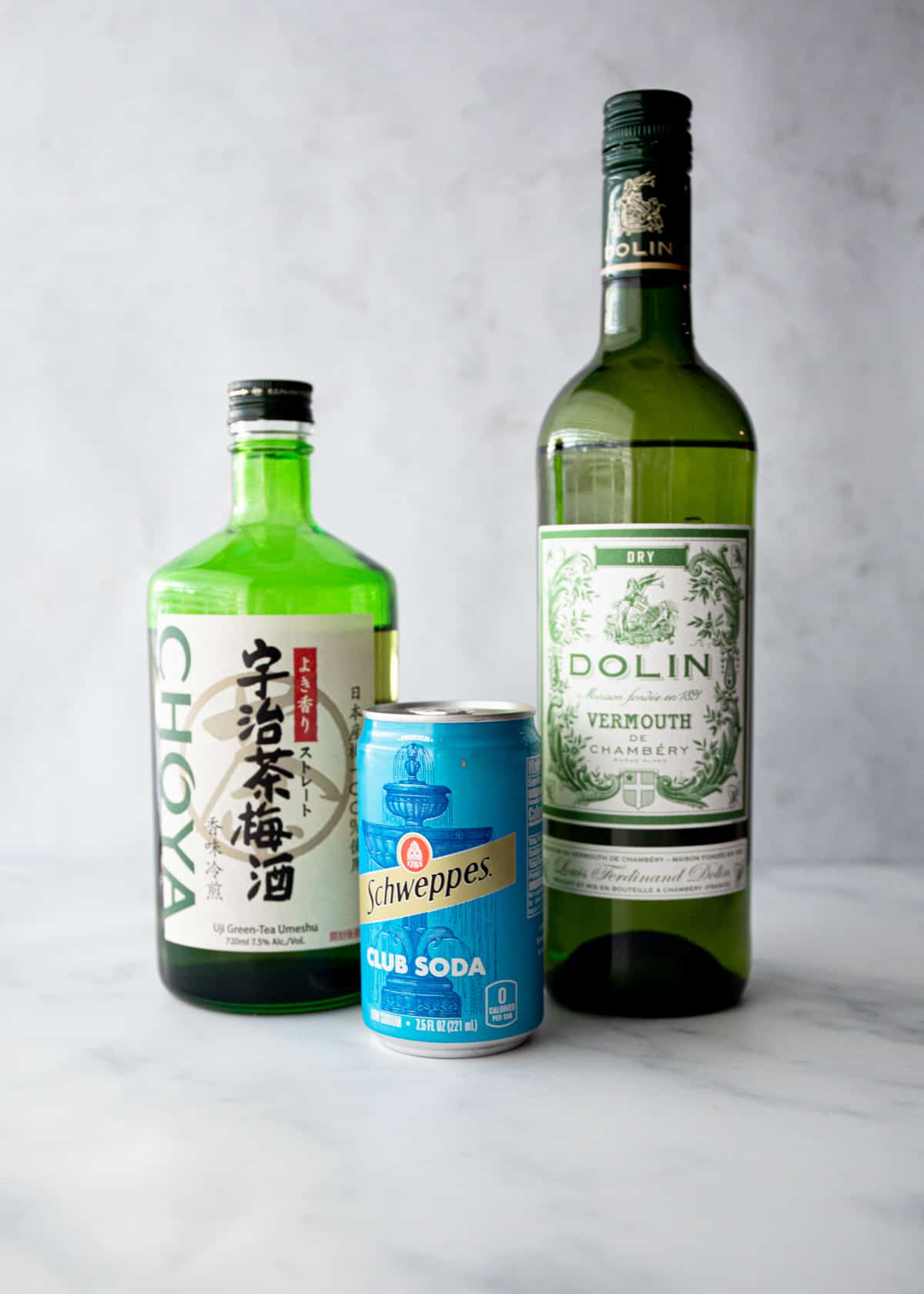 Variations
If you're looking to make a green tea cocktail, the sky's the limit because you can add so many simple ingredients to really make it your own. This tea's ability to mix with a huge range of flavors, combined with all of the new and interesting alcohols on the market, means you can get really creative.
Muddle some mint with your cocktail. Green tea and mint are a great pair.
Try a botanical gin in your next green tea cocktail. Notes of juniper berries, coriander, and bergamot will create a bouquet of flavors.
Garnish with edible flowers for a gorgeous Insta-ready cocktail.
Add a dash of grapefruit for a more citrus-forward cocktail.
How to garnish with a lemon twist
Lemon twists add a little extra elegance to cocktails, and a subtle note of refreshing citrus. Using a veggie peeler or a sharp paring knife, remove a strip of lemon peel. Try to avoid the white pith which has a bitter flavor. Hold the lemon peel over the cocktail, then while holding one side of the strip, use your hand to twist the peel tightly. This releases that beautiful lemon oil over the cocktail. Now, rub the twisted peel around the rim of the glass, and drop the twist into the drink.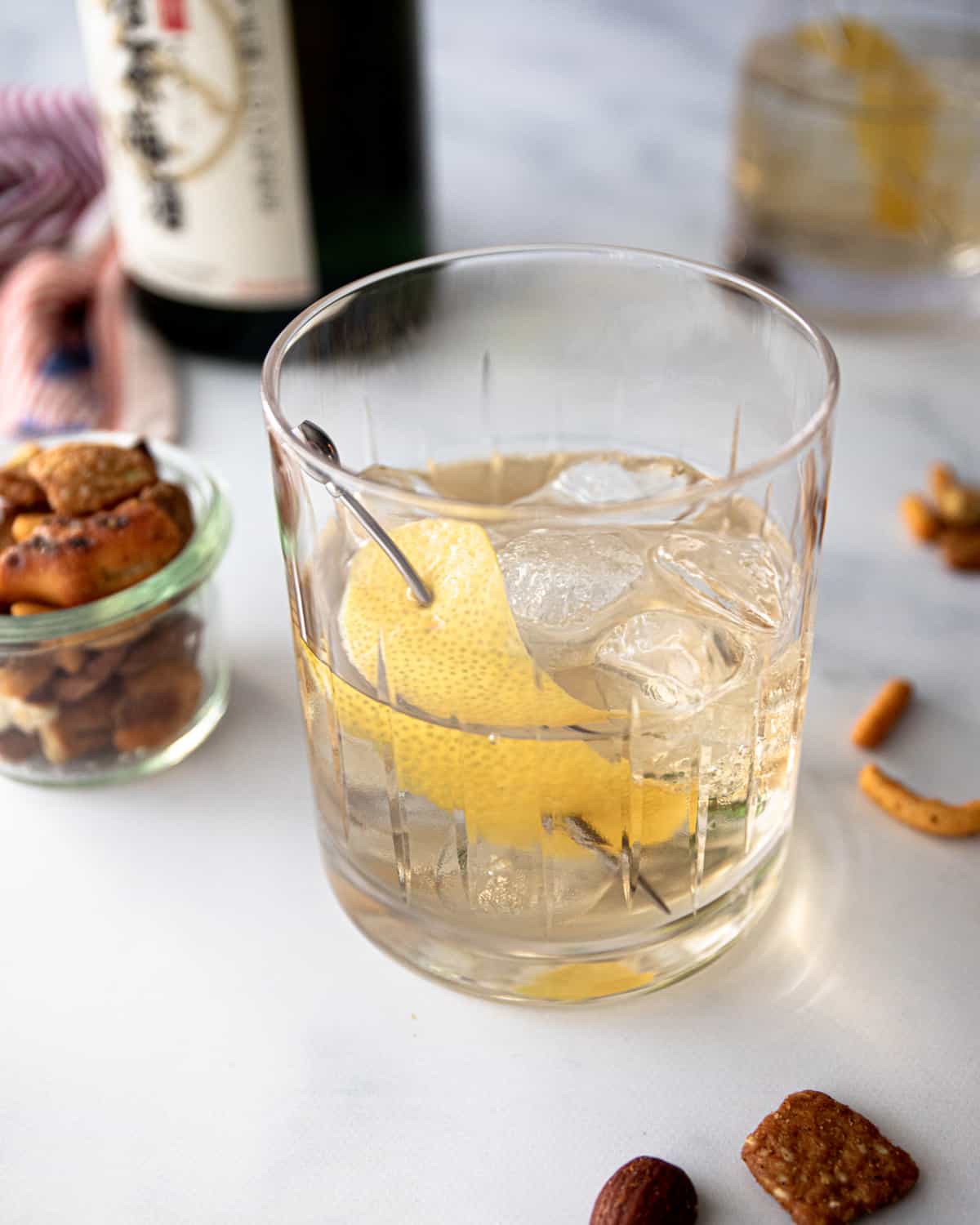 What mixes well with green tea?
Citrus like lemons and limes provide acidity that balances the green tea's herby qualities. Likewise, ginger can add a little zing. If you've ever tried honey with your green tea, then you know how amazing this combo is. Refreshing mint, slightly sweet strawberries, raspberries, blueberries, and floral jasmine all mix seamlessly with green tea.
What is a green tea shot made of?
While they may be called green tea shots, these shooters don't actually have any green tea in them. Green tea shots are made by combining Jameson Irish whiskey, peach schnapps, sweet-and-sour mix, and lemon-lime soda. They look just like green tea, but, as you can imagine, they pack quite a punch!
Does green tea go with alcohol?
Cocktail lovers will be pleased to know that green tea can be mixed with a bunch of different alcohols for some stunning drinks. Green tea has a distinct grass-like quality, which provides a great base flavor for botanical or herbaceous gins, neutral vodka or fruit-infused vodka, bourbon, whiskey, and even tequila.

The key to finding the best alcohol to pair with green tea really depends on what you mix with it after. Adding other ingredients like mint, lemon, lime, simple syrup, or even rosemary will allow you to create some stellar cocktails.
More Fun Cocktail Recipes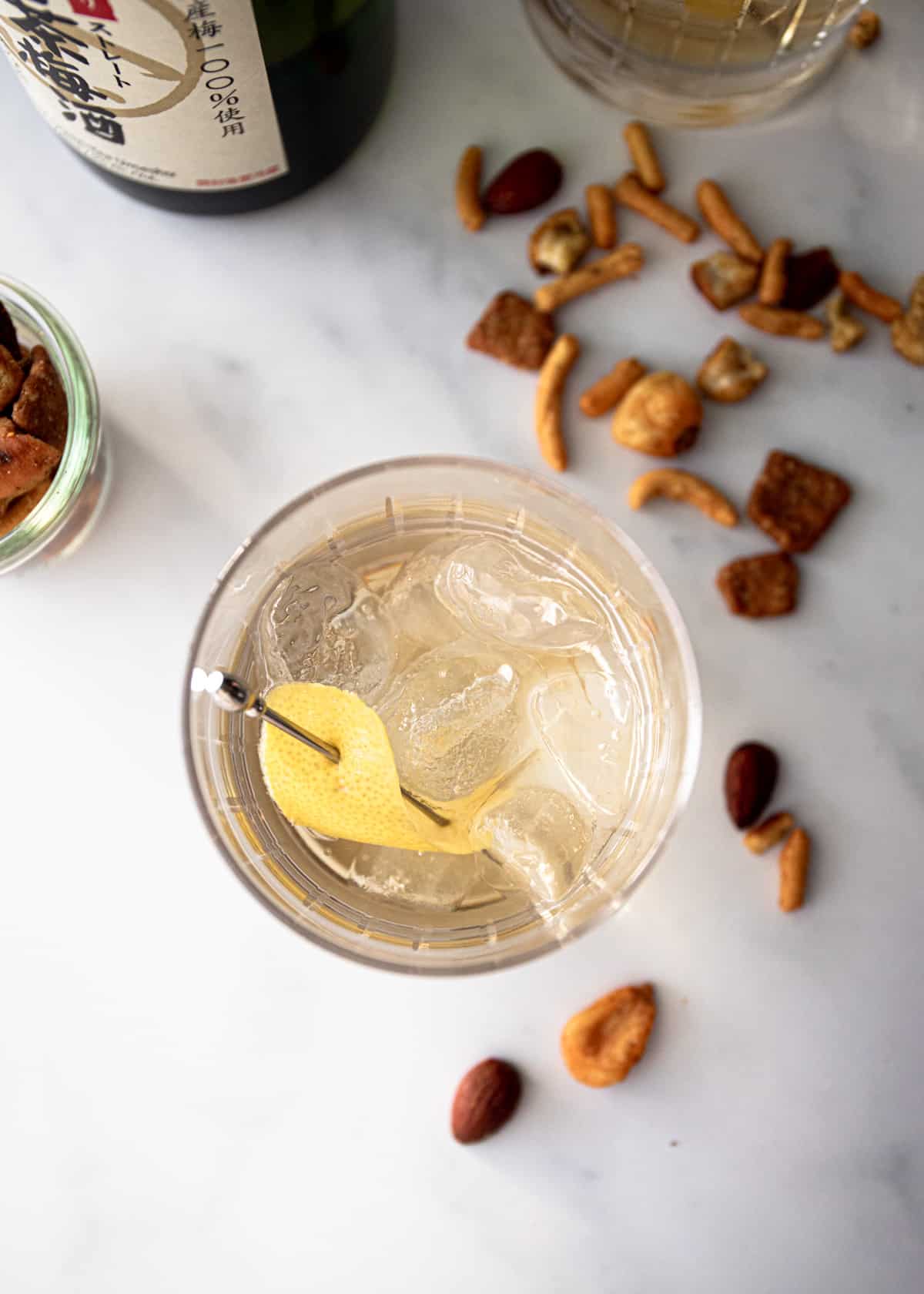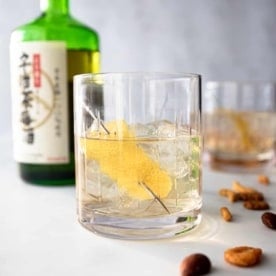 Green Tea Cocktail
We paired delightfully sweet Japanese plum wine steeped with green tea leaves with dry vermouth and club soda for a low ABV spritz that is perfect for sipping before or during a relaxed meal.
Ingredients
1 1/2

ounce

green tea-flavored umeshu

1

ounce

dry vermouth

1

ounce

club soda

Ice, for serving

Lemon twist or wedge, for garnish
Instructions
Combine all ingredients in a glass and stir.

Pour over ice. Garnish with lemon twist or wedge.
Nutrition information is automatically calculated, so should only be used as an approximation.