We made it through the week intact and I am just about as happy as could be on this sunny Saturday afternoon, in our apartment, with Frank clicking away on his computer beside to me and a batch of pizza dough rising on the counter. It's good to be home. But memories of India have made their way into my thoughts all week.
I have nothing earth-shattering to say about first setting foot in India. Those first moments in India are exactly the way that you would imagine them to be. We stepped out of the arrival gate and found that Delhi embodied all the sound, color, vivacity, people, heat, and grittiness that I had imagined. It was like being thrown right into the three-dimensional heart of The Story of India, which Frank and I diligently watched before the trip. (I tried to get Frank to wear a man-scarf like Michael Wood, but sadly never succeeded.)
On the flight home, after 11 glorious days in what is surely the most amazing place I have ever been, I turned to Frank and said, "I just can't take it all in". And still, I can't.
Even after a few days at home and time to look through the photos, I can't wrap my head around the trip, around the things that I saw and felt while we were there. Most of it was incredible, but some of it was hard. You don't need me to paint a picture for you of the depth of poverty and hardship in India, because it is every bit as tough as you surely imagine it to be. I only glimpsed it, but I felt it deeply.
In a place where life is so hard for so many, there is also a profound and breathtaking beauty that far exceeds any place I have ever known.
Our trip to India was, in just about every way, different from any trip that Frank and I have taken together. We tend to relax on vacations. Big time. As in, making it to breakfast before it turns into lunch often stretches our limits.
But it's hard to see anything you really want to see in 11 days in India. We were a pair on a mission, and we hit the ground running as soon as we arrived. We also did something really out of the norm and used a tour company to schedule our trip. We traveled alone, but they arranged our hotels, transportation, and guides in a few of the cities.
As implied in the title of this post, we traveled by every means imaginable.
We were in many cars provided by the tour company. Every single one had a statue of Ganesha on the dash.
We started in Dehli, where we covered lots of site-seeing ground, paused for some butter naan and chicken curry, and concluded the day with a hysterical rickshaw ride through "Old Delhi".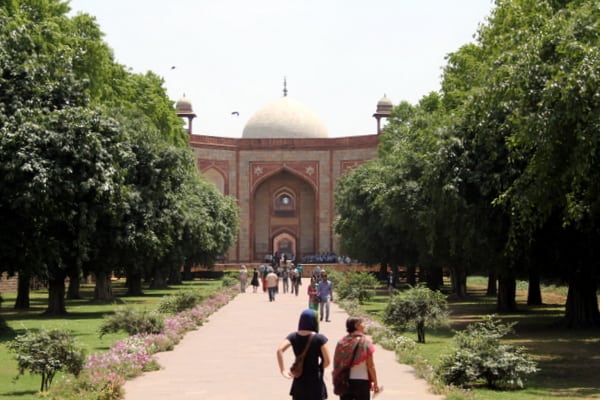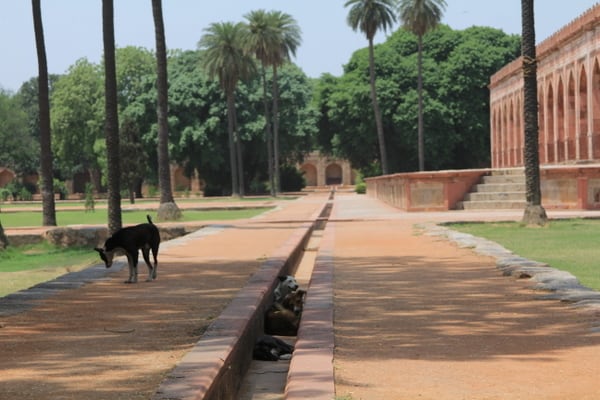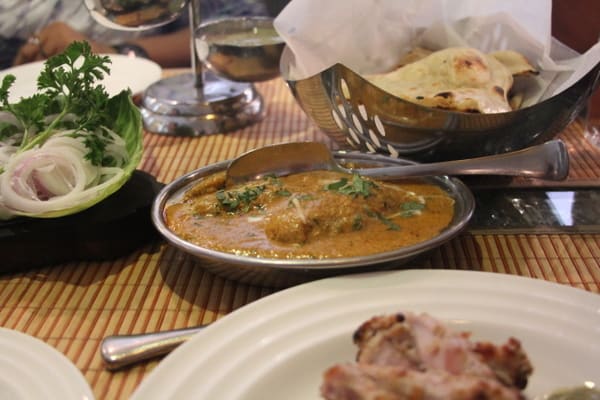 At times I wasn't sure our rickshaw driver was going to make it past the other rickshaws and foot traffic, or down the narrow alleys. We got wedged in at one point, and passersby took the liberty of pushing us onwards.
I never regretted our decision to use the tour company because it saved us time, and the company found some truly fantastic hotels that we never would have found on our own. Including Jagat Niwas Palace Hotel in Udaipur that was strange and unassuming from the outside, but a whitewashed haven on the inside. The nighttime views from its restaurant were spectacular.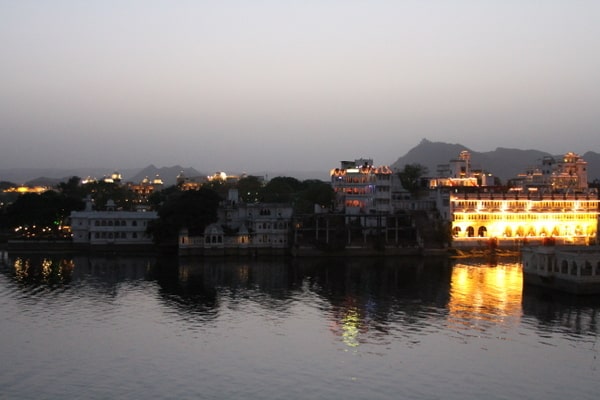 In fact, the lake in Udaipur was spectacular from every vantage point. Particularly from the hotel attached to the city's palace where we had gin and tonics (mine made pink with rosewater).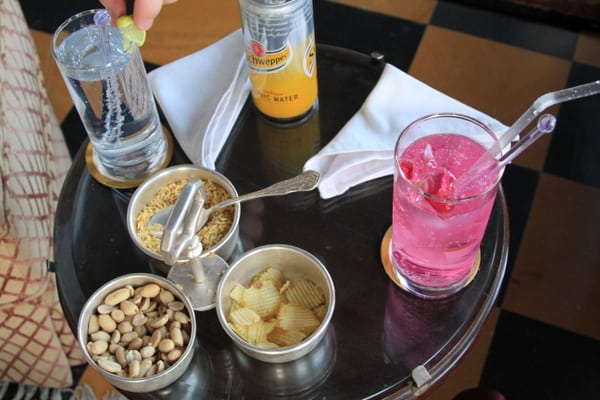 In the evening, the streets in Udaipur came alive with people...and cows.
As is the case with water all over India, the lake in Udaipur was the heart of the city and people were there all day long bathing, swimming, and washing clothes.
Our room even had a sitting nook that hung out over the lake, giving us views on three sides of this gorgeous city. We spent what little free time we had in that cozy nook.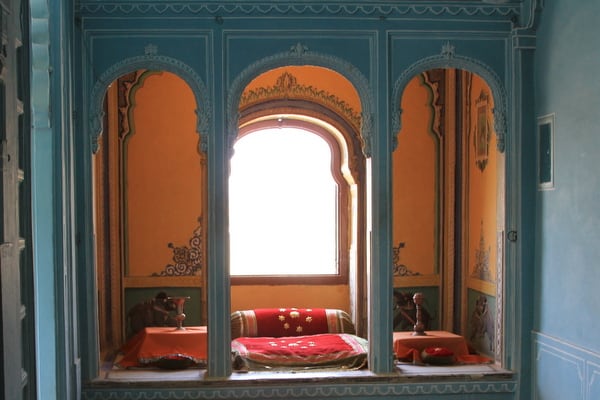 Oops, no wait. That's the king's nook from the palace. Here's ours.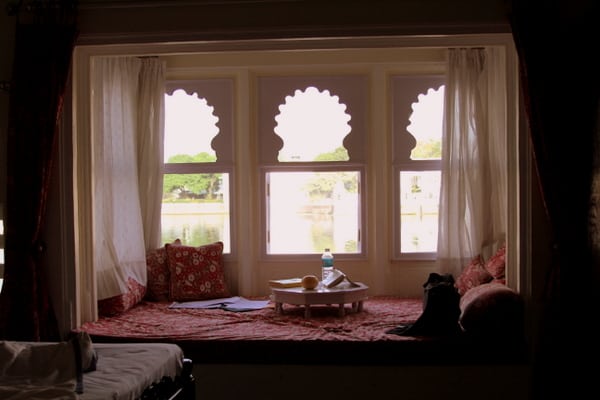 You can hardly tell them apart, right? 😉
On the whole, we liked all of the guides that showed us around. With the exception of one guide, who told me that the fresh food market was closed (after we passed it and it was, um, open) and sulked when I asked to stop there instead of continuing with his proposed agenda.
He did however perk up a bit when I asked him to demonstrate how to open the green chickpea pods I bought. Further proof that food can bring joy to even the grouchiest of individuals. (Green chickpeas taste a like uncooked peas, for the record.)
Does this market look closed to you?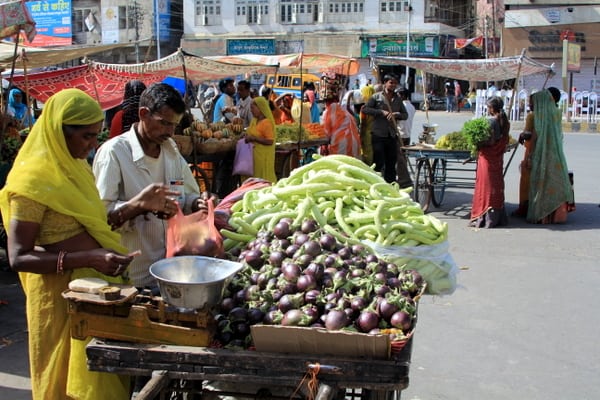 Despite my best efforts to keep this short and sweet, there's just no way to fit it all into one post. I can smell the pizza baking in the oven, and dinner is calling.
Our own "Story of India" will have to be told in parts. In true Michael Wood form.
Now if only I could get Frank to wear a man-scarf....