Creamy Sweet Potato Pasta Bake is baked pasta in a creamy, cheesy sauce made with roasted sweet potatoes and Greek yogurt.
Well hello there. I haven't had much time to blog these past couple weeks. I've been tired (and pregnant) and keeping things as simple as possible, but it's been a tough couple weeks for other reasons too. I've missed my family terribly and have felt as aware as ever of the physical distance from people we care about dearly. It never gets easier to be this far away.
As a result of the fact that Frank and I are in the midst of some drastic life changes, we've been trying to focus and simplify. Frank is up to his eyeballs in grad school work for his MBA, so we've been good about making the most of the free time we have together. I've been taking extra care of myself and whittling my usually excessive to-do lists down to the absolute basics. I'm daily getting better at letting go of things that don't have to happen right this minute (or really, don't have to happen at all). It was something I needed to do in general - and certainly something I needed to do before our daughters arrive.
Most of our dinners in this precious but strange transition time are 1) delivered to our door or 2) healthy, simple and rely on the oven to do the work. I've been wanting to get this particular recipe into blog-worthy shape for years. This baked pasta dish is from my single-girl days when I'd make a big batch of it on a cold Sunday and have it all week for lunches. I love the slightly sweet creaminess of the sweet potatoes with the sharpness of Greek yogurt and cheese. It's one of those dishes I never get tired of. And one that satisfies my pregnant-lady mac and cheese cravings while still being loaded with vegetables.
More Baked Pasta Dishes
Favorite Tools
Print Recipe
Creamy Sweet Potato Pasta Bake
Baked pasta in a creamy, cheesy sauce made with roasted sweet potatoes and Greek yogurt.
Equipment
9 x 13 Baking Dish

Mixing Bowls

Large Saucepan or Stockpot

Large Skillet
Ingredients
For Pasta:
1 ½

lbs

Sweet Potatoes, roasted until tender

(about 2 large) (see note)

12

oz

Fusilli Pasta

1

tablespoon

Extra Virgin Olive Oil

1

Onion, finely diced

2

large

Carrots, finely diced

1 ½

cups

Low Sodium Vegetable Broth

¼

cup

plain Greek Yogurt

4

oz

Sharp Cheddar Cheese, shredded
For Topping:
2

oz

Parmesan Cheese, finely grated

10

leaves

Fresh Sage

Extra Virgin Olive Oil
Instructions
Lightly grease a 9x13 baking dish. Preheat the oven to 350 degrees F.

Scoop the cooked sweet potato into a bowl and lightly mash with a fork until nearly smooth.

Boil noodles according to package instructions, but stop cooking them 2-3 minutes sooner than directed. (The noodles will finish in the sauce, so don't overcook them!)

Heat the olive oil in a large skillet over medium-high heat. When the oil is shimmering, add the onions and carrots and sauté until very tender, about 6-8 minutes. Add the vegetable broth and mashed sweet potato and stir gently until it begins to simmer. Remove the skillet from the heat. In a large bowl, combine the cooked pasta, sweet potato sauce, Greek yogurt, and cheddar cheese. Stir to mix well. Pour the pasta into the prepared baking dish.

Top the pasta with parmesan cheese. Dip each of the fresh sage leaves in olive oil and scatter them over the cheese. Bake until evenly heated through, 15-17 minutes. Turn on the oven's broiler and broil until the parmesan is golden and the sage leaves are crisp, about 2-3 minutes. Serve immediately.
Notes
I like to roast my sweet potatoes for this recipe by wrapping them in foil, piercing them with a knife, and putting them in a 400 degree oven until very tender, about 45 minutes. Alternatively, you can microwave them on high (pierce them with a knife, but DON'T wrap them in foil), until tender all the way to the center, 7 to 10 minutes.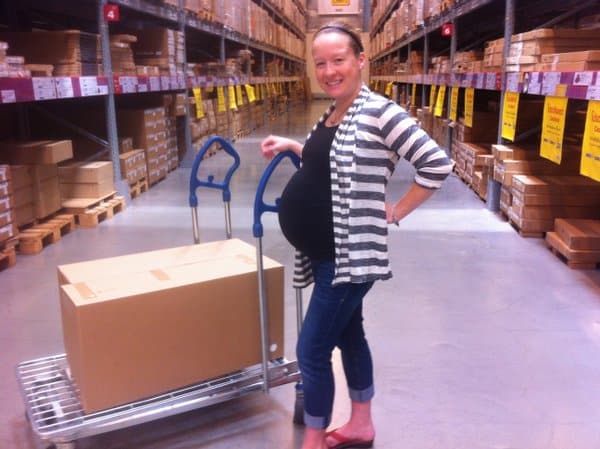 I'm fast-approaching 29 weeks pregnant (and feeling very glad we took care of a much-needed Ikea trip on Presidents' Day) - update coming next week!
*This post contains affiliate links*