We only made it 45 minutes into date night this week. Before dinner even arrived, my husband and I looked at each other across the table at the restaurant and, without even saying it out-loud, made a game-time decision to call it quits. We caved to the oppressive heat, packed ourselves up, and stumbled home, grateful for the air-conditioned apartment. Despite the restaurant's best attempts to keep the air conditioning pumping, it couldn't beat the heat this Wednesday. Frank would tell you that it's always this hot, but it's definitely not. It doesn't usually scare us away from dinner.
As a result, there was to be no leaving the apartment to celebrate Cinco de Mayo this Thursday. It was also a good day to stay home and celebrate because, as you won't be surprised to hear, Thursday was yet another Thai holiday. That's two this week. I just learned that the Thai government added an extra one later this month so that there is a 5-day weekend coming up. It's hard to tell if anyone works around here.
Regardless, celebrating Cinco de Mayo at home gave me an excuse to whip up a dish that doesn't really make the cut for a normal weeknight dinner.
A friend used to make this casserole in college, and as such, it is thoroughly comforting, richly satisfying, and shows utter disregard for its calorie count. Years ago, it was the perfect thing to eat before a college-style night of parties and staying out late. Turns out, it is just as wonderful when you are an adult who defines a "late night" as staying out past 10pm. In any situation in which I've put it to the test, this casserole is so delicious that it is impossible to have just one piece. (Calories be damned.)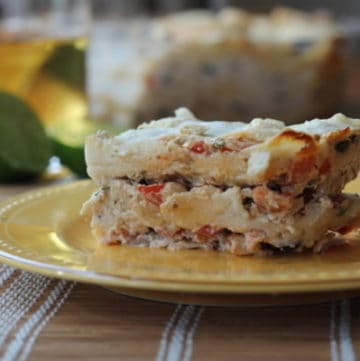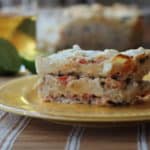 Print Recipe
Creamy Chicken Tortilla Casserole
Ingredients
1

Tbsp.

olive or vegetable oil

2

skinless boneless chicken breast halves

salt and pepper

1

(8 ounce) tub sour cream

1

(8 ounce) jar salsa

half of a small onion, finely chopped (about half a cup)

1

(10 ounce) can condensed cream of chicken soup

1

(8 ounce) can chilli beans, drained

8

(8 inch) flour tortillas, cut into strips

4

cups

shredded cheddar cheese
Instructions
Heat the oil in a skillet over medium heat. Season the chicken breast with salt and pepper and cook in the pan until browned on both sides and cooked through. Remove the chicken from the pan and allow to cool to room temperature. Using a fork and knife, shred or cut the chicken into small pieces.

Preheat the oven to 375 degrees.

Combine sour cream, salsa, onion, cream of chicken soup and chilli beans. Layer the bottom of a 9x9 inch glass baking dish with ¼ of the tortilla strips. Top with ⅓ of the chicken, ⅓ of the sour cream mixture and then ¼ of the cheese. Repeat the layers with remaining ingredients, ending with a few tortilla strips on top. Reserve the final ¼ of cheese to sprinkle over the top near the end of baking. (The layers of ingredients will likely reach the very top of the baking dish.)

Cover the top of the baking dish with foil and bake at 375 for 45 minutes. Uncover the dish and sprinkle the remaining cheese over the top. Continue baking until the cheese is melted and the ingredients are bubbling, 5-10 minutes more. Serve immediately.
Notes
The casserole can be assembled up to a day in advance and refrigerated before baking. Just remember to remove it from the refrigerator about 45 minutes before putting it in the oven so that it is not too chilly when baked.
Vegetarian variation: Make a vegetarian variety of this dish by substituting 4 cups of sliced white mushrooms sauteed in a bit of oil for the chicken and using condensed cream of mushroom soup instead of cream of chicken.